Live Updates, July 5: Riots Grip E. Jerusalem, Arab Towns
Iron Dome intercepts rocket fired at Be'er Sheva; clashes with police continue in East Jerusalem neighborhoods.
The rioting that gripped several Israeli Arab towns on Friday night renewed toward evening on Saturday, though with less intensity.
Police were present outside the town of Kalanswa, where dozens of protestors, many of them with their faces masked, set fire to tires on the main road into the town.
The road between Kalanswa and Taibeh was closed in both directions. Other roads in the north of the country were closed intermittently during the afternoon, as police moved to counter renewed demonstrations.
In the south of the country, rockets fired from the Gaza Strip set fields alight in the Eshkol Regional Council region in southern Israel. Firefighters were at the scene.
Earlier, an Iron Dome battery shot down a rocket*+ over Ofakim and an Israel Defense Forces soldier was lightly wounded by shrapnel from a mortar shell in the Eshkol area.
In Be'er Sheva, former army intelligence head Amos Yadlin told a public meeting that "there is no doubt" Israel is headed for another round of fighting with Hamas.
Latest updates:
11:46 P.M. Protesters in Taibeh are staying away of the main road. Route 444 is open in both directions. The police district commander is currently on scene. (Yaniv Kubovitz)
11:26 P.M. Dozens are hurling rocks, clashing with police in the East Jerusalem neighborhoods of Shoafat, Beit Hanina, Isawiyah and Umm Tuba. (Nir Hasson)
10:48 P.M. Housing Minister Uri Ariel asks Prime Minister Benjamin Netanyahu to hold emergency discussion in Sunday's cabinet meeting on the government's actions against the rockets from Gaza. (Haaretz)
10:44 P.M. Habayit Hayehudi Chairman Naftali Bennett joined Foreign Minister Avigdor Lieberman's harsh attack against Prime Minister Benjamin Netanyahu's policy toward the rocket fire from the Gaza Strip. (Haaretz)
"The strategy of 'quiet will be answered with quiet' harms Israeli deterrence and allows Hamas to build up from round to round," Bennett said, and added that Israeli response to the rocket fired at Be'er Sheva should be the same as if the rocket was fired at Tel Aviv. (Barak Ravid)
10:19 P.M. Updated IDF statistics for this weekend: 29 projectiles have landed in Israeli territory since Friday, 8 rockets intercepted, 7 targets in Gaza Strip attacked. (Gili Cohen)
10:09 P.M. Palestinians report Israel Air Force strikes in southern Gaza Strip (Jack Khoury)
10:03 P.M. Chief of Staff Lieut. Gen. Benny Gantz tours northern Gaza Strip, meets infantry and tank commanders deployed in area. Gantz says Hamas is responsible for rocket fire from the Strip, and that IDF forces in the area are prepared for any scenario and are ready to ensure the routine of southern residents. Gantz adds that the security establishment will respond with force if calm is not restored to the south. (Gili Cohen)
10:00 P.M. President Shimon Peres talks to Mazen Ganaim, mayor of Sakhnin and chairman of the committee of Arab municipal authorities heads. "We must urge all resident toward restraint. All the responsible leaders – both Jews and Arabs – must unit to prevent disaster and loss of human life. My heart is pained with every victim. Together we can lower the flames and defend the innocent."
9:51 P.M. Demonstrations in Wadi Ara and Nazareth end (Eli Ashkenazi)
8:48 P.M. Israel Air Force strikes at Gaza Strip; according to IDF Spokesperson's Unit, strike targeted terrorist about to launch a rocket at Israel. (Gili Cohen)
8:34 P.M. Two rockets explode in open terrain in Eshkol Regional Council (Haaretz)
8:16 P.M. Iron Dome intercepts three rockets in vicinity of Ashkelon; one rocket explodes in open terrain in Sha'ar Hanegev (Gili Cohen, Shirly Seidler)
8:14 P.M. Rocket siren sounded in Sdot Negev, Sha'ar Hanegev and Hof Ashkelon regional councils. (Shirly Seidler)
7:50 P.M. Following a situation assessment on Saturday, Prime Minister Benjamin Netanyahu said Israeli security forces must "deal with violence and disruption of order with a hard hand" in the Wadi Ara and the Little Triangle (an area in central Israel, roughly bounded by the Arab towns of Baka al-Garbiyeh, Taibeh and Tira), where violent protests have taken place over the weekend.
According to a senior Israeli official, Netanyahu emphasized that: "We will not accept disruptions of this sort, and anyone who breaks the law will be dealt with severely." The prime minister also said that leaders in the Israeli Arab communities should act immediately to bring an end to the unruliness.
The security assessment, which was conducted by Netanyahu, Public Security Minister Yitzhak Aharonovitch, Defense Minister Moshe Ya'alon, Police Commissioner Yohanan Danino and Shin Bet security service director Yoram Cohen, also looked at the situation in the Gaza Strip.
Netanyahu said after the meeting that the Israel Defense Forces is acting against Hamas targets and is prepared to handle any development in the area. "We are acting to reinstate quiet and will act with added force where needed," Netanyahu said.
7:33 P.M. Protesters throw stones in Jerusalem's Old City and in Shuafat; police are using crowd dispersal measures. (Nir Hason)
7:30 P.M. Iron Dome intercepts one rocket fired at Be'er Sheva. According to the IDF, one rocket was fired toward Be'er Sheva and it was intercepted by the missile defense system. This rocket is the first fired toward the southern Israeli city since Operation Pillar of Defense. (Gili Cohen)
7:19 P.M. Rocket alert siren sounds in southern Israeli city of Be'er Sheva. Explosion heard. (Shirly Seidler)
7:17 P.M. Police report protesters in Arara are throwing stones at the police and torching tires. Police officers advance toward them while using stun grenades; protesters have been pushed back into the village. One police officer was wounded by a stone. (Eli Ashkenazi)
7:15 P.M. Rocket explodes in open terrain in vicinity of Ofakim; no damage caused (Shirly Seidler)
7:03 P.M. Police reopen Route 444 to traffic, after protest is dispersed.
6:45 P.M. About 150 Israeli Arabs are protesting in Nazareth's main road and torching tires. (Eli Ashkenazi, Jack Khoury)
6:41 P.M. Dozens of protesters outside the town of Arara near Route 65 throw stones at police officers. Police have closed the junction at the entrance to the town, and is attempting to stop protesters from blocking the road. (Eli Ashkenazi)
6:39 P.M. Israel Air Force strikes three targets in southern Gaza Strip, east of Rafah. Rocket siren sounds in Ofakim and in Merhavim Regional Council in southern Israel (Gili Cohen, Shirly Seidler)
6:26 P.M. Three projectiles, most likely mortar shells, land in open terrain in the Eshkol Regional Council.
6:24 P.M. Opposition Leader and Labor Chairman Isaac Herzog says he talked with council heads in Kalansawe, Tira and Baka al-Garbiyeh and that they are committed to calming the atmosphere. He also remarked on Lieberman's statements and said: "Lawbreakers should be handled on a case-by-case basis and the Arab sector shouldn't be targeted as a whole."
6:08 P.M. Since Operation Brother's Keeper began, 128 projectiles from Gaza have landed in Israeli territory, 11 of which were in urban areas. Iron Dome has intercepted 17 rockets. Eight of the projectiles were fired since midnight, one of which was intercepted by Iron Dome. (Gili Cohen)
5:24 P.M. Dozens protest and torch tires near Kalanswa in northern Israel; police are at the scene. The road between Kalanswa and Taibeh has been closed in both directions. Police states that "any legitimate protest will be allowed, but any disruption of order will be answered resolutely and with a strong hand." (Yaniv Kubovich)
5:08 P.M. Police reopen roads in northern Israel, closed earlier (Yaniv Kubovich)
5:05 P.M. Palestinian commentator Mustafa Alsuaf, affiliated with Hamas, says that "over the last two days negotiations have been held between Hamas leadership and high-ranking officers in the Egyptian army intelligence in attempt to resume the ceasefire. However, Hamas' trust in Egypt is lower than in the past, since Egypt did not intervene when Israel arrested the men released in the Shalit deal, and not even when it broke the Pillar of Defense understandings." He adds: "The Hamas movement is interested in quiet, not in a campaign against Israel, but if Israel continues to attack in Gaza and in the West Bank, Hamas will respond." (Jack Khoury)
4:42 P.M. Police closes roads in northern Israel in anticipation of renewed demonstrations. (Yaniv Kubovich)
3:54 P.M. Rocket sparks fire in Eshkol Regional Council in southern Israel. Firefighters are at the scene. (Shirly Seidler)
3:52 P.M. The spokesperson of the Popular Resistance Committees' military arm, the Al-Nasser Salah al-Deen Brigades, said in a press conference in Gaza that the Palestinian factions will not accept a ceasefire that does not include a removal of the blockade on the Gaza Strip and a resumption of normal daily lives in the West Bank and Jerusalem.
"Gaza is a cemetery for the occupation," said the spokespersons, and warned that Israel will not be able to foresee Gaza's reaction to Israel's activities in the West Bank. The statement contrasts with Hamas' stance, which does not place new conditions for a ceasefire. On the face of it, the PRC is questioning the authority of Hamas and the Palestinian leadership, and relaying a message to Egypt that any ceasefire must also deal with the Rafah Crossing and ending the Strip's reliance on Israel. (Jack Khoury)
2:38 P.M.Rocket fire resumes in South: Iron Dome battery shoots down missile over Ofakim.
2:05 P.M Muhammad Abu Khdeir, the 16-year-old Palestinian whose body was found in a Jerusalem forest last Wednesday, was burned alive, according to Palestinian Attorney General Muhammad Abd al-Ghani Uweili. (Haaretz)
1 P.M. IDF soldier lightly wounded by mortar shell in Eshkol Regional Council (Haaretz)
11:40 A.M. Former army intel chief Amos Yadlin says "there is no doubt" Israel is headed to another round against Hamas.
Speaking at a public event in Be'er Sheva, Yadlin said that since "Israel doesn't know how to withstand long engagements, it must know where it is going into."
"Right now tempers are high, but after a few funerals- and there will be more funerals- the mood will change."
"To deny Hamas the ability to reach farther and farther into Israel [with its rockets], we need to enter Gaza with ground forces, and destroy the rocket fabrication facilities," he added.
"Hamas can shoot hundreds of long-range rockets at Tel Aviv, but it does not do so, it doesn't even shoot at Be'er Sheva. Deterrance exists, even if it is not absolute."
11:00 A.M. Fifty Palestinians were hospitalized overnight in Al-Mukasad hospital, the only hospital with an emergency ward in East Jerusalem. The majority of them were wounded by rubber bullets. Five of them were moderately wounded, one suffering from fractures to his skull.
Thirteen policemen were lightly wounded during the clashes, which went on until 3:30 A.M. Twenty arrests were made.
An attempt to cut down an electrical pole that forms part of the capital's light rail infrastructure was stopped by police. Rioters have already caused massive damage to the system, which runs through the Shoafat refugee camp in East Jerusalem. Authorities say it will take weeks, and possibly months, to restore full service. (Nir Hasson)
10:50 A.M. In a Facebook post, Foreign Minister Avigdor Lieberman says rioters "do not belong in the state of Israel – and until that is resolved, their place is in jail."
"It's good the police arrested the Arabs who rioted yesterday [in Israel's north]. We now expect the justice system to also do its part decisively and, through harsh punishements, deliver a clear message to those who enjoy Israeli citizenship and act as terrorists," he also wrote. (Jonathan Lis)
10:34 A.M. Clashes overnight spread to all of East Jerusalem's neighborhoods, including ones considered quiet. Stones and Molotov cocktails were thrown in Umm-Tuba, A-Zayyim, Sawana, Abu Tor, Tzur Baher and Azaria.
All the Jewish settlements in East Jerusalem were targeted by violent rioters. Brawls between Israelis and Palestinians took place in the Old City and in several other places in the city. (Nir Hasson)
8:54 A.M. A qassam rocket hits an open area in Eshkol Regional Council. No injuries were reported. (Shirley Sheidler)
8:48 A.M. Residents in towns near Gaza border need no longer stay near shelters, IDF Home Front Command says. (Shirley Sheidler)
4:17 A.M. Police arrest 13 protesters in the Arab towns Taybeh and Qalansuwa. Seven protesters sustained light injuries from inhaling tear gas. (Jack Khoury)
2:02 A.M. Rocket fired from Gaza explodes in an open field in the Sha'ar HaNegev Regional Council, no damage or casualties reported. (Army Radio)
1:21 A.M. The Israel Air Force attacks another site in the Gaza city of Khan Yunis. (Gili Cohen)
For Friday, July 4th live updates blog, click here
Click the alert icon to follow topics:
ICYMI
Ken Burns' Brilliant 'The U.S. and the Holocaust' Has Only One Problem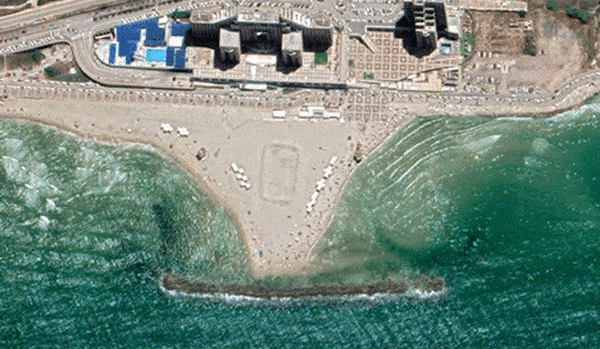 Facing Rapid Rise in Sea Levels, Israel Could Lose Large Parts of Its Coastline by 2050
As Israel Reins in Its Cyberarms Industry, an Ex-intel Officer Is Building a New Empire
How the Queen's Death Changes British Jewry's Most Distinctive Prayer
Chile Community Leaders 'Horrified' by Treatment of Israeli Envoy
Over 120 Countries, but Never Israel: Queen Elizabeth II's Unofficial Boycott