Psychological Obstacles to Peace in Israel
It will be almost impossible to end the conflict unless we address the psychological mechanisms that are preventing Israelis from embracing peace.
Europeans and Americans keep asking a simple question: "Everybody knows how the final peace agreement between Israel and the Palestinians will look. [Bill] Clinton formulated the basics of the final status agreement a long time ago. Why does Israel systematically undermine the possibility of such an agreement when it is so obvious that it is undermining its own future, potentially even its existence as the homeland of the Jews? Why are Israelis so irrational?"
To this I would add one of the greatest riddles of Israeli politics since 2002, when Saudi Arabia first proposed the peace initiative that was subsequently endorsed by the Arab League. This initiative offers that, in return for Israel's withdrawal from all territories conquered in 1967, all Arab states – and almost all other Islamic countries – will recognize Israel, create full diplomatic relations with it and strive toward full normalization.
So why on earth has no Israeli government ever even officially addressed the Arab Peace Initiative, let alone engaged in negotiations along its lines, even though this initiative proposes Israel's greatest hope: Full acceptance of its existence in the Middle East by the Islamic world.
I constantly find myself in the position of trying to answer these questions. Most of the time I speak to, or write for, audiences in Europe and America. Because I fiercely oppose Israel's occupation policy, these interlocutors and audiences listen to me because I try to explain, not justify, Israel's actions. But I also find myself discussing the topic quite a bit with frustrated and angry representatives of what is generally called Israel's peace camp, to which I belong. That's because a chasm has opened between this peace camp and most of the country: Israeli liberals feel ever-more alienated from their own homeland.
Therefore, I want to present three psychological mechanisms that are making it almost impossible for Israel to move toward peace, first and foremost with the Palestinians, but also with the Arab world as a whole. I will try to show that the psychological mechanisms in question are quite powerful, and that ending the conflict is becoming more, rather than less, difficult. Finally, I will argue that only by addressing these psychological issues can Israelis be convinced to move toward peace.
1) Loss aversion
In the 1980s, Israeli psychologists Amos Tversky and Daniel Kahneman single-handedly changed the psychology of decision making by showing that a number of powerful factors create systematic biases in how we decide. One of their most famous theorems is that humans are guided by loss aversion. We are often in situations in which we have to weigh the potential loss of something we currently have against what is to be potentially gained by taking a certain risk. They have shown that we are far more guided by fear of loss than by the prospect of gain.
Loss aversion plays a crucial role in Israel's reluctance to move toward peace. Israel currently has a number of assets that it stands to lose in any peace agreement acceptable to the Palestinians. It has full security control over Area C and the all-important Jordan Valley, partial control over Area B, and the de-facto option of incursions into Area A if Israel's security establishment wants to prevent attacks against Israel from one of the Palestinian population centers. Israel, at least on paper, has control over the greater Jerusalem area, including the various holy sites, as well as over a variety of sites in Judea and Samaria that play a great role in the Bible. Israel stands to lose all of these in any future peace agreement with the Palestinians.
Of course, much is to be gained from peace. Since Israel's founding, Israelis have been singing that one day we will be able to live here in peace. Ostensibly, any peace agreement will require the Palestinians to declare an end to the conflict and that they have no further demands. Add to this that the Arab Peace Initiative would add peace and full recognition by the Islamic world.
On paper, the gains outweigh the losses dramatically. The occupation has pushed Israel into ever-growing international isolation. The threat from the BDS Movement against Israel has been gaining momentum and is beginning to become more concrete. Israel's economy could flourish enormously if the Arab world's financial assets and natural resources were to be combined with Israel's technological and managerial know-how.
But Israelis, like all humans, are primarily guided by loss aversion. Most Israelis fear that the Gaza scenario will repeat itself: Israel withdrew from Gaza in 2005 and southern Israel was exposed to rocket attacks for years. Israel's relinquishment of security control over the West Bank would open Israel's population centers to the same danger. The latter scenario is not a paranoid fantasy. Iraq and Syria have become hotbeds of jihadist organizations, and if Israel no longer controls the Jordan Valley and large parts of the West Bank, Al-Qaida fighters might indeed come within shooting distance of Tel Aviv, Kfar Sava, Herzliya and all of Israel's center.
Research has shown that most Israelis have come to loathe the term "peace." The idea of real peace, not only with the Palestinians but also with the Arab world, seems like a science-fiction scenario entertained by dreamy leftists. As opposed to that, almost all Israelis remember the horrors of the second intifada and the shelling of Israel from Gaza and Lebanon. The majority of Israelis, therefore, feel that the loss of security is far more concrete than the gain of something they do not believe in.
Loss aversion is even more pronounced in politicians. They are only rewarded for positive results that emerge before the next elections, and they are severely punished for immediate negative results. The fate of Israel's left, which was virtually wiped out after the failure of the Camp David summit in 2000 and the onset of the second intifada, is an indelible warning for every politician, who fears a brutal end to his or her political career if a peace agreement leads to further violence. As opposed to this, the gains of such peace seem abstract, distant and insecure.
2) The need to justify the occupation
One of Israel's most respected writers, David Grossman, once wrote that, behind the deafening noise of shrill political rhetoric, in every Israeli and Palestinian's soul there is a dark, silent place in which they know all of the horrible suffering of this conflict was utterly futile and useless. It is psychologically almost impossible to realize and accept that you have been mistaken for decades, and that the horrors of the past could have been avoided.
The former Shin Bet security service chiefs interviewed in Dror Moreh's poignant documentary "The Gatekeepers" all describe the moral price of the occupation – for example, of causing Palestinians to turn against their own people and collaborate with Israel. Moreh's interviewees are the exception rather than the norm. They have the human strength to say that their jobs made them do terrible things. For most humans, it is almost impossible to do terrible things and live with the realization that these acts were immoral.
Almost every Israeli in the last 47 years has done military service in the territories. Almost all of them have had to do things that go against human decency and morality – often not for the sake of Israel's security at large, but to protect some isolated outpost of settlers. If indeed Israel were to reach peace with the Palestinians and the Arab world, most Israelis would have to live with the painful realization that most of what Israel has done to the Palestinians was unnecessary; that Israel could have ended the occupation a long time ago; and that the energies and resources invested in the West Bank's colonization could have been invested in Israel's flourishing instead.
This idea is too difficult to bear, and the regret would be unendurable. It is, therefore, psychologically imperative to create a narrative that explains why the occupation was inevitable; why Israel had no choice but to hang onto the West Bank; why all the sacrifice in human lives, moral turpitude and political isolation were necessary for Israel's survival.
Israel's right-wing politicians instinctively know they need to reassert daily that the occupation is a military and moral necessity. This is why they keep explaining why a Palestinian state is an existential threat to Israel, and why Israel's left has been selling empty illusions for decades. Of course, their case has been strengthened enormously by the second intifada and the shelling of southern Israel. But the constant fanning of fear not only serves Israel's right politically. It also provides Israelis with a justification not only for the status quo, but for the expropriation, oppression and humiliation of Palestinians that Israelis have participated in for the last 47 years, to preserve the occupation.
All of this is all-too-human. Only a few have the human strength of Moreh's interviewees to look into the camera and say: "We did terrible things, and most of them could have been avoided if only the political leadership had realized that the occupation is Israel's catastrophe." Most Israelis, like most humans, need a narrative that justifies Israel's actions as inevitable.
3) Inability to let go of Zionism as a revolutionary movement
This leads to the third psychological level. The history of Israel's occupation and gradual colonization of the West Bank cannot be understood without the religious-Zionist movement that emerged from the 1967 war. The students of Rabbi Zvi Yehuda Kook interpreted Israel's victory in the Six-Day War as the onset of the Messianic Age. Every hill, stone and village in what they call Judea and Samaria acquired theological meaning, and every new settlement had metaphysical significance. Israel was not occupying another people: It was fulfilling God's plan for the Jewish people, and for humanity as a whole, by speeding up messianic redemption.
Most Israelis do not share this messianic interpretation of the occupation. But deep down, many Israelis feel that the settlers are the real Zionists; that the rest of us have become complacent, ordinary citizens who have lost the revolutionary ardor that once characterized the Zionist movement. The settlers continue the ethos of acre after acre, of settling the land and building the country.
This, I believe, is part of Israelis' enormous difficulty in stopping the settlers in their drive to undermine the last remaining chance for the two-state solution. Somehow, Israelis feel that if there is no deeper meaning for our being here, the suffering, danger and insecurity were not worth the while. While Israelis may not fully share the settlers' ideology, many admire them and feel that the settlers provide a laudable model to justify the whole Zionist project.
The instability of the Middle East and the Arab Spring's disintegration into chaos have made Israel's situation more difficult. Chances that Israel will live in safety and "normality" in the coming decades are slim. To bear all this, many Israelis feel there must be a metaphysical justification for the Zionist project. Otherwise, deep down, they wonder: Was the whole project worth the pain, the trouble and the ongoing risk?
Conclusion: Israel's peace camp must address Israeli psychology and fears
It is important to realize that the three psychological mechanisms I have described are universal. Loss aversion, the need for a positive identity narrative, and the need for an ideology that helps us to bear danger and uncertainty are by no means specific to Israelis, but shared by all humans. Furthermore, I think that Israeli fears described in the first section are by no means paranoid fantasies. They are realistic fears that have been exacerbated by the development of recent years.
Israel's left has progressively lost ground in Israel because it has not addressed these fears with sufficient courage and clarity. Too often, we have told Israelis that we need to end the occupation for the sake of Israel's democratic character. We have pointed out how racist Israel is becoming as a result of the occupation, and we keep warning that Israel will end up being a pariah state if the occupation is not ended.
There is a simple psychological reason why these arguments have failed to convince the majority of Israelis. The famous humanistic psychologist Abraham Maslow showed, more than half a century ago, that human needs are structured hierarchically: We first take care of safety, food and shelter, then we make sure we are safely grounded and loved by our group. Only then do we worry about our status in our group. And after all this is taken care of, we are free to think of self-actualization and higher values.
The majority of Israelis have been hanging onto the occupation because they worry about their safety. But the peace camp has been talking about Israel's democratic character and the price of international isolation, ideals high up in Maslow's pyramid of needs. As a result, ordinary Israelis think of the left as a bunch of arrogant elitists who are disconnected from reality and care more for Palestinians than for their own kin. They also think that the Gentiles, particularly in Europe, just enjoy hating Jews, and will throw us under a bus when the going gets rough. Consequently, ever-more Israelis buy into right-wing ideologies of bigotry and racism to rationalize the occupation and Israel's international isolation.
How can this dangerous trend be stopped? Both the Israeli peace camp and Israel's many friends abroad, who want to help Israel safeguard its future as the democratic homeland of the Jews, must take Israelis' fears seriously. This means, first and foremost, acknowledging that moving toward peace entails genuine security risks, and to address these risks unflinchingly. As long as the majority of Israelis feels the call for peace is not backed up by genuine concern for their security, they will continue moving to the right.
Israel's peace camp has lately refrained from facing this issue clearly. Almost all center-left parties focus on social and economic issues, and are trying to avoid Israel's long-term strategic vision, hiding their commitment to the two-state solution somewhere in the back of their political programs. Only a leader who addresses Israelis' existential fears without flinching will be able to replace Benjamin Netanyahu, whose raison d'être has been to do nothing but express and address these fears, even if he has no hope to offer.
Click the alert icon to follow topics:
ICYMI
Ken Burns' Brilliant 'The U.S. and the Holocaust' Has Only One Problem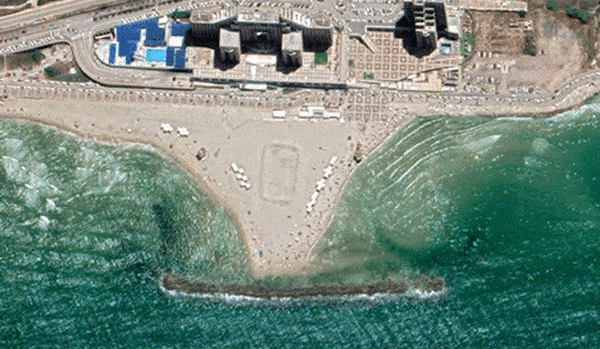 Facing Rapid Rise in Sea Levels, Israel Could Lose Large Parts of Its Coastline by 2050
As Israel Reins in Its Cyberarms Industry, an Ex-intel Officer Is Building a New Empire
How the Queen's Death Changes British Jewry's Most Distinctive Prayer
Chile Community Leaders 'Horrified' by Treatment of Israeli Envoy
Over 120 Countries, but Never Israel: Queen Elizabeth II's Unofficial Boycott