Live Updates, July 2: Israel Strikes Gaza; Sderot Hit by Rocket
Recording of Israeli teenager's distress call released, kidnappers are heard expressing joy at having caught three people.
Tensions rose on Israel's border with the Gaza Strip overnight Thursday as Palestinian militants and the Israel Air Force traded strikes: the IAF responded to a barrage of rockets earlier in the night with 15 air strikes on Gaza targets, and foreign media reported casualties.
Nine of the overnight rockets hit Israeli territory, one of them striking a residential building in Sderot, while two others were intercepted by the Iron Dome above Netivot. Two more rockets fired in the morning scored a direct hit on another house in Sderot, causing damage but no casualties.
Jerusalem was high in tension as well, following a day of harsh clashes between Israeli security forces and Palestinian demonstrators after the body of Mohammed Abu Khdeir, 16, was found early Tuesday in a nearby orest bearing signs of violence.
The incident appears to have been a revenge kidnapping and murder carried out by right-wing Israeli extremists. However, police have not yet ascertained whether the killing was nationalistic or criminally motivated. Prime Minister Benjamin Netanyahu has ordered a swift investigation into the incident and has warned vigilantes "not to take the law into their own hands."
RELATED: Murder of Palestinian teen 'no honor killing,' family says
RELATED: 1,000 rally against anti-Arab violence amid calls for revenge of Israeli teens' death
RELATED: U.S. attempting to prevent escalation of violence across West Bank
Latest updates:
Click here for Thursday's live updates
11:52 P.M. The July 4th celebrations of the U.S. embassy in Tel Aviv will be scaled back in light of the teenagers' deaths, a source tells Haaretz, "as we all mourn together."
"Given the circumstances," the source said, the embassy will not be launching the customary fireworks, "out of respect of the mourning period for Eyal, Gilad and Naftali." (Haaretz)
11:43 P.M. The complete recording of the kidnapped teen's call to the police hotline was revealed to include the expressions of joy of the kidnappers. After the shots which killed the three are heard in the recording, the kidnappers are heard telling another person "we've brought three." Later they can be heard singing and shouting in joy. It is unclear whether the kidnappers noticed the hotline call. The recording, two-minutes long, does not end immediately after the shooting and it is therefore uncertain whether the call was the reason for the shooting or whether the teens were shot as they stepped into the vehicle. (Yaniv Kubovich)
11:25 P.M. Yishai Fraenkel, uncle of Naftali Fraenkel, unequivocally condemns the murder of Mohammed Abu Khdeir, the 16-year-old Palestinian found murdered early Wednesday morning in Jerusalem. Speaking on behalf of the Fraenkel family, according to the Israeli website Walla!, Fraenkel said, "There is no difference between blood and blood. Murder is murder, whatever the nationality and age are. There is no justification, no forgiving and no atoning for any murder."
Fraenkel continued: "We do not know exactly what happened last night in East Jerusalem, and the matter is being checked by the police, but if a young Arab was killed for nationalist reasons, it is a frightening and upsetting act." (Haaretz)
11:20 P.M. Riots reignite in East Jerusalem, specifically in the Shuafat refugee camp and the neighborhoods of Issawiya, Silwan, Beit Hanina and Ras al-Amud.
In Silwan, Molotov cocktails and stones are thrown at Jewish homes. Police forces clash with rioters at other locations; no injuries reported. (Nir Hasson)
11:09 P.M. Jerusalem rally against anti-Arab violence draws 1,000 protesters, including Opposition Leader Isaac Herzog and Meretz MK Nitzan Horwvitz.
9:19 P.M. The Police are to investigate inflammatory posts on social media. "The State Prosecutor's Office and the police take such incitement seriously, whether it is directed toward Jews or Arabs," the Justice Ministry says. "This is why criminal investigations are to be opened."
Ismail Haniyeh, the vice chairman of Hamas' political bureau, says that "the Palestinian people will not remain indifferent in the face of continued Israeli aggression."
"The Palestinian people are united" in the wake of recent developments in the West Bank, he adds.
In a statement, Haniyeh calls for international intervention to stop what he defined as "Israeli crimes, including the murder of the teenager Mohammed Abu Khdeir." (Revital Hovel and Jack Khoury)
9:05 P.M. Quartet representative Tony Blair issues a statement denouncing the death of the Palestinian youth.
"There is no possible justification for such an horrendous act - and the perpetrators must be found swiftly and brought to justice," he says.
"…The fanatics must be sidelined, and the Israeli and Palestinian leaders must continue their pursuit for a negotiated settlement that will bring about peace and security for their citizens." (Haaretz)
8:51 P.M. Iron Dome intercepts Grad rocket fired toward Netivot.
U.S. Secretary of State John Kerry calls Netanyahu to discuss the violent incidents that have occurred in Jerusalem in the wake of Abu Khdeir's death. (Gili Cohen and Barak Ravid)
7:52 P.M. The Iron Dome aerial defense system intercepts a rocket fired toward the southern Israeli city of Ashkelon. (Shirley Seidler)
7:44 P.M. Public Security Minister Yitzhak Aharonovitch briefs Netanyahu on the investigation into the murder of Abu Khdeir. It is as yet impossible to determine the motive, Aharonovitch says. (Yaniv Kubovich)
Deputy Defense Minister Danny Danon calls on Netanyahu to fire Justice Minister Tzipi Livni and "lead Israel's government into a real battle against Hamas."
"Livni, who still suffers delusions about the peace talks, commands the cabinet with her defeatist attitude, instead of the nationalist camp's spirit leading us into a decisive fight against terrorism and its supporters," he said.
6:55 P.M. The Israel Air Force strikes a Gaza launcher used to fire mortar shells on south Israel. (Gili Cohen)
6:50 P.M. Kerry joins the condemnation of the Palestinian youth's death. "There are no words to convey adequately our condolences to the Palestinian people," he said.
"At this tense and dangerous moment all parties must do everything to protect the innocent," he added. (Barak Ravid)
6:45 P.M. Susan Rice, President Barack Obama's national security adviser, issues a harsh condemnation of the murder of the Palestinian teenager in Jerusalem. In a series of tweets made from her own Twitter account, Rice offers the U.S. government's condolences to the boy's family and to the Palestinian people. The statement is unusual as this was the first reaction by the U.S. government that was done on a very high level, and personally by rice.
Rice tweets: "Perpetrators must be brought to justice. U.S. paying close attention to investigation. We call on all parties to avoid an atmosphere of revenge and retribution." (Barak Ravid)
6:00 P.M. The U.S. Department of State issues a security message in the wake of protests in Jerusalem, warning Americans in Israel "to be aware of your surroundings at all times, monitor the media, and avoid demonstrations and other crowds as they can turn violent without warning." (Haaretz)
5:00 P.M. Knesset Member Ahmed Tibi calls for the punishment of those responsible for the "despicable" murder of the Palestinian teenager.
"Palestinian blood is no less valuable than the blood of settlers, and for [the teen's] mother it is even more important than the whole of Israel and the entire world," he says while visiting Shoafat with fellow United Arab List-Ta'al MKs.
Tibi cites the family as saying that the vehicle used to kidnap the youth was also used in an attempt to abduct a Palestinian girl two days prior.
Opposition leader MK Isaac Herzog tells foreign reporters that while extremists on both the Israeli and Palestinian side are vying to perpetuate a cycle of bloodshed, the majority of Jews and Arabs want to live in peace. (Jonathan Lis)
4:20 P.M. The political security cabinet will meet at 7 P.M. for the third time in three days, to discuss the escalation in Jerusalem over the last 24 hours and on how to proceed in its response to the kidnapping of the three teens.
The cabinet's meeting Tuesday lasted until 1 A.M., and ministers were asked to refrain from making any remarks to the media regarding the contents of the meeting, after details of the discussion on Sunday were leaked to the public. No official decisions were reached in Tuesday's meeting, and the consultations are set to continue. (Barak Ravid)
3:27 P.M. Four mortar shells hit open areas in the Eshkol Regional Council; no injuries or damage reported. (Shirley Seidler)
3:08 French Foreign Minister Laurent Fabius expresses his "horror" following the murder. "The perpetrators of this crime must be identified and brought to justice," Fabius said. (Le Figaro)
2:59 P.M. Police arrest Arab youth who hit a security guard at a Light Rail station in Jerusalem. Protesters hurl two pipe bombs at police in East Jerusalem; none wounded. (Nir Hasson)
2:29 P.M. Justice Minister Tzipi Livni on the missing Palestinian youth: "The circumstances are currently unclear, and I hope that it isn't a case of revenge." (Ch. 10)
2:12 P.M. Fatah official Dmitry Diliani says "The Israeli government bears responsibility for Jewish terrorism and for the kidnapping and murder in occupied Jerusalem." (Reuters)
2:02 P.M. Jerusalem Mayor Nir Barkat vehemently condemned the kidnapping of the Palestinian youth as a "grave and barbaric act" and called for tempers to calm. (DPA)
1:57 P.M. Mohammed, a relative of the missing Palestinian teenager, tells Haaretz that at 3:45 A.M. the teenager was on his way to a mosque near his home to pray. "Then a car came from the direction of Pisgat Ze'ev, stopped, made a U-turn and then they called him and forced him into the car. People saw this and tried to chase after the car," Mohammed said. According to him eye witnesses reported on two or three Jews sitting in the car."
Sayed, the missing Palestinian's uncle, tells Haaretz: "The boy's father is still at the police station and wasn't told a thing. We still don't know whether he's a martyr or alive."
1:30 P.M. Clashes between Palestinian youth and Israeli security forces in Shuafat continue. Palestinians report a number of injuries. No injuries are reported among Israeli security forces. Palestinians attack a fellow Palestinian mistaking him for an undercover policeman. Palestinian sources claim that the riot is one of the worst outbreaks of violence in Jerusalem in recent years.
12:29 P.M. Vandals spray paint "Price tag" and "Death to Arabs" on the wall of an Ashkelon restaurant. Police are searching for suspects. (Shirly Seidler)
12:25 P.M. Prime Minister Benjamin Netanyahu meets with Public Security Minister Yitzhak Aharonovich and requests an immediate investigation into the murder of the Palestinian teenager and the circumstances surround his death. Netanyahu calls on all sides not to take the law into their own hands. "Israel is a state of law and everyone is obligated to act in accordance with the law." (Barak Ravid)
12:02 P.M. Hamas' political leader Khaled Meshal asks Turkish President Abdullah Gul to intercede and stop an Israeli escalation of violence (Jack Khoury)
11:45 A.M. Citypass, the company that operates Jerusalem's light rail system, says that three East Jerusalem stations were vandalized by rioters. (Nir Hasson)
11:28 A.M. Former Defense Minister and IDF Chief of Staff MK Shaul Mofaz attacked Prime Minister Benjamin Netanyahu's security policies: "Netanyahu's policies over the past few years have led to an erosion of Israel's deterrence."
"The kidnapping of the teenagers isn't a mere act of terror it's a dire signal on the state of Israel's deterrence via-s-vis its neighbors near and far. The security response needed isn't just a response to the kidnapping rather it's a strategic action that will restore deterrence and preserve security," Mofaz added. "You know there is deterrence only when it all stops, when every terrorist knows for sure that he is taking his life into his hands and doesn't dare to go out onto the street."
"When we assassinate the leaders of Hamas and those who send out the murderers just as we destroy their storage facilities and offices, then the situation would be different," Mofaz went on to describe what he had in mind as per the proper response, adding "This worked when I was minister of defense and chief-of-staff and it will work now."
11:04 A.M. Palestinians gathered by the home of the missing Palestinian teen in Beit Hanina are throwing stones at Israeli security forces on the scene. Three pipe bombs were also hurled at the force, only one went off. One person injured in the rioting was rushed to an East Jerusalem hospital. No Israeli security personnel were injured.
10:58 Palestinian President Mahmoud Abbas' office: "Israel bears full responsibility for this incident. The Israeli police and security forces must bring those responsible to justice. The Palestinian leadership will continue its discussions following this escalation, including joining international organizations."
10:53 A.M. Palestinian gather in West Bank town of Idhna at where terrorist Ziad Awad's home was destroyed. Demonstrators hurl firebombs and stones at security forces. (Gili Cohen)
10:30 A.M. 42 Palestinians were arrested by the IDF in West Bank overnight raids, including those released in the Shalit deal. Except for one of those arrested all are Hamas activists. (Gili Cohen)
10:28 A.M. Israeli security forces open fire on Palestinians throwing stones at on site in Shoafat. Three residents wounded. (Nir Hasson)
9:48 A.M. Jerusalem District Police Chief Parienti: "The district police was notified at about 4 A.M. that a kidnapping had taken place in the Shoafat area. District forces acted quickly, and using certain means of investigation, focused its search of the Jerusalem forest. At quarter to six we found a body on the side of the road. At this moment, we cannot verifiably connect the missing with the body, it is being checked out at this exact moment.
"I ask Jerusalem residents and everyone else not to jump to conclusions, to wait for developments. There are conjectures and working assessments, we are not hurrying to say one way or another. I ask everyone to show responsibility, understanding and patience."
8:04 A.M. Some 250 Palestinians assembled at the home of the Palestinian terrorist Ziad Awad in a Palestinian town near Hebron. A confrontation with Israeli security forces on the scene broke out. (Gili Cohen)
6:43 A.M. The body of Palestinian teenager was found in West Jerusalem early on Wednesday. According to Palestinian media, the body belongs to an East Jerusalem youth who was kidnapped and murdered. At this point, the claim could not be corroborated. (Nir Hasson)
A heavy police presence is felt in West Jerusalem. (Haaretz)
6:35 A.M. IDF forces demolish part of the house of Ziad Awad, who has been charged with the murder of off-duty police officer Baruch Mizrahi. Awad was released as part of the Shalit deal and re-arrested in the wake of the kidnapping. (Jack Khouri)
3:12 A.M. The UN Security Council members issued a unanimous condemnation of the killing of the three youths. In a public statement published Tuesday, the council members conveyed their condolences to the families of the three boys, to the Israeli public and to the Israeli and U.S. governments.
The statement urged the Israeli government and the Palestinian Authority to cooperate in order that justice be delivered to the murderers. (Chemi Shalev)
2:50 A.M Jerusalem police arrest 50 rioters, most of them minors, after Jewish mobs target Arabs in capital (Nir Hasson)
2:20 A.M. Several hours after the gag order was lifted over the recording of the phone call made by Gilad Shaar shortly after he was kidnapped, the police for the first time responded to criticism of their response, and acknowledged that "a serious failure" took place.
A post on their official Facebook page stated that "a failure such as this must never happen, and we must not let it pass. Whenever there is room for doubt – there is no room for doubt. Not providing a proper response to the distress call of a person is an unforgivable event, on every scale," the post read.
"No organization is exempt from mistakes, and definitely not one such as the Israeli police, which deals with severely complex challenges on a daily basis. Criticism is being aired from every direction, and most of it is legitimate and justified. But some of it is overly disparaging and does a disservice to the tens of thousands of police officers, Border Police troops, and volunteers who work day and night for your protection," the post read. (Haaretz)
Click the alert icon to follow topics:
ICYMI
Ken Burns' Brilliant 'The U.S. and the Holocaust' Has Only One Problem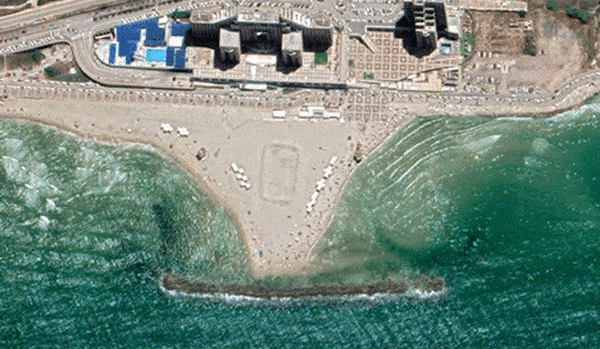 Facing Rapid Rise in Sea Levels, Israel Could Lose Large Parts of Its Coastline by 2050
As Israel Reins in Its Cyberarms Industry, an Ex-intel Officer Is Building a New Empire
How the Queen's Death Changes British Jewry's Most Distinctive Prayer
Chile Community Leaders 'Horrified' by Treatment of Israeli Envoy
Over 120 Countries, but Never Israel: Queen Elizabeth II's Unofficial Boycott