Bedouin Women in Israel Stand Up to 'The Man'
Israel's first labor union for Bedouin women recently won a labor dispute - and the respect of their conservative society.
25-year-old Mona Abu Kef of Israel's first labor union for Bedouin women, Lakiya, June, 2014
Credit: Ilan Assayag
Israel's first labor union for Bedouin women recently racked up an impressive success. After the union, representing employees of day care centers run by an Arab-Jewish organization, declared a labor dispute, management accepted most of its demands. The employees' pay was raised from 27 to 29 shekels an hour ($7.78 to $8.35), they were given two paid vacations a year, one in spring and one in winter, and a plan to turn them from salaried employees into freelancers was shelved.
But their gains are now being threatened by the Economy Ministry's plan to cut the funding it gives the Arab-Jewish Center for Equality, Empowerment and Cooperation — Negev Institute for Strategies of Peace and Development. The proposed cut amounts to just 80,000 shekels, or 28 shekels a month for every child in the organization's day-care centers. Yet the fate of 40 caregivers and some 300 children between the ages of 6 months and 3 years rests on the ministry's decision.
Even if the ministry rescinds the funding cut, the caregivers' employment conditions are far from enviable. They earn about 2,500 shekels a month for five hours a day of work (one union demand that hasn't yet been met is longer hours). And they receive no pay at all during the two-month summer vacation; during those months, they must apply for unemployment.
I met the three leaders of the union, which was set up about a year ago, in a small day care center in the Negev Bedouin town of Lakiya. The center looks inviting, its walls covered by drawings of Winnie the Pooh. But there was no electricity; they had to connect an extension cord to a neighboring apartment to let me use my computer. Most of Arab-Jewish organization's day care centers are in unrecognized Bedouin villages, and unrecognized villages have no electricity. "It's as cold as a freezer here in winter," one said.
The women are essentially waging a two-pronged struggle — on one hand, to improve their wages and benefits, and on the other, to raise their status in their own society. Bedouin society is emerging only slowly from its conservatism, and the status of women within it is improving with corresponding slowness. Women who occupy leadership positions and give interviews to the press aren't a common sight.
Only one member of the executive troika, 25-year-old Mona Abu Kef, agreed to be photographed and quoted by name. "Some women have trouble with photography and the media," she said. "For me it's easier. I was also on Arabic television a year ago."
Her colleague A. also contributed to the interview, but the third woman, H., said little, as her Hebrew is less fluent.
United by fear
The decision to unionize, under the auspices of the Koach La Ovdim labor federation, wasn't initially motivated by a desire to improve their working conditions, but by a desire to prevent a change for the worse: their transformation from salaried employees who get sick leave, paid vacation and pensions, into freelancers who get no benefits at all — which is the norm among employees of day care centers funded by the Economy Ministry.
"At first, I didn't even know what a union was," said A. "But a friend explained it all to me. We weren't afraid, because we knew this was for our own good."
"I understood that we couldn't do it alone, only together," added H.
But they are still afraid of being turned into freelancers, and the Arab-Jewish organization doesn't hesitate to remind them of the possibility. When they informed management about Haaretz's plans to write an article about them, the women said, officials said they feared the article might lead the Economy Ministry to refuse to renew its contract with the organization next year.
At the negotiating table, it was easy to tell who was on which side. The workers were represented entirely by women, including Luda Gopin of Koach La Ovdim, while management was represented entirely by men. The talks proceeded lackadaisically, the women said, and at one point, management deliberately blew them up.
The union then called an emergency meeting.
"It was a stormy meeting," Abu Kef said. "The girls asked, 'When are we going on strike?' The negotiations had been going on for almost a year and nothing had happened. In the end, we decided to declare a labor dispute. They didn't expect something like this from us. It came as a surprise to management. They didn't think we were capable of such a step. After that, they were more willing to meet us halfway."
As a result, no strike has been necessary — at least not yet. "But we'll fight until we get what we deserve," Abu Kef said resolutely. "The Economy Ministry must understand that we want the money we deserve. We'll fight to get it to return the 80,000 shekels it took from the organization, so that a project in which 300 children study won't be shut down over an amount like that."
"It is a disgrace that the Economy Ministry wants to cut back," A. says. "If one of the kindergartens is shut down, where will the children go? We do not have sandboxes and kindergartens, so the children who do not go to day care play in the street and run near the cars. Then people accuse the Bedouin of being negligent. There is a report every week in the Arab press about Bedouin children who were run over. If we are dismissed, we will fall onto unemployment payments and payments from the National Insurance Institute. We want to work. It's better that we be paid for working."
"The fact that the vacation pay could fall through because of a cutback of NIS 80,000 is embarrassing. These are pennies, relatively small change for a government ministry," Gopin says. "They say they are not going to cut back, and that the amount will be raised from parents' payments. But even now, the caregivers are not receiving money from the parents. The Bedouin receive low salaries, and almost none of the parents pay the full amount. Now, they want to increase the parents' payments by NIS 28 per child per month. If they were not paying the full amount before, how can we ask for more?"
Making their voices heard
The agreement reached with the caregivers stipulates that they will receive vacation pay if the budget cut is cancelled. Officials at the Economy Ministry seemed attentive to the problem. "The ministry sees assisting and encouraging the Bedouin women of the Negev as a matter of great importance," a ministry spokesman said. "The project is run by AJEEC-NISPED with the caregivers' agreement. The Economy Ministry is not party to the agreement, nor does it have anything to do with the salary conditions or payment for vacation days. Still, since we have been contacted regarding the matter and the ministry regards the issue as important, a hearing on the topic was quickly called in an effort to assist this significant project."
"To management's credit, let it be said that it was willing to be flexible and compromise after the labor dispute was declared," Gopin says. "What happened in this union is not something that might have been taken for granted, and it is moving. Its only members are Bedouin women who live in nine different communities, and they have accomplished a great deal. The committee members had a great deal of determination in the struggle. The entire move created empowerment among the women. At first, it was not a natural thing for the committee members. I feel that they felt a change in themselves, and today they are more independent and determined."
A. says that her husband, who works as a teacher, was happy with her decision to work outside the home. "Our financial situation is difficult, and it helps the family," she says. "At first, I was a bit afraid to meet with the managers, but I overcame it. I haven't been afraid since then. I feel that I have the power to ask for what we need."
The change is also visible in the parts of the women's lives that have nothing to do with the union. Their feeling of independence has increased, for example. The members of the union's leadership got their driver's licenses recently, and A. wants to take a course to get more advanced training in caregiving. "The Bedouin see that the union succeeded, so they are interested as well," Abu Kef says.
Click the alert icon to follow topics:
ICYMI
Ken Burns' Brilliant 'The U.S. and the Holocaust' Has Only One Problem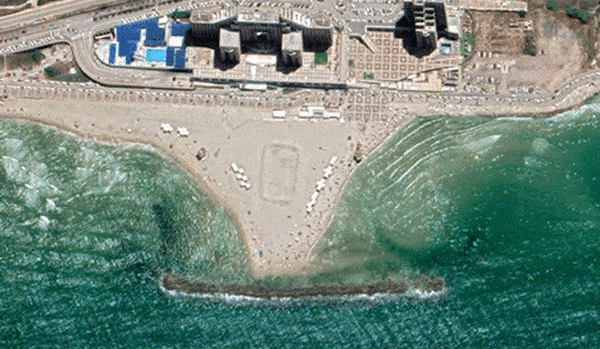 Facing Rapid Rise in Sea Levels, Israel Could Lose Large Parts of Its Coastline by 2050
Lapid to Haaretz: 'I Have Learned to Respect the Left'
The Mossad's Fateful 48 Hours Before the Yom Kippur War
As Israel Reins in Its Cyberarms Industry, an Ex-intel Officer Is Building a New Empire
How the Queen's Death Changes British Jewry's Most Distinctive Prayer