Are Diaspora Jews a Bunch of Wimps?
Given Diaspora Jews' passivity about Israel, it's no surprise that A. B. Yehoshua dismisses them and Netanyahu uses them as political pawns.
Celebrate Israel Parade
Credit: AP
You just know it's going to happen again. The organizers of a literary festival will invite Israeli writer A. B. Yehoshua to some panel on Jews with views, and he will let rip once more at the Diaspora. He's a sure thing to inject what is by now a routine controversy and save any event from boredom – the grand old man of Hebrew letters insults his genteel interlocutors from overseas.
Yehoshua has said and written it already so many times, it's almost funny to see how hurt American Jews are. Last Wednesday, his disdain was on display yet again at the Jerusalem International Writers Festival, where he shared a stage with novelist Nicole Krauss and journalist Shmuel Rosner, who moderated.
Yehoshua bluntly told Krauss that only in Israel are we dealing with "real Judaism," and that in books written by Jewish writers in other countries, "the texts have no significance."
I wasn't there at the event, but the secondhand impression from various accounts is that while Krauss apparently kept her calm, many in the audience were deeply insulted.
I disagree with Yehoshua. No one should get to define what, how or where Judaism or Jewishness can best be practiced, lived and experienced. But I don't share the sense of outrage of those who choose to feel offended by him.
Their real problem is not with what the old writer said, but with the fact this blinkered, provincial and narrow-minded view was being uttered by him of all people.
Yehoshua, after all, is exactly the kind of Israeli those American Jews want to love; and to be loved by in return. He's a moral voice, a secular-liberal, a leading light of the Zionist Left and internationally acclaimed for his writing.
Surely such a commendable figure couldn't hold such primitive views on the sophisticated and urbane Jews of the western world? Hence the scandalized tone of offense.
Some writers have suggested that, in future, no attention should be paid to Yehoshua's views on the subject. But I hope they remain in the minority. Because as wrong as he may be, Yehoshua was simply saying what many, if not the majority, of Israelis think; though they're usually too polite to say so to the face of our dear brothers and guests.
Yehoshua once told me in an interview that he doesn't spend much time listening to the news or reading the papers. But I wonder if he heard that just the evening before, Prime Minister Benjamin Netanyahu had launched a lightning campaign to convince another venerable Diaspora writer of "insignificant texts" to become the next president of Israel.
I would have dearly loved to hear Yehoshua's reaction to the fact that Netanyahu, having failed to find a suitable (in his eyes) candidate for Israel's highest office, had turned instead to a "play" Jew to fill the position.
In an interview with Israeli newspaper Yedioth Ahronoth, Elie Wiesel confirmed that, in the space of a few hours, Netanyahu had phoned him three times, imploring he accept the honor. And when that didn't work, he had various mutual friends apply pressure in turn. According to Wiesel, Netanyahu said, "It's important for Israel, it's important for the Jewish people."
Wiesel's interviewer, journalist Nahum Barnea, observed sardonically that only a week earlier the same Netanyahu had been saying that the role of president was so trivial that it would be better to abolish it altogether. All he cared about was denying the presidency to his bête noir, former Knesset Speaker Reuven Rivlin. Failing to find an Israeli straw man to run against Rivlin, Netanyahu looked abroad.
These two rather pathetic episodes from last week perfectly illustrate the two main attitudes in Israel to Diaspora Jews – a combination of condescension and cynicism.
Sorry, but that's how we see you; somewhere on the spectrum between Yehoshua's dismissal of you being poor excuses for "real" Jews and Netanyahu's cynical perspective that you're useful idiots – there to be used at his convenience to further whatever particular political agenda he's on this week.
Wiesel, to his credit, didn't allow Netanyahu to take advantage of him. How many American Jews can say the same?
If anything, American Jews should be offended much more by Netanyahu. Yehoshua is simply saying what he really believes, and is asking nothing of Jews who prefer to live outside the Jewish state.
Netanyahu, on the other hand, pays lip-service to the "unbreakable" ties between Israel and the Diaspora, and in return takes for granted both their lobbying and support in Washington and other capitals, and the financial support of benefactors such as billionaire casino magnate Sheldon Adelson for his domestic political ambitions.
Yehoshua may be wrong in disregarding the fantastic cultural achievements of the current-day Diaspora and thinking that literature, music, art, film and theater are necessarily any less Jewish for having been created in New York, London or Moscow, but he has a point when it comes to politics.
This is where all those fine moral Jews have allowed themselves to become less Jewish – and by that I mean they have forsaken the most Jewish characteristic of all – to cry out against injustice.
Under the lame excuse of not voicing their opinions because they don't live here, most of the Diaspora's Jews, who just like Yehoshua believe in an Israel that can and should be a more moral society, making real efforts to end the occupation and make peace with its neighbors, have remained silent.
Instead, they have left the field wide open to Jewish extremists on either side – to the racist and xenophobic supporters of the settlers and the radical leftists who abhor Jewish statehood. The debate within the Diaspora over Israel's future is dominated by those who encourage Israel's worse tendencies and those who can only see the worst in it, no matter what.
You can grumble all you like about settlers and religious fanatics giving Jews a bad name and besmirching Zionism, as you once saw it.
If you wanted to have a bit more influence, why did you let men like Malcolm Hoenlein, the executive vice chairman of the Conference of Presidents of Major American Jewish Organizations, and Abraham Foxman, head of the Anti-Defamation League – who will never say a word of criticism about Israel's policies – represent you?
Why have the Zionist Federations around the world been monopolized by people who even in Israel would be regarded as the lunatic fringes of the far-right?
Why was there any need for liberal Jewish groups like the United States' J Street and Britain's Yachad if mainstream Jewish opinion is so different from that of the so-called "leaders"?
Is it any surprise that A. B. Yehoshua thinks you're a bunch of inconsequential wimps and Netanyahu knows that he can rely on you for whatever he wants?
After all, the huge majority of pro-Israel and pro-peace Jews in the United States and Europe have remained silent, cowed by their own homegrown intolerant zealots from either side.
You want to earn our real respect? Then stop being ashamed to speak out for the Israel you believe in.
Click the alert icon to follow topics:
ICYMI
Ken Burns' Brilliant 'The U.S. and the Holocaust' Has Only One Problem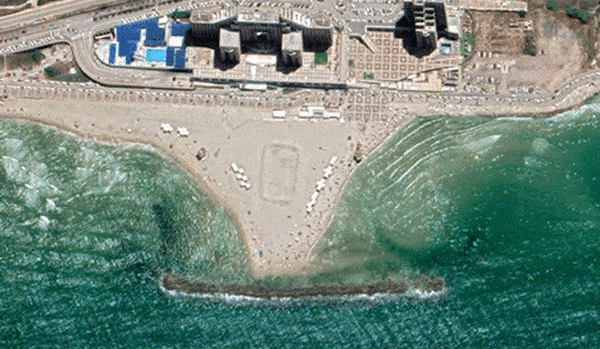 Facing Rapid Rise in Sea Levels, Israel Could Lose Large Parts of Its Coastline by 2050
As Israel Reins in Its Cyberarms Industry, an Ex-intel Officer Is Building a New Empire
How the Queen's Death Changes British Jewry's Most Distinctive Prayer
Chile Community Leaders 'Horrified' by Treatment of Israeli Envoy
Over 120 Countries, but Never Israel: Queen Elizabeth II's Unofficial Boycott