Why the World Should Care About Scotland's Independence Vote
From secessionists in Spain, to investor stability. Here are a few reasons why the referendum matters.
On September 18, Britain could lose 5.3 million Scots.
Credit: AP
Small northern nation to vote on independence in peaceful referendum. Should the world care at a time when Ukraine has pitted East versus West in an echo of the Cold War?
Scotland has punched above its weight for centuries, bringing the world Adam Smith, the father of the free market, as well as the steam engine, television and penicillin.
And there are more pressing reasons to pay heed to a September 18 vote which could see Britain lose 5.3 million Scots.
A lot of energy has been expended arguing whether an independent Scotland could join the European Union. Even more telling would be its absence from the debate about whether the rest of Britain should remain part of the EU.
Overall, Scots are more pro-EU than the English and if they voted to secede this year would not get a say in a planned 2017 referendum on Britain's place in Europe.
As a result, the chances of England, Wales and Northern Ireland voting to quit the EU would rise. Scotland may only account for around 4 million of the U.K.'s 45 million voters but with opinion finely balanced they could prove decisive.
Among the international factors here is that of Britain's main ally, the United States. It has been reserved about its view of the Scottish debate but has made it abundantly clear that it wants to see Britain at the heart of the EU.
Secessionists are trying to use the EU question to their advantage in the Scottish campaign, hoping it will help shift opinion polls which suggest the campaign to remain part of the U.K. is holding onto a slim lead.
Scottish nationalist (SNP) leader Alex Salmond says the biggest threat to Scotland staying in the EU is Prime Minister David Cameron's pledge to hold an in-out EU referendum. He can now point to anti-EU U.K. Independence Party's win in European elections to emphasize the threat of Scotland being dragged out of the bloc by English votes.
Right-leaning Westminster?
Scottish independence would also alter the calculus for national politics in the rest of the country.
The opposition center-left Labour party has 41 members of the Westminster parliament in Scottish seats while the center-right Conservatives have only one.
Take those out of the equation and the path for Labour to win power looks daunting, though whichever way the Sept. 18 referendum goes Scots will get to vote in national British elections next year.
That raises another uncertainty. If Labour won in 2015, it may have to call an early election once it loses its Scottish MPs if it was robbed of its parliamentary majority.
"There would probably then be a more or less immediate general election for the Westminster parliament, probably in late 2016 or early 2017, with ... a significant probability of a Conservative victory," Nomura bank said in a recent note.
That loops back to Britain's EU membership since the Conservatives are committed to holding a plebiscite while Labour is not.
The irony is that the Conservatives have traditionally been the strongest defenders of the union and Cameron's position could come under threat if the Scots vote to go their own way, destabilizing his party as it moves into election mode.
Investor uncertainty
For investors, there are many unknowns to ponder.
What share of Britain's debt would Scotland take? Would it retain the pound? Would it get the lion's share of oil revenues from the North Sea, estimates of which vary wildly? Would it follow a different fiscal policy?
All of the above will lead to nervousness as the referendum nears though markets continue to price in a "No" vote.
What is certain is that minus Scotland, Britain would slip down the pecking order from being the world's sixth largest economy.
There could even be questions about whether it continued to merit a seat on the UN Security Council and be a member of the Group of Seven economies at a time when power is shifting to the world's big emerging economies.
Ratings agency Moody's says an independent Scotland could expect an investment-grade credit rating but face higher borrowing costs than the rest of Britain. If negotiations with London on how to separate proved acrimonious, its rating would be lower.
Rival ratings agency Fitch said the U.K. would need longer to recover its triple-A debt rating if Scotland split away.
The Scottish National Party wants to keep sterling but that is opposed by all the main political parties in London. On the foreign exchanges, the pound could slide after Scottish independence.
The $2.5 trillion U.K. economy is Europe's biggest destination for foreign direct investment, a key driver of currency flows. Without Scotland - assuming it did not keep the pound - those flows would fall.
The British Treasury has said it would honor all existing government debt regardless of whether Scots vote for independence, a move aimed at preventing bond market volatility.
Oil giants Royal Dutch Shell and BP have said they want Scotland to remain part of the U.K. and insurance and pensions heavyweight Standard Life has warned it could move partly out of Scotland if it secedes.
"Given a choice, we want to know as accurately as possible what investment conditions will look like 10 or 20 years from now," Shell chief Ben van Beurden said in March.
Defense
Britain has four submarines carrying Trident nuclear warheads operating out of the Faslane naval base in Scotland. The SNP wants nuclear weapons removed from an independent Scotland at the earliest opportunity.
Former British defense chiefs warned against such a move last month, saying it would cost billions of pounds, cut thousands of jobs and create resentment internationally.
At a time of heightened tension with Russia, NATO allies are likely to be concerned, although it would likely take years to move the naval base.
The future of the nuclear submarines are seen by some as one of Scotland's main bargaining chips in getting what it wants in the 18 months of negotiations that would follow a "Yes" vote to work out how it leaves the United Kingdom.
The Royal United Services Institute think tank has warned that London and Edinburgh would have to work hand-in-glove on security and intelligence matters.
If they did not, there was a risk that weak Scottish capability could make it vulnerable to foreign intelligence and terror networks and provide a route for them into the UK.
Secessionists in Spain
Europe is watching keenly, none there more so than Spain.
The government in Madrid has refused to allow Catalonia to hold a vote on independence in November but the region has vowed to press ahead with a non-binding referendum anyway.
If that is blocked, Catalan President Artur Mas said he would call an election which would be seen as proxy vote on independence.
A Scottish vote for independence would embolden the Catalans. That may be one reason why officials in Brussels have told the Scots that it would be difficult for them to join the EU.
New states have to be voted in unanimously by existing members and Spain could well block it.
Northern Ireland
Scottish independence could also have a destabilizing influence on Northern Ireland which has been thrown into a bout of soul-searching by the detention of Sinn Fein leader Gerry Adams for questioning in connection with the 1972 murder of a mother of 10.
He was released without charge.
Though a 1998 peace deal largely ended decades of sectarian violence, Northern Ireland remains deeply split between Protestants who mainly want to remain part of Britain and Catholics tending to favor unification with Ireland.
The unionists have particularly close links with Scotland while those who favor uniting with Ireland could seize upon a Scottish "Yes" vote to press their claims more forcefully.
ICYMI
Ken Burns' Brilliant 'The U.S. and the Holocaust' Has Only One Problem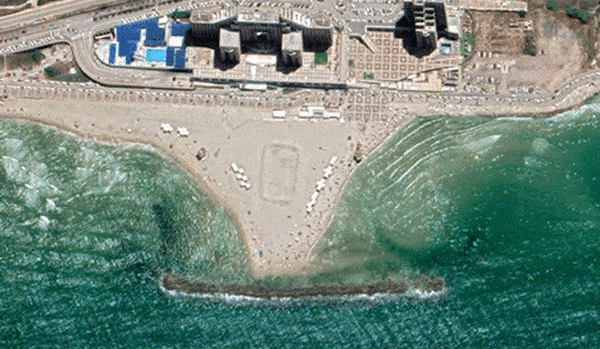 Facing Rapid Rise in Sea Levels, Israel Could Lose Large Parts of Its Coastline by 2050
As Israel Reins in Its Cyberarms Industry, an Ex-intel Officer Is Building a New Empire
How the Queen's Death Changes British Jewry's Most Distinctive Prayer
Chile Community Leaders 'Horrified' by Treatment of Israeli Envoy
Over 120 Countries, but Never Israel: Queen Elizabeth II's Unofficial Boycott