Ayelet Waldman: Bad Mom, Good Writer
Ayelet Waldman talks about the courage to write about the Holocaust, how she could survive the death of her child, but not that of her husband, and why she never dated classmate Barack Obama.
Writer Ayelet Waldman in Jerusalem, May 2014.
Credit: Emil Salman
Many were disappointed that the American author Michael Chabon did not attend the International Writers Festival last week in Jerusalem. But his wife, writer Ayelet Waldman, did attend, and anyone who met her was definitely not disappointed.
Waldman became America's bad mother in 2005 when her essay, entitled "Truly, Madly, Guiltily," was published in The New York Times. In that essay, Waldman wrote that her relationship with her husband was more important than her relationship with her children. She loved her husband more than she loved her children, she wrote, and while she could survive the death of one of her children, she would not be able to survive the death of her husband.
America went into an uproar and Waldman went on Oprah to try to explain herself. Following that, she wrote the 2009 best-selling book, "Bad Mother: A Chronicle of Maternal Crimes, Minor Calamities and Occasional Moments of Grace." Her other published works include seven detective novels and three literary novels, some of which have been translated into Hebrew.
We meet in Jerusalem, and I am surprised to find that she speaks Hebrew. She was born in Jerusalem in 1964, and even though her parents returned to Canada when she was two and a half years old, she had several encounters with Israel, including a failed six-month attempt at aliya in 1986. "The kibbutz killed me," she says. "It was a kibbutz of yekkes — Jews of German origin. It was a lovely place with nice people, but yekkes pass each other without saying hello."
Waldman's new book, "Love and Treasure," re-establishes her as a writer, rather than the wife of Michael Chabon, a professional bad mother, or the woman at the eye of the media storm. Her novel tells the story of the Hungarian Gold Train, which was stopped in 1945 by American troops near Salzburg and found to be carrying a fortune — the property of Hungary's Jews.
The book is divided into three parts that integrate with one another. The first part is written from the point of view of Jack Wiseman, who served in the American army as a young man. When his unit was put in charge of the treasure, Jack met Ilona, a Holocaust survivor, in Salzburg and fell in love with her.
The protagonist of the novel's second part is Amitai Shasho, an Israeli kibbutznik and combat soldier descended from the Syrian Jewish community. Grown tired of Israel, Shasho lives in New York, where he works in the family business as an art and jewelry dealer. As part of his work, he locates art objects stolen from Jews during World War II and restores them to their owners for a hefty fee. In the wonderful third part, a Hungarian psychoanalyst treats, with tragicomic misunderstanding, a young Hungarian feminist who devotes herself to the suffrage movement instead of marrying, as she is expected to do.
Angry with Israel
Waldman recalls that she spoke about her book in a synagogue a few days before coming to Israel. A man from the audience approached her after the lecture and told her that she was anti-Semitic and anti-Israel. Immediately afterward, a woman accused her of being a Zionist and not caring about the Palestinians. "Both were Jews. Everybody's angry," she says.
It's evident in your book that you are angry with Israel.
"Yes. It's complicated because it is not just anger. What I wrote about what people from the Mossad Le'Aliyah Bet [the branch of the Haganah pre-state underground that facilitated clandestine Jewish immigration to pre-state Israel] said about Holocaust survivors — that they were scum — I took from the letters of [Israel's first prime minister, David] Ben-Gurion. I simply stole those words because I knew there would be flak, and I wanted to give myself a firm basis to stand on. But it's complicated because as Ilona says, where is she going to go? Why think that living in New York is any different from living in Budapest?
"What is important is that Ilona understands exactly what she's doing. She's not starry-eyed at all. She doesn't board the ship thinking that everybody loves her and is going to welcome her with a smile, She does it because she knows there's nothing else. My grandmother once told me, 'Never forget you are always just around the corner from an oven.' I remember that I laughed because to me, it sounded so sad and funny and idiotic. But after living in that world for a time, you realize that Budapest in the 1930s was like New York. Half the doctors were Jews. Everyone in the stock market was Jewish. I turned into my grandmother during that time. Once, while we were watching TV, I said to Michael, 'Do they have to call themselves Goldman Sachs?' You know — hide it, hide it, don't let anyone notice that we're Jews.
Safety is an illusion
"I'm ashamed of that, but on the other hand the Jews in Budapest felt safe, as I feel safe in New York. There's no difference. As close as the pogrom was to them — that's how close it is to me. When you own 90 percent of the stock market, you don't think you can be killed. What I learned was that the feeling I have, this feeling that is so American, of being so completely safe that it will never happen to you, is an illusion."
Do you see the State of Israel as a place that you may need to run to one day?
"If you don't ruin everything. If something is left once Netanyahu and all his friends are done. The road is getting more and more nationalist, and I don't see any way that the end will be anything but a disaster. It's impossible to live with so many enemies so close, and without the international community. The generation that said that Israel was above all else is disappearing. If a generation should come that preserves the feeling that we have to protect Israel, it has to be with ideas that can coexist with the feeling of being American. That's why I was astonished that the Conference of Presidents of Major American Jewish Organizations did not accept J Street. That's short-sighted, because it's the only way we can have a Zionism that the American public can live with."
How did you get the idea of writing about the Gold Train?
"I knew I wanted to write about the Holocaust, but I was terribly frightened. If you read a lot about the Holocaust, you know that it's very hard to write about it without being exploitative, and the schmaltz surrounding the Holocaust in the world is awful. For a Jewish-American writer, it's like a shortcut: You write about the Holocaust and suddenly you're serious. All my life I read about it, thought about it and dreamed about it. It was an obsession, but I didn't dare go near it until I had read enough books about it and thought I could trust myself."
Where does the voice of the psychoanalyst in the third part come from?
"I woke up one day with that voice in my head. I once heard the writer Alice Sebold say on Charlie Rose's television show, 'I don't write; I channel.' When I heard that, I thought: 'What bullshit,' but that's how it was with the third part. I woke up with this voice in my head. I knew everything about it and I wrote it all at once. My husband and I go over each other's manuscripts, and always give them back to each other full of red ink. He writes 'DB' — 'Do better' — on my pages, and I write 'Yuck' on his. He didn't write anything at all on the third part. I told him, 'What — you didn't read it?' He said he hadn't been able to stop reading it, and that there was nothing to change."
Law school days
Waldman attended Harvard Law School in 1988, in Barack Obama's graduating class. When I ask whether she had ever gone out with him, she answers, "If I'd known he was going to be president, I would have gone out with him. But he was so skinny back then." After graduation, she worked as a public defender in federal court. Later on, she decided to take a break, and that led to writing.
Being married to Michael Chabon is a recipe for not being taken seriously as a writer.
"He respected me even when I wrote idiotic books. I'm not saying I think detective novels are idiotic. There are high-level detective novels, but mine weren't. They were all that can be done when you're nursing. They were cute. That is the best that can be said about them. He took me seriously even then, so between us it's not difficult. But for a person with ambition, sometimes it's a bit tough to see, from so close up, what they're not doing. But it was also a terrific challenge. I'm ashamed that it bothers me, but it does bother me a little that there are people who will never take me seriously no matter what I write because I'm married to Michael Chabon."
Waldman says that her children are careful never to read a word their parents write. "Sophie read Michael's novel 'The Mysteries of Pittsburgh,' which is a gay love story. It contains a gay sex scene, and she was really disgusted by it. She hasn't been willing to go anywhere near our books since then, and she told the younger children: 'Don't go near their books because all they write about is sex.' It's better that way. It's hard enough to walk around having a father as famous as Michael is in the United States. It can be a blow, and they also have to see their mother on Oprah Winfrey. It's better that they don't read the books, but I read the essays about them in 'Bad Mother' aloud to them to get their permission, even though permission that you give when you're 12 years old isn't so...."
How did they react when you told them you loved your husband more than you loved your children?
"Sophie said, 'So, what else is new?' I may have crossed a line with that sentence. We would kill ourselves and each other before something happened to our children — that's clear. It's not that I'd ever want anything to happen to them. It's that I can think about how I'd live with it, but I don't know what I'd be without my husband. I wouldn't find myself. We're too dependent on one another."
That's dangerous.
"Yes. I've put all my eggs in one basket."
Click the alert icon to follow topics:
ICYMI
Ken Burns' Brilliant 'The U.S. and the Holocaust' Has Only One Problem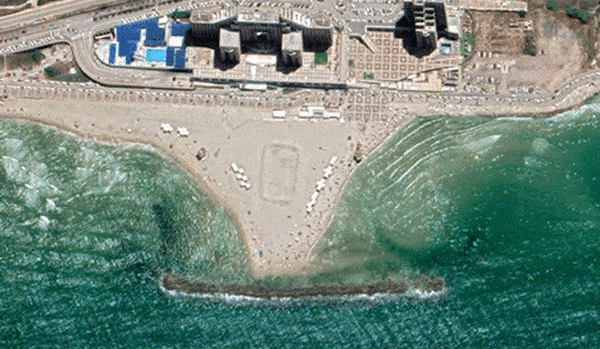 Facing Rapid Rise in Sea Levels, Israel Could Lose Large Parts of Its Coastline by 2050
As Israel Reins in Its Cyberarms Industry, an Ex-intel Officer Is Building a New Empire
How the Queen's Death Changes British Jewry's Most Distinctive Prayer
Chile Community Leaders 'Horrified' by Treatment of Israeli Envoy
Over 120 Countries, but Never Israel: Queen Elizabeth II's Unofficial Boycott