Might the Chinese Shanghai Tnuva?
The worries about the food maker's sale to the Chinese are (mostly) unjustified: they aren't buying the company for its market share.
A protest against selling Tnuva to a Chinese company, outside the company's offices (Feb. 24, 2014)
Credit: Daniel Bar-On
It's easy to think the "unwelcome" that China's Bright Food has been getting since it agreed last week to buy control of Tnuva – Israel's biggest food maker – has a whiff of racism about it. After all, no one complains when American and European companies snap up startup companies and the valuable intellectual property they contain, or asked whether Warren Buffett would take Iscar back to Omaha after he bought it.
Tnuva is different, some might argue, because it is quintessentially Israeli. It had been owned by kibbutzim and makes the cottage cheese whose Israeliness rivals Arik Einstein and grilling meat on Independence Day. How can we let people way off in Shanghai who don't know a curd from a whey be responsible for making something akin to the national dish?
But then again, the peanut-flavored snack Bamba is just as Israeli, and its maker, Osem, has been controlled by Switzerland's Nestle since 2000. Telma Corn Flakes and Blue-Band margarine have been made by the Anglo-Dutch firm Unilever since it bought their Israeli manufacturer, also in 2000.
Is the difference that one is Asian and unfamiliar, and the other comfortably American or European?
I don't think so. The difference between when Bright Food bought Tnuva and Nestle bought Osem or Unilever acquired Telma is timing.
The people awake
Since the 2011 social justice protests, economic populism has taken over the political and media discourse. Mergers and acquisitions that could once be negotiated in board rooms and quietly approved by regulators are now being scrutinized in ways unimaginable a few years ago.
Populism isn't a bad thing per se, but it is easily vulnerable to manipulation. Unions trumpet labor rights, but mainly to ensure their privileges. Politicians and government officials defend their prerogatives, powers and budgets by claiming they need to protect the disenfranchised and downtrodden. With Tnuva and Clal Insurance – another major Israeli business in line to be sold to Chinese investors – the populist environment makes it too easy and effective to raise the banner of jingoism.
The atmosphere of suspicion and distrust toward business and government makes the public all too ready to hear the flimsiest of arguments about how the people are being sold down the river.
But the fact is, Tnuva is going to remain Israeli as ever. Not only has Bright Food agreed to keep the company's management Israeli, it has every interest in doing so.
They don't want our flea-size market
Capturing the Israel food market, which is no bigger than a medium-sized Chinese city, isn't what Bright Food is after.
For them, Tnuva is small change. Except that it is more bovine than biotech in nature, the Tnuva deal is part of the unbeatable combination of Israeli innovation and Chinese industry that everybody hails when it involves a startup company.
What Bright Food wants is access to Israeli dairy technology, which it won't be able to get – much less keep – by moving Tnuva's operations to China.
Israeli farm conditions – too little water and too much heat – approximate those in China, yet Israeli cows produce three or four times more milk than their Chinese peers.
If China is going to build its dairy industry, it has to make it more productive, hence it bought Tnuva.
But as in high-tech, for that to work for the Chinese, Israeli people have to be on board, too. The Israeli cow is the world-leading milk producer, but Israelis are the ones who know how to coax those liters out of the beast.
However, before we raise our glass of milk to toast the Tnuva deal, let's pause to consider two legitimate concerns.
A moment on Chinese food safety standards
One is Chinese food safety standards. A quick perusal of the Wikipedia entry on the subject counts no less than 33 scandals in the last 11 years, covering pretty much everything you could put into your mouth but wouldn't if you knew what it was. Blood pudding made from formaldehyde, and soy sauce produced with human hair are just two of the least appetizing. Then there's the milk and infant formula that were found to be adulterated with melamine, which is used to make Formica countertops and flooring among other things.
The risk here, however, seems particularly low.
The Chinese have no interest is bringing their food industry standards to Israel, which could only hurt their investment in Tnuva. In any case, Tnuva will be answerable to Israeli health authorities, not China's. It will up to us to make sure Tnuva's products are safe, not Beijing's.
The second is politics. Many people justifiably assert that Chinese business is never wholly separated from the Chinese state, particularly in the case of a state-owned enterprise like Bright Food.
A day after the sale, one treasury official warned that the next time regulators order Tnuva to cut the price of yogurt, the prime minister will be getting a phone call from Beijing. Others have warned more darkly that, in the event of a global food crisis, Tnuva's new masters might redirect its products to China, leaving Israel short of food.
That is a real concern.
As China has grown stronger and more confident, it has begun throwing its weight around in ways unimaginable even a few years ago, challenging Japan and Vietnam's territorial rights and moving aggressively to establish beachheads in Africa. The fact that Chinese companies like Bright Food are circling the world snapping up foreign companies is another expression of Beijing's new assertiveness.
Worryingly, the waning of U.S. power, which some point to as a reason to move closer to China, will only make Beijing more assertive and, from Israel's point of view, more dangerous.
That doesn't mean we should oppose the Tnuva sale. China is already too big and important for Israel to shun it. To the contrary, we have every reason to build on the commercial and technology ties that have begun.
But we should certainly be wary about getting too close to China politically. Some – our prime minister perhaps among them – fantasize about Beijing becoming a counterweight to Washington, a pragmatic ally who doesn't make endless, annoying demands for peace talks and settlement freezes.
That's true, but China also won't be there to protect us in the UN General Assembly or ship us arms or provide billions in foreign aid. Unlike the U.S.-Israel relationship, there is no sentiment wound up in our growing ties with China. Both Jerusalem and Beijing have an interest in further relations, but it is primarily economic and subject to changing interests. China might be a friend in the diplomatic sense of the word, but it is never going to be a partner.
ICYMI
Ken Burns' Brilliant 'The U.S. and the Holocaust' Has Only One Problem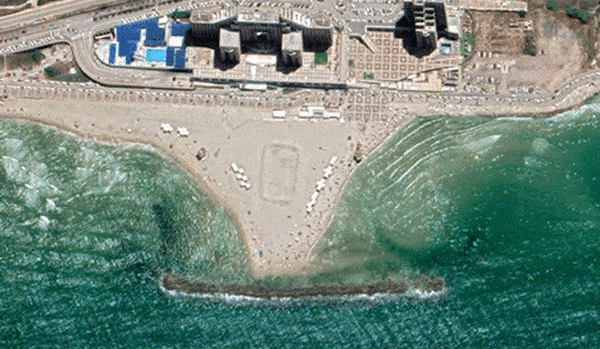 Facing Rapid Rise in Sea Levels, Israel Could Lose Large Parts of Its Coastline by 2050
As Israel Reins in Its Cyberarms Industry, an Ex-intel Officer Is Building a New Empire
How the Queen's Death Changes British Jewry's Most Distinctive Prayer
Chile Community Leaders 'Horrified' by Treatment of Israeli Envoy
Over 120 Countries, but Never Israel: Queen Elizabeth II's Unofficial Boycott