There Is (Almost) Nothing Worse Than Being Called 'Ashkenazi'
All hell broke loose on Facebook this week over Big Brother and the rules of conducting a Mizrahi debate.
Audience members attending Israel's Big Brother.
Credit: Daniel Tchetchik
It started with a silly conversation with a friend about Recep Tayyip Erdogan, the prime minister of Turkey, who last week hurled the curse "Israil dolu" at someone who was demonstrating against him. The phrase means "seed of Israel," and not in the positive sense of the word "seed" – nor, for that matter, in the positive sense of the word "Israel."
My friend adamantly maintained that Erdogan is a Jew-hating wretch, to which my response was that I pity the guy. In my opinion, I went on, Erdogan is a captive of the culture into which he was born, which, with due caution, I would term "Mizrahi" (usually referring to Jews of North African and Middle Eastern origins).
One of the pillars of said culture holds that an affront to honor cannot be atoned for, and indeed anyone whose honor has been impugned is expected to respond with all the verbal and physical violence at his disposal. In short, this is not a culture that encourages free debate or dialogue, for its adherents immediately take any criticism as an affront to their honor and react in a violent manner.
I don't recall how we got from there to talking about Ortal Ben Dayan, the Facebook mainstay of the radical feminist Mizrahi left in Israel, who gained fame thanks to her big mouth and the fact that she is now appearing on the popular television reality program "Big Brother."
My friend said that in his opinion, she went on the show as part of the radical strategy that says it's essential to penetrate the bastion of capitalist entertainment in order to disseminate an extremist agenda and thus to undermine the hegemonic culture from within – or something like that.
However, not all of Ben Dayan's comrades in that radical vegan feminist Mizrahi left-wing Facebook community are pleased with her decision to set aside her principles for a capitalist mess of pottage. Heading the Facebook camp that's against her are Liora Lopian and Revital Madar. Those two social-media activists insist vehemently that Ben Dayan has deviated from the pure radical path and that her participation in "Big Brother" may possibly smack of opportunism.
Ben Dayan is, however, being staunchly defended on Facebook by poet Roy Hasan, a member of a Mizrahi poetic group, who rains down fire and brimstone on Lopian and claims that she is actually an Ashkenazi woman posing as a Mizrahi. For their part, Lopian and her sidekick Madar defend themselves by saying that being Mizrahi is a sort of posture and world view, and is not necessarily related to one's ethnic-genetic origins.
Another Facebook activist who is trying desperately to bring about a reconciliation between the camps is Eyal Sagui Bizawi, who is calling on everyone to return to their senses.
To an outside observer, this war of Gog and Magog appears completely stupid and absurd. One would think that it would be obvious that this radical Mizrahi Facebook community is a mere curiosity and in almost no way, shape or form represents the Mizrahi public in Israel. It is, after all, a well-known fact that Mizrahim in this country are for the most part religiously observant, politically conservative and quite far from feminism, although it is always possible to argue that they were forced into such a stance by being marginalized under Ashkenazi suppression.
That said, there would seem to be one important area in which the radical Facebook group in question does succeed in being an authentic representative of the Mizrahi public, for whose sake it purports to be waging a struggle. That one area is its sheer inability, or unwillingness, to conduct a dialogue that in Ashkenazi jargon is called a "civilized debate."
In other words, the fact that everyone curses everyone and that everyone shouts at everyone has the aim of transmitting the message that what characterizes and unites all the Mizrahim, irrespective of political opinion, is a violent style of debate, which is not really a debate but rather an offensive of mudslinging aimed at those who slung mud at us in the previous round.
Conclusion: Anyone who does not play this violent game of answering insult with counter-insult is patently not a purebred Mizrahi and needn't bother pretending otherwise, because we won't believe him. As a direct result of this, Facebook is loaded with responses, and counter-responses protesting violence by writers who are brawling with one another, not always for any sensible reason but simply because some people have figured out that a violent style is the exclusive entry ticket to the coveted club of Mizrahi identity.
It follows that these days the most effective way to insult someone on Facebook is to brand him an "Ashkenazi" – or worse: to denounce him publicly as a Mizrahi who is not of pure seed and is only posing as a pure Mizrahi, much as Roy Hasan did to Liora Lopian, the enemy of Ortal Ben Dayan. And all this is quite reminiscent of the "seed of Israel" curse that Erdogan directed at someone who was demonstrating a against him. "Seed of Israel." Meaning: not of pure Turkish seed.
And what was the proof that the demonstrator involved sprang from non-Turkish seed? The proof is that he fled from the police who pursued him, instead of confronting them like a man. Erdogan, too, if he suddenly dropped his aggressive behavior and expressed himself with less vulgarity and less violence, would immediately be suspected of perhaps not being of pure Turkish seed and of "going Ashkenazi," heaven help us.
By the same token, if the Facebook controversy over Ortal Ben Dayan were to assume a less savage character, we can be certain that a new wing of the radical Mizrahi left would be formed, and would point a finger of accusation at their brethren as it demanded to know: "What's gotten into you? Have you gone Ashkenazi?"
It turns out that nowadays, surprisingly, this is increasingly viewed as a stinging insult.

ICYMI
Ken Burns' Brilliant 'The U.S. and the Holocaust' Has Only One Problem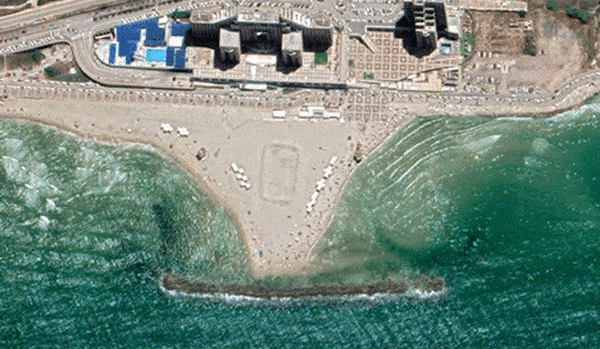 Facing Rapid Rise in Sea Levels, Israel Could Lose Large Parts of Its Coastline by 2050
As Israel Reins in Its Cyberarms Industry, an Ex-intel Officer Is Building a New Empire
How the Queen's Death Changes British Jewry's Most Distinctive Prayer
Chile Community Leaders 'Horrified' by Treatment of Israeli Envoy
Over 120 Countries, but Never Israel: Queen Elizabeth II's Unofficial Boycott