Twenty Years On: Three Love Stories From Rwanda
In April 1994, the Rwandan genocide left an estimated 800,000 dead, most of them ethnic Tutsis. Haaretz hears the remarkable stories of three couples who have reconciled themselves with past horrors and found love and some form of redemption.
A memorial to the Rwandan genocide.
Credit: Wikimedia Commons
Twenty years ago, in the small, landlocked, east-central African country of Rwanda, members of the Hutu ethnic group turned on their neighbors, friends and family of the ethnic Tutsi group and began slaughtering them. Starting in early April of 1994, and during the course of the next 100 rainy days, an estimated 800,000 Tutsis and their moderate Hutu sympathizers were murdered.
But these are not stories recounting that genocide. These are love stories – tales of men and women, like men and women the world over, who find someone with whom to share a first kiss. These are couples with dreams and disappointments, good moments and bad.
That said, these couples, forced to live out their relationships in a time of unimaginable horror, do end up telling a story about the genocide after all. It's a story we don't often hear – one of resilience and redemption. One about picking up the pieces, forgetting, if only a little, and forgiving themselves and each other, as much as might be possible, and moving on.
1. AGUTSINE AND CHRISTINE
Agutsine Nkurikiyinka was a broken man when he was released from jail. His wife had died of malaria. His two daughters, after a decade apart from their father, barely knew him. He had lost his job and home, and been reduced, so he felt, to nothing less than a perpetrator of genocide.
As many as two million people, practically all from the Hutu ethnic group, are believed to have participated in one way or another in the genocide that occurred in Rwanda in the rainy spring season of 1994, leaving 800,000 of their neighbors, friends and family – the vast majority of them Tutsi – dead.
Just before the genocide began, Agutsine – a mild-mannered son of Hutu farmers in Kimironko – had found a new job he was excited about: Working for the agriculture ministry, as a guard on a forest conservation project. On April 7, 1994, the day after President Juvénal Habyarimana's airplane was shot down on its descent into the capital, Kigali, he set out to erect a roadblock.
A woman on the run
A thin woman with cropped hair, Christine Bamurange grew up working in her parents' beer and soft drinks kiosk. The last of eight children, she was the one pulled from school when her parents' business started doing badly, so she never learned how to read or write. She was married off young – to her neighbor Sylvester, a fellow Tutsi, who, after producing three children with her, left for the Ugandan border to fight with the Rwandan Patriotic Front.
When Habyarimana's plane crashed, Christine's father instructed everyone to hide under their beds. "I don't want to die under a bed," she said, and set off in the middle of the night. "I knew I needed to take my children and run, though I did not know where to go," she says. Ten members of Christine's family would eventually be killed in the genocide. Sylvester survived the war, but, injured in the fighting, died of his wounds.
Christine and Agutsine. Photo by Danna Harman
Crime and punishment
It was, Agutsine maintains, a fake roadblock. " Thousands of Tutsi were fleeing along the roads, trying to get to churches for safety. As Hutus, and government workers, we were not allowed to stay at home. We were being dragged from our houses. We needed to pretend we were doing something, to show we were part of the fight," he says.
A month later, with reports of the RPF's progress and fearing reprisal killings, Agutsine and his young wife, Anatlya, took to those same roads, joining the masses of Hutus fleeing toward refugee camps in the Democratic Republic of the Congo (then Zaire). Agutsine's mother died in the camp, of cholera, and his second child was born there. After two years, he decided to return home.
He was arrested almost immediately. "It was not hard to identify me. We all knew each other," he says. It was the beginning of 1996, and the country's prisons – originally built to house 10,000 inmates – were bursting with some 130,000 accused génocidaires, all awaiting trial. Inmates were packed in with no space to sit or lie down. At one point, 10 were estimated to be dying every day from disease and suffocation.
Agutsine waited 10 long years to be tried, finally being brought back to his village to stand before a gaccaca court (a local system of community justice, designed to promote healing). "I wanted to be judged by my community," he says. "Because I knew I was innocent."
Some stood up and pointed accusing fingers at him. Others vouched for his moderate behavior. One man, who accused Agutsine of killing members of his family, was found to be confused. An old lady helped his case by telling how Agutsine's brother refused to kill her family – and was himself killed as punishment.
The court acquitted Agutsine and set him free.
A man of few words
It was there, at that trial, that Christine first saw Agutsine.
"My mother was friendly with Agutsine's sister from church," says Christine. "We lived near each other and were Catholics in a heavily Pentecostal area. So we went to listen to the trial, and support his family."
Later, when Agutsine was back living in the village, the two would say hello. "He had just come from jail and had nothing to say, so it would just be me talking," Christine recalls. "He was always with his Bible and looked sad."
"Christine encouraged me to start a small business, selling donuts on the street," says Agutsine. "She gave me advice and helped me open up to people. Even though she was considered the victim and I was considered the perpetrator, it was she who was helping me."
Christine did not mention the budding friendship to her family. "The whole country was talking about reconciliation and reintegration, and we all knew we had to accept living side by side. But deep, personal forgiveness? That is something else," she admits.
"Courtship was not on my mind," says Agutsine. "I was busy fighting demons. I felt branded. I felt everyone was looking at me and thinking I was guilty, even if I had been proclaimed innocent. And, of course, I felt that any Tutsi would reject me." But, he continues, "Christine was so kind. Love just evolved."
Confronting life together
A year after meeting, Agutsine went over to Christine's sister's house – where she was living – and proposed. "You know me well," he told her. "You know I have been in prison and you know I am Hutu but I love you and I want us to confront life together," he said. "I have children and you have children," he added, "and both of us are alone. Let us join together."
Christine said she needed time to think. A month later, she returned with her reply. "I did not want someone who drank. I wanted a good man. I said, 'Why not?'" They settled down and had four more children together. Children, they both say, "who have no ethnicity."
The wedding was modest. There was no money to spend, and, anyway, most of Christine's relatives boycotted the ceremony, not wanting to sanction her choice of a Hutu groom. Christine's eldest sister told her that she was "spitting on the family grave."
"I was hurt," admits Christine. "But I do things because I am convinced they are right. I felt this was right for us."
Peter and Gertrude. Photo by Danna Harman
"I did not want to cause Christine's family any more pain. I know they rejected me and I know why. I would probably feel the same," says Agutsine. "But we decided to try and move on."
2. PETER AND GERTRUDE
The first time Peter Damien Bayingana laid eyes on Gertrude Nitonsaba, at the beginning of the 1990s, neither of them was looking their best. Gertrude had a stomach bug and was pale. Peter had a terrible case of red eye. "But," smiles Gertrude, "it was love, somehow."
"I came in and noticed a very pale woman," says Peter, who had been invited over for lunch by one of Gertrude's older sisters. "Pale and beautiful." Gertrude was struck by his smile. "That, and the way he spoke. He had a way with words," she says.
"We had such a nice time talking," she recounts. "And then he disappeared for three years."
Peter had gone off to Kigali to work at an electric company. Gertrude, a seamstress, stayed behind in her village, helping on her parents' farm. The two did not speak to each other, or even exchange letters, for all that time.
The first kiss
"I cannot explain the sentiments, but even though I had other girlfriends in Kigali, Gertrude was the one on my mind," says Peter.
"After three years, he returned and asked my father for my hand in marriage," says Gertrude, who is keen to point out she had other suitors too, but dismissed them all.
The two had never even held hands, much less kissed, before they got engaged. "That is how it is in Rwanda," she says. "In the countryside," adds Peter. "I agreed to marry him because he seemed a good man," she says. "Our relationship was very strong," adds Peter.
She was a Tutsi and he was a Hutu, but this mattered little to them at the time.
They spent a week together after their engagement, before Peter returned to Kigali. "That is when we finally kissed," says Gertrude. "And more" adds Peter.
Looking for Gertrude
Peter and Gertrude were apart when the killing sprees began. Gertrude and her family fled into the bush, surviving off herbs and tree bark. Her father was thrown into a well and stoned, just a week before Gertrude realized she was pregnant; before she could tell him that his favorite daughter would soon make him a grandfather.
Peter, back in Kigali, was able – as a Hutu – to move around the country with less fear, but he had no idea where to find his bride. "I met someone who said Gertrude was in Kabgayi [40 kilometers southwest of Kigali], so I set out to look for her there. It took me days by foot. The roads were strewn with cadavers, and dogs were eating the flesh. It was a nightmare. And when I got to Kabgayi, she was nowhere."
From Kabgayi, Peter set off on foot to Bugesera [40 kilometers to the southeast of Kigali], where he had heard tens of thousands of refugees had gathered. "I was losing hope because so many people had been killed. But I could not think of anything else to do but search," he says. "I went around with the one photo I had, and showed it to everyone."
Laughter and tears
After the July 1994 cease-fire and throughout that summer, Peter continued searching. He finally found Gertrude at the end of August, near a military camp on the outskirts of Bugesera. Upon seeing Peter, Gertrude immediately went into labor, two weeks early. "I was shocked on so many levels," he recounts. "I laughed and then I cried. I cried and then I laughed."
They named their firstborn son Tuyishime Reginardin, which means "Thanks to God" in Kinyarwanda. They married in a small ceremony and, with the hundred days of killing over and the country quieting down, tried to start life again, this time together, in Kigali.
"The genocide sat heavily on us, so it was hard to be truly happy, but we were happy enough," says Gertrude. "Our love helped us survive," says Peter. "But our lives were not without challenges," adds Gertrude.
Secrets and lies
One of those biggest challenges came when their fifth child was born, years later. The baby's skin looked strange. Concerned, Peter sat Gertrude down to confess a secret he had kept from her for six long years.
"After the genocide, I had affairs with other women. A lot of women. There were so many lonely survivors who had lost their husbands in the capital – and they needed someone to help with money," Peter says. "It was not prostitution, but it was a crazy time" His voice trails off. He is, today, ashamed. "It is hard to explain," he says.
When Peter tested positive for HIV, he was scared to tell Gertrude. "I felt terrible. But I could not tell her." It was only the concern that the baby might also be infected that forced him to confess.
Gertrude had always suspected he was being unfaithful. "I noticed some things, but had no proof," she recalls. "And anyway, in Rwanda, women do not say much." Later, when she discovered about his HIV, she was angry. "But," she says, "I hid it. In Rwanda, we keep our problems inside. And also, I needed protection for my children. I did not want to leave him."
Learning to forgive
When Gertrude tested for HIV, she was told she was negative. "I thought it was a mistake. That the machine was broken, but it happens. I did not infect her. We are called a discordant couple," explains Peter. The couple now perform volunteer work counseling other discordant couples at a Kigali AIDS center. "We teach others how to live with the disease and forgive each other," says Gertrude. "This is a country that needs reconciliation. We need to let go of our anger.
"Things are different between us now," she adds, reflecting on her marriage, "but in truth, I never stopped loving him. He took care of me during and after the genocide, at a time when Hutus were being told, 'If you have a Tutsi wife, kill her.' Peter never thought that way. So, I know he loves me."
One good thing
"We remained a unit," says Peter, who in the past year has been in and out of hospitals, which cost him his job and forced his youngest children to leave school. Gertrude makes sure he takes his medicines on time and rubs his head when he gets fevers.
"Love is actually the only good thing in my life now," says Peter. "I am not a trustworthy man, but my wife took me back. I am touched and I am lucky, because Gertrude has become my strength. She is a good woman."
Chantal, showing the deep scar following the brutal assault and rape on her in 1994. Photo by Danna Harman
3. CHANTAL AND SEBASTIEN
Chantal Umanyirigira has a deep scar that runs across her cheek and pulls at the side of her lip. "I don't like it," she says, raising her hand to her face. But her hand too is scarred, as are her chest, legs and scalp.
It was a particularly rainy week, she says, recalling the incident 20 years ago. An Interahamwe (Hutu militia) group overran her on the road and hacked her body with pangas. They raped her repeatedly in front of her children and cut off one foot so she couldn't escape. Then they left her to die in the torrential rain.
Years before all this, she was a pretty girl. The prettiest, she boasts, in the small village where she grew up: the middle child among a poor Tutsi farmer's brood of seven. And that is why Sebastien Nengo, a neighbor 11 years her senior, wanted her as his wife.
A forced marriage
"I did not love him, or even like him," says Chantal. "He was a Tutsi farmer, too, the older brother of a school friend. I barely knew him. But in our culture, you can be forced," she explains, describing the traditional, albeit increasingly infrequent, practice of forced marriage.
"He can force sex upon you. Once that is done, he will take you to his home, and you will stay there. Even your parents cannot object," she says. "If I could have chosen, I would have looked for someone my own age. Hutu or Tutsi, I did not care. Rich or poor, I did not care. Maybe someone educated. Maybe someone handsome. But what I really cared about was age. I wanted a friend."
Liking, not loving
Chantal bore Sebastien four children. "He was a good father. He played with the children and carried them on his back. And when I went to the market he cleaned the house, which was unusual for a man. I got to like him a little more. But love? Never. I would still dream of running away."
Lying there in the rainy gutter that April day, though, Chantal wondered if she would ever see her husband again.
"We had all been hiding in the Catholic church in Nyamata, when the perpetrators came and set it on fire," she says, slowly beginning her story. "We were so stressed that we got separated. Mama and my brothers took one route. I took another route with my girls, and Sebastien joined a group of fighters trying to hold back the attackers." She believes that their never-found son was burnt to death in the church, together with his cousins.
In time, Chantal would learn that her father, all her siblings, save one sister, and all of Sebastien's family had also been killed in the genocide.
'Crying saved my life'
She lay there for four days in the rain, she says, bleeding, eating nothing, and getting raped again by passing Interahamwe gangs. She drifted in and out of consciousness. Maggots crawled into her wounds. Two of her daughters, injured, were pinned down under the weight of dead bodies across the road. They cried out to her, but Chantal could not stand up, or even reply. "It was that sound of crying that saved me," she says. "I could not die if my children were crying."
Finally, through the haze, she heard Sebastien's voice. She thought she was hallucinating. But there he was. He had been searching for her. He knelt down and covered her naked body with his shirt. "There was nowhere to go. Nowhere at all. I did not know if he could protect me. But I knew I could trust him. Sebastien put me on his back and carried me out of the gutter," she says.
Love, actually
"In this situation, everything changed," says Chantal. "Sebastien became all I had. He became everything. Many women's husbands did not search for them. But mine came for me. In the worst of times, he proved himself. And I loved him very dearly."
After the madness subsided and the family began picking up the pieces of their lives, Chantal received another shock: she was pregnant as a result of being raped. "I told Sebastien I could not stay with him," she says. "I felt so sick. I was disgusted with myself and this child. I hated all men."
But Sebastien spoke gently to his wife. "He said 'Why would you leave me?' and I said, 'So many terrible things have happened. I have been with so many other men,'" recalls Chantal. "And Sebastien said 'No, no, I understand. It is OK.' And I felt loved."
When the child was born Chantal couldn't bring herself to look at her, much less feed her. "It was a half Hutu baby and I did not want it," she admits. "My mother was worried I might kill that child, so she took her from me."
But when, a year later, Chantal's mother died – "of sadness," Chantal believes – the child returned. And that is when Sebastien finally gave her a name – Wase Emiline. "Outsiders would look at her and say, 'This is the child of criminals,'" recalls Chantal. "But Sebastien insisted we name her 'Wase' because it means 'the child of Papa.' He took pity on her and took her as his own."
Speaking about forgiveness
Sebastien and Chantal eventually had five more children. "I was a little bit like a zombie. We were traumatized and just kept having babies. We did not think," she reflects. Wase is the least happy of her offspring," Chantal confides. "She is not a good student, and is mostly quiet. At age 19, she weighs over 90 kilograms (190 pounds). And Chantal still cannot bring herself to love her. "But I accept that she is part of our family now," she says. "Sebastien taught me that. We had a lot of time to talk after the genocide, and we spoke a lot about forgiveness."
In recent years, Sebastien – who was so strong during and after the genocide – has become depressed, Chantal says, and rarely goes out to cultivate their land anymore. Today, it is she who takes care of him. "I love my husband, even though he is depressed and we are poor. I realize I was wrong about him when I was young. I did not chose him and I had regrets about being with him for many years," she concludes. "But I did not know what life would bring."
This story was originally published on April 29, 2014.
ICYMI
Ken Burns' Brilliant 'The U.S. and the Holocaust' Has Only One Problem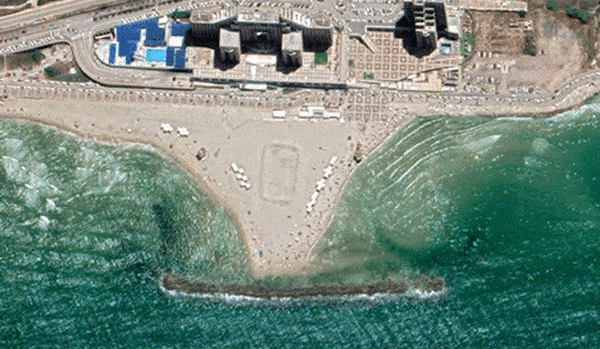 Facing Rapid Rise in Sea Levels, Israel Could Lose Large Parts of Its Coastline by 2050
As Israel Reins in Its Cyberarms Industry, an Ex-intel Officer Is Building a New Empire
How the Queen's Death Changes British Jewry's Most Distinctive Prayer
Chile Community Leaders 'Horrified' by Treatment of Israeli Envoy
Over 120 Countries, but Never Israel: Queen Elizabeth II's Unofficial Boycott