Go Fish: 'In the Port, There's No Such Thing as Jew or Arab'
It's not co-existence, it's just existence,' says Jaffa fisherman Sa'ado Zeinab.
Sa'ado Zeinab.
Credit: Dan Peretz
At 5 A.M., at Jaffa's fishing port, Sa'ado Zeinab and Gil Sassover carefully load their boat with long nets. "You look tired. Were you up drinking all night again?" Zeinab teases his friend Sassover, who is more than two decades younger. "Drinking, huh?" replies Sassover. "Actually I went to sea with your son. We left at five in the afternoon and headed for Palmahim, and we came back around midnight with a few crates of Spanish mackerel and a few crabs and horse mackerel."
The motor sputters and coughs and finally settles into a smooth rhythm. We sail slowly toward the narrow entry to the open sea, passing boats and yachts moored in the harbor. Nearly all the fishing boats are tied up. "There are no fish, and no one's going to sea," says Zeinab. It's not just because of the gradual decline in the Mediterranean's fish population, but also due to the warm, dry winter. Rain and storms lower the water temperature, stir up the sea and carry food to the fish from the river estuaries. When the winter is dry – no fish.
"Each trip to sea costs hundreds of shekels in fuel," says Zeinab. "And everybody's given up. In the middle of winter, nets were coming up filled with jellyfish that came here because of the heat."
The seiners – boats used for going after vast schools of fish – stand idle. Of seven trawlers, which use large dragnets to scrape the sea bed, only one is currently in action. "Unintentionally, and due to the rise in fuel prices, there's been a 
significant decrease in this method of fishing," notes Sassover.
Nonetheless, they decide to try their luck, mainly as a kindness to a couple of journalists with a thirst for adventure. The hasake, coastal fishing boats, are about the only ones still going to sea these days. "Let's go out to the rock and try to catch some communists," says Zeinab, referring to a large boulder on the sea bottom, relatively close to shore, that is a favorite hangout for schools of marbled spinefoot. Fishermen are often wary of dropping their nets there, lest they get torn. Known as aras or komonist in Hebrew, the spinefoot is one of the tastiest fish there is and one of the most common in the region, but is hardly known or served in restaurants.
Jaffa fishermen are quite fond of it and often sell their catch directly to friends and other locals. When we get to the rock, we cast the net and wait. Pulling out the heavy net is strenuous work, and as they haul it up, the fishermen's expressions darken – only two aras come up.
Fish, rice and arak
Sa'ado Zeinab says he was "born in '56 or '57, something like that" and is a seventh-generation Jaffa fisherman. His father, Abu Sa'ado, who is over 80, was considered Jaffa's elder fisherman. He only stopped going to sea last year, and bequeathed the title to his brother Salameh. Abu Sa'ado was said to be able to tell which fish would come up in the net just by touching the ripples in the water. Nowadays he can always be found in the family's fish shop on the pier. Salameh Zeinab, also getting on in years, still goes to sea to cast his nets; he sells his catch, mostly guitarfish, on the wharf. Abu Sa'ado is a father of 14, from two wives. His sons and grandsons are fishermen, too. Sa'ado started going to sea at age four; he never went to school. Says Sa'ado sadly, "There's no more livelihood at sea, and no future. They'd be better off leaving it behind. But once you get used to the sea – to the independence, the clean air and the music of the waves – you can't leave it. How could someone like this work for somebody else, or sit in an office?"
Gil Sassover, 41, was born and raised in Haifa. His mother came from a family of affluent industrialists, and his father started a firm that provides logistical services to warships. Gil served in the navy, traveled the world, and lived for a time in an old Arab house in Shikmona, on the coast near the southern entrance to Haifa. "That was my first real encounter with the world of fishing and fishermen," he says. "As a kid, I spent a lot of time at the Haifa port, where my father's office was, but because my mother didn't like fish, we didn't cook fish at home or go to fish restaurants. When I lived in Shikmona I hadn't started fishing, although I did buy my first net there. But thanks to the neighbors, not a day went by when I didn't have fresh fish in the fridge. We lived on fresh fish and seafood that you just tossed in the skillet or on the grill, and rice and arak."
In 2003, Sassover moved to Jaffa and met his neighbor Sa'ado. "Whenever I came home after being out all night, he would just be leaving his house and he'd say, 'Why are you going to bars? Come out to sea.' Finally I went fishing with him. The first time was six or seven years ago. We went to Palmahim to fish for crabs, and I was shocked to see how hard they work for practically no money. To fish for crabs, the local fishermen create these traps that are made of nets held to the sea floor by rocks. On that trip they raised five of these nets, close to a kilometer and a half of rope and backbreaking work, and took in maybe 10 kilos of crabs. Crabs were selling for 50 shekels a kilo then, a pretty high price, so they made 500 shekels – a father and son who do five or six hours of backbreaking work. Just the gas to get to Palmahim cost 150 shekels, and I haven't even mentioned the costs of boat maintenance, storage, clothing and equipment. Each net costs thousands of shekels. If they were lucky, that day they both earned 100 shekels."
Three years ago, Sassover started working with Sa'ado and his son Mohammed on restoring the family's old fishing boat, with its lovely rounded prow. It is apparently the only one in Israel made of wood, and was built according to the design of expert woodworkers from Gaza. Similar boats can be found in Turkey and Egypt. As the boat sat idle in the port for years, while local canneries closed and tinned sardines and anchovies were imported from abroad, it was wrecked by the waves. Father and son had begun rebuilding it by hand – Sisyphean work done with an ancient tool bequeathed to Sa'ado by his grandfather ("my sole inheritance from him," he laughs).
Sassover joined in the work. "When I started going out to sea with them, I was really jealous: Father and son spending 12 hours together on the boat. I maybe talk to my dad for a few minutes on the phone, and here they are hoisting four kilometers worth of net, braving storms, eating together and spending entire days in each other's company. I may be a romantic, I know, but there's no deeper bond than doing hard work shoulder to shoulder with your son. In the Western world, this hardly exists anymore. And it's not just father and son, but the whole clan. Even if there's tension at times, in the end everyone – fathers, sons, uncles, cousins – spend whole days together at the port and at sea."
Not everyone understood why a young Jewish man from an affluent family would choose to do hard physical work for free and try to mix with old-timers at the port. "Sa'ado welcomed me from the start totally naturally, and treated me like a son, but some people, especially in the first year, didn't know what to make of it. When I go out fishing with the family I receive my pay in a share of the catch, like anyone else, but the work I've done and am still doing on the boat is for free and that's unusual here." Sa'ado interjects when he hears talk about Arabs and Jews. "In the port there's no such thing as Jew or Arab," he says. "It's not coexistence, it's just existence, and there's a big difference between the two."
A faithful scribe
In the past two years, Sassover has published two books – a collection of novellas and a book that combines recipes and short stories. "Mishteh" ("Banquet") is published by Kinneret-Zmora-Bitan-Dvir. "Hayam Shelanu – Al Dayig ve'al Dagei Ma'akhal" ("Our Sea – On Fishing and Edible Fish") is self-published and contains some of the traditional knowledge passed on to him by his fishermen friends. "There is no fishing culture in Israel, or in the Jewish sector at least," he says, explaining what prompted him to write the book. "The Arabs in Jaffa know all the fish. The Jews hardly know any… Each year, 35,000 tons of freshwater fish are consumed in Israel – tilapia, mullet and carp, which are raised in pools – and just 2,500 tons of fish from our part of the Mediterranean, which amounts to just about 4 percent of the annual total."
The slim volume has lovely illustrations by Liora Zemelman. In addition to a scientific biological definition of each fish, each entry also includes folklore about the species, some culinary tips and simple, minimalist recipes. Many of these dishes are frequently eaten by the fishermen, either on fishing trips or on land.
Sassover says he hopes he is acting as a scribe for his fishermen friends. "Sa'ado is one of the most intelligent people I know. He's a natural storyteller who's traveled all over the world, an expert in hydraulics, a skilled carpenter. No matter what is happening in the port, people come to him for advice. But like most of the fishermen of his generation and the one before, he never learned to read and write, and he probably wouldn't record any of his vast knowledge." Sa'ado is also chairman of the Jaffa fishermen's committee. "This all started when he asked me one time to come to a meeting with him to write down what was said. Ever since, I've been going with him to meetings and discussions on the local and national level, dealing with the various government ministries. The fishermen are a persecuted group. There may have been a few years when people made money from fishing, but today just about all of them are only scraping by. Instead of trying to help them earn a dignified livelihood from their traditional occupation, they are harassed and have more and more taken from them."
ICYMI
Ken Burns' Brilliant 'The U.S. and the Holocaust' Has Only One Problem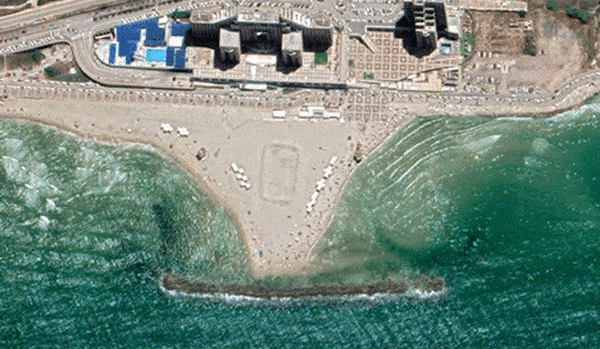 Facing Rapid Rise in Sea Levels, Israel Could Lose Large Parts of Its Coastline by 2050
Lapid to Haaretz: 'I Have Learned to Respect the Left'
The Mossad's Fateful 48 Hours Before the Yom Kippur War
As Israel Reins in Its Cyberarms Industry, an Ex-intel Officer Is Building a New Empire
How the Queen's Death Changes British Jewry's Most Distinctive Prayer