Noah: A Very Jewish Retelling of the Story
To criticize the film for taking a few plot liberties is to miss its superb message of morality.
Russell Crowe in a scene from 'Noah.'
Credit: AP
The story of Noah in the Bible is fertile ground for intense theological debate and controversy. Incredibly, the recently released film "Noah" has generated almost as much discussion as the biblical account. It is impossible to review the movie without first addressing some of the criticism directed at it.
The feature film is visually stunning and a technical marvel. Russell Crowe shines in his role as Noah and his co-stars live up to the lofty standard he sets for the cast. "Noah" is a modern retelling of the biblical epic - with a difference. The film does not rewrite the Bible story as much as it retells it by filling in the blanks. The sources and meaning of these gap-fillers have become a thorny issue.
Christian fundamentalists and political conservatives take issue, in particular, with some of the social circumstances of the antediluvian era. But many of these critiques are misguided, like the suggestion that the only sin for which mankind is punished in the film version of "Noah" is harming Mother Nature and that humanity's many other moral shortcomings are ignored.
Many of the gap fillers are borrowed directly from Midrashic literature firmly anchored in the Jewish tradition. Other plot elements not found in scripture are adapted from the Midrash, other sections of the Bible, and fairly well known Jewish mysticism. The strangest addition to the cinematic story is a lifted directly from "The Book of Enoch," an ancient Jewish text. Following the Midrashic tradition, director Darren Aronofsky uses inventive ideas to solve problems in the text, like a forest spontaneously appearing to supply wood and magical creatures helping to build the ark. Similarly, the incredible visuals of the creation story as it unfolds in the film are heavy on evolution imagery. Judaism is comfortable reconciling creation and evolution so I was right at home seeing this retelling of creation. Indeed, "Noah" is a very Jewish retelling of the story.
The antediluvian world of "Noah" sets up a dichotomy between Good and Evil that is disconcerting to many of the film's critics. The heirs of Seth (Adam's son) are the embodiment of Good. They don't kill living creatures so they don't eat meat, opting instead for an agrarian lifestyle. The embodiment of Evil are the heirs of Cain. They kill animals for food and murder people who stand in their way. Cain's descendants rape the land of its resources and live in industrial cities. This has been taken as blunt endorsement of tree hugging and radical liberalism.
I don't see it this way. Jewish tradition teaches that Noah was a vegetarian and the moral failings of his generation were all encompassing. But the source of their error was a misinterpretation of God's directive to conquer the world. Their mistake was in thinking that God gave the world to man after which he was no longer concerned with him. On an artistic level, it is extremely shortsighted and unnecessarily literalist to limit the meaning of this part of the movie to its simplest interpretation. It would be like saying the "Matrix" is about computer programmers outsmarting artificial intelligence. Or like arguing that the message of "Frozen" is that things freeze when it gets cold. "Noah" requires a simple moral dichotomy as a canvas to tell its story. The canvas is a world of Good and Evil where things are extremely simple. Life is good. Death is bad. It's portrayed in stark terms for a reason. I believe that this is where the true message of "Noah" lies.
To Noah, God's world is a true dichotomy. There was no grey. There is the word of God and the mistakes of Man. There is no room for Man's creativity in God's world according to Noah. He believes that God wants to destroy the world and he is going to help God achieve his goals. Noah can have no effect on God's will.
But Noah is deeply conflicted by his own strict religious adherence to God's plan and his own kind and tender nature. In a poignant scene, reminiscent of people jumping out of the Twin Towers on 9/11, the camera pans to people struggling to stay above the flood waters and then cuts to Noah in his ark tormented by their screams. Noah can't handle it. As writer Gregg Easterbrook might say, "it was at this point that I typed into my notes app, 'Noah is going psycho.'"
Spoiler alert: In the movie, Noah transforms from benevolent environmentalist who quite literally would not hurt a fly into a ruthlessly cold suicidal psychotic. At the climax of the film, Noah is unable to do what he thinks he must do to carry out God's will. He believes he has failed. He falls into a deep depression that culminates with the biblically accurate episode of his drunkenness and shame. After Noah hits rock bottom, he picks himself up and realizes that God's will can be subverted by man's will if man makes the right moral choices. Then the sun finally emerges and in a spectacular made-for-Hollywood moment, a gorgeous rainbow appears as the symbol of God's covenant never to destroy man again.
Noah's "Breaking Bad" plot line really bothered me. As I watched the movie, I found myself fidgeting in my seat out of discomfort. This was probably because this part of the film marked the most extreme deviation from the Bible narrative. But after the movie ended, I thought about the story Aronofsky was trying to tell and I understood the beauty of Noah's message.
Noah's fictional stepdaughter Ila, magnificently played by Emma Watson, teaches him that he was chosen for a reason. When God chooses us to make a choice it becomes our choice. In the movie, Noah is certain that God's only command was to save the animals. Noah is convinced that God has no plan for him. So he concludes that man's destiny is extinction and he will obediently comply. This is also a coping mechanism. Sure, Noah survived the flood, but only temporarily. He couldn't live on after witnessing so much death. Eventually, Noah learns from Ila that God gives man a world in which he is supposed to make choices. There is ambiguity and doubt. The visually grey world of Noah and the flood is a metaphor for the shades of grey in life. We are to use mercy and love to make good moral choices. God gave man a second chance to live a good life on God's earth. Noah embraces this second chance and emerges as the father of humanity. Then the sun comes out.
The Jewish view of man's role in creation is that we are here to perfect what God has given us. The world is raw material, not a fait accompli. Our job is to live in God's world and use our creativity and morality to improve the world. This is the story of Noah. Before the flood, Noah was an obedient automaton. But faced with the moral challenge of the flood and his failure to complete the destruction he believed God intended, Noah became a broken man. At first, he devolved into a vegetable. He did nothing at all. Then Noah is reborn in the image of God. He abandons his unquestioning compliance and deterministic theology in favor of actively affecting creation and continuing God's work. That's standard Jewish philosophy, through and through.
Unquestionably, the film is not the biblical story of Noah. It is also not without its flaws. But as a retelling of the Noah story and a superb message of morality, "Noah" succeeds. Familiarity with Jewish rabbinic teachings and legends makes this version of the story even more fun. Like the biblical Noah, Aronofsky's Noah asks some big questions. Stopping short of engaging in the conversation because of immature quibbles is a wasted opportunity. It's precisely the kind of thing antediluvian Noah would have done. But we've learned the lessons of Noah time after time. The world is grey, but there are moments of immense beauty and there are times when the light of goodness shines brightly upon us. Our job is to win the battles of morality and bring beauty and light into the world.
Click the alert icon to follow topics:
ICYMI
Ken Burns' Brilliant 'The U.S. and the Holocaust' Has Only One Problem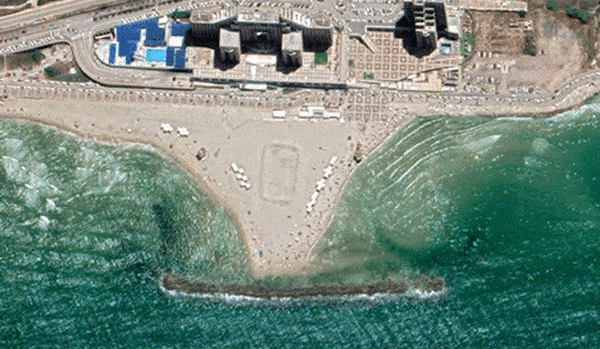 Facing Rapid Rise in Sea Levels, Israel Could Lose Large Parts of Its Coastline by 2050
As Israel Reins in Its Cyberarms Industry, an Ex-intel Officer Is Building a New Empire
How the Queen's Death Changes British Jewry's Most Distinctive Prayer
Chile Community Leaders 'Horrified' by Treatment of Israeli Envoy
Over 120 Countries, but Never Israel: Queen Elizabeth II's Unofficial Boycott