Olmert's Guilty Verdict Ended Jerusalem's Shame
An entire city knew for years that their mayor was crooked. Olmert had too many schemes going and too many dodgy friends talking.
The Holyland project.
Credit: Yuval Tebol
Back in the 1970s, Victor Levi was one of the legendary midfield trio of Beitar Jerusalem soccer club. Today he runs a little kiosk and lottery shop on Bethlehem Road. On Monday morning he was watching the reports from the Tel Aviv District Court.
"I remember Olmert back in the days when he was a lawyer and our patron," he reminisced wistfully. "It hurts, he's a Beitari but the money went to his head."
And then he added a sentence you rarely hear from a soccer player, "kol hakavod to the judge." In Hebrew, the word for judge and referee are the same.
When Victor was a legend, Olmert was still a young Likud parliamentarian, living in a small apartment up the road. He had been part of a crime-busting duo, together with another political enfant terrible, Labor's Yossi Sarid. They uncovered corruption, working with brave journalists and their most remembered coup was exposing soccer match-fixing which lead to the cancelation of the 1975 season. "Ehud saved us," Victor said and smiled, "we were about to be relegated to the second division."
Stories of Ehud Olmert's undying loyalty to his friends are legend in Jerusalem. Hundreds of local politicians, businesspeople, journalists, lawyers and police officers have a tale to tell about the phone call the former prime minister and two-term mayor made to the hospital to ensure personal treatment or a speedy operation; how he helped out local sport clubs with a tricky transfer deal, arranged a timely donation for cultural establishments, helped someone's son or daughter with a school application or army position, or just turned up before Shabbat with challot for a family that had recently lost its breadwinner. "Say what you will about Ehud," the refrain goes, from political allies and foes alike, "he never forgets a friend." Even those who see him as an arch-criminal and despicable turncoat marvel at the way he built around him over the years a team of aides and advisers who would do anything for Ehud.
He always took care of them and they shielded him from the countless investigations into his affairs, even as questions accumulated on how the man who had spent his entire grown life in politics, entering the Knesset at 28, could afford the large house on November 29 Street, the tailored suits and expensive Lanvin ties, Cuban cigars, first-class tickets to New York every month and front-row tickets at the top international sporting events, the Olympics, Wimbledon, and the Champions League final.
He was a personal friend of the top journalists in the country, briefing them personally over lavish lunches. He could often be seen in Jerusalem, walking and linking arms with Dan Margalit, the man whose report (in Haaretz) of an illegal dollar account held by Leah Rabin brought down her husband, Prime Minister Yitzhak Rabin, in 1977. Pesky reporters who didn't want to play ball were intimidated with libel suits. As Jerusalem mayor, Olmert stopped all city advertising from Kol Ha'ir – the capital's largest local newspaper – in attempt to damp down its investigative reporting. Haaretz publisher Amos Schoken was one of the few media owners not to be cowed, ordering Kol Ha'ir's team to continue relentlessly, despite the million-shekel a year loss.
This morning was the third time Olmert stood in the dock, awaiting a verdict, arrayed behind him a team of Israel's most expensive white-collar lawyers, vastly outnumbering the meager State Prosecution squad. Once, in the 1998 Likud election financing case, he was acquitted. Two years ago, in his previous corruption case, he got off with one minor breach of trust conviction. He was so certain that he would get off the Holyland charges as well that he confidently predicted to a group of friends and potential donors at a closed meeting in London last April that in the next election he would run again for prime minister.
But the circle of devoted defenders around Olmert was beginning to crack. In 2009, American businessman Morris Talansky, one of the many rich friends he accumulated over the years, came forward and testified about the envelopes of money he had passed on. The court depositions forced Olmert's resignation as prime minister. He was eventually acquitted of the charges (though the state is still appealing the acquittal in the Supreme Court), allowing his PR flacks to claim that the State Attorney had engineered a coup d'état.
Most of his friends remained loyal. In 2012, Australian billionaire Frank Lowy feted Olmert on his lavish yacht at London's Canary Wharf during the Olympics. The well-heeled crowd already knew then that Tel Aviv businessman Avraham Dechner had turned state witness and was telling investigators about the millions allegedly paid in bribes to Olmert and other senior figures in Jerusalem City Hall to authorize massive building plans. Lowy certainly didn't mind. He had been the subject of another Olmert investigation on whether the then-trade minister had tried to help him buy Leumi Bank. In another investigation, Olmert escaped by the skin of his teeth, despite a censorious ruling in the Supreme Court.
But Dechner knew too much and despite a failing heart (he died last year, hours after testifying in court) he was telling it all. And other parts of the wall were crumbling. Uri Messer, Olmert's law office partner who had managed his finances was seen wandering in the busy rush-hour traffic in Tel Aviv. He nearly broke down in court but finally pulled himself together.
And then last week, the gatekeeper fell. Shula Zaken, the girl who had been his personal secretary back at the firm and continued with him to the Knesset, City Hall and finally the Prime Minister's Office, as bureau chief. The closest person to Olmert finally broke last week and signed her own state witness' deal. It was too late for the prosecution; Judge David Rosen decided he was not going to wait with the already written verdict. But in many ways, Olmert's downfall with his conviction for bribe-taking was an anticlimax. Everyone in Jerusalem knew that he was finished the moment Zaken deserted him.
In the Friday morning gatherings at the coffee shops of Jerusalem's German Colony and Bakaa, the only question last weekend was: "what happened between Shula and Ehud?" Everyone had a pet theory. One of Olmert's lawyers had pushed her too hard; his publicist had said something nasty about her. Zaken's close-knit Kurdish clan had finally convinced her not to throw away her life for him. No one blamed Olmert, they just couldn't conceive of him abandoning one of his people. It was totally out of character. But no one, not even those who had been close with him before he moved away, selling his house and buying a Tel Aviv luxury apartment, questioned his guilt. They all knew something.
All of Jerusalem knew. They had known for decades. Olmert had too many crooked balls up in the air at once, too many schemes going, too many dodgy friends talking. And if they weren't connected they could just look at the horizon, and see the tower of the Holyland building complex, piercingthe skyline like an obscene gesture at the Jerusalemites who could never afford to live there. Nothing like that could have ever been built without millions changing hands. It has corrupted an entire city administration. Two of Olmert's deputies (one, Uri Lupolianski, was Olmert's successor a mayor), a third council member, the city engineer, had all been corrupted by Holyland and their boss and patron. Jerusalem's shame was out there for everyone to see and it was just a matter of time before the weakest links in the chain were going to break.
Ironically, it was a judge in Tel Aviv who ended Jerusalem's shame today. An entire city knew for years that their mayor was crooked, but that city walked this morning a bit lighter, smiling grimly at the Holyland tower. Ehud Olmert doesn't live here anymore.
Click the alert icon to follow topics:
ICYMI
Ken Burns' Brilliant 'The U.S. and the Holocaust' Has Only One Problem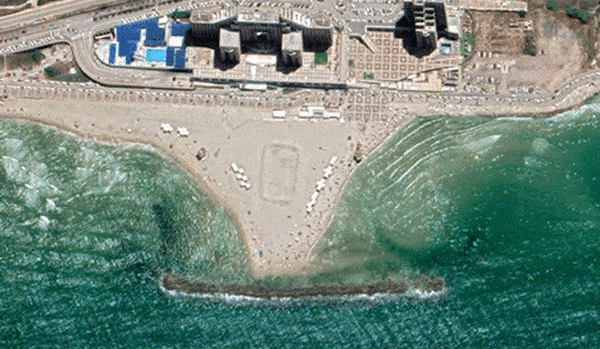 Facing Rapid Rise in Sea Levels, Israel Could Lose Large Parts of Its Coastline by 2050
As Israel Reins in Its Cyberarms Industry, an Ex-intel Officer Is Building a New Empire
How the Queen's Death Changes British Jewry's Most Distinctive Prayer
Chile Community Leaders 'Horrified' by Treatment of Israeli Envoy
Over 120 Countries, but Never Israel: Queen Elizabeth II's Unofficial Boycott