Venezuela Jews Fearful in Shadow of Rebel Riots
A year into the post-Chavez era, Jews are staying out of the fray, but worry about rising violence.
"On the one hand, for three weeks now I've been unable to get to work and our young son hasn't been able to go to school. The city is filled with barricades, you can't get from one place to another, and you may suddenly find yourself in the midst of a clash between protesters and police, or worse – the armed Chavista militias, and that's really dangerous. Eighteen people have been killed so far, and hundreds wounded. On the other hand, this situation has given my wife and me plenty of time to stand for hours in line in front of the local supermarket, for the chance to get to buy some fresh milk, or eggs and vegetables."
The speaker is Hugo, a man in his fifties who belongs to the Jewish community of Caracas, the Venezuelan capital, where these days many streets are covered with a haze of smoke and tear gas. The raucous demonstrations by students and opposition members against the regime of Nicolás Maduro, who succeeded the late Hugo Chavez a year ago, are disrupting life and elsewhere around the country as well.
Government spokesmen describe the situation as "an uprising of fascists and terrorists against a democratically elected government." The opposition describes local events as constituting "the violent and illegal suppression of legitimate protests against the dire situation in the country, against the lack of personal security and the failing economy."
Amid all of this, members of Venezuela's Jewish community, most of whom live in the capital, are trying to keep their heads above water.
I was told, for instance, that about two weeks ago several dozen of the capital's Jews went to the Centro Creativo Brief-Kohn, a Jewish social and cultural center, to hear a lecture by Rona Risquez, a senior editor at the El Nacional newspaper. The subject of her talk, and of the discussion that followed: "Advice and ideas on how to live and travel in relative safety in today's Venezuela."
Until the beginning of the previous decade, when Hugo Chavez's socialist revolution began to take hold, there were an estimated 22,000 Jews living in the country. Many were involved in business and commerce, and some even served in important government positions, as ministers or ambassadors. The community, which built schools, cultural institutions and synagogues, maintained a thriving Jewish life and generally had excellent relations with non-Jewish society.
Two waves of Jewish immigration to Venezuela in the 20th century lent the local community its two-fold Ashkenazi-Sephardi character: The first involved Holocaust survivors who arrived after World War II; the second included Moroccan Jews who emigrated after the 1967 Six-Day War.
However, under Chavez (1999-2013), and especially in the last five to six years of his rule, the great exodus of Venezuelan Jews began. "Pretty much anybody who could leave did so," a few local Jews told Haaretz. Some families immigrated to Israel, they said, while others moved to the United States, mostly to Miami. Those who preferred to remain in Latin American surroundings chose to make their new homes in Costa Rica or Panama or Colombia.
Today the number of Jews left in Venezuela is estimated to be less than half of those before Chavez came to power: between 9,000 and 11,000. The data are not precise since not all Jews are registered with Jewish institutions are have a connection with the community. One of the two large Jewish schools has already closed in Caracas, and the second is operating with smaller classes. A small Orthodox school is still in operation.
Fear of 'local initiatives'
There is no question that within the regime of Chavez – who himself made some truly despicable statements against Jews and Israel – there were anti-Semitic elements. It's not clear, however, whether he was directly behind the numerous anti-Jewish reports in the media during his tenure, or the anti-Semitic attacks like the one in 2009, when a group of 15 armed men invaded the Tiferet Israel synagogue, occupied the place for several hours, took hostages and caused major property damage.
Incidentally, the current president, Maduro, who was foreign minister back then, condemned that incident as "a criminal act of vandalism."
Chavez's policy of harsh criticism of Israel, the severance of diplomatic relations with Israel, his support of regimes like that of the late Muammar Gadhafi in Libya and of Bashar Assad in Syria, and the close partnership he developed with Ahmadinejad's Iran – all this contributed to a dangerous mix of anti-Zionism and anti-Semitism in various parts of the regime.
Maduro, according to people in the Jewish community, has not exhibited anti-Semitic tendencies. What they fear today, though, are "local initiatives by militias who decide to take the law in their own hands – those from the lower ranks that might try to divert the anger of the masses, as has happened to the Jews countless times in history."
Ten days ago, President Maduro saw to it that a representative of the Confederación de Asociaciones Israelitas de Venezuela (the Confederation of Jewish Associations of Venezuela, or CAIV) was invited to take part in the national peace conference, which he convened in Caracas 10 days ago. Attendees included businessmen, politicians, unionists and others. During the event, held in a lavish hall in the presidential palace, Vice President Salón Ayacucho spoke about national reconciliation.
The CAIV representative, Dr. Miguel Truzman, spoke about peace and tolerance, quoting from "Ethics of the Fathers" (which outlines the Torah's views on ethics and interpersonal relationships). At the end of his remarks, Truzman told the president and others present: "We came here to contribute and to propose that the words 'we' and 'they' be expelled from the political discourse in the country. We are all Venezuelans."
"This is really the current situation," explained Hugo. "The Jews are not being forced to stand out amid the chaos. They have no connection in word or action with what is going on. I haven't seen any officials or anyone else trying to tie these events to the Jews, or, God forbid, to physically harm them – at least according to what I know and hear from the people around me.
"Everyone here shares the same exact fate these days. Life is hard. Things are really heating up in the streets. The students and the opposition people are becoming more organized with their protest against the government, and I'm afraid that the worst is yet to come."
Getting through by phone to people living elsewhere in the country is no easy thing these days, he added. The lines only work intermittently and even when they do, the reception is terrible.
"I don't know if it's deliberate, but I gather it is," said Hugo. "The government is fighting what it sees as a global campaign against Venezuela. It's harder to use the Internet now, too. I've already switched email services a few times in order to stay in touch."
Asked what he is planning to do, Hugo said: "After much deliberation, my wife and I bought plane tickets to America, for June. We'll look at our options. But it's not easy. True, a lot of people have left, but I also know families that ended up coming back. It didn't work out for them elsewhere, and they decided they'd rather live in a place they knew at least, for better or worse. But it's important to stress that most [Jews] who have left did so amid a general wave of emigration from Venezuela: A million citizens are said to have migrated to other countries recently."
Anna, 68, a Jew who lived in Caracas for more than 50 years and left two years ago, is very concerned about the goings-on: "I still have relatives in Venezuela. The way things have been going in the last few years, it's not easy for them to leave. I founded and ran a successful business there, and when I left, there was no way I could get back all the investment I put in during all those years. I had to sell the business for practically nothing, and it was also very hard to take any foreign currency out of the country.
"Besides, it's hard for older people to think about change. Some people just love Venezuela and are still hoping that things will change for the better, though I think that's unrealistic. I also know families who have people who are sick, and while the level of medical care at the hospitals is not good and there's a shortage of medication and so on – at least they get what there is for free. Nobody believes me when I tell them there are poor Jews in Venezuela.
"Then there are those who've found a middle way: People who moved their family and their kids to Miami, say, and still work in Venezuela all week and fly back on the weekends to be with their families."
Click the alert icon to follow topics:
ICYMI
Ken Burns' Brilliant 'The U.S. and the Holocaust' Has Only One Problem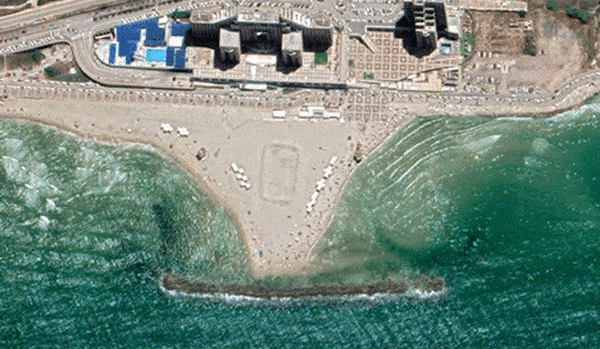 Facing Rapid Rise in Sea Levels, Israel Could Lose Large Parts of Its Coastline by 2050
As Israel Reins in Its Cyberarms Industry, an Ex-intel Officer Is Building a New Empire
How the Queen's Death Changes British Jewry's Most Distinctive Prayer
Chile Community Leaders 'Horrified' by Treatment of Israeli Envoy
Over 120 Countries, but Never Israel: Queen Elizabeth II's Unofficial Boycott