That Tel Aviv Je Ne Sais Quoi: Tips for Enjoying the New Paris on the Med
The first Hebrew city is drawing droves of French Jews. Witness the patisseries, delis, cafes and even synagogues for Francophiles.
Seated at a round table just outside the café is a young boy munching on his croissant.
"He, for sure, is French," whispers Sophie Kabrit, the proprietor of Courcelles, a popular patisserie in Tel Aviv, as she points him out. "It's very common for French children to stop at the local patisserie for a treat in the late afternoon on their way home from school, and many of them have brought that tradition here with them to Israel."
This branch of Courcelles, on Ben-Yehuda Street, is located in the epicenter of French Tel Aviv, the neighborhood known as "Old Tel Aviv" quite close to the beach. Many of the storefronts on this street – including a disproportionately large number of real estate agencies, and hair and nail salons – carry a sign on their doors that reads: "Nous parlons Français."
Success has enabled expansion, and Courcelles, which opened less than three years ago, now has two other branches – one several blocks east on Ibn Gvirol Street, the main drag in this city, and another in the town of Ra'anana, another up-and-coming destination for French immigrants in Israel.
"When we moved here from Paris nearly 10 years ago, my husband and I would go out to restaurants and tell ourselves that the food was great, but something was missing at the end," recalls Kabrit, speaking in Hebrew. "That's how we came up with the idea of opening our own patisserie."
In 2013, fleeing rising anti-Semitism and a bad economy, more than 3,000 Jews immigrated to Israel from France – for the first time outstripping aliyah from the United States. This wave is expected to gain further momentum in the coming years, with Israel providing special incentives to encourage remaining French Jews to head toward its shores.
But if in past decades the main destinations for these immigrants to Israel were the coastal towns of Netanya and Ashdod, in recent years, they've shown preference for the center of the country – in particular, Tel Aviv. The pace of life in the first Hebrew city, many say, the cafes, the clubs and the wide variety of culinary and cultural options it offers, are somewhat reminiscent of the Paris they left behind.
But it's not only the thousands of permanent transplants who are responsible for the increasingly audible sounds of French in the streets of Tel Aviv: It's also the growing number of French Jews who've made the White City the destination for their twice yearly vacances, many of whom also own apartments in town.
"It used to be that the French come on their summer vacation in August to Tel Aviv and spend their winter vacations in Tunisia," notes Celine Benhamou, a new immigrant who, with her husband, runs an online publication called Tel-Avivre.com that targets the local Francophone community. "But Tunisia isn't an option any more for many of them, so they've been spending their winter breaks here, too."
So where does one go in Tel Aviv to rub shoulders with French-speakers and find the best of petit Paris? Here are some suggestions for experiencing the best of French life in Tel Aviv, based on tips shared by local experts:
Hangouts
It doesn't matter what time of day or what time of year, you're guaranteed to find large clusters of French-speakers sunning themselves by the sea. Their two hot spots are Gordon Beach, just south of the marina, and Banana Beach, near the old Dolphinarium complex. If you can't pick them out by the sounds of French rolling off their tongues, you'll spot them by their appearance: Unlike their frumpier Israeli counterparts, they come to the beach dressed to the tee.
"French women will even have their hair blow-dried before showing up at the beach," notes Benhamou.
If sand and sea aren't your thing, the best places in Tel Aviv for French sighting are their favorite neighborhoods. Besides the centrally located "Old Tel Aviv" that's a few minutes' walk from the beach, you'll find a very large French community in the gentrified neighborhood of Neve Tzedek in the southern part of the city ("It reminds many us of Le Marais," as one recent immigrant put it). Another hub of French life is the Bavli neighborhood right across from Hayarkon Park.
Jewish life
If you want to hear Shabbat prayers recited in a French-accent, there are several synagogues in Tel Aviv that cater to the Francophile community, the most popular among them Yechezkel (2 Arnon Street) in Old Tel Aviv.
Centre Tel Aviv, a new Jewish cultural center that targets French-speaking singles, opened a few months ago on 24 Bloch Street. A private initiative of several recent immigrants, the center holds lectures and classes in Jewish texts as well as a weekly Kabbalat Shabbat service.
"Since we moved to Israel four-and-a-half years ago, we found that more and more young French people were coming, but they really had no place where they could meet and hang out," says Eitan Galam, who was one of the initiators of the center, together with his wife Joy. "We based it on a model that exists in France." (Information about events and services held at the new center can be found on its Facebook page)
Shopping
If you're looking for a shopping center with a bit of French flavor, your best bet is the relatively new Yoo Tower residential/commercial complex on Namir Road (recognizable by its tall round buildings), where you'll find a cute shopping center called the G Mall. It's not that this mall carries any specific French brands, but many of the Yoo residents are French Jews who like to think of it as their own little Gallery Lafayette.
If it's authentic French fashion you're after, then head to the Elise shops, located directly across the road from one another in Neve Tzedek (25 and 30 Shabazi Street). Proprietor Elise Juliard says she opened her first shop after she couldn't find any clothes to her liking when she moved to Israel from Paris seven years ago.
"If you walk into a boutique here, what you find a lot of the time is clothing imported in bulk from China, or you've got the Israeli designers, who mostly do black-and-whites, maybe a little gray if you're lucky, just like they do in Belgium. So I decided I was to start buying clothes in Paris and bringing them back to sell here."
Juliard's prices aren't cheap (a sporty button-down shirt runs upward of NIS 800), but that doesn't seem to deter her loyal, and mostly French, clientele. "I buy things I like – I don't think about whether it's suitable for summer or winter, for dressing up or dressing down. I just look for the sort of things that make it look as if it took you a minute to get dressed while still looking really good," she says, adding that the most popular items are her basic shirt and slacks sets, which are made of silk instead of conventional cotton or linen.
Wine and cheese
While French-style delicatessens and cheese shops have cropped up around the city in recent years, for the ultimate French wine and cheese experience in Tel Aviv, those in-the-know recommend Michel Raphael's Gourmet Shop (148 Ibn Gvirol Street). The shop, which also sells various cured meats, smoked fish and pickled products, moved into its new and expanded premises about two-and-half years ago; it has a few indoor and outdoor tables where customers can sit and enjoy a small meal.
"Today, you find many shops like this in Paris that have little tasting corners, and it's a great way of exposing customers to some of the products," says Raphael. When he moved to Israel in 1995, there were few French products to be found.
"What I used to do then is have my mother bring me stuff whenever she came to visit," he recounts. "I said to myself that if I'm missing these things, there are probably a lot of other people that are missing them, too."
Besides the imported wines and cheeses, many of which can't be found elsewhere in Israel, according to Raphael, the other specialité de la maison is his homemade foie gras.
Dining
Here again, it's important to differentiate between where French speakers like to dine out and where you can sample some of the best French specialties in Tel Aviv. Two favorites eateries among the French-speaking crowd, which do not feature French cuisine per se, both happen to be heavy on meat. One is Makom Shel Basar (in English, "The Place for Meat") in Neve Tzedek (64 Shabazi Street); the other is Itzik Hagadol, a Middle Eastern-style restaurant that specializes in grilled meats, located in Jaffa (3 David Raziel Street).
Among the local restaurants known for their French ambience is Brasserie (70 Ibn Gvirol Street), a popular lunch place for native-born Israelis as well. (Benhamou maintains this is the only place in Israel that serves an authentic French goat-cheese salad.) Two other popular eateries with an authentic French feel are Hotel Montefiore's restaurant (36 Montefiore Street) and Hatarnegol Hakachol ("The Blue Rooster"), located on the top floor of the G Mall.
Although it's not a French restaurant, rumor has it that the best place to get Crème brûlée in Tel Aviv is the Par Derriere wine bar (4 King George Street). And if it's an authentic rotisserie chicken you're craving, then Ma Poule (98 Ben-Yehuda Street), which also offers takeout, is the place to go. What better proof of that is there than the fact that it's just opened a branch in Paris?
Croissants and more
Besides Courcelles, another popular patisserie is La Bonne Patisserie, with two branches in Tel Aviv and one in Jaffa. The first branch (40 Basel Street) was opened by Deborah de Toledo and her husband Albert six years.
"We wanted to bring a real French bakery to Israel," she explains, "not a French-style one where they use margarine." Besides popular buttery croissants, the patisserie is know for its eclairs, lemon meringue pies and mini-quiches.
Is it possible to find an authentic French baguette in Tel Aviv? The answer is: not really. As Kabrit deals with the late-afternoon rush at Courcelles, a French-speaking tourist enters her patisserie, points to her baguettes and declares: "Those don't look like the real thing."
Kabrit is not fazed. "This is Tel Aviv," she tells him. "The weather's very different here. There's no way they're going to look like they do in Paris at the end of a day here."
Click the alert icon to follow topics:
ICYMI
Ken Burns' Brilliant 'The U.S. and the Holocaust' Has Only One Problem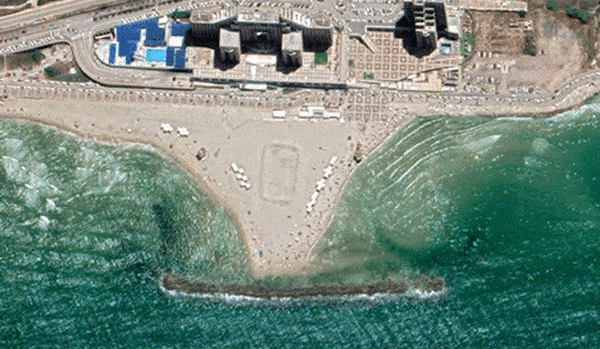 Facing Rapid Rise in Sea Levels, Israel Could Lose Large Parts of Its Coastline by 2050
Lapid to Haaretz: 'I Have Learned to Respect the Left'
The Mossad's Fateful 48 Hours Before the Yom Kippur War
As Israel Reins in Its Cyberarms Industry, an Ex-intel Officer Is Building a New Empire
How the Queen's Death Changes British Jewry's Most Distinctive Prayer