Book Charts Journey From African-American to Hebrew Israelite
The dramatic transformation in the last 50 years of the African Hebrew Israelites of Jerusalem is the subject of an engaging, though sometimes evasive, work of scholarship.
"Thin Description: Ethnography and the African Hebrew Israelites of Jerusalem," by John L. Jackson, Jr. Harvard University Press, 404 pages, $45
In May of 1967, at the height of the U.S. civil rights movement, a group of African Americans sold their possessions and migrated to Liberia in West Africa. Convinced that black people would never be truly free in the United States, these self-identified Hebrew Israelites – descendants of Abraham, Isaac and Jacob – arrived in the bush with Sears and Roebuck tents, machetes and the faith that Yah, as they referred to the God of Israel, would bless their utopian experiment if they rededicated themselves to his laws.
Two years into the experiment, however, heavy rains had rotted the tents, food and money were scarce, and morale was low. Compelled by the spirit, or by Liberian authorities intent on deporting them, they proceeded to their ancestral homeland of Israel.
Their triumphal homecoming was short-lived, however. The first families to arrive in late 1969 and early 1970 received temporary visas and housing in the Negev while Israel's religious authorities investigated their Jewish ancestry. The Chief Rabbinate eventually determined that they were not Jews according to halakha (traditional Jewish law), but Christians who had embraced a Hebraic identity, which meant that the Law of Return did not apply to them. They were encouraged to convert but refused. As a result, the government stopped renewing their visas and barred more members seeking to join them from the United States from entering Israel.
With no legal standing here, those who managed to avoid arrest and deportation had to fend for themselves, working off the books for low wages and living in crowded apartments with no access to government services. This untenable situation exploded on April 22, 1986, when hundreds of Border Police surrounded the community's village in Dimona to prevent them from marching to Jerusalem, where they intended to protest the planned deportation of 46 members. Twenty years later, after much political wrangling and the intervention of the U.S. Congress, the African Hebrew Israelites of Jerusalem would receive permanent residency and its youth would be serving in that same police force and in the Israel Defense Forces.
The dramatic, often painful, transformation of African Americans to Hebrew Israelites and then to Israelis is the subject of John L. Jackson, Jr.'s book – an engaging though sometimes frustratingly evasive work of scholarship on a largely misunderstood community. The AHIJ, frequently referred to as Black Hebrews, have been dismissed as a cult for their unorthodox customs, such as fasting on the Sabbath, and their devotion to a charismatic leader, Ben Ammi Ben Israel.
But to Jackson, a professor of communication and anthropology at the University of Pennsylvania, and to others (including myself) who are actively involved in studying the AHIJ, it is a group that demands to be taken seriously, "a truly global phenomenon with a social influence and historical significance that arguably outstrips its relatively obscured and muted place in most discussions of African American or Jewish life," as he puts it.
Links to the ancients
The AHIJ is part of a long tradition of Africans in the Americas who have speculated, both orally and in print, about their links to the ancient Israelites. In his celebrated 1789 slave narrative, Olaudah Equiano described certain Hebraic customs that he said were practiced by his native people in West Africa, among them ritual circumcision. In the 1920s, Rabbi Wentworth Matthew preached in Harlem that the Israelites were black – a message picked up and spread from city to city by various Hebrew Israelite groups, eventually reaching the South Side of Chicago, where the AHIJ was born in the mid-1960s.
Beyond their physical relocation to Israel, the AHIJ have distinguished themselves from the other Hebrew "camps" in many other ways, notably through their veneration of Ben Ammi; their communal success in combating disease by promoting a health-conscious lifestyle predicated on veganism and regular exercise; their frequent invocation of the "power to define," to recast words and concepts so that they conform to the AHIJ's particular Afrocentric, life-affirming ideology (this is what allows the Hebrews, for example, to state that Israel is located in northeast Africa and to refer to the Dead Sea, renowned for its therapeutic properties, as the "Live Sea"); and their global agenda, which involves sharing their expertise in the fields of preventive health care and organic farming across the African continent.
They are also adept, Jackson notes, at using digital media technologies to document their exploits and connect their global membership.
There are approximately 3,000 Hebrews living in Israel today, along with hundreds more in places like Atlanta, New York, London, Johannesburg and Accra, Ghana. Jackson introduces us to some of the AHIJ's more colorful members (and former members), including Sar Ahmadiel Ben Yehuda, the AHIJ's "minister of information" and curator of the African/Edenic Heritage Museum, which documents the African presence in the land of Israel throughout history; Cohane Ahbir, a community priest and martial arts instructor who was forced to flee his native Bermuda to avoid charges stemming from his involvement with a militant black power group; Cohane Michael Ben Levi, the New York-born head of the Guyana "jurisdiction" of the AHIJ and the author of a book outlining the differences between Jews and Israelites; and Nasik Asiel, the community's former "international ambassador," who spent decades recruiting members and high-profile friends for the AHIJ, but who not too long ago broke with the community and has accused Ben Ammi of ruling with an iron fist.
Who, exactly, is this man known to his followers as Abba Gadol (Great Father) and HaMashiach (the Messiah)? Born and raised in poverty, in Chicago, the former Ben Carter had "an electricity about him, a charisma that some people described as infectious and hypnotic," Jackson writes. Qualities that seemed to make him an ideal candidate to serve as the AHIJ's spiritual leader – a position he had to be cajoled into accepting, according to Jackson – even before he experienced a divine revelation in 1966 that propelled the group's emigration project.
He is not a former bus driver, a spurious claim recycled by reporters and historians over the years that Jackson helpfully corrects. (He might have added that Prince Gavriel HaGadol, a childhood friend of Ben Ammi's and one of his key advisers, drove a bus for the Chicago Transit Authority before departing for Liberia with his family in 1967.) Now 74, Ben Ammi continues to receive messages from Yah and share them with his flock, both in person to those living in Israel and via live webcast (for a $10 fee), as well as in dozens of books and pamphlets.
Lack of female voices
While Jackson does an admirable job of tracing the complex AHIJ story from different sources and angles, the absence of female voices and perspectives on life in the community is disappointing. One of the few women profiled in these pages is Zimreeyah, better known as Whitney Houston, who visited Dimona in 2003 (and reportedly expressed a longing on the day she died to return to Israel), but who did not identity as a Hebrew Israelite, at least not publicly.
How do the young women who were born and raised in the community feel about its patriarchal structure? Do they accept "divine marriage," which permits men to take up to seven wives? Do they abide by the AHIJ's strict cultural guidelines, which prohibit women from wearing makeup and driving cars? Jackson does not offer any insights here, but he does hint at the tightrope that many younger Hebrews walk between "adherence and alienation."
There is no AHIJ equivalent to the Amish "Rumspringa" (the period when teens venture outside of their communities to experience modern life before deciding whether to commit to the church), though many youth approach their service in the IDF as an opportunity to explore an Israeli society from which they are mostly sheltered as children.
On the topic of military service, I must take Jackson to task: The AHIJ did not "voluntarily enlist their high-school graduates in the IDF"; those graduates have been obligated to serve alongside their Israeli Jewish peers since then-Interior Minister Avraham Poraz granted community members permanent residency status in 2003. (A handful of soldiers have opted to extend their mandatory service to become officers.)
Moreover, it is inappropriate for Jackson to suggest that they, or their elders, "identify in many ways with the Palestinian cause." As part of my ongoing research on the AHIJ experience in the IDF, I have found that many Hebrew youth are deeply ambivalent about the political dimension of the Israeli-Palestinian conflict, while at the same time wholly committed to protecting their families and community – to the extent that some have joined combat units and fought on the front lines in Israel's recent military operations.
"Thin Description" is a sympathetic portrait of the AHIJ, one that only alludes to or ignores entirely some of the more controversial aspects of their ideology and history, such as their early anti-Semitic rhetoric and militant posturing, their use of corporal punishment on children, and allegations of sexual abuse beyond the single case of pedophilia that was brought to court (the defendant was recently found guilty and is awaiting sentencing).
Early on, Jackson offers the following disclaimer: "There is so much that I do not share in this book, cannot or simply will not, a plethora of secrets kept, stories not shared, purposefully confounded, for better or worse."
In my opinion, it is for worse. What is an anthropologist's task if not to produce an in-depth, nuanced study of a community, warts and all? And by telling us that he has chosen to withhold information "to protect the community from certain kinds of public vulnerability" – isn't he, in fact, inviting further scrutiny by insinuating that they have something to hide?
Jackson anticipates these criticisms, describing his work as "an ethnography that is not one, if such a rubric demands full disclosure in the name of social science, if it requires producing the fiction of full and complete knowledge."
The expectation that ethnographers must, or even can, provide objective, definitive, so-called thick descriptions of the behaviors of the people they study, Jackson argues, is unrealistic and even arrogant. So he makes a case for "thin description": a smaller-scale approach to conducting ethnography that privileges storytelling, and all of the "purposeful cover-ups" that go along with it, over the mere "circulation of facts."
By challenging the axiom that "ethnography is thick description," Jackson has cleverly taken a page from the AHIJ's own "power-to-define," counter-hegemonic playbook. Yet even he admits that many anthropologists will reject his formulation of "thin description" out of hand for being inadequate and unscientific.
As a final note, I think Jackson would agree with me that the Hebrews find themselves at a turning point after nearly 50 years outside of the United States. Many of the founding fathers are pushing 80, putting the AHIJ's claim that physical immortality is attainable to the test each day. Meanwhile, younger Hebrews are assimilating to a greater extent than ever before, a process that begins when they enlist in the IDF and might continue when they appear on a reality television show in clothing that violates the AHIJ dress code, or take a job in a restaurant that serves non-vegan food, or marry outside of the community. In October, a defector from the AHIJ who still lives in Israel told this newspaper that the community is "over," adding: "The newer generations are leaving. There's nothing to go back to. There's no continuity."
So, what does the future hold for the African Hebrew Israelites? "Yah," Jackson writes, "will decide."
The writer, a former staff writer for Haaretz English Edition, lived with the African Hebrew Israelites for 14 months and is writing a book about them.
ICYMI
Ken Burns' Brilliant 'The U.S. and the Holocaust' Has Only One Problem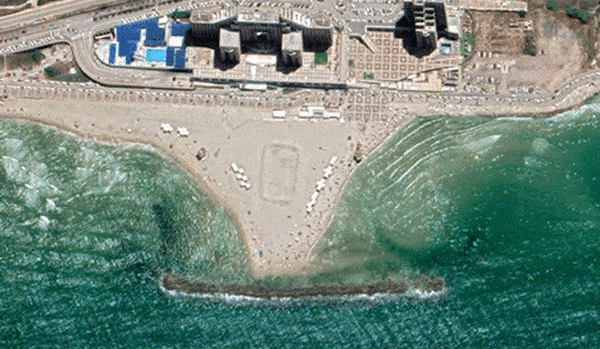 Facing Rapid Rise in Sea Levels, Israel Could Lose Large Parts of Its Coastline by 2050
As Israel Reins in Its Cyberarms Industry, an Ex-intel Officer Is Building a New Empire
How the Queen's Death Changes British Jewry's Most Distinctive Prayer
Chile Community Leaders 'Horrified' by Treatment of Israeli Envoy
Over 120 Countries, but Never Israel: Queen Elizabeth II's Unofficial Boycott