Sharon's Spirit Hovers Over Netanyahu's Hardest Decision: Accepting the 1967 'Auschwitz Borders'
If he does so, even with all the stipulations in the world, people will say that Netanyahu 'did a Sharon.' But many of his supporters and political partners won't mean it as a compliment.
The numerals one, nine, six and seven are bound to jump off the pages of U.S. Secretary of State John Kerry's reported proposal for an Israeli-Palestinian framework agreement. The armistice lines delineated between Israel and Jordan in the agreement signed on April 3 1949, which were in force until June 4 1967, are a make-or-break factor in Kerry's initiative. Even if it is diluted by a stream of conditions and stipulations, the term "1967 borders" is probably the bitter pill for Prime Minister Netanyahu that many in his own party will refuse to swallow.
These are the "Auschwitz borders," as Deputy Foreign Minister Zeev Elkin defined them yesterday, quoting the valuable verbal legacy left by the dovish Abba Eban, who told the German magazine Der Spiegel back in 1969 that the June, 1967 map "has for us something of a memory of Auschwitz". These are the borders that are an existential threat to Israel, a part of the "phased solution" adopted by the PLO back in 1974 leading to Israel's destruction, a formula that only a "weak and negligent" Israeli government would agree to, as Netanyahu repeatedly pointed out in his book "A Place Among the Nations," following the signing of the 1993 Oslo Accords and ever since.
It was Netanyahu, after all, who first hit the roof and then 'went to the mattresses' after President Obama said in May, 2011 that an Israeli-Palestinian agreement "should be based on the 1967 lines with mutually agreed swaps, so that secure and recognized borders are established for both states." Such borders, Netanyahu retorted, are "indefensible" as he publicly admonished Obama at their White House meeting and then enlisted Congress and the pro-Israel lobby to convince Obama to cease and desist from any further peace-making plans. That was before the unexpected and indefatigable John Kerry came along and put the dreaded 1967 borders right back on center stage.
It's a game that Israel has been playing, mostly with itself, ever since the United Nations Security Council adopted Resolution 242 on November 22, 1967 in the wake of the Six Day War. The absence of the definite article "the" before the word "territories" in the resolution's call for "withdrawal of Israel armed forces from territories occupied in the recent conflict" has given generations of dedicated hair-splitters ample grounds to try and put distance between Israel and the 1967 borders. Netanyahu's old-new political adviser, Dore Gold, is possibly the world champion in citing chapter and verse on why the '67 borders shouldn't mean a thing.
On May 25, 2003, however, the Israeli government led by Ariel Sharon formally adopted President George Bush's "Performance-based roadmap to a permanent two-state solution to the Israeli-Palestinian conflict," which states clearly that one of its aims is to "end the occupation that began in 1967." Netanyahu objected to the Road Map but did not vote against it, either in the cabinet or in the Knesset vote that was held a month later: by law, he had assumed collective responsibility for the Road Map, until his resignation a full two years later over the Gaza Disengagement plan.
It's true that "ending the occupation that began in 1967" is not entirely synonymous with "withdrawal to the 1967 borders," with or without swaps, but Sharon, in any case, did not fight the Bush Administration on this matter. Instead, he and his trusted adviser Dov Weisglass focused on securing the famous April 28, 2004 letter in which Bush wrote: "It is unrealistic to expect that the outcome of final status negotiations will be a full and complete return to the armistice lines of 1949."
Obama's refusal to formally adopt the letter following his election gave ample fodder to his detractors on the right, both in Israel and in the U.S., to once again accuse him of stabbing Israel in the back. These critics conveniently ignored Bush's supplementary public statement on May 26, 2005 at a reception for Palestinian Prime Minister Mahmoud Abbas: "Any final status agreement must be reached between the two parties, and changes to the 1949 Armistice lines must be mutually agreed to." The difference between this formulation and Obama's May, 2011 statements, which put Netanyahu on a virtual warpath with the U.S. Administration, can only be deciphered by Talmudic scholars and forensic experts.
Sharon, in any case, had just as long a trek as Netanyahu now faces to walk back from his virulent opposition to both the 1967 borders and a Palestinian state, as former Haaretz editor David Landau recounts in his long- anticipated biography of Sharon, due to be published by Knopf later this month. Landau reminds us that Sharon was also a fan of the recently-popular 1938 Munich agreement analogy, not only in his famous "anti-appeasement speech" following the September 11, 2001 attacks on the Twin Towers, but even in relation to the U.S. acceptance of a 1989 plan for elections in the territories jointly submitted by Yitzhak Shamir and Yitzhak Rabin: "They want to do to us what they did to Czechoslovakia in 1938," he said of this modest proposal.
Sharon, the "father of settlements" had probably done more than anyone – certainly more than Netanyahu – to erase the 1967 borders from the map and to undermine the establishment of a Palestinian state. But he was a natural improviser, supremely adaptable to changing circumstances, capable of swift and dramatic changes in his policies and approach. Not only did he not stop at red lights, as another Haaretz columnist Uzi Benziman wrote of him in 1985, but the only god that he was beholden to was the one that he saw each day in the mirror.
Throughout his military and political careers, Sharon only played by the rules that he himself had set. He was the quintessential political maverick, defying convention, bucking party discipline, unashamedly reversing course in midair if it seemed to serve his purpose. And he never lacked for audacity or courage, on the battle field or in the Knesset, as even his critics admit.
So there is something almost poetic in the fact that the reports of the deterioration in Sharon's health are mixed with those of Kerry's latest mission, that Sharon's spirit hovers over the "difficult decisions" that Kerry says Netanyahu will soon have to make. The hardest of them all may very well be the acceptance of the term "1967 borders" and if Netanyahu overcomes it, people will say that he "did a Sharon".'
Then his problem will be that many of his coalition partners and party members won't be saying it as a compliment.
Click the alert icon to follow topics:
ICYMI
Ken Burns' Brilliant 'The U.S. and the Holocaust' Has Only One Problem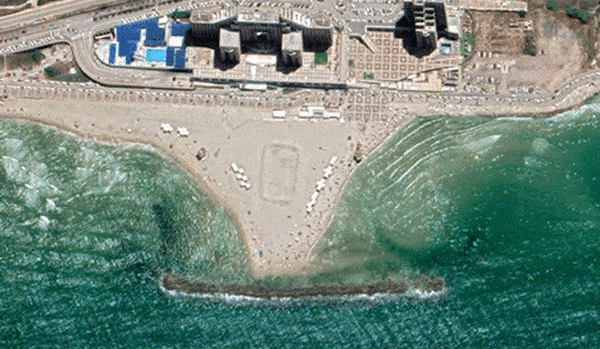 Facing Rapid Rise in Sea Levels, Israel Could Lose Large Parts of Its Coastline by 2050
As Israel Reins in Its Cyberarms Industry, an Ex-intel Officer Is Building a New Empire
How the Queen's Death Changes British Jewry's Most Distinctive Prayer
Chile Community Leaders 'Horrified' by Treatment of Israeli Envoy
Over 120 Countries, but Never Israel: Queen Elizabeth II's Unofficial Boycott