1920-2013 |
Rabbi Ovadia Yosef, Kingmaker of Israeli Politics, Dies at 93
Rabbi Yosef was one of the foremost interpreters of religious law in recent generations and inspired a renaissance for Sephardi religious life in Israel.
Rabbi Ovadia Yosef, the spiritual leader of the ultra-Orthodox Shas party, died on Monday in Jerusalem at the age of 93.
Over the years, Yosef served in wide variety of roles: he was the president of the Shas party's Council of Torah Sages, Israel's former Sephardi chief rabbi, an Israel Prize laureate and more.
However, among Yosef's titles and accolades, two are especially important to note: he was one of the foremost interpreters of religious law in recent generations, his name appearing on several historic religious rulings, and he was the adored symbol of hundreds of thousands of Jews of Middle Eastern descent in Israel and around the world. He served as a symbol for both the emerging class-based political protest, and also for a Sephardi cultural renaissance focusing on the legacy of Sephardi halakha.
Rabbi Ovadia Yosef was born in Baghdad in 1920 to Yaakov and Georgia Youssef, and given the name Abdullah. The entire family immigrated to Palestine when Ovadia was four years old, settling down in Jerusalem.
Even from childhood, though he was required to help support the family, Ovadia's genius and predisposition for learning Torah were evident. He wrote his first insights into Jewish law at the age of nine and three years later began studying at Yeshivat Porat Yosef, under the sponsorship of the rosh yeshiva (the dean of the institution).
At the age of 17, Ovadia had already become a controversial figure among the Iraqi Jewish community when he dared to argue during his lessons with the rulings of the greatest religious judge of the Babylonian Jewish community the Ben Ish Hai, and advocated the more lenient rulings of Rabbi Yosef Karo, the author of the Shulchan Aruch. Advocating the rulings of Rabbi Karo as the supreme religious authority for all Jews of Middle Eastern origin, thereby blurring the religious differences among Jews originating from different Muslim countries, became part Rabbi Ovadia's life project.
Ovadia was ordained as a rabbi by Palestine's then-Sephardi Chief Rabbi Ben-Zion Meir Hai Uziel in 1940. In 1944 he married Margalit Fattal, and was already serving as a rabbinical court judge, or dayyan, by middle of the decade. In 1947 Ovadia and his young family were sent to Cairo by Rabbi Uziel to serve as the head of the rabbinical court there, but his stay was cut short due to his disagreements with the local community. Ovadia began serving as a dayyan at the Petah Tikva Rabbinical Court in 1950, but dedicated his energy into writing his halakhic texts, "Hazon Ovadia" and the "Yabia Omer."
Though he was just a young rabbi, the Ashkenazi sages of the generation gave their support to Ovadia, including Rabbi Isaac Herzog, Rabbi Tzvi Pesach Frank and Rabbi Shlomo Zalman Auerbach. Auerbach even wrote in a foreword for one of the volumes of "Yabia Omer" that Ovadia was, "one of the Torah giants that have arisen among the Jewish people in recent generations." At age 45, Ovadia had already been appointed to the Jerusalem's Great Rabbinical Court. Three years later, Ovadia also started serving simultaneously as Tel Aviv's Sephardi chief rabbi. In 1970, Ovadia became an Israel Prize laureate in the category of Torah literature for his principal Halakhic writing, "Yabia Omer," even though some of its volumes had yet to be published.
Ovadia was elected Israel's Sephardi chief rabbi in 1973 alongside Ashkenazi Chief Rabbi Shlomo Goren (with whom he clashed most of the time), and his halakhic rulings soon entered history. In one detailed and well-reasoned ruling, Rabbi Ovadia permitted women whose husbands were missing in the Yom Kippur War to remarry without needing to seek a divorce; in another he ruled that Ethiopian group the Beta Israel, also known as the Falash Mura, were Jewish, thus enabling the African community to immigrate to Israel through the Law of Return. In 1983, he was forced to resign from the rabbinate due to the law that limits chief rabbi's terms to 10 years, but continued to serve as a dayyan for the rabbinical court.
A clip from the Israeli documentary series Uvda showing a day in Rabbi Ovadia Yosef's life.
The next year, Ovadia gave his support to a political party of Middle Eastern Jews that had contended for the Jerusalem Municipal Council and then for Knesset: Shas. The party served as a revolutionary force not just for the political culture of the Middle Eastern Jewish population in Israel, but in its religious culture. Shas placed the values of Sephardi ultra-Orthodoxy front and center in the community many times at the expense of the community's own traditional behavior. It also introduced new phenomena to the Middle Eastern Jewish community, like bringing secular Jews back to religion, publishing prayer books and religious texts in accordance with the traditions of Middle Eastern Jewish communities and holding Torah-based gatherings and more.
Rabbi Ovadia did not hold an official position since the 1980s, but his position as a public figure only grew. The Shas party was initially operated with the encouragement of the non-Hasidic Ashkenazi ultra-Orthodox community. However, after a rift in 1990 between the party and leading Ashkenazi ultra-Orthodox rabbi, Eliezer Menachem Shach, Shas went its own way- including joining Yitzhak Rabin's government. Since then, every prime minister from Rabin to Benjamin Netanyahu consulted with Ovadia on various issues and took his opinions into account. Rabbi Ovadia became a kingmaker of Israeli politics.
Shas was a member of every government in Israel's history except the one created by Ariel Sharon in 2003 and Netanyahu's third government created in March 2013. Due to its governmental power, which peaked at 17 Knesset seats, Shas founded schools, appointed dozens of city rabbi and religious court judges and pushed through hundreds of political appointments. Likewise, Ovadia became a person from whom people would seek advice before making fateful decisions like an attack on Iran or prisoner exchange deals; even President Shimon Peres would visit him twice a year at his home.
Thus, Rabbi Ovadia became the beloved leader of Israel's Jews of Middle Eastern origin. However, more than a few times, he stirred up controversy in Israeli society. Over many years, during his post-Sabbath lessons delivered on Saturday night, he would often insult Israeli left-wing leaders, as well as Netanyahu and Sharon, and utter vulgar expressions aimed at Arab leaders. He also derided the religious Zionist party Habayit Hayehudi as a "house of Gentiles," causing agitation among various religious communities.
The Israeli left would want to remember the lines Rabbi Ovadia wrote in his book, "Yabia Omer," that saving lives is more important than territorial claims. "If the heads and commanders of the army, together with the members of government, will determine that the matter would save lives...that there is an immediate danger of war...and if territories were returned them it would distance from us the danger of war and that there is a chance of a sustainable peace – it appears that according to all [religious authorities'] opinions it would be permissible to return territories from the Land of Israel for the purpose of achieving this goal."
Rabbi Ovadia Yosef will be remembered for his daring halakhic rulings regarding Ethiopians seeking to immigrate to Israel under the Law of Return and so-called "chained women," married women who have difficulty getting divorces under Jewish religious law. However, Yosef backtracked many times in the face of pressure from Ashkenazi rabbis. For example, he balked at issuing his own opinion regarding the affair when conversions to Judaism were ruled invalid by the great rabbinical court, and also when he ruled that according to Jewish law death legally occurs at brain death and supported a law designed to encourage organ donation from the brain dead. The moment he encountered criticism from the non-Hasidic ultra-Orthodox rabbis, he cooled to the idea and announced that he would not encourage organ donation.
Many of Rabbi Ovadia's children also became public figures in their own right. His eldest daughter, Adina Bar Shalom established the Haredi College of Jerusalem. Rabbi Yitzhak Yosef is Israel's Sephardi chief rabbi. Rabbi Yaakov Yosef was the head of Yeshivat Hazon Yaakov until he died in April 2013. Rabbi Avraham Yosef is the chief rabbi of Holon. Rabbi David Yosef is the rabbi of Jerusalem's Har Nof neighborhood and head of the married men's yeshiva (kollel) Yehave Da'atIn recent years, the youngest son of Rabbi Ovadia, Rabbi Moshe Yosef, took command over the financial and political assets set up by his father.
Timeline
1920 – Born in Baghdad as Abdullah Youssef, the eldest son of Yaakov and Georgia
1923 – The Youssef family immigrates to Mandatory Palestine, and settles in the Jerusalem neighborhood of Beit Yisrael
1934 – Ovadia begins his studies at the Sephardi Yeshiva Porat Yosef in the city's Jewish Quarter
1936 – Ovadia begins teaching Torah lessons and writing his halakhic composition Yabia Omer
1940 – Ovadia is ordained as a rabbi by the Sephardi Chief Rabbi Ben Zion Meir Hai Uziel
1944 – Marries Margalit Fattal, the 17-year-old daughter of a well-connected family of Jews originally from Aleppo, Syria
1947 – Sent to Egypt to serve as head of Cairo's rabbinical court
1950 – Returns with his family to Jerusalem
1958 – Appointed as a religious judge in Petah Tikva
1965 – Appointed as a member of the Rabbinical High Court
1968 – Elected chief rabbi of Tel Aviv-Jaffa
1970 – Awarded Israel Prize for Yabia Omer
1973 – Elected Israel's Sephardi Chief Rabbi
1974 – Writes a religious ruling that permits close to 1,000 women whose husbands were MIA after the 1973 Yom Kippur War to remarry
1979 – Issues religious ruling that it is permissible and even obligatory to give up land to prevent bloodshed
1983 – Forced to leave his role as Israel's Sephardi Chief Rabbi
1984 – The Shas party contends in Knesset elections for the first time and wins four seats
1992 – Shas joins Yitzhak Rabin's government coalition and supports the Oslo Accords (but abstains during vote over accords)
1994 – Ovadia's wife and the mother of his 11 children, Margalit, dies
1998 – Forced to retire from Rabbinical High Court due to his political activities
1999 – Ovadia appoints Eli Yishai as Shas chairman to replace Aryeh Deri after the latter was convicted of bribery; Shas reached its peak political strength at this point, winning 17 Knesset seats
2004 – Ovadia opposes Ariel Sharon's Disengagement Plan from the Gaza Strip
2005 – The Shin Bet security service arrests three members of the Popular Front for the Liberation of Palestine for planning to assassinate Rabbi Ovadia
2012 – Yosef returns Deri to the helm of Shas alongside Eli Yishai
2013 – For the first time in decades, Yosef becomes a target of personal attacks by Sephardi rabbis in a stormy election campaign; later in the year he helps bring about the appointment of his son Rabbi Yitzhak Yosef as Sephardi Chief Rabbi of Israel
ICYMI
Ken Burns' Brilliant 'The U.S. and the Holocaust' Has Only One Problem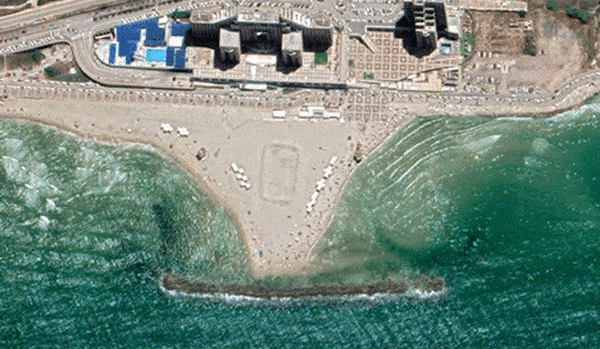 Facing Rapid Rise in Sea Levels, Israel Could Lose Large Parts of Its Coastline by 2050
Lapid to Haaretz: 'I Have Learned to Respect the Left'
The Mossad's Fateful 48 Hours Before the Yom Kippur War
As Israel Reins in Its Cyberarms Industry, an Ex-intel Officer Is Building a New Empire
How the Queen's Death Changes British Jewry's Most Distinctive Prayer