How Many More Palestinian Women Have to Be Murdered?
September was the most violent month this year, with seven women killed in Gaza and the West Bank.
For a few days last month, everyone seemed to be discussing, in alarmed tones, "the 25" - the shocking number of Palestinian women murdered in the Gaza Strip and West Bank in the year to date, as of September 21. One week later another woman was murdered. That made September the worst month so far this year, with seven women killed.
The figures were released by the Women's Center for Legal Aid and Counseling, an independent Palestinian nongovernmental organization founded in Jerusalem in 1991.
Two of the seven women died in Gaza in circumstances that could otherwise be seen as an accident or suicide. One fell from the third floor and the other drowned in a pool. But years of documenting the unnatural deaths of women and talking to victims' relatives and acquaintances – those who were willing to talk – have taught the center's field workers that sometimes relatives force women to end their lives.
The death of two of the seven made special headlines. One, a mentally impaired 20-year-old from Yatta, had been sexually assaulted. Her mother is suspected of murdering her. The second victim, identified as Thamar Zeidan, 33, was a mother of two from the village of Dir al Ghusun, near Tulkarm. Her family married her off before she was 15, and she divorced about four years ago.
Last month neighbors caught a man, apparently drunk, breaking into her house and gave him a thorough beating. Then rumors spread about her conduct. On September 20 a few dozen members of the Zeidan extended family signed a statement accusing her of shameful behavior flouting religious edicts. The statement said the signatories were severing all ties with her father, because he failed to call his family to order.
A day after the statement had been hung on the mosque door and on the wall of houses in the village – so Palesinian media reported – Zeidan's father garrotted her in her sleep.
When a woman is murdered, people immediately ask "what did she do," said an activist with the organization. "They don't ask that when a man is murdered." The center refuses to use the term "honor killing" or "family honor killing," generally referring to the murder of a woman blamed for sexual conduct contrary to social codes. Attorney Latifa Swekhell and Nabeel Dweikat of the center say the murderer, or whoever is behind the murder, often use the term to cover up the real motive. This could be an inheritance dispute, or a bid to conceal the fact that the perpetrators (sometimes the victim's father or brother) had raped the woman and this fact became known after she became pregnant or was about to be married. In some cases malicious rumors about a woman, or her refusal to marry the man her family chose for her, are sufficient motive for murder.
The name for such murders is femicide – the killing of women by men for being women, center activists say. These murders are motivated directly or indirectly by misogynist and sexist motives and stem from women's inequality in patriarchal society, where they are seen as the man and family's property.
A report published by the center, Women Without Names, details 29 murders cases and nine "suicides" the center investigated during 2007-2010. Seventeen of the victims were murdered by their father, brother or husband. Six others were murdered by another relative.
In Europe, about 50 percent of the women murdered between 2008 and 2010 were killed by a male relative, compared to 15 percent for male murder victims. This was reported in April 2012 at a special UN conference, "Femicide, a global problem." In North America 70 percent of murders of women are thought to be at the hands of their partners or family members.
But the fact that femicide is a global phenomenon is no solace for Palestinian feminists. The list of "the 26" angered and frustrated them. Some said it made them feel as if years of dedicated work, studies, demonstrations, workshops, fundraising and educating judges and police officers were all in vain.
But thanks to their efforts, the Palestinian media now report the murder of women at the hands of men, which encourages public debate. Some families, although not many, share the suffering caused to them by the murder and the malicious rumors with the public. The Supreme Sharia Court repeatedly states that murdering women is against the laws of Islam. In general, people speak out against femicide.
But the number of murders doesn't seem to decline, and many Palestinians feel that violence in their community overall is rising: more family disputes, sexual abuse, rape, fatal traffic accidents, drug abuse and addiction. In addition there are political rivalries and hostilities between Hamas and Fatah and within each organization.
For Palestinians, the leaders' promises to liberate them from the Israeli occupation and achieve statehood proved to be empty, and the self-rule institutions have lost both influence and authority. With no unifying national or social purpose, the communal solidarity that the Palestinians were so proud of in the past is crumbling. The nature of Israeli military rule and the presence of settlers is by nature aggressive, and triggers higher levels of violence and suppressed aggression in the Palestinian society.
The Palestinian Independent Commission for Human Rights says that 24 of the 94 homicide victims in 2012 were women. By the end of September, the number (not final) of homicide victims was 63 – 26 of them women.
So far, the Palestinian authorities have failed to replace the outdated and backward penal code and personal status law in Gaza and the West Bank, which date back to mandatory times in Egypt and Jordan. But failure to change is not merely a technical-political problem but a difficulty to reconcile various and opposed social approaches.
At any rate, the penal codes in the West Bank and Gaza are lenient when it comes to murderers of women who claim "honor killing" as the motive. A minor amendment made by Palestinian President Mahmoud Abbas in the Jordanian penal code from 1960 was irrelevant to most kinds of femicide. Even when the police want to arrest perpetrators, the prosecution - 20 female district prosecutors and judges - is hampered by an archaic, patriarchal law.
The absence of progressive or uniform law is not the only problem, says Prof. Nadera Shalhoub-Kevorkian of the Institute of Criminology, Faculty of Law at the Hebrew University in Jerusalem. Shalhoub-Kevorkian insisted already 20 years ago on adding the definition of "femicide" to the Palestinian feminist dictionary.
She explains femicide as not only the radical act of taking a woman's life, but as the whole multifaceted sequence of structural violence against women. "Marrying a girl at the age of 13 is also murder for her," she says.
As an activist, not only a researcher into crimes against women, Shalhoub-Kevorkian was one of the founders of the women's center. In 1993 she set up the center's hotline, the first for female Palestinian violence victims.
She herself has coached judges, police officers and officials on matters of violence against women. When a senior Palestinian security official wanted to settle a rape case by forcing the woman to marry the rapist, Shalhoub-Kevorkian said: "I'll send my husband to rape your daughter every day, for several weeks, and then have him marry her. Would you agree?"
When the judges didn't understand the problem with checking the hymens of rape victims she brought them to the clinic that performed those tests and asked them to spread their legs for her on the examination table. Though dressed-up, this gave them an idea of the systematic humiliation to which rape victims were subjected.
Shalhoub-Kevorkian is now completing a comprehensive report about the justice system and accessibility to justice in the West Bank and Gaza. As far as women are concerned, there is no accessibility to justice, she said this week in a telephone conversation from the United States.
Men suspected of violence against women escape to Areas B and C areas in the West Bank, where the Palestinian police is not akkowed to operate and the Israeli police are in no rush to do so, she says. Palestinian security men must coordinate with Israeli security forces every time they want to pass from one A area to another via C areas. This encumbers their movement and restricts their freedom to act.
When violent men roam free, the threatened women are put into jail, presumably to protect them, she says.
The Second Intifada, with the militarization it brought about, had its negative impact. As in Israel, says Shalhoub Kevorkian, "access to a weapon in the house raises the chances of using it to murder a woman," she says. "Our work is like a container you fill with water, but there's a hole in it. The hole is political. You can't build something consistent. Every time we do, something happens in the political reality that drags us back."
"And poverty is always in the picture, directly associated to the Israeli domination," she says. Poor women are more exposed to domestic violence. Most victims, as shown by the Women Without Names report, come from extremely poor families, crowded living and low sanitary conditions, low self-esteem and a higher risk of prostitution, she says.
And yet, despite the Israeli domination and political uncertainty, she believes society and its institutions can do a lot. At a gathering of feminist activists with members of the Legislative Council a week ago she told them: "The story is much more complicated than stating 'that's our culture.' How come in one place in Gaza there's no violence against women, while in another place there is? It's the same culture, isn't it? Stop this nonsense. You're not doing anything."
Click the alert icon to follow topics:
ICYMI
Ken Burns' Brilliant 'The U.S. and the Holocaust' Has Only One Problem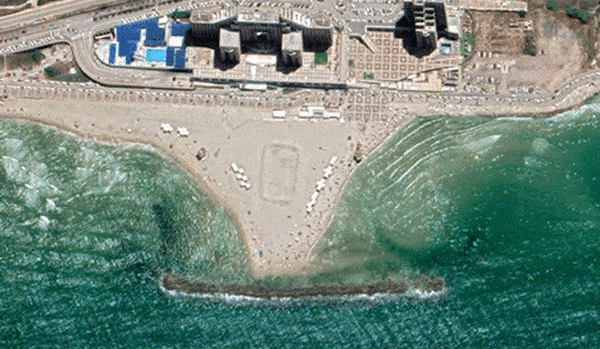 Facing Rapid Rise in Sea Levels, Israel Could Lose Large Parts of Its Coastline by 2050
As Israel Reins in Its Cyberarms Industry, an Ex-intel Officer Is Building a New Empire
How the Queen's Death Changes British Jewry's Most Distinctive Prayer
Chile Community Leaders 'Horrified' by Treatment of Israeli Envoy
Over 120 Countries, but Never Israel: Queen Elizabeth II's Unofficial Boycott