Netanyahu Got Knocked Out at the UN
In an arena by governed rhetoric, how is it that our rhetorician of a prime minister and savvy hasbara people have us standing in the corner, like the rejected child of the United Nations?
All they do at the UN General Assembly is babble. It's an arena for speeches, not actions. Most of the time, strategic decisions are made by the UN Security Council – and even the decisions are usually struck down by veto. Most of the organization's ongoing activities are carried out by its various agencies that deal with world health, world hunger, the environment, or defending children and rehabilitating refugees. At the General Assembly, they talk. They deal in declarations – and the conference is all about image.
It was there, exactly thirty years ago, that Benjamin Netanyahu's star rose for the first time. He baffled Israeli diplomats and Diaspora Jews with his fluent English and sharp words. One of his most important acts was decrying the Nazi past of then UN Secretary-General Kurt Waldheim, and forcing the organization to open up the archives and investigate. Big deal. The world hasn't been the same since.
The only thing that does happen from time to time during the festive gathering at the United Nations is a change in climate. Not the climate of temperatures and global warming. Political climate. A change in the spirit of diplomacy. Reducing the pollution in international air. An atmosphere is created that fosters new diplomatic dynamics, and initiating new endeavors. At the moment, it seems that 2013's conference is one of those times, and the Israel of former diplomat Benjamin Netanyahu is being soundly defeated. Israel is on the ropes, taking hard punches. Once in a while, Israel throws a punch of its own, but hits mostly air, or even worse, itself. It seems to be tirelessly fighting the battles that are already over. Unlike boxing, there's no referee that will take it out of its misery. The bell will ring only after Tuesday, with Netanyahu's speech, and that means we have a few more days to witness the horror and amazement of this farce.
So what's really going on there? Israel's obsession over the new Iranian President Hassan Rohani's appearance (speeches, declarations, media interviews) is focused mainly on whether or not his words can be taken at face value. The official Israeli response, meaning that of Netanyahu and his supporters, is that they clearly cannot. Perhaps they're right. Maybe they're wrong. It's impossible to tell at the moment, and it truly doesn't matter. It's irrelevant. The only relevant question is about image. We've already said – all they do at the UNGA is babble. Everyone knows that. No one will change make a policy change because of some speech or interview with CNN. The only real story these days is about the atmosphere – and, wait for it – hasbara. The Netanyahu family's wonder word for generations. Let's try and understand what role Israel plays in this story.
Rohani, both atop the podium and in interviews, has brought a wonderful message to the Assembly: talk of peace and not war, talk of hope, of fear and openness, about a nuclear reactor for civilian purposes, talk of recognizing the Holocaust, and preference for diplomacy above all. Try to read his statements while ignoring the regime he represents. This is a wonder, in terms of rhetoric.
Again, it doesn't matter at all if he actually means every word, or is just fronting to prevent military action and perhaps release his nation from the stranglehold of sanctions. We're in the babbling arena now – and the game is all about image. Rhetoric is the tool here. And here is some of Rohani's rhetoric: "I propose a decisive step. I urge all states to take the steps that will guide the world in this direction. We need to think of a new coalition of peace throughout the world, instead of ineffective coalitions of war. I say this clearly, that peace is within arm's reach. We should unite forces and create a wave of opposition against violence and fanaticism. The Iranian nuclear program must be for peaceful purposes only. I declare: That was, and will continue to be the goal of the Islamic Republic. Nuclear weapons have no place in the context of Iranian security and our defense doctrine."
And how has Israel responded to this rhetoric? Israel has created fake Twitter and LinkedIn profiles for "the real Rohani." Israel is paying hundreds of employs to sit and bang away at their keyboards in a new hasbara social media combat unit. Israel came to the conference without a functioning foreign minister, because it doesn't have one – they're holding the portfolio for Avigdor Lieberman, who is under investigation for official corruption. Instead Israel sent Strategic and Intelligence Affairs Minister Yuval Steinitz. And what did Steinitz have to say about Rohani's speech? That it was a "charade." He said this of course after not hearing the speech – as the prime minister ordered him and the rest of the Israeli delegation to leave the room before it started.
Later the prime minister defended this hapless decision by claiming that the speech was "cynical and full of hypocrisy," and immediately added claims of Iran denying the Holocaust and developing a nuclear reactor to destroy Israel, even though Rohani did not deny the Holocaust, and declared that their nuclear reactors are peaceful. In fact, Rohani did not even mention Israel, or even the "Zionist cancer" that his predecessor liked to talk about so much. Is it possible to know if he really meant what he said? No, it's not. It's also possible that Rohani is walking a tightrope with the Ayatollahs, as he really is only a puppet, with the Ayatollahs pulling the strings.
So what's the problem? Why can't Israel play the game as well? Why not incorporate new rhetoric of hope of our own? What's to lose? How can it hurt Israel's position? All it can do is strengthen it. It's not an issue of innocence, like some might say, but rather it would be the model of a game-changing move. "Speak softly but carry a big stick," they've been reciting Theodore Roosevelt at us for a hundred years. No one is asking Israel to give up its stealth bombers, midair refueling jets or smart bombs.
What have we become? What's all this fear? How is it that our brilliant ambassador and hasbara people have us standing in the corner, sticking our tongue out like the rejected child? It's scary to think about what their next act in this game might be. Maybe Netanyahu plans to stand up on the podium and tear up a copy of Rohani's speech, in a macabre imitation of Haim Herzog, when he tore of the UN resolution that equated Zionism with Racism. Oops. I hope I didn't just give him an idea.
This is how it goes: King Bibi has managed to let the tables turn on us, as we've taken up the role of the bad guy. We're the pain in the ass. We're the automatic and eternal rejectionists. We're the ones who get up and leave the room to boycott the speech, then tear up a copy of it as soon as it's over. We're the vulgar, impolite ones, who don't know how to behave. Not just with Iran – but with the entire international community, which we expect to continue tightening sanctions on Iran. And worst of all, we've acted the same way with President Obama and the American government, despite our strategic and military dependence on them for our existence in general, and the Iranian nuclear reactor as well.
What's amazing is that Obama and the Americans actually set a different example for Netanyahu over the last few days. A much fairer one. An example of accepting in good spirits the shift in rhetoric and diplomacy, without going back on any principles. Netanyahu has received a free lesson in leadership and policy. It's a shame he dropped out of class. He could have come out on top, stronger than ever, the real King Bibi of Israel. He could have taken the initiative instead of having to react all the time. To lead instead of be led. He could have politely welcomed the new Iranian position, and offered to sit down with Rohani for direct talks right away. He could have checked just who we're dealing with, and if there really is someone there to talk to. Israel would have had nothing to lose from such a move, and much to gain.
Click the alert icon to follow topics:
ICYMI
Ken Burns' Brilliant 'The U.S. and the Holocaust' Has Only One Problem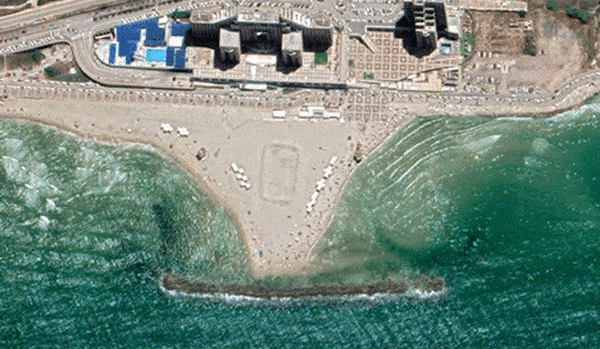 Facing Rapid Rise in Sea Levels, Israel Could Lose Large Parts of Its Coastline by 2050
As Israel Reins in Its Cyberarms Industry, an Ex-intel Officer Is Building a New Empire
How the Queen's Death Changes British Jewry's Most Distinctive Prayer
Chile Community Leaders 'Horrified' by Treatment of Israeli Envoy
Over 120 Countries, but Never Israel: Queen Elizabeth II's Unofficial Boycott