Death Toll Reaches 69 |
Kenya Forces Closing in on Mall Attackers, Police Chief Says
Kenya president says force has 'as good a chance as we can hope for' to neutralize attackers; Israeli forces reportedly join effort to end deadly siege at Kenya mall, though not clear in what capacity.
Kenyan forces have brought more people out overnight from the shopping mall where Islamist militants are holding hostages, and troops are "closing in" on the attackers, the police inspector general, David Kimaiyo, said on Monday, the third day of the siege.
He said Kenyan security forces had "rescued more hostages" but made no mention in his Twitter comment about engaging with the militants.
Heavy and sustained gunfire was heard at the Nairobi shopping mall where at least 69 people were killed by a Somali Islamist group, a Reuters witness reported on Monday, suggesting an assault by Kenyan security forces.
As the siege entered its third day, a Reuters witness at the scene heard heavy and sustained gunfire for about five minutes. The blast of gunfire was followed by a lull, and then a series of small, sporadic explosions occurred.
Kenya's military had earlier said on its Twitter feed that it was making every effort to bring the siege "to a speedy conclusion."
Somali Islamist group al-Shabab said hostages held by militants holed up in a Nairobi shopping mall would be killed if force was used, according to an audio statement carried by a website linked to the group.
"Israelis and Kenyan forces have tried to enter Westgate [mall] by force but they could not, the mujahideen [fighters] will kill the hostages if the enemies use force," Sheikh Ali Mohamud Rage, al-Shabab's spokesman said in clip posted online.
On Sunday night, Oguna said there had been an operation under way since early on Sunday. Troops stormed the upmarket Westgate mall at lunchtime on Saturday. Oguna said most of those trapped in the complex were free.
"Most of the hostages have been released, and the Kenya Defence Forces has taken control of most parts of the building," Oguna told local station KTN, giving no details. He told Britain's Sky News late on Sunday: "A large number of hostages have been rescued since this morning."
He made no mention of killing or capturing militants, but said commanders hoped to end the operation "very, very soon". Reuters journalists outside the mall heard only very occasional gunfire and an explosion. There was no clear word on the fate of people said to be held by a dozen or so gunmen in a supermarket.
The operation came about 30 hours after 10 to 15 al-Shabab extremists stormed the mall from two sides, throwing grenades and firing on civilians. About 175 people were wounded in the attack.
Somalia's Al-Qaida-linked rebel group, al-Shabab, claimed responsibility for the attack that specifically targeted non-Muslims. The attackers included some women. The Islamic extremist rebels said the attack was retribution for Kenyan forces' 2011 push into neighboring Somalia.
Al-Shabab said on its new Twitter feed - after its previous one was shut down on Saturday - that Kenyan officials were asking the hostage-takers to negotiate and offering incentives.
"We'll not negotiate with the Kenyan govt as long as its forces are invading our country, so reap the bitter fruits of your harvest," al-Shabab said in its tweet.
British Prime Minister David Cameron, confirming three Britons were dead, said: "We should prepare ourselves for further bad news."
U.S. President Barack Obama called Kenyan President Uhuru Kenyatta to express condolences over what the White House called a "terrorist attack" by al-Shabab, and offered support to bring the perpetrators to justice.
Kenyatta said in a late afternoon address, as a new round of security personnel prepared to enter the mall, that "The criminals are now located in one place within the building. With the professionals on site, I assure Kenyans that we have as good a chance to successfully neutralize the terrorists as we can hope for," he said in an address.
He also said that while Somali al-Shabab militants had claimed responsibility for the attack, the government was undertaking investigations to "conclusively establish" who was responsible.
Israelis reportedly join efforts to break siege
An Israeli security source said earlier Sunday that Israeli advisers were helping Kenya formulate a strategy to end the siege at the upscale shopping center, which is partly owned by Israelis.
"There are Israeli advisers helping with the negotiating strategy, but no Israelis involved in any imminent storming operation," said the source, who declined to be identified.
The source said only a "handful" of Israelis, "purely in an advisory role," were on scene at the mall, which has several Israeli-owned outlets and is frequented by expatriates and Kenyans.
An Israeli source in Nairobi said all Israelis who were in the mall at the time of the attack had made it out safely, with the last three rescued overnight.
Israeli President Shimon Peres posted on to his Twitter account on Sunday: "I wish to extend my deepest condolences to the people of #Kenya on the horrific terror attack in #Nairobi."
There were conflicting reports from other security sources in Nairobi about the part Israel was playing. One Kenyan security source, who asked not to be identified, told Reuters that the Israeli military was involved in the operation, while a private security official also said they were helping comb the mall. But the Kenyan Interior Minister insisted it was a national operation, despite offers of foreign support
The attack by Al-Qaida-linked militants at the Nairobi also wounded 175, Kenya's interior cabinet secretary said earlier Sunday. Multiple barrages of gunfire erupted over the course of the morning from inside the building where the hostage standoff with Islamic extremists continued more than 24 hours after they attacked using grenades and assault rifles.
"The priority is to save as many lives as possible," the cabinet secretary, Joseph Lenku said, reassuring the families of the hostages in the upscale Westgate mall. Kenyan forces have already rescued about 1,000 people, he said.
Lenku said that there are 10 to 15 attackers involved, including women, and Kenyan forces have control of the security cameras inside the mall. Combined military and police forces surrounded the building. Police said the standoff was focused on the mall's Nakumatt supermarket, one of Kenya's biggest chains.
The Somali Islamist group al-Shabab claimed responsibility for Saturday's attack. Several foreigners, including two French citizens, a Canadian civilian and diplomat and three Britons, were among the dead. Nationals from Kenya, India, South Africa, Ghana and The Netherlands were also killed im the attack.
Israel's Foreign Ministry said that Israelis were not the target of the attack.
Officials in the Foreign Ministry said three Israeli citizens that were in the mall at the time of the attack were able to escape unharmed and were collected by the Deputy Israeli Ambassador to Kenya Yaki Lopez and the embassy security officer that were present on the scene.
A senior official at the foreign ministry said that the families of the Israelis that escaped the incident were informed. The ministry said that beyond these persons it is believed that no other Israelis were present.
U.S. Secretary of State John Kerry said there were no Americans among the dead but that several U.S. citizens had been hurt and the wife of a U.S. diplomat working for the U.S. Agency for International Development was killed.
Al-Shabab, which has links to Al-Qaida and is battling Kenyan and other African peacekeepers in Somalia, had repeatedly threatened attacks on Kenyan soil if Nairobi did not pull its troops out of the Horn of Africa country.
The group appeared to taunt the security forces, saying on its official Twitter handle aHSMiPress that there would be no negotiations whatsoever with Kenyan officials over the standoff.
"10 hours have passed and the Mujahideen are still strong inside iWestgate Mall and still holding their ground. All praise is due to Allah!," the group said.
The raid presents Kenyatta with his first major security challenge since a March election victory. He has vowed to defeat the militants who have said it is time to shift the war to Kenyan soil.
"We have overcome terrorist attacks before," he said.
Relatives of hostages keeping vigil
The assault has been the biggest single attack in Kenya since Al-Qaida's East Africa cell bombed the U.S. Embassy in Nairobi in 1998, killing more than 200 people. In 2002, the same militant cell attacked an Israeli-owned hotel on the coast and tried to shoot down an Israeli jet in a coordinated attack.
Kerry said the United States had offered assistance to the Kenyan government.
"The perpetrators of this heinous act must be brought to justice, and we have offered our full support to the Kenyan Government to do so," he said in his statement.
Relatives of hostages thought still to be trapped inside the mall were keeping vigil in a nearby Hindu center, waiting for the next move by the security forces.
Kevin Jamal said his sister was taken hostage while shopping at the mall, and he had been waiting for more than six hours.
"I want her to come out alive," Jamal told Reuters as he joined Kenya Red Cross Society volunteers for a meal of hot curry and chips served by the center.
He said the Kenyan security agencies could have done better, saying, "They should not allow themselves to be outmaneuvered by less than 20 people."
Police said it was not clear how many attackers they were dealing with, and those rescued said at least one of the attackers was a woman. One of the attackers had been shot and arrested, but died shortly afterward at a hospital.
A fierce gun battle erupted between the police and the militants after Saturday's initial assault. The shooting continued hours after the first attack and soldiers then managed to enter the building, hunting for the attackers shop by shop.
Witnesses said the attackers were armed with AK-47 rifles and wore ammunition belts.
Police said the attack occurred during a children's cooking competition hosted by a radio station at the mall, just as the winners were about to receive prizes.
There was a lull in activity in the hours after midnight. Troops were milling around at the mall, near two armored personnel carriers and two big fire trucks, one with a long, extendable ladder.
Music was still playing and a video screen was on at a gourmet burger shop. Journalists and curious bystanders were moved out of the mall onto a side road.
Kenya sent its troops into Somalia in October 2011 to pursue the militants it blamed for kidnapping tourists and attacking its security forces.
The major attack on a mall that draws tourists, expatriates and Kenya's wealthy elite risks hammering an already struggling tourism sector in Kenya and could puncture Kenyatta's plans to boost East Africa's biggest economy's reputation as a sound investment destination.
Al-Shabab's last big attack outside Somalia was a twin attack in neighboring Uganda, targeting people watching the World Cup final on television in Kampala in June 2010. Seventy-nine people died.
ICYMI
Ken Burns' Brilliant 'The U.S. and the Holocaust' Has Only One Problem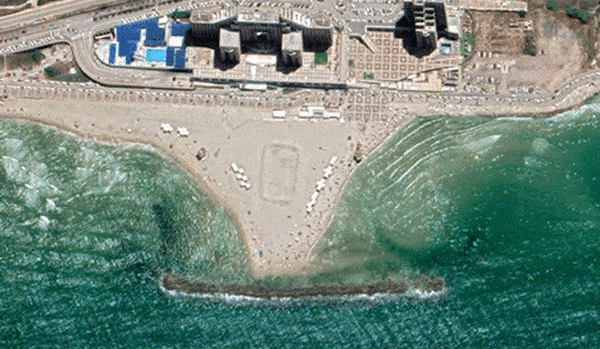 Facing Rapid Rise in Sea Levels, Israel Could Lose Large Parts of Its Coastline by 2050
As Israel Reins in Its Cyberarms Industry, an Ex-intel Officer Is Building a New Empire
How the Queen's Death Changes British Jewry's Most Distinctive Prayer
Chile Community Leaders 'Horrified' by Treatment of Israeli Envoy
Over 120 Countries, but Never Israel: Queen Elizabeth II's Unofficial Boycott