Church of Scientology Behind Anti-psychiatry Exhibit in Jaffa
There's no mention of thetans or Xenu the warrior, but the local version of the show titled 'Psychiatry: An Industry of Death' has Scientology ties.
It's the lazy end of summer, the weather is balmy and the holidays are ongoing -- as good an opportunity as any to go strolling over to the Jaffa Port for a relaxing evening. There, one might pick up a fresh fruit juice or an overpriced plastic kitchen gadget at the indoor farmers' market or order up a double scoop of Cherry Mania ice cream at the corner gelateria.
Alternatively, one might want to pop over to the south side of the port and check out the temporary exhibition installed there -- featuring photographs of bloody children chained to beds, Nazis guarding over starving Jews, half-dead Chinese men in gulags and scenes from the Columbine high school massacre -- all to illustrate the idea (and this might be a surprise here) that psychiatry is the industry of death.
No one mentions thetans, engrams, Xenu the warrior, or planet Teegeeack here in the massive, airless hangar where the exhibition is taking place. But the force behind the exhibition is the Church of Scientology, which only a year ago opened its lavish, new multimillion center right down the road in Jaffa, despite efforts by anti-cult organizations to stop them.
"Psychotropic drugs…," begins Ilan Salomon, a disillusioned pharmacist and a member of the Church, speaking to the small audience that gathered Monday evening for an exhibition lecture, "…are destroying us." The crowd leans forward in their white plastic chairs to hear him over the buzz of the cooling fans. "You are being manipulated by a multibillion-dollar psycho-pharmaceutical industry," he says softly.
"People are being turned into zombies," continues Salomon, who left a senior position at Israel's Super-Pharm pharmacy chain over a decade ago to become a personal trainer, nutrition adviser and consultant. Psychiatrists, he says, are making us "dependent shadows of ourselves, unable to enjoy food, sex, or sleep."
And that is not all. They also hide information about drug side-effects, and involuntarily commit people to psychiatric wards, Salomon claims. And there is more: "Scratch a little deeper," he says, nodding at the exhibition and suggesting that everything from Hilter's eugenics to South Africa's apartheid has psychiatrists behind the scenes pulling the strings.
"My child has Tourette syndrome. Do you think there is a way to get him off his medication?" one father raises his hand to ask. "And my son takes Ritalin," says a mother. Two other women nod: "So do ours." "I have a friend who has psychotic episodes and has been on medication for ten years. Do you think there is hope for her?" asks another. "I sometimes smoke weed," admits a teenager in sneakers, to no one in particular.
Everyone wants to know what alternatives are there.
The next two independent speakers offer some solutions: Dolev Reuven Gilmor, an organic farmer and alternative-medicine practitioner with a long gray ponytail and an accent left over from a youth in Ohio, suggests keeping busy, eating less sugar, taking vitamins B and C, and turning off the news. Amit Biran, a father of 11 from Tekoa, in a knitted skullcap and dusty sandals, plugs his treatment farm on the settlement, where he has been practicing "frequency healing" for 17 years, using something called a German Bicom machine. He has healed, he says, more than 40 "serious psychotics."
The speakers have been invited here by the organization that is putting on the exhibition: the Israeli chapter of Los Angeles-based Citizens Commission on Human Rights (CCHR). It is a non-profit mental-health watchdog organization that has hundreds of chapters in 34 countries around the world.
Ella Shner, who launched the Israel chapter 13 years ago and still serves as its president, stresses that CCHR is a human rights organization, not a religious operation. Nonetheless, she is no way disguises the fact that CCHR is tied to the Church of Scientology: It was founded by them in 1969 (along with a renegade psychiatry professor named Thomas Szasz), many of the CCHR members are Scientologists, and an unknown, but reportedly high percentage of the group's funding comes from the Church.
'Something to think about'
The exhibition is a version of the CCHR's permanent museum in Hollywood, Los Angeles: "Psychiatry: An Industry of Death," which opened in 2005, with boldface Scientology names on hand to cut the ribbons, including Elvis family members Lisa Marie (who has since defected) and Priscilla Presley and "That 70s Show" star Danny Masterson.
The traveling exhibition – minus such hard-to-move displays as the drills and restraint-equipped chairs used in medieval treatment of the mentally ill, or the steel bed with attached electrodes and a dial you can turn to see the amount of electricity used in ECT – has since been seen by more than 380,000 people in 160-plus cities in 17 countries, according to CCHR's website.
This is the first time the exhibition has been translated into Hebrew, adapted for a local audience, or shown in Israel. Shner says bringing the exhibition to Israel took years of planning and cost "hundreds of thousands," of dollars to make happen.
"It's free," say the group of attractive, well-dressed staff milling around the entrance and encouraging curious passersby to enter. "You are welcome to just look." And people do: Arabs and Jews, young and old. On several occasions Haaretz went by the exhibition and found no more than a handful of visitors inside. But Shner says that, in fact, since its opening on August 29, 13,000 people have come through the doors. In one day alone, Rosh Hashanah, her staff clicked off a whopping 3,400 visitors, she says.
The exhibition was originally meant to close last Thursday, September 12, but organizers decided to extend its run all the way through the Sukkot holiday, due to this great interest, says Shner.
The first thing visitors find after entering the hangar -- right after bumping into a table filled with brochures, and being greeted by a friendly staffer asking them to fill out surveys and leave their contact information -- is a placard reading "Something to Think About," with a photograph of Dudu Topaz. A popular Israeli celebrity, known to have been on and off of anti-depressants, Topaz's life unraveled and ended with his going to jail for allegedly hiring hit men to brutally beat up former colleagues. He later hanged himself in jail. "Sad," says Sefi Fischler, a spokesman for the Church of Scientology in Tel Aviv.
And then visitors wander: A young couple with a baby stroller stand in front of a photo display showing children who died while in psychiatric care -- one photo is of a teenager with steel clamps on his head who seems to have soiled his pants. Nearby, a group of social work students discuss a series of photographs of psychiatrists charged with child molestation and sex offenses. "While psychiatrists account for only 6 percent of the physicians in the U.S.," Fischler says, pointing to Church literature and videos to back up these seemingly questionable statistics, "…they are connected with nearly a third of the sex-related offenses committed by doctors. "
"I didn't know you were Scientologists," one gray-haired woman in Crocs, with a Chihuahua tucked under her arm, says when she goes up to Salomon to talk to him after the lecture. "I am not a big fan," she relays, detailing how she showed up for one of the Church's lectures years ago and has not been able to get off their mailing and call lists ever since. Salomon politely smiles and moves on to chat with the next in line.
Not all claim to be treated as benignly. S., a respected developmental psychiatrist in Israel, who has a special interest in cults, says he was barred from entering the exhibition last week. S., who says he does not want to identify himself for fear of being targeted by the Church, claims a guard at the entrance and later a member of staff demanded to see his ID before allowing him inside. When he refused, the guard addressed him by name, saying: "We know who you are," and insisted he leave the premises. Standing outside, later, and looking in from afar, S. says he was approached by two policemen who had been called in by the exhibition organizers and said he was "disturbing the peace."
Both Shner and Gat Megiddo, CCHR's CEO, who is at the exhibition daily, say such an event never happened — no one has been refused entry and in no case were the police called. In fact, says Megiddo, many psychiatrists and others medical professionals have freely toured the exhibition and engaged in "constructive dialogue" with the staff on hand.
One formerly prominent member of the Church of Scientology in Israel, who was forced out of the Church last year (after an internal battle during which the entire Haifa branch was declared "Suppressive Persons"), argues that the no-holds-barred approach toward the field of psychiatry on display does not effectively advance Scientology's true message regarding psychiatry.
"We have a disagreement with psychiatry. That is a fact," says this person, who is now an "independent Scientologist," and spoke on condition of anonymity because, he said, of "complicated internal issues." "But the Church has taken this position to an extreme point," he says. "Maybe there are abuses – but most psychiatrists are not evil or sadistic. The Church… always needs a reason to mobilize against an enemy. It's a way to keep everyone…in line."
For the past 27 years, he claims, David Miscavige - leader of the Church since founder L. Ron Hubbard died - has told the faithful that psychiatry's downfall was imminent. "He said we would have more auditors than psychiatrists. But that's a joke," he says, referring to Scientology auditing, a key component of the religion in which people have one-on-one counseling or "auditing" sessions meant to help them reach a condition of "clear," as in "clear or free from the influences of the reactive mind."
Fischler dismisses such criticism, arguing that apostates cannot be "credible or reliable sources of evidence," because they act out "from a personal motivation to vindicate themselves and to regain self-esteem." He further stresses that Hubbard never suggested Scientology auditing as some sort of alternative to psychiatric care. In fact, the founder of Scientology, Fischler says, "…stated more than once that Scientology is not aimed for the mentally ill, but is intended to make the able more able." The Church, Fischler adds, sometimes turns down people with "extensive psychiatric history," because it feels it "cannot help them to our full ability."
Finally, Fischler defends the explicit and graphic nature of the exhibition, arguing that shocking abuses require shocking measures. "Yad Vashem is not pleasant to go through," he says, referring to the Holocaust museum in Jerusalem. "Because that subject matter is not pleasant at all either."
ICYMI
Ken Burns' Brilliant 'The U.S. and the Holocaust' Has Only One Problem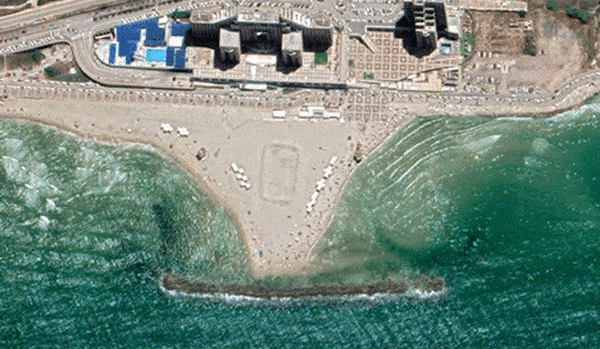 Facing Rapid Rise in Sea Levels, Israel Could Lose Large Parts of Its Coastline by 2050
As Israel Reins in Its Cyberarms Industry, an Ex-intel Officer Is Building a New Empire
How the Queen's Death Changes British Jewry's Most Distinctive Prayer
Chile Community Leaders 'Horrified' by Treatment of Israeli Envoy
Over 120 Countries, but Never Israel: Queen Elizabeth II's Unofficial Boycott