Lihi Lapid: She's No Sara Netanyahu (Or Hillary Clinton, for That Matter)
Generally, a politician's wife struggles to put enough of the couple's private lives on display in order to boost her husband's image, while carefully keeping flaws under wraps. Not so for Lihi Lapid, wife of Israel's Finance Minister.
Political wives are big news these days. We're all itching for a glimpse into the private lives of the men who make the big decisions that affect our lives (and yes, for now, the decision makers are predominantly men), and their families are viewed as a window into who they really are.
From Bill and Hillary Clinton to Anthony Weiner and Huma Abedin, political wives have been regularly thrust unwillingly into the spotlight when their husbands' behavior has been less than exemplary. The long-suffering political wife as icon has even been immortalized in the pop culture in the hit television series "The Good Wife," in which the heroine faces the ongoing challenge of carving out a personal and professional identity in the shadow of a powerful and charismatic political husband.
In the show, as in real life both in the U.S and Israel, it always seems that the political wife's fate is to struggle to put enough of the couple's private lives on display in order to burnish their husband's image, all the while carefully keeping flaws and unflattering aspects of their lives hidden.
In the case of Sara Netanyahu, that has meant keeping the curtains drawn on their family's life as tightly as possible, only to be periodically rudely ripped open when a disgruntled former nanny, housekeeper, or bitter former crony of her husband goes to the press and spills the beans.
Not so when it comes to Lihi Lapid, the wife of Israel's Finance Minister and political man of the moment Yair Lapid, who made his debut on the political stage this year after his party, Yesh Atid, was the surprise success of the national election.
Her advantage: there are few secrets for others to reveal because her family's life is - literally - an open book.
That book is technically a novel - though based closely on her own life, Woman of Valor, a bestseller in Hebrew in 2008, now being published in English by Gefen Publishing.
The book focuses on the journey from ambitious young woman into marriage and motherhood, with an unsparing look at the bumps on the way, including the difficulties of raising a special needs child - the Lapids have an autistic daughter - and a crisis in their marriage involving simmering resentments, broken communication, and extra-marital flirtation - all of which led to a brief separation, and eventually, to reconciliation.
On a muggy August evening, Lapid stood in front of a packed room of mostly female English-speaking immigrants in Tel Aviv, predominantly women, to talk about her book and her life. Lapid grew up in the desert town of Arad, and quickly made her way from outsider to insider in Tel Aviv, beginning with her acceptance to a prestigious high school, and then winning a choice position in the army as a photographer for the military newspaper.
Already a young and outspoken feminist, when being interviewed for the photographer's job, Lapid recalls challenging the commanders. "They handed me a bag containing 20 kilos of equipment and asked me, "Can you pick that up, carry it, and run if necessary?" She turned and asked them in response: "Did you ask any of the men you interviewed for this job the same question? Because if you didn't, I'm not going to answer it."
She met Yair Lapid at the newspaper when she was a young soldier, and he was a rising star in journalism, already married, divorced and with a young child. As his career thrived, branching into television, she was a successful photographer and photojournalist, and together they personified the epicenter of hip young Tel Aviv life.
Her life, she says, changed forever, when after suffering two miscarriages, in her third pregnancy, she was relegated to bed rest. Overnight, she went from working photographer who had her own studio, tooling around Tel Aviv on a motorcycle, into a beached whale on a bed that "gained 50 pounds and grew 50 chins." She chronicles how she - like so many other women, gradually put her own dreams and aspirations on the back burner as the demands of marriage and motherhood made her often unrecognizable to herself.
While her presentation to the audience of young women was light and humorous, her book spares the reader none of the pain and discomfort of her struggle with society's expectations of young wives and mothers. Woman of Valor uses a literary device which shuttles between her autobiographical voice and a fictional story of a 'princess' who undergoes similar experiences, interspersed with letters from women from all walks of life who read her newspaper columns.
After having children made reviving her photography career difficult, Lapid packed away her equipment and became a writer - first a novelist and then a columnist. Her literary persona is that of a feminist - but a realistic, skeptical, and often ambivalent one, and both her books and her weekly newspaper column, load her messages of female empowerment with a healthy dose of humor. She declares: "I know how to fix a flat tire, but if I get a flat, I'll sigh and look around and hope a guy will show up to help me" and "I don't burn my bras because I know how much they cost."
She unabashedly describes modern motherhood and its foibles - the need to make money, support one's family and feel independent versus constantly battling the desire to channel all one's energies into nurturing the family, which often fuels resentment of a husband who can come home from work when the kids are already in bed without pangs of guilt.
Lapid describes a moment where she was simultaneously preparing Hanukkah doughnuts while planning her New Year's Eve celebration and felt the tug between the nurturing maternal "doughnut" tendencies and the self-involved "champagne" New Year's Eve girl who wanted to work hard and then go out and dance all night.
In the context of the ongoing debate between "equality feminism" - which aspires to an even playing field for both sexes - and "difference feminism," which argues that society must be changed to embrace and value uniquely feminine experiences and characteristics, Lapid preaches what appears to be "happiness feminism."
She told her audience that "when I can say no, and if I try a little less, everyone will be happier...we have to do what is personally good for us." Her philosophy is summed up in one of her most popular columns, translated into English by a fan, called "My Personal Declaration of Freedom." And the title of her latest book in Hebrew, a collection of her columns, proclaims "I Can't Always Be Wonderful."
If women don't think about what they want, if they ignore their own needs and desires and think only of others, she contends, they will inevitably become bitter, resentful and angry. In Woman of Valor, she describes the epiphany she experienced during her separation from her husband, when she realized that living one's life in continual sacrifice, striving for the perfect home and being the ultimate mother, hoping for the gold medal of praise and admiration from onlookers isn't ultimately worth it:
"Because no one hands out a medal and no one invites anyone to the stand, and even if someone occasionally remembers to say thank you at some family event or celebration, even then the bitterness within remains. Because these little expressions of thanks aren't really worth the sacrifice. Yet we continue to sacrifice and continue to expect admiration and huge thanks. And we sacrifice and seethe, seethe and sacrifice, eventually becoming victims. Victims of our own sacrifices."
Remembering to stay selfish sounds like a tall order for the wife of a politician, whose job, after all, is to stand by her husband's side and make him look good.
Despite the pressure, she insists that she supports her husband's new career direction and enjoys "being part of something big and important" although she confesses that she "nearly spills the coffee every morning" when she sees what is written about him in the newspaper.
She seems, however, careful not to fall into the trap of being merely the "wife of." She took her cues on being the wife of a political figure from her mother in law, author Shulamit Lapid - also a novelist, married to a journalist-turned-politician. "I took one piece of advice from her. When my father-in-law became a politician, she said that she agreed to accompany him to an event once a week, and once a week only. That was great advice and I adopted it."
Click the alert icon to follow topics:
ICYMI
Ken Burns' Brilliant 'The U.S. and the Holocaust' Has Only One Problem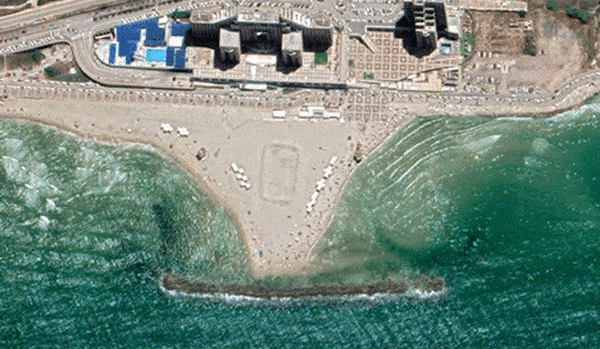 Facing Rapid Rise in Sea Levels, Israel Could Lose Large Parts of Its Coastline by 2050
As Israel Reins in Its Cyberarms Industry, an Ex-intel Officer Is Building a New Empire
How the Queen's Death Changes British Jewry's Most Distinctive Prayer
Chile Community Leaders 'Horrified' by Treatment of Israeli Envoy
Over 120 Countries, but Never Israel: Queen Elizabeth II's Unofficial Boycott