The Cabinet Vote on Releasing Palestinian Prisoners: A Microcosm of Israel's Political Future
Behind the simple facts that 13 voted for, 7 against, and 2 abstained in decision to release 104 Palestinian prisoners, the decision tells about the course Israeli diplomacy may take.
News headlines in Israel come at lightning speed – and sometimes they come all at once - so much so that it's very hard to stop and focus on one single event and analyze it. Everything is important, but no one thing is important enough.
For the embarrassed citizen, or indeed the enthusiastic commentator, it seems illogical to insist on one specific desert island or another in the flood. Even so, I would like to focus for a moment on the government vote on the release of Palestinian prisoners.
This took place on Sunday in Jerusalem, a moment before the marathon vote on the budget, and the end of the farce over the appointment Jacob Frenkel as the Bank of Israel's new governor.
This analysis is important because if Prime Minister Benjamin Netanyahu really intends to get involved in a meaningful diplomatic process, this vote serves as a good, accurate microcosm for how the government can be expected to act throughout the process, politically speaking. If Netanyahu isn't serious, this analysis isn't important, and you can skip it. I've made the unpopular bet that Netanyahu is in fact serious, and so I've dedicated some time to analysis.
1. Releasing the prisoners is necessary in order to restart negotiations with the Palestinians, after three years of alienation and no trust. Netanyahu preferred releasing prisoners over two other possible concessions, which would have been much more logical: committing to a settlement freeze, or making a public declaration on a border compromise based on 1967 lines. Netanyahu preferred releasing the prisoners because he understood from the fanatical right-wingers in his government (Habayit Hayehudi ministers and the Feiglin-esque representatives of the Likud "Tea Party") that the other two options wouldn't fly; meaning that they would either end the negotiations before they got started, or bring down the government altogether.
2. In response to the decision, the talks between Israel and the Palestinians began on Monday in Washington. Justice Minister Tzipi Livni from Jerusalem and chief Palestinian negotiator Saeb Erekat from Ramallah (only a few kilometers apart) flew all the way to Washington to begin preliminary talks about the talks themselves. This is the starting point, this is how gaping the lack of trust and suspicion really are – this is what they're up against. It's a haven for radicals, cowards, and hypocrites on both sides.
3. Netanyahu expended a great deal of political capital in getting this decision passed, and received in return an overwhelming majority. We'll get back to that later.
4. Netanyahu did not accompany his current position with a real attempt to conquer the hearts of the Israeli public. He's yet to cross the Rubicon on this front. He's hesitating and lumbering about. Most of his efforts have been focused on closed, private talks. He has yet to find the courage to talk to the Israeli public about even the more specific issues like releasing prisoners. There is no doubt this is hard for him. Even his hometown paper, Israel Hayom, has dedicated a substantial portion of its pages to criticizing the king.
5. Now, let's look at the factors being the cabinet's decision. It shows that the new ground is there, whether Netanyahu likes it or not. He doesn't really have any other choice.
6. A total of 13 Ministers voted for the decision, but they did this with heavy hearts, nonetheless. It's actually 12, aside from Netanyahu. Seven of them came from the left-center part of the coalition, and so they've served their diplomatic purpose, and justified their joining the coalition. It's important to say this, openly and wholeheartedly. Those seven were comprised of two ministers from Hatnuah, the first party to join Netanyahu's coalition, and five from Yesh Atid, including Rabbi Shay Piron, a resident of the Oranit settlement.
7. That leaves us with five more supporters. Even with Netanyahu, that's less than the number of ministers who were opposed – and we'll get to them soon. There were two from Yisrael Beiteinu, as Lieberman this time allowed his ministers freedom of choice. That's an important development, perhaps a hint of things to come. Lieberman, as is his custom on diplomatic issues, did not take a clear position, and did not put his party staunchly in opposition.
8. Most interesting are the three Likud ministers who supported the decision: Strategic and Intelligence Affairs Minister Yuval Steinitz, Defense Minister Moshe Ya'alon, and Interior Minister Gideon Sa'ar. Steinitz is considered to be in Netanyahu's pocket. As for Ya'alon and Sa'ar, they've been known to be sucking up to the extreme right in recent years. Their decision to support Netanyahu is a clear declaration – they see themselves as Netanyahu's potential heirs, candidates to lead what used to be the centrist faction in the Likud.
9. But which Likud are we talking about? The current Likud is like a branch of the Tea Party. Most of its MKs are dancing to the tune of the extreme right-wing voters, who took control of the party but in the end voted for other parties. They are doing so either for personal reasons, or selfish and opportunistic ones. If the diplomatic process actually takes off and gains some momentum, Netanyahu might be forced to break off and form some kind of new party, called something like "the real Likud." In that scenario, it seems Ya'alon and Sa'ar would be candidates to join him, along with Steinitz, and perhaps other past deposed Likudniks like Moshe Kahlon, Dan Meridor, and Michael Eitan.
10. By the same logic, those who opposed the release, like Transportation Minister Yisrael Katz and Commmunications Minister Gilad Erdan, will be left to lead the "Likud Tea Party." They most definitely feel very ideological and embraced this week, but it will be a very sad party in the future. They'll remember what was left of the Likud back in the day, when former PM Ariel Sharon abandoned it and founded Kadima. I'm sure Netanyahu remembers. He'll be glad to feed the Erdans and Katzs some of that bitterness, when the time comes.
11. Three ministers from Habayit Hayehudi also opposed the release. Opposition was expected, but it's origins were varied. Opposition from Housing and Construction Minister Uri Ariel, representative of the rehabilitated religious faction, can be seen as automatic. Pensioner Affairs Minister Uri Orbach, who represents only the classic National Religious Party, opposed the release but also presented clear, logical reasons for doing so. Habayit Hayehudi Chairman Naftali Bennett has made a mockery of himself in every way possible. It is sad for religious Zionism that he has become its poster boy. His declaration, "terrorists must be killed, not released," is one of the lowest points for any Israeli minister, ever. A smug, childish populist, who if he had the least amount of honor and integrity would have left the government when talks resumed, instead of staying on and having it both ways.
12. We've reached the crown jewel – the abstentions. Culture and Sports Minister Limor Livnat, and Regional Development Minister Silvan Shalom. I don't understand what it means to abstain in a decision to release prisoners. Either you're for it, or against it. Obviously this is a complicated issue. Obviously it can go either way, otherwise there would be no need to argue or convince, or hold a vote. Truthfully, I believe we need to take the option of abstention off the table at all cabinet meetings. Tell the ministers it doesn't exist. You want to abstain? Step down from your position. Whoever is unable to form a coherent opinion and stand behind it, is apparently unable to serve as a goverment minister. Limor Livnat is one of the biggest opportunists in the current generation of Israeli politics. What happened to the woman who is usually so quick to jump on the podium? Where did she disappear to at crunch time? Her abstention is pure opportunism. But this time, she took her well-known opportunism a step too far.
The case of Silvan Shalom is entirely different, perhaps even more painful. The extreme right has no connection to peace. Shalom, on the other hand, can be labeled as pragmatically right-wing, and politically moderate. But the humiliations he has suffered at the hands of Netanyahu have pushed him into an opposition-like corner. And opposition within the Likud is only on the right. Shalom's abstention is primarily the expression of an internal conflict – between a world view and the "baggage" of the past. It doesn't make the final result any better.
13. In the end, just like in Sunday's vote, everything depends on Netanyahu's courage. Politics will follow reality, not the other way around. To every party in the coalition there is an alternative in the opposition. The "Likud Tea Party" can be left to the pages of history – and perhaps Netanyahu already knows this, but can that knowledge be turned into action? There's a long way to go. The decision to leave the issue of Arab Israeli prisoners to the last minute is definitely a cop out, characteristic hesitation on Netanyahu's part. Perhaps behind closed doors he had no choice - but the ball was already in his court, and there was no reason to leave such an important issue for next time. Why make his government walk the plank again and again?
To remind you, the long, winding process that began this week around a table in Jerusalem is meant to bring about a permanent solution. There is no doubt that courage is required of Netanyahu. There are issues a little more significant than releasing prisoners on the horizon – issues like historic compromises and dividing the land. I wonder if there will be abstentions in those decisions, too.
Click the alert icon to follow topics:
ICYMI
Ken Burns' Brilliant 'The U.S. and the Holocaust' Has Only One Problem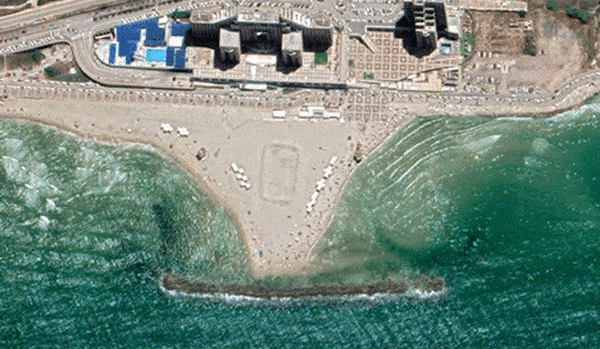 Facing Rapid Rise in Sea Levels, Israel Could Lose Large Parts of Its Coastline by 2050
As Israel Reins in Its Cyberarms Industry, an Ex-intel Officer Is Building a New Empire
How the Queen's Death Changes British Jewry's Most Distinctive Prayer
Chile Community Leaders 'Horrified' by Treatment of Israeli Envoy
Over 120 Countries, but Never Israel: Queen Elizabeth II's Unofficial Boycott