Netanyahu's Lonely Hundred Days Are About to Get Lonelier
We're facing an era of mergers - of electoral slates if not parties. And the center-left is the side that will benefit.
Maybe at one time it was the economy, stupid. Well, over the past few weeks, many readers have asked me to write about the future of Israeli politics — or, to put it bluntly, what could happen at the next election; whether there's any chance of replacing Benjamin Netanyahu's government, which is starting to look like an eternal decree of fate.
This is an excellent time to consider a few hypotheses. After all, we didn't get a hundred days of grace this time. The government didn't give them to the people, and the people didn't give them to the government.
There's clear justification, from the people's side at least. Netanyahu's government was established on a spearhead of 25 MKs who betrayed everything they preached. Six MKs from Tzipi Livni's Hatnuah got into the Knesset on the strength of a promise to be a clear alternative to Netanyahu. That's what Livni's whole campaign was based on — and she was the first to join the government.
Yair Lapid never promised to remain outside the government; on the contrary. But he broke all his promises on the economy and social welfare — in other words, he defrauded his voters. He promised one thing and did another. That's why large parts of the population feel dismayed and embittered.
The interesting thing about Netanyahu is that it's not certain he'll want to run again. Netanyahu finds himself lonelier than ever. Largely thanks to him, Likud has become a party of loud dwarves like Danny Danon. Almost no one of Netanyahu's caliber is left. He's fairly isolated in the government. Lapid, Naftali Bennett, even Avigdor Lieberman and definitely Livni — he can't turn his back on these party heads in his wildest dreams.
Netanyahu's political horizon is grim. It's hard to find even one-third of a cure — 10 sane MKs from Likud-Yisrael Beiteinu who would join him in a dramatic Ariel Sharon-style move of splitting off and moving toward the center for a peace initiative. (Go ahead, try to find 10 Likud-Yisrael Beiteinu MKs who would do that.)
That's probably the reason for Netanyahu's moderate statements and the hours he spends with U.S. Secretary of State John Kerry and his team. Maybe he realizes that the Iranian option has slipped through his fingers with the election of President Hassan Rohani, so he's looking to make his way into history via the peace process. We'll know soon. But it's certain that when Netanyahu says "any peace agreement will be brought to the people to decide," he's signaling to Likud's loud dwarfs and their equally loud siblings in Habayit Hayehudi that he's not counting on them.
Two clear camps
I have no doubt that only Netanyahu can get a peace agreement passed at the moment. He's enjoying a halo of security, like Yitzhak Rabin and Sharon before him. I have no idea whether he really wants it. One thing for sure: If he decides he wants it, the threat to his life will be immediate, just as it was with Rabin and Sharon. All he has to do is visit websites like Rotter.net or Bennett's Facebook page to understand the madness and hatred on the messianic-settler right wing toward any notion of compromise and the return of the occupied territories.
In any case, the next election will probably will be the first to focus on social welfare and the economy. In America, "It's the economy, stupid" was coined before Bill Clinton's election. Unlike America, here it has been "It isn't the economy, stupid." It's a gamble to think that something in our "peace with security" addiction could change, but it seems to me we're on the way there.
So I think it's very good the last election ended as it did and we got the government we did. This taking off of the masks was positive. For almost the first time in history, the political map is divided into two clear camps on socioeconomic issues — basically we have an economically right-wing government facing an economically left-wing opposition.
Many of Lapid's voters thought they were voting for a different agenda. Many of Likud's voters don't belong at all to the camp that enjoys the fruits of capitalism and polarization. And the ultra-Orthodox, who are now being sent against their will into the opposition camp led by Labor and Meretz, are no strangers to that camp socioeconomically speaking. The Haredi parties will go back to being the deciding factor after the next election and will try to maximize their gains. But their elected officials won't be sentimental about it. There are no more loyalties.
So the opposition's big challenge will be to draw enough votes from the parties that joined the economically right-wing government (and at the moment, politically right too, until proven otherwise) led by Netanyahu. I'm referring to the mass of disaffected Netanyahu and Lapid voters.
For Livni, the best case will see her somehow merging once more with the platform of the center-left. A real breakthrough could also depend on attracting voters disappointed with Lieberman — in other words, immigrants from the former Soviet Union and their children.
In last place, of course, are the Arab voters. The challenge is still to get them to the polls. That too will have to happen if a bloc is to be built against the right wing.
The 4 percent electoral threshold
When we try to imagine the next Election Day, we should take two factors into account. The first is the higher electoral threshold that the new coalition approved — 4 percent, twice that during the last election. The new threshold puts every party from Meretz to the left in danger and wipes out the chances of tiny parties like Shaul Mofaz's Kadima. So we're facing an era of mergers — not necessarily of parties, but of electoral slates. Many questions remain unanswered.
For example, will the Arab parties unite? After all, each of them represents a completely different opposition. What about Hadash's secular coexistence and Balad's extreme Arab nationalism or United Arab List-Ta'al's Muslim character?
What will the Ashkenazi Haredim do? Will they unite with the people of Shas, who hate their guts? And what about the traces of the Livni- and Mofaz-style center, who can't stand each other but can't get into the Knesset without a reconciliation ceremony? Of course, there's also the new left-wing party Eretz Chadasha.
So we're in store for the politics of mergers and compromises. Imagine, for example, an election platform of Meretz, Eretz Chadasha, Hadash and the Da'am workers' party. That's not as far-fetched as it sounds. The bastards from Likud and Yesh Atid changed the rules. Maybe that will turn out to be for the best.
Of course, Labor will have to march at the head of the camp. I figure it will swallow up Livni and Mofaz. Will that happen under Shelly Yacimovich's leadership? During the last election campaign, she made every mistake possible. Since the election it seems she has been trying to do everything right.
I have no doubt that as the recession worsens, she'll be seen as an alternative — especially if Netanyahu gets the security elephant out of the room, since the people don't see Yacimovich as someone who could deal with that seriously. Incidentally, she knows how to read budgets and propose bills, unlike Lapid, the television host who leaped into the finance minister's seat without a learning period.
Apropos Netanyahu, again, it's not at all certain he'll run again. This is where we get to what nobody has been talking about: his successor — or, more accurately, the lack of one. Who's the next leader of "the national camp"? Who's supposed to fill Netanyahu's shoes the day after he steps down? Danny Danon? Yisrael Katz? Miri Regev? Zeev Elkin?
I don't see a real opposition. Not Lieberman (he's too hated), not Defense Minister Moshe Ya'alon (he's too colorless) or Bennett (he's too right-wing). Lapid may act like a right-winger, but he'll never be Likud's leader. That's not what he aspires to. He'll probably run again in the imaginary center.
I've already said I think he's politically finished, but even if I'm off by 180 degrees and he's a leading candidate to be the next prime minister, it won't be as part of Likud or Habayit Hayehudi. The conclusion from all this is that the worst seems be behind Israel's center-left. The right is in for some hard years, with Kerry or without him.
A question
Why were Border Police troops, with their characteristic violent behavior, sent to break up the Black Night festival in south Tel Aviv? The Black Night festival, which takes place the same night as Tel Aviv's annual White Night festival, protests the neglect of the city's south and east. Who gave the order? Just which border were those Border Police guarding — the one between north and south Tel Aviv?
Click the alert icon to follow topics:
ICYMI
Ken Burns' Brilliant 'The U.S. and the Holocaust' Has Only One Problem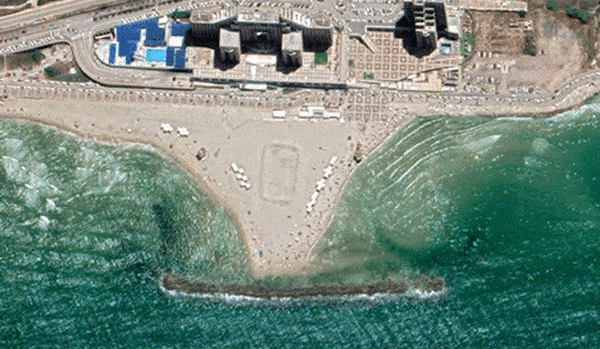 Facing Rapid Rise in Sea Levels, Israel Could Lose Large Parts of Its Coastline by 2050
As Israel Reins in Its Cyberarms Industry, an Ex-intel Officer Is Building a New Empire
How the Queen's Death Changes British Jewry's Most Distinctive Prayer
Chile Community Leaders 'Horrified' by Treatment of Israeli Envoy
Over 120 Countries, but Never Israel: Queen Elizabeth II's Unofficial Boycott