How to Defuse the Situation at Taksim Square
Demonstrators in Istanbul don't like the comparison to the Arab Spring, but thousands of people are still protesting and Erdogan is showing little signs of moderation or regret.
ISTANBUL – For a brief moment on Monday, after police withdrew from Istanbul's Taksim Square, it seemed the tone of the anti-government protests that have raged here for days was beginning to change. The thousands of demonstrators who flooded the square were dancing, singing and having picnics on the lawns. The site of Turkey's largest anti-government protests in years was marked on Monday by a festive, democratic atmosphere.
Then evening came. Police returned. And from the road that leads to Taksim Square, policemen hurled tear gas at the people gathered here. In southern Turkey's Hatay province, a 22-year-old man was reportedly killed in the overnight clashes, the second fatality since the demonstrations began. As the fifth day of unrest began on Tuesday, Deputy Prime Minister Bulent Arinc made conciliatory moves toward protesters and announced plans to meet with the organizers of the original protest at Gezi Park. Anti-Erdogan demonstrators were expected to increase as several universities announced the cancelation of exams and a large public workers' unions called a two-day strike.
On Monday, the Turkish interior minister announced that more than 2,000 people in 67 cities had been arrested during the first four days of riots. More than 1,400 people had reportedly been hurt.
Monday proved a crucial day for the demonstrators, a test of their stamina and will as the workweek arrived and their children headed back to school. By early afternoon it was clear that their motivation had not waned, as tens of thousands of people marched toward Istanbul's Gezi Park.
Now, as the masses call for the resignation of Prime Minister Recep Tayyip Erdogan, many are already formulating a more moderate request.
"He should change his arrogant style," says a cosmetician from the Borsa neighborhood. "Even the members of his party are beginning to admit he has gone too far."
While Erdogan is showing little sign of moderation or remorse, his deputy issued an apology to protesters - although it was unclear whether or not he was towing the official line. The prime minister, however, in a series of truculent interviews, has accused everyone from military officers to foreign elements and Twitter of fanning the flames of the protests – everyone, that is, but himself. On Monday, Erdogan left on a planned visit to Morocco, Algeria and Tunisia, his unwillingness to delay his departure a clear signal to his opponents that he does not intend to bend.
The media aren't there
As for Twitter, it appears Erdogan does have cause for concern. He need not fear traditional Turkish media – while international media organizations have scrambled to send reporters and camera crews to Istanbul, it's hard to find local reporters covering the demonstrations here.
"Apparently they are busy elsewhere," a Turkish journalist who works for an international news agency cynically remarks.
Indeed, the coverage of the protests by the two major daily newspapers, Hurrriyet and Millet, is markedly favorable toward the government and hostile toward the demonstrators. The same is true of Turkey's digital media.
A quick glance at the television channels reveals that, even as international networks like CNN and the BBC give extensive coverage to the demonstrations and focus primarily on the harsh repression by police, the local channels tend to show footage of demonstrators hurling rocks at policemen and damaging property. (One exception is the Halk TV channel, which is viewed as aligned with the main opposition party – the CHP, the Republican People's Party.) On Monday a large group of protestors gathered outside the headquarters of the NTV channel, which is largely considered pro-Erdogan.
"They are simply full of lies," says a customer relations manager who has been participating in the demonstrations since last Wednesday. "They are saying that the government is trying to clean up the area, but it is we who are picking up the trash here and they are accusing us of throwing stones.
"It's simply a closed case as far as they are concerned because [the media outlets] know that if they are critical of the government they will have their tax files audited and they will lose money. The government is doing this because we are a big country and in large parts of the country, like in Antalya, they don't actually know what is happening here and it is easy to convince people that we are in fact terrorists. In this way Erdogan is continuing to enjoy support."
"The television channels and the newspapers depend on the government for broadcast and distribution licenses and therefore they are afraid to broadcast the truth," says a history teacher. "We are getting all our information from foreign networks and especially from Twitter and Facebook."
One student who gets her news from the social networks says she believes the traditional media in Turkey is unlikely to recover from its refusal to properly cover the demonstrations.
"We won't put any stock in them anymore," she says. "They have lost our trust. Now every citizen who wants to know what is happening will get information from the social networks and will be much more skeptical and picky about who to believe."
It's not just economic pressure that Turkish media must contend with, either. According to reports from human rights organizations, some 75 Turkish journalists are currently in prison, most of them for having violated laws that make it illegal to insult public servants and the country's leaders. Turkey might be a democracy, but it is a world leader in the number of journalists it's imprisoned.
Clashes in Besiktas
International media, meanwhile, have been focusing in recent days primarily on the clashes between police and demonstrators in Taksim Square and on the festival here following police withdrawal. Yet some 70 cities in Turkey have seen continued demonstrations and disturbances as well, in many cases with both sides employing considerable violence. During clashes in the capital, Ankara, on Monday, a demonstrator lost an eye after police fired a rubber bullet at him.
Another major site of violence in recent days was a short walk from Taksim on the main road leading to the banks of the Bosphorus, near the stadium of the Besiktas soccer team.
The friction there began at nightfall Sunday as thousands of young demonstrators tried to break through police blockades on the road leading to Erdogan's bureau in the Dolmabahce Palace. These young people were not identified with any particular political party, and unlike the demonstrators at Taksim they were not carrying signs or flags espousing any political message. Rather, these demonstrators, most of them wearing gas masks or scarves wrapped around their faces, ripped out iron fences and hundreds of stones from the sidewalks, and set up barriers of their own up the road from Taksim.
Barraged by tear gas and pummeled by water cannons, they advanced steadily, carrying a large iron fence they used to push back police. For about two hours the demonstrators succeeded in pushing policemen back. But when the marchers got within a few hundred meters of the palace, the police increased the use of tear gas and the young people were forced to withdraw.
Dozens of demonstrators were injured by grenades and tear gas fumes, and taken to an improvised first-aid station set up by volunteer doctors and medics in a nearby mosque. A large, heavy carpet was hung over the entrance to the mosque to prevent the tear gas from getting inside.
'We aren't Arabs'
As foreign media compare the wave of demonstrations in Turkey to the Arab Spring, many of the demonstrators here appear angered by the comparison. "We aren't Arabs – it's impossible to compare" is a common retort among protesters. And though they accuse Erdogan of dictatorial behavior, they stress that Turkey is a democracy.
Meanwhile, government supporters say there is already a "Turkish Spring" under way, referring to the country's impressive economic prosperity compared to the continuing recession in the euro zone. For years Turkey tried unsuccessfully to obtain membership in the European Union, and now the Turks are smugly observing the economic slowdown in EU member countries. Even as stocks on the Istanbul exchange fell on Monday by an average of 10.5 percent – a reaction to the political and social disquiet in the country – the XU100 index nevertheless remained 40 percent higher than it was exactly a year ago.
Among the main sources of revenue in Turkey over the past decades is tourism. The country has recently been attracting more tourists than traditional destinations like Italy and Spain, and is even expected to catch up in the near future to France and Britain.
To date tourism appears relatively unfazed by the protests. Tourists were still staying at the hotels around Taksim Square on Monday, strolling through Gezi Park and taking in the sights. But if the international news channels continue to broadcast images of the violent clashes, tourism is likely to become the first sector of the economy to be affected.
The demonstrators in Taksim Square identify with a very wide range of parties and movements, but what is common to nearly all of them is that they belong to the secular middle class. As such, they are the ones who both drive the economic growth and are its main beneficiaries. If the demonstrators and Erdogan want to see this prosperity continue, both sides will have to find a way soon to defuse the situation and restore peace at Taksim Square.
Click the alert icon to follow topics:
ICYMI
Ken Burns' Brilliant 'The U.S. and the Holocaust' Has Only One Problem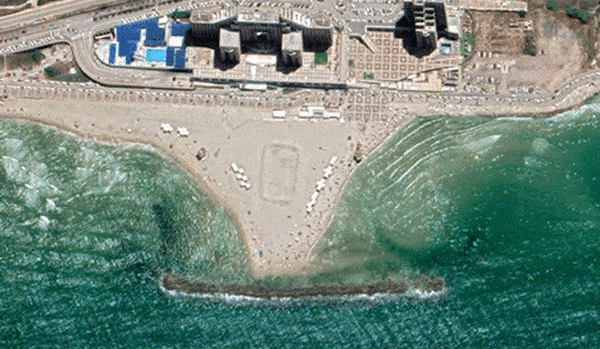 Facing Rapid Rise in Sea Levels, Israel Could Lose Large Parts of Its Coastline by 2050
As Israel Reins in Its Cyberarms Industry, an Ex-intel Officer Is Building a New Empire
How the Queen's Death Changes British Jewry's Most Distinctive Prayer
Chile Community Leaders 'Horrified' by Treatment of Israeli Envoy
Over 120 Countries, but Never Israel: Queen Elizabeth II's Unofficial Boycott