Bibi and Sara's Flying Bed Hits Major Turbulence
Economy class might not be as comfortable, but spending their flights in more modest seats might bring the Netanyahus a lot more peace than they could get in any 'resting chamber' when it comes to public opinion.
For much of last week, it seemed like Prime Minister Benjamin Netanyahu was on a lucky streak.
It was his good fortune to be conveniently out of the country on a trip to China, when news broke of the painful budget cuts planned by his government. All the heat and fury of the public's outraged reaction to the austerity budget was turned exclusively onto his finance minister - and political rival - Yair Lapid who was almost instantly transformed from golden boy to enemy of the people.
But then - out of the blue - came the affair of the flying bed – and it was clear his luck had run out.
The Netanyahu PR nightmare broke on the Friday night news on Channel 10 and immediately became the talk of the country. The flying bed was the worst kind of story for any politician to face - the kind that is simple to understand. It's the same reason why sex scandals do more damage to them than corruption scandals - it's uncomplicated. You don't have to have mathematical skill to crunch the numbers, and figure out why hiring prostitutes or tweeting intimate pictures are outrageous - everybody gets it.
And every Israeli who has ever squeezed into an economy class seat for the relatively short 3-5 hour flight to Europe instead of spending the big bucks for a roomy seat in business class or first class understood the crux of Flying Bedgate; that even first class seats - the kind that fold out into flat beds, surrounded by curtains, that all eye so enviously on the way back to cattle class - aren't good enough for their fearless leader.
For the flight to Margaret Thatcher's funeral in England nothing would do but the construction of a closed room and a full double bed, a so-called "resting chamber" - a requirement that only El Al could fulfill and for which it charged, according to Channel 10, $127,000 - on top of the cost of $427,000 for the plane flight for Netanyahu and his staff. By law, the prime minister must fly with an Israeli airline, and the need for a bed ruled out any of El Al's less expensive competitors.
It's not exactly a secret that the Netanyahus are big spenders. The revelation came on the heels of February's ice cream scandal, when it was revealed that the budget for the Prime Minister's Residence in Jerusalem included a four-digit retainer at a local ice cream shop to supply the house with frozen treats on a regular basis.
But the ice cream fallout paled in comparison with the bed kerfuffle because of the timing. That story didn't break in the midst of painful budget cut proposals, on the eve of a demonstration that would bring thousands back onto the streets protesting against the government.
In record time, the flying bed became an Internet meme, and the Israeli Internet quickly exploded with outrage and satire. Cartoons included an image of Yair Lapid as an airline pilot announcing to passengers that they must tighten their financial seatbelts in these tough times, while Bibi and Sara luxuriate in their bed, pointing out that the announcement doesn't apply to them.
Another cartoon has the first couple in bed with Sara holding the pillow over her ears and complaining, "Bibi, I can't sleep on this plane! Can someone turn down the engine?" And yet another, where the Netanyahus board a plane which has the White House strapped to the top of the plane. There is the inevitable Bedknobs and Broomsticks parody (after all, it is a flying bed ...) and Bibi and Sara as French aristocrats declaring "If they can't afford apartments, let them sleep on airplanes flying to London."
Across Facebook and Twitter, there were multiple unfavorable comparisons to former prime ministers with more modest lifestyles. It was suggested that Bibi and Sara go live in David and Paula Ben-Gurion's hut in the desert to gain some perspective, and veteran photographer David Rubinger posted his photograph of former Prime Minister Menachem Begin slumbering in a half-sitting, half-reclining position, stretched across two airplane seats with the caption: "I guess Menachem Begin was an idiot who didn't know what a real prime minister deserves. A 12-hour flight to the United States with no double bed!"
Naturally, the radio and television talking heads couldn't stop discussing the fact the luxury-loving Netanyahu family seemed utterly deaf to the pain of the people. The initial reaction of the Prime Minister's Office, in which the expenditure was justified by Netanyahu's need for a good night's rest - detailing his packed schedule the day before and the day after and saying "it is warranted that the prime minister be given an opportunity to sleep during the night between these two busy days," didn't help.
Only later, in the face of unrelenting criticism and the Prime Minister's Office backed down declaring that the double bed would no longer be installed for non-transatlantic flights, while claiming that Netanyahu and his office had been unaware of the high cost of a good night's sleep. The big problem with that claim was that the Israeli public has heard it before. When the newspaper Globes revealed that the Prime Minister's Office was about to pay $100,000 to install a double bed and room in a large plane for a flight to Berlin and Prague in 2011 – Netanyahu's aides quickly cancelled the tender and said that flying first class would be good enough for the trip. And then in 2012, it happened again – yet another double bed revelation, another claim that they had no idea of how much it was costing – this time the flying bed in question was travelling to France and then Canada at a reported hit to taxpayers of $1.3 million. Unless the Prime Minister's Office has been hit with a major outbreak of group amnesia, it's impossible to believe the claims of ignorance of bed-installing prices on this third occasion.
The fact that it is a double bed, meant to accommodate Sara Netanyahu, who accompanies her husband on foreign trips frequently - too frequently, some believe - has only worked to fan the flames. Sara already suffers from a Marie Antoinette-esque public image, which is somewhat unfair, considering that her husband was known for his fondness of high-priced living well before they even met.
Perhaps the sharpest anti-Sara sting came from a viral Facebook status last week: a reminiscence written by a woman named Ravit Naor who had worked with Sara Netanyahu as an El Al flight attendant many years ago before she took the fateful flight on which she met Benjamin Netanyahu. In her status, Naor writes that she met Sara when she first began working and recalls her as a shy, sweet young women, who refused to go out to dinner in New York when she learned it would cost $10-$15 because it was "too expensive." The former flight attendant recalls how thrilled the pair was to merit a small hotel room with a tiny television set and a loud air conditioner for their New York stays, and compares that to the reports of the Netanyahu family sleeping in a suite that cost tens of thousands dollars per night a night. Her current standard of living, Naor noted, has "brought you a level of antagonism so strong that it could destroy the Iranian nuclear reactor." She says "I want to believe that somewhere deep, deep inside you, that you know that no matter who is paying for it, it's just immoral to stay in a room which costs more per night than the yearly budget of two families." She wonders out loud if Sara remembers what it was like to be a hard working young woman who had to clean toilets and tray tables and ask passenger after passenger if they wanted the chicken or the beef for dinner. Naor concludes with the suggestion to Sara that perhaps "the time has come for you to go back to Zone E" - economy class, and get in touch with the young flight attendant she once was, the one who charmed a future prime minister so long ago.
In the economy class seats that Naor recommends, Bibi and Sara might not be capable of getting much sleep; but sitting in them for a flight or two might bring them a lot more peace than they could get in any "resting chamber" when it comes to public opinion.
Click the alert icon to follow topics:
ICYMI
Ken Burns' Brilliant 'The U.S. and the Holocaust' Has Only One Problem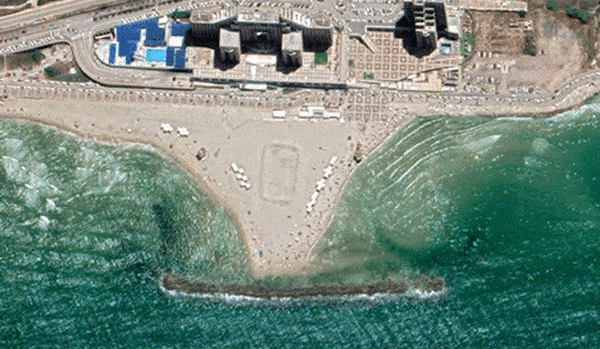 Facing Rapid Rise in Sea Levels, Israel Could Lose Large Parts of Its Coastline by 2050
As Israel Reins in Its Cyberarms Industry, an Ex-intel Officer Is Building a New Empire
How the Queen's Death Changes British Jewry's Most Distinctive Prayer
Chile Community Leaders 'Horrified' by Treatment of Israeli Envoy
Over 120 Countries, but Never Israel: Queen Elizabeth II's Unofficial Boycott