The Superstar Accountant: Yaron Zelekha's Crusade to Save Israel From Itself
Forget the occupation, the Arab nations and the Haredim. The reason Israel is the poorest country in the west, says Yaron Zelekha, is crony capitalism.
"Have you ever read Lord of the Rings?" says Yaron Zelekha, asked why he quit as accountant-general of Israel in 2007.
The relevance escaped me. He explained. "In my resignation and decision not to run for another term, I showed my ability to control the Ring of Power, to throw it away."
Ah. Did he discard the metaphoric Ring to avoid becoming maddened with desire for power, like Gollum? "You said it, not me," he replies. "Some politicians," he expands on the metaphor, "can't throw away the Ring. Then they refrain from risks, fearing they'd lose it. They don't even attempt reforms that might cause them to lose it."
Yaron Zelekha probably made history, in becoming the first accountant-general to make not only headlines, but the front page, and not once but consistently through his stormy stint at the Finance Ministry. Who even knew Israel had an accountant-general before him? Now, years after his heavily-publicized ouster from the Finance Ministry, his scars from his years of public service still burn.
A furious prime minister shouting at him. Powerful officials threatening to ruin him if he didn't do as told and sign whatever plan they put in front of him. Death threats so frequent that he needed bodyguards when escorting his kids to daycare. "It was pure hell," he says, emphasizing the word "hell" as only a man who'd actually experienced it would.
Zelekha, one of the most astute and biting critics of Israel's economic policies in the land, resigned from the Finance Ministry in 2007 after a very public clash with then-Prime Minister Ehud Olmert. He had accused Olmert of changing the terms of a public tender (for the sale of 10% Bank Leumi) to accommodate a friend.
During his term and since his resignation, he has been one of Israel's most vocal crusaders against corruption in Israel. He has become a Youtube superstar, with lectures reaching hundreds of thousands of views and a loyal following of influential journalists, politicians and young people tired of "hashita" - "the method," the way "things are done" in Israel.
Crony capitalism, worse than corruption
Now a professor and head of accountancy at the Ono Academic College Kiryat Ono, Zelekha has two books under his belt. He also makes frequent media appearances, where he doesn't dilly or dabble in diplomacy – he calls it as he sees it. To many he is a figure of integrity and reason. He is, profound, sharp and as charismatic as any accountant could ever be. And his views have gone mainstream, particularly after the social protest erupted in 2011, and mainly – that Israel's economy has just one fundamental disease, the cancer of crony capitalism.
"Israel is a crony capitalist state, a hon-shilton (money-power) state," he says. "When I first started saying that, we ranked 31st in the Global Corruption Perceptions Index. Now we are 39th. But corruption is not the same as crony capitalism. Crony capitalism is much worse.
"What it means is that the economic policy serves the interest of the rich. Now, I'm not saying that being rich is a crime. but an economy is supposed to be based on a balance between the two means of production, capital and labor. And our system is heavily skewed towards the side of capital. The immediate result of this policy is that Israel is the poorest country in the Western world."
But Israel was accepted to the OECD. Surely not everything is bad? "Oh please, just because were accepted to the OECD due to American protectionism does not mean we deserve it. In 2003 the GDP per capita was $20,000. In 2013 we'll reach $30,000. But wages after inflation haven't moved. We're the poorest country in the west, with the stupidest economic policy – and we've this way for 40 years now. You can fool some of the people all of the time, and all of the people some of the time, but 40 years?! Isn't it time we see the promised land?"
Flipping on Netanyahu
Zelekha, as he stresses over and over again, is no socialist. Quite the opposite: He was brought up by die-hard neo-liberalists. A prominent academic with a PhD in economics, he'd advised Benjamin Netanyahu when he first became prime minister in 1996. As finance minister under Prime Minister Ariel Sharon, Netanyahu tapped Zelekha, then 33, for public service as accountant-general to the state.
Zelekha was reluctant, despite the prestige of the position, but eventually acceded. He then proceeded to pursue corruption in government, including in its dealings with some of the biggest, wealthiest and most politically connected tycoons in Israel. With Netanyahu's backing Zelekha orchestrated a slew of significant economic reforms.
But that was then, and this is now, and Zelekha no longer supports Netanyahu, though he insists they remain on good terms.
"I expressed my dissatisfaction with Netanyahu's actions as prime minister time and again, in public and in private conversations I've had with him," he says. "Unfortunately, I couldn't sway him from his destructive policies."
Before the elections, Zelekha did the once-unthinkable and declared his support for Labor leader Shelly Yacimovich, further moving away from Netanyahu, his friend. "Neither party fully represents my views, so I chose the one that is closest," he clarifies. "I was never Netanyahu's man or anyone's man, and I am not now. I have my views, and they're consistent. I chose Shelly because I believe in her economic plan and her plan to break up crony capitalism, and I will continue to support her, hopefully until she reaches a position where she can make a difference."
The Sharon Whac-A-Mole
He had his first brush with crony capitalism in three or four weeks after taking over as accountant-general, Zelekha recalls. The director-general of the prime minister's office came and told him to rubber-stamp a deal with the Ofer family, which had won a heavily skewed tender to build a private power plant in Ramat Hovav, Zelekha says. Or else? "I'd be fired by Sunday. There it was: a direct order," he remembers. "That's the first time I felt like I was a cowboy riding a rodeo bull, knowing it'd certainly be tossed. That order was repeated later in a meeting in the presence of Sharon and 30 other people." Sharon was furious, Zelekha recalls, and Netanyahu, "who probably felt this was an ambush," left the meeting, leaving his deputy Meir Sheetrit to defend the accountant-general.
"To [Sheetrit's] credit, he tried to defend me, but Sharon just lunged at him. I mean, physically lunged. You could see him shrink in his seat. It was like a game of Whack-A-Mole: Sharon's hammer pounding Shitrit, and Shitrit vanishing for a minute and coming up with a different attitude, saying 'Yes sir, you are right sir.'" He didn't sign off on the tender, Zelekha says. He canceled the tender entirely and that was that.
His brief but tumultuous term as accountant-general had plenty of incidents like this, he says, adding that he knew it would end badly: "I was confronting powerful people and organizations and causing them billions in damage. It had to be expected. The only question was whether I'd last until I finished what I wanted to do."
He did, Zelekha says, though It wasn't easy. He earned a reputation for being a firestarter as he targeted cronyism within government and in its ties with Big Business.
And unlike other accountant-generals, who nobody ever heard of, he became a media star.
How does he explain that of all the accountant-generals before or after him, only he spoke up about the ills in Israel's economic policies?
"Let's start with the fact that I'm an economist. I was the first economist to be appointed accountant-general, if you can believe it," he says. "Most accountants-general only had a bachelor's degree in economics – an important degree, sure, but not enough.
"Also, I was the first actual accountant to be appointed accountant-general, which is strange. The accountant-general's job is to serve as comptroller to the government in everything relating to its finances. When you appoint someone without the education and experience needed to supervise, what did you expect him to achieve? I am confident that any accountant in the job would have spotted the problems and would have abided by his ethical code and reported them."
As he was an accountant and an economist, he did spot problems and took bold steps to fix them, destroying loopholes, challenging and voiding suspect tenders, and uncovering dubious money movements amounting to billions of shekels.
He did not gain many friends.
"On one of the most disturbing days, I attended a going-away party for one of my so-called friends in the Finance Ministry. He said: 'I came to the Finance Ministry as a man with many friends, and I am leaving with even more friends.' And that's the whole story right there. I came with few friends and when I left I had fewer. When you come with friends and leave with more friends that means you probably didn't do your job."
Eventually, Zelekha was forced to resign after testifying against Olmert in the Bank Leumi investigation, which eventually closed in 2008 for lack of evidence. By that point, he was happy to go. "My 4.5 years as accountant-general were living hell," he says. "For three months in 2006-2007 I had to take my kids to kindergarten with bodyguards watching us because of death threats. I mean, it was absolute hell."
Becoming Italy
He left office but Zelekha did not keep silent. In 2008 he published his first book, "The Black Guard," in which he accused the governments of Israel of indulging cronyism, corruption and neglect.
His second book proposed reform of the entire Israeli economic system. Shortly after its publication the social protest movement of 2011 erupted. Zelekha become increasingly popular and influential. A YouTube lecture he'd given more than a year earlier, "Is Israel a corrupt state?" suddenly went viral.
"My biggest fear," he shares, "is that we are becoming Italy. Israel and Italy are the most corrupt countries in the West, with the worst crony capitalism and politics built on hatred and hate speech. The difference is that Italy, with its proximity to the rest of the European Union, its culture and its tourism, can afford to be this crazy. We, who are living under actually threats, cannot."
He drives it home: "You won't hear me say one word about the Arabs, the ultra-Orthodox, illegal migrants, the fact that we're a young country, a small country, a country surrounded by hostile nations or our shadow economy. These are all false, stupid excuses people give for the fact that Israel is poor. Most are a result of poverty, not causes of it, and some of them are simply not true."
What's sick in our economic policy that promotes inequality? "First, unequal tax policy: small companies pay an effective tax rate of 50%, while big business pay 2% or 3% or 4%. The state also turns us into a paradise for oligopolists by supporting mergers and acquisitions that worsen the concentration of wealth."
Then there's privatization. The problem is that Israel sold its biggest assets dirt cheap to cronies of government, Zelekha accuses. "As accountant-general I tried to pass a law that would give shares of privatized government to the public for free. It passed on first call, but was ultimately pulled by the government at the last minute."
Why Israeli politicians aren't afraid to fail
But the biggest, biggest problem, Zelekha says, it that Israeli public just doesn't give a damn.
That's why Israeli politicians have no fear of failure, a-la Zelekha: They know there won't be any repercussions.
And while he fears for what might happen to Israel if nothing is done, he has no intention of going into politics. He's had offers, sure. But in the last elections he settled for being a vocal supporter of Labor leader Shelly Yacimovich, though he admits her economic agenda was not entirely to his liking. But given that the public can't be bothered to get involved, he doesn't see himself willingly descending into hell again.
Yet, even now, he has hope. "I am an optimist. Wholeheartedly. If I wasn't one by nature, I wouldn't have agreed to be accountant-general for one second. Deep down, I still hope the public will eventually care."
Click the alert icon to follow topics:
ICYMI
Ken Burns' Brilliant 'The U.S. and the Holocaust' Has Only One Problem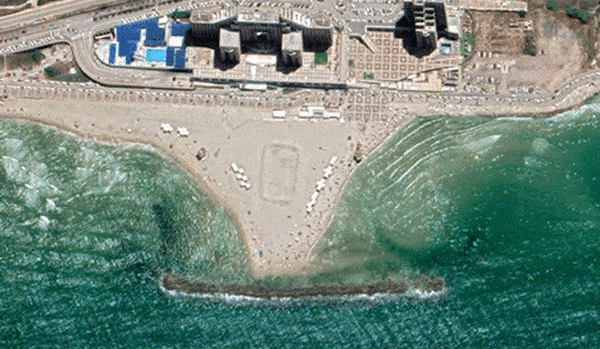 Facing Rapid Rise in Sea Levels, Israel Could Lose Large Parts of Its Coastline by 2050
Lapid to Haaretz: 'I Have Learned to Respect the Left'
The Mossad's Fateful 48 Hours Before the Yom Kippur War
As Israel Reins in Its Cyberarms Industry, an Ex-intel Officer Is Building a New Empire
How the Queen's Death Changes British Jewry's Most Distinctive Prayer