The Would-be Israeli Prime Minister: Amram Mitzna's Tragic Mediocrity
Like Arthur Miller's anti-hero Willy Loman, Mitzna's entire, unspectacular career in national politics has been nothing but a prolonged tale of humiliation, disappointment and missed opportunities.
"I've got to get some seeds. I've got to get some seeds, right away. Nothing's planted. I don't have a thing in the ground." (Willy Loman, "Death of a Salesman")
Amram Mitzna is lost. The decorated general, the esteemed mayor, the protege of Yitzhak Rabin, has once again proven that he is simply not suited for the brutal, cutthroat business that is Israeli politics. This time he found himself duped by Tzipi Livni, Hatnuah's anti-leader, who had promised him the party's first ministerial job and instead last week chose the party's No. 3, Amir Peretz, over him.
This is not the first time and probably not the last time that Mitzna – who often seems like the Knesset version of Willy Loman, the tragic hero of Arthur Miller's classic play "Death of a Salesman" – has been humiliated by a political ally. In fact, when you think about it, his entire, unspectacular career in national politics has been nothing but a prolonged tale of humiliation, disappointment and missed opportunities. Once a serious contender, proclaimed the next Yitzhak Rabin by his admirers, he is now adrift in a sea of mediocrity with other, less notable MKs.
That could have been a little less tragic if (on paper) Mitzna did not hold such great promise. But he did, and it is.
Upon reviewing Amram Mitzna's resume, you get the feeling that this wasn't supposed to happen to him; he was not destined to end up a faded promise. On the contrary, his experience suggests that he was engineered for the role of prime minister.
A decorated soldier who fought in the Six-Day War and the Yom Kippur War, and was wounded during both, a distinguished general who resigned from his post during the First Lebanon War in protest against the Sabra and Chatila massacre, a popular big-city mayor with a good track record who was guided by Rabin when he first entered politics – Mitzna had everything going for him. He was supposed to be Somebody, Something. He didn't seem destined to squabble with the likes of Amir Peretz over junior portfolios in the government of Benjamin Netanyahu.
Born in 1945 on Kibbutz Dovrat to German-born parents, Mitzna showed signs of leadership from an early age. A bright student at the military boarding school in Haifa, he quickly rose up the IDF armored forces ranks, displaying bravery and leadership in battle. On a single night during the Six-Day War he was injured three times. And still he kept fighting. It was this sort of heroic behavior that won him the Medal of Distinguished Service.
He was a fearless soldier, but a conscientious one. He resigned from his post as Brigade General in protest during the First Lebanon War, saying that he had lost faith in then-Defense Minister Ariel Sharon, and the only thing that brought him back was a call from then-Prime Minister Menachem Begin. He was persuaded to stay on until 1993, gaining the rank of major general, a title that in the crazy world of Israeli politics should gain you at least one or two premierships.
In 1993 he retired from the army and made his first foray into politics, at the behest of Rabin, becoming the mayor of Haifa. He served as mayor for two terms before graduating to national politics and running for leadership of the Labor Party.
"I'm not a dime a dozen! I am Willy Loman!" (Willy Loman, Act 2)
Mitzna had never been an MK and lacked experience outside of municipal politics, but he won a big majority, defeating hard-nosed, seasoned politicians like Benjamin "Fuad" Ben-Eliezer and Haim Ramon. This was possible because Labor voters saw in his resume the same recipe for greatness that Rabin had come from. He was clean-cut, commanding, open, not big on charisma but full of integrity. He had everything one could hope for in a Great White Hope of the Israeli left.
As chairman of Labor, he took the party back to the dovish path it lost with Ehud Barak at the beginning of the second intifada, calling among other things for an evacuation of settlement in the Gaza Strip.
But he failed spectacularly. Labor lost seven seats in the 2003 elections, winning only 19 and losing the elections to the Likud, headed by Ariel Sharon. During his concession speech, Mitzna and the top brass of Labor sang Ein Li Eretz Aheret ("I have no other country"), Ehud Manor's heart-wrenching protest ballad against the First Lebanon War that sometimes serves as a requiem for the beleaguered Israeli left. It was a truly sad sight.
And that's the big difference between someone like Sharon, a historic figure, and Mitzna, a historic footnote. Sharon was a true force in Israeli politics, a born leader and a political maneuverer: He fell and fell and lost and always knew how to rise up and start over. Power was his passion, as it is with all historic figures. Mitzna never seemed that passionate about politics. He was too phlegmatic. That is why Sharon was the one to clear Gaza of Israeli settlers, and Mitzna could only talk about it. He lost, and never rose again.
"After all the highways, and the trains, and the appointments, and the years, you end up worth more dead than alive." (Willy Loman, Act 2)
After two years in the Knesset, Mitzna chose exile. In 2005 he agreed to serve as acting mayor of Yeruham, a poor development town in the Negev, whose then-mayor was impeached by the Interior Ministry after leading the town toward bankruptcy. He could have done anything with his life, whether staying in the Knesset, slowly rising up the ranks again, or making money in the private sector. Instead, he chose a noble task: reconstructing an impoverished town that had been considered all but lost.
Overcoming the fact that he, a cream-of-the-crop Ashkenazi ex-general from Haifa, the complete opposite to Yeruham on the socio-economic spectrum, seemed like an alien in town, Mitzna did great work there, leading the town's reconstruction and development. He stayed in Yeruham for five years, until 2010, and received multiple awards for his service. Who'd ever heard of a Knesset Member leaving to go work in a desolate place like Yeruham? Mitzna was hailed as a successor to David Ben-Gurion.
In 2011, after years of exile, he announced his return to the big leagues, running again for leadership of the Labor Party, believing perhaps that five years of voluntary service in the periphery meant something in the tough business of national politics. He lost, coming in fourth, or last, place, with only 12 percent of the votes.
"I mean I can outbox, outlift and outrun anybody in that store, and I have to take orders from those petty, common sons of bitches till I can't stand it anymore." (Happy Loman, Act 1)
Ultimately, Mitzna chose not to run in the Labor primaries, saying the party had lost interest in the peace process under the leadership of Shelly Yacimovich. So he jumped ship and joined Tzipi Livni's non-party Hatnuah. It makes sense, given that Livni and Mitzna are two of the greatest disappointments the Israeli center-left has ever seen. In 2009 Livni herself had been the Great White Hope who achieved nothing.
The alliance between two of the biggest losers of Israeli politics in the last 10 years failed to convince the Israeli public that, together, they were winners. Livni's team, reinforced with former Labor leader Amir Peretz at No.3, ran a lackluster campaign and won a mere six seats in Knesset. Despite all the talk of renewing the peace process and the constant attacks Livni, Mitzna and Peretz made against Netanyahu, Hatnuah was the first party to join Netanyahu's coalition. As of this writing, it is the only party in the coalition with Likud.
And now the would-be successor to Rabin is squabbling with the other opportunists for a seat in Likud's government. After making the deal with Netanyahu, and cementing her place as Justice Minister, Livni had to choose which member of her party would get the Environmental Protection portfolio. She chose Peretz, betraying Mitzna, to whom she had promised the first ministerial job. "Tzipi Livni broke my trust," Mitzna complained again and again in the past few days, decrying Livni while declaring he has no intention of resigning from the Knesset.
Mitzna was never a job-grubbing opportunist, so his struggle to enter Netanyahu's government, despite the fact that he clearly despises Netanyahu, seems like a sad resignation to his fate as no more than a journeyman -- a faded promise whose main legacy is articles like this, wondering what could have been.
But maybe Mitzna is not the Willy Loman of Israeli politics. Maybe we - the public, the pundits - are the Willy Lomans of Israeli politics. If anything, maybe Mitzna is Biff Loman, Willy's mediocre son who knows he'll never amount to much, despite his father's unrealistic expectations of him.
The sad truth of life is that not all decorated war heroes get to go home and become prime ministers. Some of them, most of them, descend into mediocrity. Not everyone can be John McCain, and McCain himself never won the presidency.
But still, as Linda Loman says in Act 1 of "Death of a Salesman": "Attention, attention must finally be paid to such a person."
Click the alert icon to follow topics:
ICYMI
Ken Burns' Brilliant 'The U.S. and the Holocaust' Has Only One Problem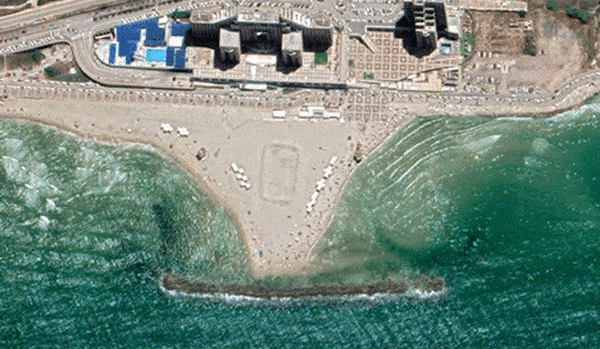 Facing Rapid Rise in Sea Levels, Israel Could Lose Large Parts of Its Coastline by 2050
As Israel Reins in Its Cyberarms Industry, an Ex-intel Officer Is Building a New Empire
How the Queen's Death Changes British Jewry's Most Distinctive Prayer
Chile Community Leaders 'Horrified' by Treatment of Israeli Envoy
Over 120 Countries, but Never Israel: Queen Elizabeth II's Unofficial Boycott