Analysis |
The Headaches of Forming Israel's New Government
Come Sunday, Netanyahu will likely receive a two-week extension to form a government, and he seems ready to give up hopes of including the Haredim. But what if, against all odds, another election is necessary this summer?
When the aides of Ariel Sharon used to spot a political maneuver being cooked up in the camp of the young Benjamin Netanyahu, they would ask the boss, "What do we do about Bibi?" Sharon, whose 85th birthday was this week, would reply, "Whatever we do, make sure he doesn't enjoy it."
Netanyahu will form his third government in another two weeks, give or take. But he will do so with a forced smile.
He wasted an entire month on futile exercises with one goal in mind: to co-opt the ultra-Orthodox parties into his coalition again. It was only at the end of this week - before having to ask President Shimon Peres for an extension in the period allotted him to form a government - that he showed signs of recognizing reality.
One of the main behind-the-scenes figures who helped forge the alliance between Naftali Bennett and Yair Lapid put it like this: "Netanyahu is like a man who was beaten up and kicked out of town, and now is trying to get back in order to eat crow, too." In the 14-day extension that begins Sunday, the premier will probably do what he has to and forge coalition agreements with Yesh Atid, Habayit Hayehudi and Kadima. Together with Hatnuah, which has already signed an agreement with Likud-Beiteinu, he will have a coalition without Haredim of 70 MKs.
Thus, Lapid, a journalist and media presenter until a year ago, and Bennett, a retired high-tech man, will hold in their hands - together and separately - the keys to the survival of Israel's 33rd government in its almost-65 years of existence. Neither will have any interest in toppling Netanyahu as long as he does for the country what the majority of the public wants.
The option of alternative government was buried for good more than a week ago, when Kadima leader Shaul Mofaz joined the Lapid-Bennett alliance; his status in that alliance remains exactly that of the head of a two-person faction. But still, once Kadima's two MKs joined Lapid's 19 and Bennett's 12, Netanyahu lost the theoretical leverage he still had to form a government of 61-62 MKs with the ultra-Orthodox and part of the Labor Party or Habayit Hayehudi.
Mofaz was pushed into the arms of Lapid and Bennett by pensioner Ehud Olmert and by former Kadima MK and No. 3 on that party's current list, Yohanan Plesner. Plesner hopes to return to the Knesset if Mofaz is appointed to be minister and resigns from the Knesset on his behalf. Having led the battle for ultra-Orthodox conscription during the last Knesset, Plesner has no interest in being part of a coalition with Haredim. Lapid-Bennett is just his cup of tea.
The shares of former prime minister Olmert are invested heavily in Kadima. If he reenters politics, he will need a political infrastructure. Olmert really did not want Kadima to be part of a narrow Netanyahu-led government that lacked public support; that might have tolled the death knell for the little that remains of the big party he once headed.
Olmert put Lapid, his good friend and the editor of his book (wonder what is happening with that book, from which we read two chapters in Yedioth Ahronoth last fall, and nothing since? ), in touch with Mofaz. He helped create a level of trust between the two in a series of secret meetings held prior to the trilateral Lapid-Mofaz-Bennett gathering at the latter's home in Ra'anana 10 days ago, where the alliance was sealed officially.
Lapid and Bennett promised Mofaz they would ensure that he gets a serious portfolio, and would even ask for the defense portfolio but not present that as a deal breaker. It's clear to both sides that if Netanyahu manages at the last minute to break Labor leader Shelly Yacimovich and bring her into the government in place of Lapid-Bennett, and then offers Mofaz defense, the Kadima leader will not hesitate to bid farewell to his young pals and enter the coalition without them. All to save the country, of course.
On Wednesday, during the collective hugging orgy that gripped the Knesset during the maiden speeches by new MKs, Lapid collared Mofaz as the latter was on the way to the podium to congratulate the new MK Jacob Perry, hugged him and whispered into his ear for a while. Mofaz listened and nodded. Lapid parted with a friendly pat on the shoulder. The PM's emissaries in the chamber got the message.
Moment of truth
Yair Lapid's goods are the hottest item in the market. He is not even trying to sell them. His moment of truth will arrive next week, when the real coalition negotiations with Likud-Beiteinu begin. He will have to make compromises. The question is on what and how much.
The "sharing the burden" mantra that has come to dominate our life was meant only to get rid of the ultra-Orthodox. As soon as that stone is pushed aside, no one will take an interest in the details.
A senior figure in Yesh Atid said this week, in a private conversation, "You don't understand what we are fighting for. We are not fighting over numbers and percentages, but over the question: Who is the sovereign in this country? Who decides? The law or the political establishment? Anyone who thinks we went into politics to reach a compromise with the Haredim and sit with Eli Yishai [of Shas] in the government, is missing the point of what happened here on January 22."
A case in point is the number of cabinet ministers in the next government. The moment the inner table used by them in the Knesset which seats seven including the PM is sawed off and taken to the basement, Lapid's voters will be satisfied, even if the next government has 22 ministers, instead of the 18 he has sought. The notion of "minister without portfolio" will become history. Lapid will probably agree to compromise on 22 ministers, provided the next Knesset passes a law limiting the number of ministers to 18 a law that could only be altered with the support of a parliamentary majority of 70 MKs or more.
What remains open is the question of which ministry he will want for himself. His inclination is the Foreign Ministry, which is considered a portfolio that "builds" prime ministers. "I have 19 seats," he tells his interlocutors. "Why should I yield to [Avigdor] Lieberman, who has only 11 seats?"
But not only is that portfolio set aside for Lieberman until his trial ends, its powers have already been somewhat eroded by the promise made by Netanyahu to Tzipi Livni that she will be the chief negotiator in any talks with the Palestinians. We will have to wait and see whether Lapid insists on being foreign minister or prefers to create a senior economic-social affairs portfolio for himself, to make good on his campaign promise of providing affordable housing for young people and lowering the cost of living.
Some in Yesh Atid are hoping that Lieberman will show nobility of spirit by offering Lapid the Foreign Ministry, while he goes to the Finance Ministry.
Triumph of 'new politics'
The past week saw the publication of several surveys that asked people how they would vote if elections were held now. In all of them, Lapid shows a dramatic surge with 24 to 30 seats, as compared with his present 19. Habayit Hayehudi, led by Lapid's "bro'" Bennett gets two or three more seats, while Labor and Likud-Beiteinu lose 15 seats between them.
And then there's another poll, conducted two days ago, which give Lapid no fewer than 31 seats. This poll is noteworthy because it was conducted via the Internet among a defined, focused target audience of 732 people, 88 percent Jews and 12 percent Arabs, all of them members of an Internet panel who are part of a database of surfers of the Midgam Project, a Hebrew-language website (www.midgam.com). Prof. Camil Fuchs, from the statistics department of Tel Aviv University, asked each member of the panel two questions: Which party did you vote for in the election? Which party would you vote for if elections were held today?
The results: Yesh Atid, 31; Likud-Beiteinu, 26; Habayit Hayehudi, 13; Shas, 10; Labor, 9; Meretz, 7; United Torah Judaism, 6; United Arab List-Ta'al, 5; Balad, 4; Hadash, 4; Hatnuah, 3; and Kadima, 2.
A few comments are in order:
1. The responses of panel members to the first question whom they voted for reflect very accurately the distribution of seats in the new Knesset. So this specific poll can be attributed a large measure of credibility.
2. It's true that a poll is just a poll (and we have already seen what polls mean), and that in any case there is no real chance of another election this summer, because Netanyahu will form a government even if he has to wear a transparent lace dress, tar and feather it and walk through the streets of Jerusalem holding a poster that reads: "Yair Lapid is king."
Nonetheless five weeks after the election, in the midst of the foot-dragging in the most repulsive coalition negotiations ever seen here, the "new politics" is consolidating its victory: On the one hand, there is sweeping support for Lapid's path, along with a minor surge for Bennett; on the other hand, there is a turning away from Netanyahu & Yacimovich, along with a crushing vote of no-confidence in Livni.
3. Apropos Livni, of those who admitted that they voted for her in the election, only 45 percent said they would do so again. Fully 43 percent of her voters indicate they would defect to Yesh Atid. Of the 732 interviewees, there was not even one who voted for a different party in January and would now shift to Hatnuah. Livni is sell-only.
4. Of Likud-Beiteinu voters in January, only 78 percent would repeat their choice now. Of the others, 9 percent would jump on the Lapid bandwagon and 7 percent would switch to Bennett. If Netanyahu or Lieberman think that, in the light of the pounding they took, in the form of the 11 seats they lost (from 42 to 31), those who deserted were seized by contrition after the election they are dead wrong. The desertion of the sinking ship of the co-captains continues. Netanyahu has to get it into his head that if he doesn't form a government with Lapid and Bennett, and soon, his political career will come to its end quickly, and he will be the man of yesterday.
The Mofaz scenario
If the results of these polls don't constitute a giant red light for Netanyahu a warning against even dreaming of letting the mandate he received from President Peres slip from his hands here is more material for his nightmares: the Mofaz scenario.
The law stipulates that if the first candidate who was entrusted with the task of forming a government is unsuccessful, the president shall entrust the task to a different MK. The prevailing assumption in the political world is that no one but Netanyahu is capable of cobbling together a government. Lapid has announced that he does not intend to serve as prime minister, owing to lack of experience. In other words, if it's not Netanyahu, we go to a new election.
But let's consider for a moment another possibility, which also crossed the buckling desk of the prime minister. Let's say that Netanyahu admits failure. Even before the president launches a new round of consultations with the parties, the distinguished gentlemen Lapid, Bennett and Mofaz meet with the distinguished ladies Yacimovich, Livni and Meretz's Zahava Gal-On (representing some 60 seats between them), and decide to recommend Mofaz as their candidate for prime minister. No one disputes that the former defense minister and chief of staff is qualified for the position.
It would be agreed in advance that in the Mofaz government, which could be in power for a specified time let's say two years and three months, half the term stipulated under the law Lapid would be deputy PM and foreign minister, Yacimovich will be deputy PM and finance minister, and Bennet will be deputy PM and education minister or interior/housing minister. Mofaz's 18-person cabinet then proceeds to push through a change in the voting and governmental system, promulgate a more egalitarian military-service law and launch a peace process, which if it reaches the agreement stage will lead to a national referendum. The settlements will not be evacuated in the meantime. The Arab parties will abstain in the important votes.
That government would then be immune to being toppled. It would get public support. The ultra-Orthodox and Likud-Beiteinu would stew in the opposition. Netanyahu would go home and a world war for succession would erupt in the "fighting family," as the historic Herut movement was known.
A source in Likud not only did not rule out this possibility, he added a comment of his own: "In a situation in which a new election looms and everyone knows what will happen to us in that case there is a possibility that Likud, with Bibi or without him, would join the Mofaz group in return for rotation of the premiership. Yes, when the house is on fire, when you are about to lose power, everything is possible. Everything."
Click the alert icon to follow topics:
ICYMI
Ken Burns' Brilliant 'The U.S. and the Holocaust' Has Only One Problem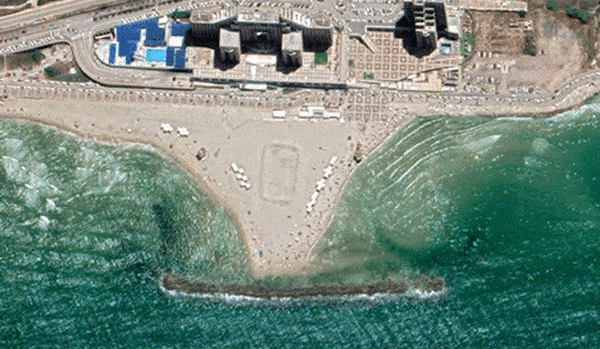 Facing Rapid Rise in Sea Levels, Israel Could Lose Large Parts of Its Coastline by 2050
As Israel Reins in Its Cyberarms Industry, an Ex-intel Officer Is Building a New Empire
How the Queen's Death Changes British Jewry's Most Distinctive Prayer
Chile Community Leaders 'Horrified' by Treatment of Israeli Envoy
Over 120 Countries, but Never Israel: Queen Elizabeth II's Unofficial Boycott