House of Cards, the Oscars 2013 and Jewish Power
With major Jewish organizations like the ADL crying anti-Semitism over a teddy bear's acerbic comedy at the awards ceremony, Jews may be feeding into the stereotype of monolithic Jewish power.
It's been a very Hollywood month for the Anti-Defamation League, the group that takes it upon itself "to stop the defamation of the Jewish people and to secure justice and fair treatment to all."
February kicked off with the series "House of Cards," the political thriller that has been a runaway success on Netflix, which established the evil and manipulative character of its hero, Congressman Francis Underwood, in its second episode. Underwood torpedoes a potential candidate for Secretary of State by digging up a newspaper article he wrote in which he called the Israeli presence in the West Bank an "illegal occupation." Right on cue, the ADL calls the candidate out on anti-Semitism, and his prospects are destroyed.
ADL national director Abraham Foxman reacted to the episode: "On one level, we see it as a form of flattery that the creators of the program thought of ADL for such a them," Foxman said. "This reflects well as to recognition of our outspokenness regarding unjust criticism of Israel and testifies to our wide name recognition. On the other hand, it plays into an image of ADL which distorts who we are. It suggests, as some do, that ADL will call anyone who criticizes Israel an anti-Semite with the connected implication that we are trying to stifle legitimate criticism of Israel."
He added that the organization would never "refer to such an individual as an anti-Semite unless there were other things he had said, whether delegitimizing Israel or comparing srael to Nazis or accusing Israel of crimes that fall under the category of blood libels and conspiracies" and that his group does its best to "make sure that the term anti-Semitic is used when it is truly warranted."
The whole episode, of course, presaged the battles over Susan Rice and then Chuck Hagel's nominations, in what is a case of life imitating art. By the time the series was released, the Washington battle was in full swing, with the ADL in the center of the action and so the "House of Cards" dig resonated even more deeply than it would otherwise.
Joe Klein of Time Magazine reacted to the ADL statement saying: "Foxman really needs to get a hold of himself or retire. Anti-Semitism exists. It is historically toxic and dangerous. But he is seriously devaluing the currency by throwing the accusation hither and yon – and House of Cards has called the ADL on it. Good for them."
And now, just a few weeks later, the Academy Awards broadcasts made waves. In the overall festival of offensive humor that characterized the show and the ensuing criticism and controversy - which the Academy had openly courted by asking "Family Guy" and "Ted" creator Seth McFarlane to host the event - among the numerous sexist jokes about boobs, bulimia, and domestic violence, came this exchange between the animated "Ted" teddy bear and actor/producer Mark Wahlberg.
Ted: Look at all this talent, all this talent in one spot. There's Daniel Day-Lewis… there's Alan Arkin… there's Joaquin Phoenix. And you know what's interesting? All those actors I just named are part-Jewish.
Mark Wahlberg: Oh. Ok.
Ted: What about you? You got a 'berg' at the end of your name. Are you Jewish?
Wahlberg: Am I Jewish? No, actually, I'm Catholic.
Ted: (whispering) Wrong Answer. Try again.
Wahlberg: What?
Ted: (still whispering) Do you want to work in this town or dontcha? (to audience) That's interesting, Mark, because I am Jewish.
Wahlberg: No you're not.
Ted: I am. I am. I was born Theodore Shapiro and I would like to donate money to Israel and continue to work in Hollywood forever. Thank you, I'm Jewish.
Wahlberg: You're an idiot.
Ted: Yeah, well, we'll see who the idiot is when they give me a private plane at the next secret synagogue meeting."
Predictably, Jewish groups were quickly up in arms over the exchange, led by the ADL and Foxman, who clearly felt that in this case, criticism was "truly warranted:"
"While we have come to expect inappropriate 'Jews control Hollywood' jokes from Seth MacFarlane, what he did at the Oscars was offensive and not remotely funny," the ADL said in its statement after the awards ceremony. "It only reinforces stereotypes which legitimize anti-Semitism. It is sad and disheartening that the Oscars awards show sought to use anti-Jewish stereotypes for laughs. For the insiders at the Oscars this kind of joke is obviously not taken seriously. But when one considers the global audience of the Oscars of upwards of two billion people, including many who know little or nothing about Hollywood or the falsity of such Jewish stereotypes, there's a much higher potential for the 'Jews control Hollywood' myth to be accepted as fact. We wish that Mr. MacFarlane and the Academy Awards producers had shown greater sensitivity and decided against airing a sketch that so reinforces the age-old canard about Jewish control of the film industry."
Opinion to the sketch - and the protests by ADL and other Jewish groups- was mixed in the American Jewish pundit circles. Adam Chandler wrote in Tablet that the outcry was all a bit parochial, noting that while MacFarlane's Ted bit was in poor taste, "so were his jabs at women, blacks, Hispanics, gays, the Christian right, the poor, and other groups. It seems a little much to isolate this one sketch in a four-hour stretch of comedy that was defamatory toward literally everyone."
In the Daily Beast blog Open Zion, Mira Sucharov attacked from the left, saying that the joke was both "shopworn" and not funny, and sparked a process that was bad for the Jews overall, arguing that "the Jewish community, now, more than ever, needs to have deep and broad conversations about its collective relationship to Israel. But anti-Semitic stereotypes spilling out of the mouths of bears won't help us have these kinds of conversations. Ethnic jabs broadcast in primetime stifle the kind of healthy self-critique that most communities need to have from time to time, particularly when it comes to issues surrounding identity politics. Instead, they are much more likely to give rise to siege mentalities steeped in fear."
But Danielle Berrin in the Los Angeles Jewish Journal said she viewed the condemnation as utterly unnecessary, and suggested that Jewish organizations calm down:
"The inconvenient truth for traditionalists is that many of today's Hollywood Jews are feeling far more comfortable in their Jewish skins than ever before. There is far more freedom and nuance in expressing Jewish characters, talking about Israel, and embracing the legacy of profuse Jewish power than in years past. It's even become a bit of a joke. Jews in Hollywood understand this; so do the industry's non-Jews, like MacFarlane. It is simply a minority of old-time Jews with the loudest mics who see offense where most find humor. Seth MacFarlane isn't poking fun at Jews because he's anti-Semitic. He's poking fun at Jews out of the seriously comic irony that in Hollywood, he is the outsider. If MacFarlane has no trouble owning the truth of Jewish accomplishment, why can't we?"
It's on this point that the issues raised by "House of Cards" and the Oscar joke come together.
When is it, in fact, acceptable to acknowledge that Jewish organizations or groups of individual Jews are highly influential in a certain sphere, whether this observation takes place in a fictional drama or in award-show humor? Can we really get upset for stating that Jews are numerous and powerful when they are, actually - numerous and powerful? Not omnipotent, not secretly plotting world domination, but plain old powerful?
JJ Goldberg in The Forward noted, in a long and thoughtful take on the Oscar kerfuffle, "there are dangerous, evil myths told about Jews, but there are also uncomfortable truths."
Goldberg calls for a clear distinction between talking about "Jews" and "the Jews."
"It's fair to say "the Jews" play a big role in getting foreign aid through Congress—lobbyists are acting in our name with our charity dollars. That's a fact of politics. By contrast, Jews run Hollywood, but the Jews don't. It's a sociological observation, but not a political one. There's no "secret synagogue"…that meets in New York or Brentwood to decide what films to shove down the gentiles' throats. That's a myth, and it's a persistent, pernicious one. It's part of a malign delusion that Jews conspire to rule the world. Unfortunately, a great many people believe it."
It's very touchy territory. Let's face it: after the trauma of the Holocaust and the transformation of Hitler's words about powerful Jews into unspeakably horrific actions, it's hard to blame the Jewish people – around the world and in Israel - for erring on the side of oversensitivity.
But are we crying wolf on anti-Semitism too easily and too often? And if we push back too hard against those who say – or dramatize, or joke – that we are excessively powerful and dominant, don't we, in fact, risk looking like we are proving their point?
Click the alert icon to follow topics:
ICYMI
Ken Burns' Brilliant 'The U.S. and the Holocaust' Has Only One Problem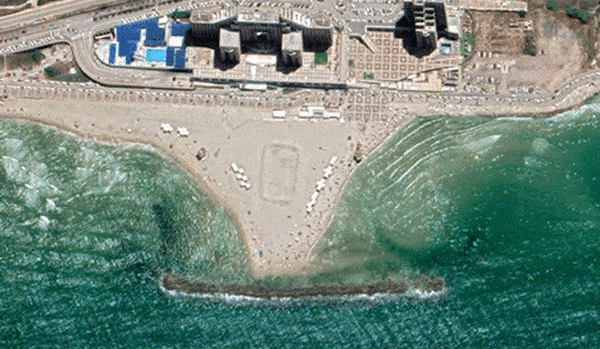 Facing Rapid Rise in Sea Levels, Israel Could Lose Large Parts of Its Coastline by 2050
As Israel Reins in Its Cyberarms Industry, an Ex-intel Officer Is Building a New Empire
How the Queen's Death Changes British Jewry's Most Distinctive Prayer
Chile Community Leaders 'Horrified' by Treatment of Israeli Envoy
Over 120 Countries, but Never Israel: Queen Elizabeth II's Unofficial Boycott