His or Hers: Who Owns a Donor's Sperm?
That question is at the heart of a recent High Court ruling concerning a donor who changed his mind and wants his sperm back, much to the fury of the woman who purchased it.
Galit is a 39-year-old single mother who has a three-year-old daughter conceived through a sperm donation. After giving birth, Galit (who preferred that her real name not be revealed) purchased five more samples of sperm from the same donor and paid an annual fee to store them for her. When Galit, who lives in Florida, decided to try to become pregnant again she bought a plane ticket to Israel for that purpose. But one night, she got a surprising phone call. "I was told coldly that the donor had changed his mind. He had changed his lifestyle, become religiously observant and had written a letter to the Health Ministry confirming this. The caller ended by saying, 'Of course we will return the payment for storing the sperm' - a small, negligible amount." At first, Galit continues, "I thought someone was playing a prank on me. I felt that my feelings were being totally ignored. This was about my future children. Maybe I wouldn't be able to have more children from that donor, and therefore my daughter would not have biological siblings."
Galit launched a legal battle, which ended two weeks ago with a High Court of Justice ruling rejecting her request to receive the sperm she had paid for. The court found that the donor's right to change his mind after making the donation takes precedence over the recipient's right to use the sperm in order to give birth to biological siblings for her daughter. Justices Elyakim Rubinstein, Daphne Barak-Erez and Isaac Amit cited their "sympathy" for Galit and her situation, but stated: "We have reached the conclusion that priority must accrue to the donor and his personal autonomy." They added, "One can understand the viewpoint of a person who, after thinking it over, reached the conclusion - which he had not entertained when he decided, for various reasons, to donate sperm - that he does not want children to be born from his sperm, because he did not choose them or their mother, has no ties with them and will not raise them." Galit was not awarded any compensation.
Through her lawyer, Gali Nagdai, Galit requested an additional hearing with an expanded panel of justices. According to the request, the judgment "creates a harsh new legal situation and a judicial reality which is difficult to accept." The court "validated a disproportionate infringement of the rights of women who receive sperm donations and of the appellant in particular."
Furthermore, Nagdai argues, the judgment is liable "to undermine the stability of the sperm banks in Israel and of the recipient public." Moreover, she adds, many critical issues were not resolved.
"I was surprised by the fact that I emerged without anything on all sides," says Galit. "Because of this affair I came to Israel twice, was away from work, paid for legal representation and had to open my life to the media, while he [the donor] emerged without a scratch. He wasn't even required, symbolically, to pay back the small amount he received for the sperm donation. I was not allowed to speak in court, but he wrote a letter and they bought it. I don't think justice was done.
'He can't change his mind'
"This is something that never happened before, and in addition to my own bitter disappointment, it pains me that it could happen to other women, too. It is out of the question for a sperm donor to change his mind. I planned a family, and then, one fine day, after donating sperm - and who knows how many children he has already - he changes his mind. He changed his way of life, but what about my way of life? I am certain that he has many more children he doesn't know about, so what difference does it make if he will have another one or two? There is no more of his sperm in storage other than what was earmarked for me - so let him not donate any more in the future. But to change his mind? He is depriving my daughter of biological siblings."
In the trial, the State Prosecutor's Office presented an emotional letter from the donor explaining his decision. "Some time ago I was married, and with God's help a son was born to us," he wrote. "The harm done to my wife, and which I believe will also be done to my children [when I will have to tell them, in the future] is my responsibility. The uncertainty they will have to endure in being aware that they have siblings whom they do not know is terrible, and I deeply regret having done this to my near ones."
The court addressed extensively the possible damage to his autonomy if he were forced into paternity against his will. "Unavoidable harm, relating to the subjective moral conscience, befalls a person as a result of his feeling that a child who sprang from his loins is 'walking about in the world' and he cannot or does not wish to devote love and attention to him," the justices wrote.
Galit has little sympathy for the donor."I cannot understand him. He talks about emotional harm, but I am raising a daughter without a father, and it is certainly important for her to have a blood tie to someone. He notes that he got married in the meantime and has a son, and suddenly he sees what it entails, so I would expect him to understand what it means to prevent my daughter from having biological siblings. And no one is promising me that I will have children from the sperm of another man. It succeeded with his sperm, so he should respect my desire."
He also writes in the letter that he does not want a child to whom he will not be able to give love, from a woman he doesn't love.
"That is an outrageous statement. He cannot claim fatherly feelings, because he is not a father - he has no commitment and I want nothing from him. He has no obligations and he need not have rights, either - he is not a father. And who says that in another few years he will not say suddenly, 'I am depressed, because I don't know my daughter' and will demand to see her? Will the court show him consideration again because he changed his way of life? I have the feeling that the court opened a door by affirming his feelings as a father, and that could be an opening to the affirmation of more paternal feelings in the future."
If the donor is not a father in any sense, then why is it important to Galit that her next child be conceived with his sperm?
"He is not the father of my girl, but she is my daughter, and it is very important for me that her siblings have the same genetic makeup. It is very difficult to raise a single-parent family as it is, and to explain to my daughter that she came into being as a result of a sperm donation. And then I have to explain that her brother came from the sperm of another man? And who is to say that the next donor won't change his mind?
Quest for a biological sibling
"There is also the consideration of the genetic structure that is unique to her, to me and to the donor. If, heaven forbid, she will need a bone-marrow donation, a donation from a full biological sibling has a greater chance of working. There are many more implications. I work in a religious school in the United States, and the whole episode caused a lot of waves there. Some people don't understand how I can do something like that - children from different donors."
Surprisingly, Justice Barak-Erez addressed the donor at the conclusion of her section of the judgment. She expressed the hope that "the petitioner's struggle and her pain will prompt him to give the matter further thought after the end of the legal proceedings." Galit draws a bit of encouragement from this. "I read it as a hint from her to him: Do the decent thing. Make a distinction between the law and the decent thing."
Galit is hopeful that an expanded panel of judges may regard her case more favorably. "All through the judgment the justices refer to his feelings, but no one mentioned my feelings. I am a mother raising a daughter alone. My hope is, though maybe I am naive, that a different panel with more justices will think differently and consider my emotional side, too, and will deal with the implications for my future and my daughter's future."
And if the judgment is unchanged?
"I am not thinking along those lines, because I hope they will change the decision. I am taking it one step at a time and my hope is that a larger panel will consider different angles."
Would you like to see him punished?
"No. I have nothing personal against him. Without him my daughter would not exist. But if, for example, I was told that he wants the sperm donations back because he had an accident and cannot have children, I would look at the whole affair differently. I would take into account his situation as a person who did something good for me. But he treated me cruelly insensitively. Even if he changed his mind, the moment he was told that there is a single mother who is counting on his sperm, I find it cruel that he went on with the battle and is preventing my daughter from having biological siblings.
"I urge him to reconsider his decision so that I will be able to build my family. Who knows - a day might come when everything will turn topsy-turvy and he will need help from me and my daughter. If so, I will be ready to help him."
Click the alert icon to follow topics:
ICYMI
Ken Burns' Brilliant 'The U.S. and the Holocaust' Has Only One Problem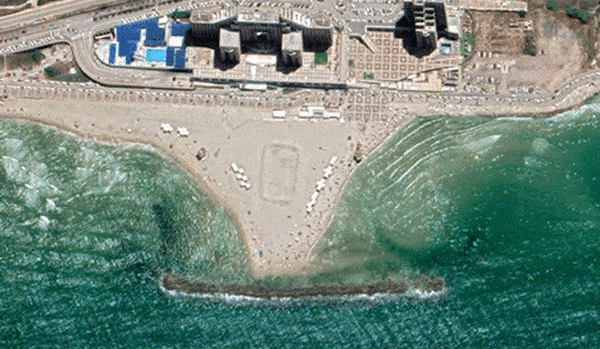 Facing Rapid Rise in Sea Levels, Israel Could Lose Large Parts of Its Coastline by 2050
As Israel Reins in Its Cyberarms Industry, an Ex-intel Officer Is Building a New Empire
How the Queen's Death Changes British Jewry's Most Distinctive Prayer
Chile Community Leaders 'Horrified' by Treatment of Israeli Envoy
Over 120 Countries, but Never Israel: Queen Elizabeth II's Unofficial Boycott