Stanley Fischer, Superhero of Israel
As governor of the Bank of Israel, mild-mannered American economist Stanley Fischer became The Responsible Adult, a superhero with the power of trustworthiness.
In psychology, they call the condition Separation Anxiety Disorder, or SAD, its rather appropriate acronym. People who suffer from the disorder display excessive distress and panic when faced with the possibility of separation from a person to whom they are attached.
It would not be a stretch to say that millions of Israeli felt a little SAD this week after Stanley Fischer surprisingly announced he is resigning from his post as governor of the Bank of Israel, two years before the end of his term.
Although Fischer declined to publicly give a reason for his resignation, the media was rife with speculation. Was it irreconcilable differences with Prime Minister Benjamin Netanyahu's government, which failed to heed his warnings against increasing the budget deficits? Was it a desire to skip town while he's ahead, before an economic crisis erases all that he's accomplished on the job? Was it a desire to enter the Israeli political arena, perhaps as foreign minister perhaps or perhaps even as president should Shimon Peres vacate his seat some day? Or was it, as some claimed, plain old longing for his family living in the United States?
Whatever the reason, Fischer's resignation sure comes at an inconvenient time for Israel, now fearing an austere economic crisis. It is also quite inconvenient for Netanyahu, recently elected with a weak mandate and still trying to form a stable coalition so he can cut spending and raise taxes in what has already been called "Social Hell" by Labor Party Leader Shelly Yacimovich. Fischer's leaving is widely seen as the result of his complete and perhaps even blatant lack of trust in Netanyahu's economic policies, although Fischer denies this interpretation of his actions vehemently.
But Netanyahu is far from the only one with a slight feeling of dread creeping up his spine. Fischer's exit has caused something of a panic among many ordinary Israelis who, over the past eight years, had allowed themselves to get used to having the steady hands of a world-class economist navigating the ship that is the Israeli economy through the rough seas of global finance. For him to just leave now, as if on a lark, when the boat is about to hit the rocks and no one else onboard can navigate it: What does he know that we don't? You can see why there's some hysteria.
For the past three days, Israelis have been unofficially competing over who can write the best farewell to Fischer – a man who was already regarded as a sort of a superhero (a really frail-looking one, but still) before his untimely retirement. Metaphors have been used and overused – the "responsible adult," he has been called by many; "Gulliver in Lilliput" he was dubbed in the daily Israel Hayom and even the phrase "O captain! My captain!" has been slung around. But still, he's leaving us.
'Drive, you piece of trash!'
This isn't mere affectation. The fear that Fischer's leaving evokes among Israelis is very real, and stems from the fact that economists, public officials, ministers, prime ministers, pundits, ordinary citizens and foreign investors alike have come to trust him wholeheartedly since he was first appointed governor of the Bank of Israel in 2005. Many regard him as the only truly trustworthy authority figure in Israel: the white-haired, polite soft spoken gentleman from the New World who saved the economy time and time again. The Responsible Adult (his superhero name) is here to fix our messes! Oh, he's gone? Despair. End Scene.
Sounds a bit childish, you say? Well, welcome to Israel. You don't call people Responsible Adults when you're totally certain of your adult status. You have to understand: Over the past eight years, Stanley Fischer – who is consistently ranked among the top central bankers in the world – has become much more than a central banker to the people of Israel.
Oh, we had our share of central bankers before. And they weren't that bad, truly. We had David Klein, Fischer's fiery predecessor. Before him there was Jacob Frenkel, now chairman of JP Morgan Chase International and formerly vice chairman of AIG. And before that, there was Michael Bruno, who pioneered the 1985 stabilization plan that saved Israel from hyper-inflation and default.
All of these men were and are (except for Bruno, who passed away in 1996) excellent, smart individuals. All of them faced hardships during their governorships. All of them dealt with inflation, global crises, reforms they needed to fight for and tough decisions they had to make. But none of them were Stanley Fischer. None of them enjoyed the kind of love, appreciation and absolute trust that Fischer received from the Israeli public and government. None of them were The Responsible Adult. They were just men.
That's not to say Israelis fell head over heels in love with Fischer right away. Oh no. We had our trust issues to work through. Fischer – former Massachusetts Institute of Technology professor and chief economist of the World Bank – did not have an easy start. On the popular satirical television show Eretz Nehederet, iconic Israeli comedian and apparently Fischer's long lost twin, Moni Moshonov, impersonated the central banker almost immediately upon arrival in Israel. His character on the show, much like the real Fischer back then, knew very little Hebrew, except of course for one Israeli phrase he'd been taught by a cab driver on the way from the airport: "Sa, ya zevel!" ("Drive, you piece of trash!").
The skit went on to make fun of the stark contrast between Fischer's gentle personality and the brutishness of Israelis. It ended with Fischer coming to his senses and rushing back to the airport to leave Israel, telling the cabbie in Hebrew: "Sa, ya zevel!"
One must admit that at first, it did seem somewhat strange that of all places he could have gone, Fischer ended up here full-time. He was a renowned economist who'd served as chief economist at the World Bank between 1988 and 1990 and as first deputy managing director at the International Monetary Fund from 1994 to 2001. As an MIT professor, he taught a generation of central bankers and other important economists, advising current Federal Reserve chairman Ben Bernanke on his doctoral thesis and teaching incumbent European Central Bank president Mario Draghi. His last job before agreeing to serve as governor of the Bank of Israel was vice chairman of Citigroup, where he reportedly made $100,000 a month. He is a multiple attendee of the Bilderberg Group, the highly secretive annual conference of very, very important people.
An illustrious career, no doubt. So why give it all up and move to Israel?
The winding road from Mazabuka to Jerusalem
The truth is: Fischer has had a deep, complex relationship with Israel ever since he first visited in the early 1960s as part of a youth program, which included studying Hebrew on a kibbutz. In 1976, he taught for a year at the Hebrew University of Jerusalem, which tried to recruit him. It failed, and he returned to MIT. In the late 1970s, he served as an outside consultant for the Bank of Israel, and in 1985, he was one of the architects of the stabilization plan. Over the years he kept counseling Israeli officials from afar and kept visiting every year.
It's hard not to think his relationship with Israel has something to do with his childhood. Fischer was born in 1943 to Jewish parents in Mazabuka, Northern Rhodesia (now Zambia). His parents ran a small shop there together. Life in central Africa in was hardly easy back then: The family lived in very basic conditions, and the young Fischer grew up with no running water and little to no electricity.
Active in the Zionist youth movement Habonim as a child– he met his wife, Rohda, in the movement - Fischer may well have felt a sort of kinship with the Zionist pioneers in Israel, the "chalutzim," who dealt with very similar conditions.
His family eventually immigrated to the U.S., and Fischer took up economics as an occupation and lifelong passion, earning a bachelor's and then a master's degree at the London School of Economics, where he received a scholarship, and completing his doctorate at MIT. Through his teaching career and his involvement with the IMF and the World Bank, Fischer became one of the most renowned and influential economists in the world and one of the leading experts on macroeconomics. He was not universally beloved, of course, his most famous feud being with Nobel laureate (2001) Joseph Stiglitz, his former classmate at MIT.
In his 2002 book, "Globalization and Its Discontents," Stiglitz brutally criticized the IMF and its policies for their contribution to the East Asian financial crisis, the economic collapse of Argentina, the underdevelopment of Sub-Saharan African countries and the failure of Russia's market economy. Stiglitz especially targeted Fischer – who was No.2 at the IMF when all these events unfolded, pointing out that he left the fund for a multimillion job at Citigroup, suggesting foul play.
At the end of 2004, he was asked to serve as governor of the Bank of Israel, an unusual offer, which raised a few eyebrows: not because Fischer was not accomplished enough, but because he was not an Israeli, just a Jew. The decision to move to Israel was not an easy one, Fischer said in an interview on Israel's Channel 2 in early 2012. All his children – he and his wife have three – and grandchildren were in the United States.
He was 61 years old, and this kind of job might have turned out to be the end of his career. But eventually, he agreed, and in 2005 he and his wife made aliyah. Before immigrating, he took classes in Hebrew, making sure he would be fluent enough in the language that he wouldn't create a barrier by relying on his mother tongue. To this day, he speaks exclusively Hebrew in his capacity as governor, even in conversations and interviews with Israeli press.
Faster than a speeding bullet
Fischer did not rest very long on his laurels. After taking office, he quickly used the global economic boom to raise interest rates to 5.5 percent. Then, when the global financial crisis came in 2008, he did what other central bankers around the world did and quickly lowered the interest rates aggressively.
But what earned him most the praise was that the unlike other central bankers around the world, who stuck to their policies and remained static, Fischer was dynamic. In 2009, when he figured the economy was back on track, he started raising rates again, even though most central banks hadn't even begun to consider such a move. Then, when the recovery from the crisis turned out to be weaker than expected, he quickly lowered rates again. Also unlike other central bankers, he did not deal exclusively with the interest rate. In 2008, when it seemed like the Israeli export industry would collapse due to the U.S. dollar's rise against the shekel, he intervened in the currency market. When former Bank Hapoalim chairman Dani Dankner was suspected of criminal behavior, Fischer demanded his ouster, doing so forcefully after the bank initially refused his request. He even fought for the Bank of Israel law, thereby limiting his own power and moving a large portion of the decision making within the Bank of Israel to a six-person committee.
Little by little, bit by bit, Israelis grew very, very fond of Fischer. He was an island of stability, good sense and calm in a raging sea of political chaos, the captain of Israel's economy in the eyes of the public and the world and the man ultimately credited most with the fact that Israel was barely scathed during the 2008 financial crisis. He was truly loved. And when you trust someone, you inevitably think of him as a bit of a superhero – even if he doesn't save your economy from ruin. So Fischer became The Responsible Adult, the guy Israelis looked to after the prime minister and other officials spoke about economic matters, trying to decipher from his very careful language whether they were being lied to by their government.
But he was not without his detractors, and their numbers grew at a rapid pace over the last two years. His policies, many claimed, directly contributed to the Israeli real estate bubble, in which housing prices rose 50 percent in five years, and the cost of living, which had become unbearable for millions of Israelis. The real estate bubble that was allowed to grow in Israel not only served as the catalyst for the 2011 protests, the biggest Israel has ever seen, but also put the banking system at risk. Others claimed he did not make enough of an effort to open the banking sector up to competition – always preferring to protect its stability – and that while he warned the government against increasing the deficit, he did not insist on cutting the defense budget. Those two things are perhaps tied to his personality. Unlike former Bank of Israel governors, Fischer did not quarrel with finance ministers and prime ministers. He remained cordial and objective, always his gentlemanly self, thereby failing to evince the chutzpah that would have been necessary to tackle two of the toughest structural problem Israel's economy faces today.
Now, Fischer is leaving his post as the Bank of Israel governor at the absolute worst moment imaginable. "I had achieved what I wanted to achieve," he said Wednesday at a news conference he held to address his retirement.
The truth of the matter is his retirement wasn't all that surprising. Signs that he was a bit bored with his job had been visible for nearly two years. In 2011, he ran for the job of IMF chief and was one of the leading candidates – receiving the support of publications like The Wall Street Journal and The Financial Times and economic VIPs like PIMCO CEO Mohamed El-Erian – but was ultimately disqualified due to his age. Still, it was clear he was keeping his eyes open for other options.
Now, after his resignation, his future plans are unclear and the source of much speculation. He has six more months on the job; then he's free. And while he promised to stay in Israel and remain involved in Israeli public life – thereby leading to intense speculation that he'll be offered the Foreign Ministry (he reportedly rejected Netanyahu's offer of the Finance Ministry), or perhaps even the presidency – he's also mentioned in some circles as a potential candidate to replace Ben Bernanke as Fed chairman.
What is clear is that whatever he decides to do next, Stanley Fischer leaves big shoes to fill, not to mention the superhero's cape. In the history of Israel, there have been very few officials the public felt proved their mettle. Fischer was one of them. Whoever takes his place will have to be more than just a central banker, more than just a good macroeconomist. He'll have to be a The Responsible Adult to a country that is filled to capacity with grown children. And those children? They feel a wee-bit orphaned today, I won't lie to you. Yeah, I know what you're thinking: That's just SAD.
Click the alert icon to follow topics:
ICYMI
Ken Burns' Brilliant 'The U.S. and the Holocaust' Has Only One Problem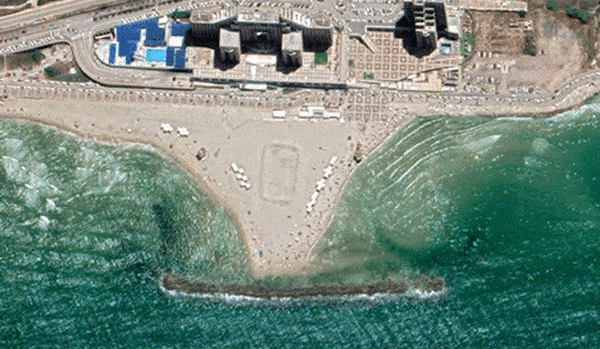 Facing Rapid Rise in Sea Levels, Israel Could Lose Large Parts of Its Coastline by 2050
As Israel Reins in Its Cyberarms Industry, an Ex-intel Officer Is Building a New Empire
How the Queen's Death Changes British Jewry's Most Distinctive Prayer
Chile Community Leaders 'Horrified' by Treatment of Israeli Envoy
Over 120 Countries, but Never Israel: Queen Elizabeth II's Unofficial Boycott