Likud Veteran Silvan Shalom, the Man Behind the Woman
Silvan 'Steve' Shalom married right and worked hard, so why isn't he prime minister already?
Silvan Shalom has 2,219 followers on Twitter, as of writing. His wife, Judy Shalom-Nir-Mozes (who goes by her maiden name Mozes on Twitter) has 15,203.
Her bio line says: "Journalist and radio & TV host. Wife of the vice prime minister of Israel." And that, in a nutshell, is the entire story of one of Israel's highest-ranking politicians, today the senior vice prime minister and previously foreign affairs and finance minister. He was No. 6 on the Likud-Beitenu list for the 2013 elections and is still one of Prime Minister Benjamin Netanyahu's bitterest rivals within the Likud party. Silvan Shalom is one of the strongest men in Israel - thanks to his wife.
Shalom, it bears mention, is also the richest politician in Israel, with a net worth estimated by the Israeli edition of Forbes magazine at NIS 150 million. He didn't make all of that on his own. Most of it comes from Judy Shalom-Nir-Mozes, daughter of legendary publisher and longtime managing editor of Yedioth Ahronoth Noah Mozes.
Born Yehudit Mozes, she is thus heiress to one of the most powerful families in Israel, if not the most powerful: the Mozes family, owner of Yedioth Ahronoth, Israel's most popular newspaper. Judy still owns 12 percent of the newspaper group.
In other words, she's the one who brings home the bacon in this partnership. Or to put it more accurately, she is the bacon.
There is no question Shalom married up. While he is of very modest origins, Shalom-Nir-Mozes was born and raised a princess. Their backgrounds, perhaps, helped shape their very different personalities. In fact, their personalities - or rather, their political and public personas – differ so much, they bring new meaning to the expression "opposites attract."
While he tends to keep a straight face in public, Judy is the very definition of a media star. She is funny, not always on purpose, colorful and self-deprecating. While her husband is known as a somewhat uneventful politician, she is often the source of controversy and media brouhaha. She is the pink to his grey, so to speak.
Shalom-Nir-Mozes - Judy, as she prefers to be called - is a lifestyle queen, philanthropist and quintessential Israeli celebrity. Over the years she has hosted TV talk shows - called "Judy" and "Jude Luck" - and radio shows and is a frequent columnist, often giving women tips on life and success.
An impersonation of her on "Eretz Nehederet," the most popular satirical program on Israeli television, was wildly popular and turned her into a household name - and for a while, a popular Purim costume. In the show, she was parodied by actress Orna Banay - with her nose held up by a piece of adhesive tape, giving it a nose-job-y look - as a ditzy, disconnected, shallow and not-very-bright rich woman, completely unaware of her fortunate status in life and ignorant of the hardships of common people, with whom she sympathizes through the windows of her luxurious home(s), believing she is struggling middle class herself.
That's how most Israelis know her. That's her image. Over the years, due to her frequent gaffes, she had become a sort of a cult icon. It is now unclear if she is famous because people like to ridicule her or because they sincerely adore her. The answer is probably both, in equal measure.
Starting at the bottom
As you may already understand by now, it is impossible to speak of Silvan Shalom without going on at length about his wife. But let's give it a try.
To tell you the truth, Shalom - his wife calls him "Steve" - deserves better than the treatment most pundits and newspapers give him. His resume alone establishes him as one of the most accomplished, experienced and senior politicians in Israel today - and still he is constantly mocked, often perceived as an Israeli manifestation of the Peter Principle. No one claims he was a bad finance or foreign minister, and he isn't doing such a bad job as minister for regional development and the development of the Negev and the Galilee - even though no one is quite sure what the office does, exactly.
Originally created by Ehud Barak in 1999 as a move to neutralize Shimon Peres, the Office for Regional Development has since served as the Israeli political system's version of a penal colony. But over the past four years, Shalom has tried, quite valiantly actually, to make it a real job.
Unlike his wife, Shalom was not born to Israeli nobility. He was born in fact in Gabès, Tunisia, in 1958 and immigrated with his parents to Israel in 1964. The family settled in Be'er Sheva, then a rather impoverished and dusty desert town in the south.
Not long after the family emigrated, Silvan Shalom's father, Shimon Shalom, who was the manager of a bank branch in Be'er Sheva, was killed at the age of 37 during a bank robbery gone haywire. Silvan Shalom was six years old. After his father's murder, he found himself living in poverty with his mother and brother in a tiny 30-square-meter apartment in Be'er Sheva, which he once said was the size of his current bedroom. Growing up without a father had a profound impact on his life.
"I don't know what it's like to grow up with a father," he said on the Channel 2 television show "People" in November. "To this day," he said, "I still find if weird when the kids call me 'dad.'"
As a young man, Shalom was ambitious. After completing his military service, he began attending Ben Gurion University in Be'er Sheva, earning a bachelor's degree in economics as well as an accounting certification. He was highly active on campus, being elected chairman of the university's student union and vice chairmen of the National Union of Israeli Students. He later earned a law degree from Tel Aviv University before starting work as a journalist at Yediot Aharonot and the now defunct newspaper Hadashot. By the late 1980s, he was already counseling ministers and politicians, among them then Finance Minister Yitzhak Modai, in many ways his first political mentor. At the age of 30, he became the chief executive of Israel's Energy Office, and in 1990, he was appointed Chairman of the Israel Electric Company, perhaps the most important job in Israel's public sector.
In 1992, Shalom entered the political arena. Running in the 34th spot on the Likud list and nearly missing out when the Likud list only won 33 seats in the Knesset, he was welcomed in when former Defense Minister Moshe Arens resigned.
Not long before that, in 1991, he met the woman then named Judy Nir-Mozes. She had recently been widowed from her first husband, Amiram Nir, a journalist and counterterrorism adviser to Prime Minister Shimon Peres and one of the key players in what came to be known as the Iran-Contra affair, or Irangate. Nir died in 1988 in a mysterious plane crash in Mexico, possibly related to the affair or to Nir's reported intentions to reveal what he knew.
In 1993, the newly named Shalom-Nir-Mozes married Shalom and had three children with him, adding to the two she'd had with Nir. Shalom, who could sympathize with young children who lost had lost their father at an early age, embraced them.
Folksy but effective
After his marriage to Shalom-Nir-Mozes, Shalom's career really took off. After all, it can't hurt to be in bed with the strongest media organization in the country. In 1997, after Yitzhak Rabin's assassination and the Likud's victory in the 1996 elections, he was appointed deputy to the minister of defense in Netanyahu's first government. In 1998, he became minister of science. By the time the next primaries came around in 1999, Shalom reached first place on the party list, having become enormously powerful within the party. But he was soon sent to the opposition benches when Ehud Barak and the Labor Party bested Netanyahu and Likud.
Luckily for Shalom, he didn't have to sit on the bench for long. By 2001, the second intifada was tearing through the country and Barak resigned, leading to elections in which Barak suffered a crushing defeat and Ariel Sharon took over. Shalom was appointed minister of finance and vice prime minister at one of the most troubled times in the history of Israel and its economy. As finance minister, he began the cutback policy later adopted and escalated by Netanyahu, who succeeded him in the role.
"The finance portfolio gives the slightly hunched, low-key Shalom a chance to show that he can manage a complex, modern economy without neglecting poor towns like Be'er Sheva," said a Time Magazine profile of him of 2001 titled "The Money Man."
But Shalom did not linger long in the Finance Ministry. In 2003, elections came again, as they often do in Israel, and after Sharon won again, Shalom was promoted to foreign affairs minister - the second highest post in the Israeli government. Shalom served as foreign minister at a time when Israel, in the midst of the intifada, was internationally isolated. His term, lasting until 2005, was not terribly memorable, which considering other foreign ministers' disastrous terms is perhaps a good thing.
Nevertheless, a term as foreign minister usually brings a great deal of prestige to Israeli politicians and is a boon if they aspire to be prime minister. In interviews, Silvan Shalom repeatedly stated his intention to be prime minister one day. Still, he never received the appreciation he thought he deserved.
"It angers me so much that after 20 years of serving in so many posts - foreign minister, finance minister, science and technology minister, deputy defense minister and vice prime minister - people still talk only about me being the only Mizrahi minister in the Likud," he said in an interview with TheMarker in November.
Shalom, described in the Time article as "folksy," always lacked the gravitas that foreign ministers before and after him - people like Tzipi Livni and Shlomo Ben-Ami or Shimon Peres - had in spades. Publicly, he was always seen as someone who does not exactly belong where he is. His English was not sharp, his mannerisms not quite befitting a diplomatic jet setter. And while he did enjoy hobnobbing with the rich and famous, diplomacy never came naturally to him. Knowing where his true power lay, he ferociously maintained his relationships with Likud members, staying accessible even to the lowest ranking activists of the party, investing himself in building, and successfully managing to keep, a strong and loyal power base within the party.
"One strategic adviser told me I have all the qualities necessary to be prime minister, but until I change my way and distance myself, I won't be," he told Arutz Sheva news in 2008. "He explained to me that people like to look up to their leaders, that they actually prefer leaders they can't reach on the phone. I can't change that about me. Even when I was at the White House I still took calls from Likud activists in the field."
A flare for the boring
It is true that Shalom never forgot where he came from. Israel wouldn't let him forget. Shalom learned that he could marry into one of the most powerful families in the country, but his heritage would always stigmatize him. "Israel hasn't elected a single Mizrahi prime minister so far," he told Haaretz in 2008. "The facts speak for themselves. I am not saying we should elect a prime minister based on his ethnicity, but does it make sense that for 60 years we couldn't find even one? When Amir Peretz was Labor's candidate for prime minister, many people - let's call them 'Givatayim residents' - moved to Kadima. And I have no doubt that if Shaul Mofaz gets elected as head of Kadima the same people will go back to Labor."
"It's taboo in Israel to talk about the periphery," Shalom continued. "You can't speak about the periphery. You can't talk about the fact that most poor people are Mizrahim. You can't about the fact that the majority of undereducated people in Israel are Mizrahim and that the majority of prisoners are Mizrahim, and we also can't talk about the fact that we never had a Mizrahi prime minister."
His heritage, perhaps, contributed to him losing the Likud leadership in the 2005 primaries to Benjamin Netanyahu, his bitter political rival. He tried again in 2007, but soon quit the race, comparing Likud to Syrian President Bashar Assad's Baath party.
But it wasn't just his ethnic background. The problem was with him, he knew. "I believe I have the qualities to be prime minister," he told Haaretz in 2008. "I have the kind of experience nobody has in security, finance and foreign affairs. But what makes it hard for me is the marketing. I am not a provocative person. Because I am moderate and don't lash out, people see me as boring."
Luckily for Shalom, he is married to the firecracker of Israeli pop culture. Whatever he lacks in charisma she makes up for - and then some. Sometimes, it gets her - and him - in trouble. For instance, in 2010 she called deputy foreign minister Danny Ayalon a "zero" and claimed he was ruining Israel's diplomatic relations with every country, following his humiliation of the Turkish ambassador. That same year, she started a beef with Israeli television host Yaron London after he called her and Shalom "frehim," the Israeli version of white trash, saying he was "a jealous man with no life."
"I deeply regret things I've said that hurt my husband's career," she told Globes in 2011. "Sometimes they attribute my opinions to him, so I restrain myself." When her husband's Twitter account was hacked in November, she published a status on her Facebook page wishing the "Hamas killers who hijacked Silvan's Twitter and Facebook account" an agonizing death.
Shalom has always rebuffed attempts to get him to apologize for his wife's antics, telling TheMarker in November that "when we got married I was already a member of Knesset. We both knew the deal: She knew she was marrying an MK and I knew I married an opinionated media person. We each lead our lives the way we feel is right. It is important that both of us remain independent. She can write whatever she wants."
After Netanyahu was elected prime minister in 2009, Shalom - who came in first in the Likud primaries, second only to Netanyahu himself - claimed he was promised a significant role, perhaps a return to the Foreign Ministry, if he cooperated with Netanyahu. But instead, Netanyahu banished him to the Regional Development office, where he has waited for the past four years, trying his best to make it more than just a fake ministerial office for exiles. He is probably the most active regional development minister Israel has even seen, promoting education and job-creating programs in the Negev and the Galilee. In 2013, he ran in the sixth spot on the Likud-Beitenu list. Again, he is a prime candidate for a major role in the inchoate government, but it is unknown as of this writing if he will indeed be let back into the decision-making circle. Judy will have an opinion on the subject one way or the other, you can be sure.
Click the alert icon to follow topics:
ICYMI
Ken Burns' Brilliant 'The U.S. and the Holocaust' Has Only One Problem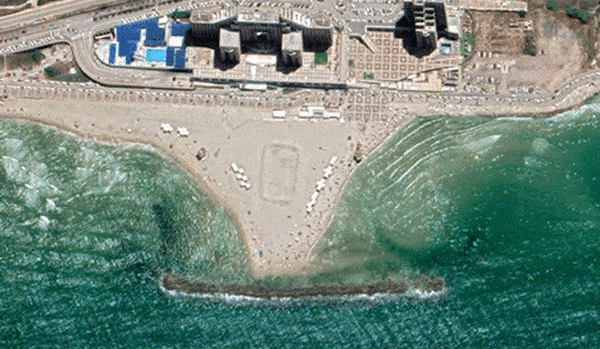 Facing Rapid Rise in Sea Levels, Israel Could Lose Large Parts of Its Coastline by 2050
Lapid to Haaretz: 'I Have Learned to Respect the Left'
The Mossad's Fateful 48 Hours Before the Yom Kippur War
As Israel Reins in Its Cyberarms Industry, an Ex-intel Officer Is Building a New Empire
How the Queen's Death Changes British Jewry's Most Distinctive Prayer