Saving Bethlehem From the Brink
Vera Baboun, the first woman mayor of the city where Jesus was born, faces no small task: To improve a dire economic situation and to stop residents from emigrating.
Christmas Eve and the days that follow are the best of times for Bethlehem and its merchants. Everyone is outdoors. Beneath a giant Christmas tree decorated with tiny lights, vendors do a brisk trade in cotton candy, hot corn, falafel, Santa Claus hats and colorful Mickey Mouse, Santa and Dora balloons. Kids and grownups, religious and secular folks, Muslims and Christians, police and civilians - all are having their picture taken next to big, bright displays depicting the birth of Jesus.
Here on Christmas Eve, Vera Baboun, Bethlehem's new mayor, is surrounded by numerous aides decked out in their holiday finest. This is Baboun's day. During the holiday period, Bethlehem, birthplace of Jesus and home of the Church of the Nativity, draws tourists and cameras from throughout the Palestinian Authority and around the world. This is an opportunity for her, but it comes with risks.
Baboun strides purposefully across the crowded plaza between the mosque and the church, straight to city hall, which is festooned with holiday balloons. On the way, she finds time to shake hands with a pair of TV morning-show presenters, who have installed themselves on a couch between a falafel stand and a souvenir shop, and to chat with the local police chief, whose force is well-deployed in readiness for the celebrations. She also whispers something with a smile to Amir Baboun, her part-time personal assistant and full-time eldest son.
Despite the deteriorating security situation, announcements of new Israeli construction right around the corner, rising unemployment and an economy in crisis, in December Bethlehem paints itself in holiday hues and tries to forget about all that - for a few days at least. Amid all the festivities, with the whole Christian world looking on, the city also slips in some bold local colors like red, green and black, the colors that tell the Palestinian national story.
This unique connection is mentioned in every foreign media interview, on every information sheet and, in the view of local officials, ties in quite nicely with the story of the city's first Christian refugee, who left here 2,000 years ago.
Baboun is the first woman to be elected mayor of Bethlehem - she took office in October. She is the second female mayor in the Palestinian Authority, after Janette Khoury was elected as mayor of Ramallah in 2005.
She maintains an official demeanor even when no one is looking. Back erect, green eyes flashing, her body language projects determination, but her smile is gentle. This is Baboun's first Christmas as mayor. And the first practical test she faces since being elected.
The theme for this Christmas is hope - so the municipality decided, after seven long, tough years when there was little hope to be found in Bethlehem. The previous mayor, Victor Batarseh, had ties to Hamas and the radical left, and was therefore boycotted by the international community.
A substantial amount of donations and investments were frozen during his years in office. Locals looked on in envy as hefty sums arrived in neighboring Beit Jala and Beit Sahour, but did not cross their municipal boundaries. Consequently, Bethlehem now suffers from a notable decline in infrastructure development and high unemployment, and it has seen significant demographic changes.
Even the prestigious industrial park project, whose cornerstone was laid in 2010 - a collaboration between the French government and local developers and investors - has not yet been able to boost livelihoods in this densely packed and traffic-clogged city, where the police don't seem to care when trucks freely double-park and block the passing cars. If a driver tries to complain to the police, he's told matter-of-factly that the trucker just hopped out to pick up a few things at the supermarket and he'll be right back.
A four-year term may not be enough for Baboun to implement all the plans she has in store. She'll certainly need heaping amounts of hope if she wants to get things done.
Women as leaders
Vera Baboun, 49, ran in the municipal election on the Fatah list. She is a widow and mother of five, a lecturer in English and American literature at Bethlehem University and a gender studies researcher. She is not a member of any political party and thus can be said to have no political agenda. She has spent most of her adult life in academia and raising her children. Before the municipal election that was slated to take place in October 2010 in the PA, but was ultimately not held, she was part of an independent list composed of various technocrats. Ahead of the election, she had been approached by friends from the Independent Party (a slate of city residents running in the election), but she wasn't interested. A few months earlier, she had begun serving as the principal of the Greek Catholic School in Beit Sahour: "It was a big challenge for me," she says. "The school was about to close and they urgently needed a plan to get the system moving again. I threw all my energy into it, but then this past September, the Fatah leadership asked me to head their list."
Despite the brief time - less than two months - remaining before the election, Baboun consented. "I was pleased about the change in the air," she says. "I was pleased that the leadership understood that a woman could successfully fill this role. I was very gratified that we won, even though Hamas boycotted the election. Five men from five different parties ran against me. Now we have a majority in the city council. We were able to bring in eight of 15 members. It's wonderful."
Did you know you would win because you had Fatah's support?
"Not necessarily."
In preparing quickly for the election, Baboun was helped by her children, who wholeheartedly devoted themselves to the cause and are extremely proud of her. "We were as busy as a beehive," says her son, Amir, 27. "Each one gave his all, and also paid a personal and professional price in order to help our mom get elected." Amir maintains that the Hamas boycott of the election did not dampen the voter turnout rate, which was higher than in the one in 2005, with a turnout of more than 50 percent. "Fatah ran a very successful election campaign in Bethlehem."
Amir has light eyes, like his mother. He studied biology at Bethlehem University and works in an human rights organization associated with the Patriarchate . Samer, 25, studied public administration at Bir Zeit University, and plays piano and saxophone. Nadine, 23, studied accounting at Bethlehem University and is currently working on a master's degree at Tel Aviv University; she is also a violinist and plays with the Palestinian Youth Orchestra. Vardine, 18, is also a violinist with the Youth Orchestra. She will soon depart for Toulouse to continue her music studies there. Natasha, 17, is a high-school student and basketball player on the national youth team; she dreams of becoming a journalist one day.
"I decided that my children must have the opportunity to experience and to study whatever they want," says Baboun.
Energetic and elegant, Baboun is certain that women are perfectly suited for the job of mayor, or prime minister. "Women were born to think of others. It comes from the womb. Men work only for themselves," she says. "Ever since I was elected I've been working every day from morning till night. One meeting after the other. But I'm not working for myself, I'm working for the city."
Baboun was born and raised and schooled in Bethlehem. Her father was a merchant. She graduated from Saint George High School, a Catholic school for girls. "My daughters went there, too," she says. "You get a good education there. You learn leadership." At 18 and a half, she married Johnny Baboun. His mother, Janina Kopetsky, was Polish. She had come here as a Red Cross nurse with the British Army, and fell in love with Ibrahim Baboun from Bethlehem.
"I married a very understanding man," says Baboun. "He was a mechanic. He had a garage and a car wash. I told him I would agree to marry him on condition that he support me so I could continue my studies. And he said: 'Vera, I'll support you as much as I can.' And he kept his promise. I finished my bachelor's degree in English literature when my oldest son Amir was just a baby."
Baboun's first work meeting this Christmas Eve takes place in the third-floor conference room of city hall. Awaiting her is a large group of Polish pilgrims, a priest and the head of the Wilanow district in Warsaw. Polish pilgrims are very important to PA tourism and the city officials grant them much precious time on this especially hectic day.
"The Poles contribute a lot to the city of Bethlehem," says Xavier Abu Eid of the PA Public Affairs Ministry. "Unlike a lot of other tourists that just pop over here for a visit but stay in Israel, the Poles take hotel rooms in the city and stay for several nights."
In the past year, Polish citizens spent a total of 170,000 nights in the areas administered by the PA - second only to tourists from Russia. This group plans to spend an entire week in Bethlehem. The pilgrims are also accompanied by a crew from Polish television and a cultural icon: a famous Polish opera singer who decided to spend her Christmas holiday in the Holy Land.
When Baboun enters the room, the Poles rise to their feet and greet her with enthusiastic applause. She projects authority and takes command of her audience from the get-go. "This is our first Christmas since receiving international recognition by the UN [of Palestine's non-member observer status]," she begins her prepared speech. "It is the victory of hope, the victory of humanity and the victory of peace. We are grateful to you and to your country for your support, and we hope that this process will continue."
After all the smiles and handshakes and pictures, and after receiving a gift from the head of the Wilanow district, the mayor hurries to the roof of the building for an interview with the BBC. Baboun does not want to perch on the high stool that's been provided by them; she'd prefer to stand. At overwhelmingly male city hall, Baboun and her female aide have to prove themselves anew each morning, and they appear to be succeeding. However, this time she sits down and proceeds to give the interview twice - once for the general BBC network and once for its special Middle East affiliate, repeating the same key phrases she will continue to invoke throughout the rest of the day.
Personal hardship
The mayor's cheerful demeanor hides a good deal of personal hardship and anguish. One evening in 1990, when she already had three children, her husband, Johnny, was arrested by the Israeli army. He was a member of Fatah and was a wanted man because of his activity during the first intifada. Baboun had no idea what her husband was doing in his free time.
"I don't want anyone to make an issue out of my family's suffering," she says. "It makes me very uncomfortable that people think this is what made me what I am. My story is very personal. I myself was completely in shock. I didn't know that Johnny was active in the intifada and was a member of Fatah. He was a very quiet and calm man, a family man, a very good father, and there was no hint that he was involved in any activity outside the home."
All that changed one night at midnight, when there was a knock on the door and soldiers came in and asked him to come with them. "I asked what was happening, and he said: 'I'll be back in a couple of hours.' It was normal in those days for people to be taken for questioning. I said: 'God be with you' and didn't even escort him outside, that's how unsuspecting I was.
"For two months we tried to find out where he was, to no avail. Then the same officer who arrested him came to the house and asked for the keys to Johnny's garage. I asked him: 'Where's Johnny? How is he?' Then he said that Johnny was in the car and asked if I wanted to see him. [The man] asked me: 'Why did he do it?' And I turned to him and said: 'For the same reason you came to arrest him.' I saw Johnny, he was handcuffed, and he looked so handsome. I said to him: 'Take care of yourself.' And he said, 'Vera, take care of the kids.' And ever since then, since September 1990, I keep hearing those words of his: 'Vera, take care of the kids.'"
Johnny was tried and sentenced to three and a half years in prison for his activities in the intifada. Just three months after the arrest, Baboun began studying for her master's degree in African American literature at the Hebrew University. "I sent a letter to Johnny," she says. "I told him that I wanted to study at the Hebrew University if I was accepted there, and he answered: 'I trust you Vera. Go for it.' When I went there the first time to register, my father came with me. I remember that when I first set foot on the campus, I froze with excitement. My legs wouldn't carry me.
"It was in February, at the time of the first Gulf War. It was quite chaotic, but I was determined to begin studying during the second semester. They agreed to accept me, but there was a problem: I didn't know Hebrew. I told the woman there: 'Let's make a deal. Let me begin studying now and I'll take the Hebrew exam in the summer. If I don't pass, throw me out.' I taught in the mornings at Bethlehem University, and in the afternoon I went to the university in Jerusalem; a neighbor used to come to my parents' house to teach me Hebrew. I studied for five months and in August I took the test and got an 85. For us Palestinians, education isn't a privilege, it's a national duty."
And so, with her husband in an Israeli prison and her children being cared for by her mother in Bethlehem, Baboun found herself studying at Hebrew University about another minority, in another place thousands of kilometers away, and about its struggle for liberty.
The university was aware that her husband was in prison, but she was treated fairly there, she says. Johnny died in 2007 of heart problems. "He never fully recovered after his return from prison," says Baboun. "In the second intifada his garage was destroyed by shelling, it was right near Rachel's Tomb. They were searching for someone there and shelled the entire area. I told him I would take a loan and we would rebuild the garage and that's what we did. And the next night, right after we finished rebuilding, it was shelled and wrecked again.
"Johnny was completely destroyed. He lost all hope. He was like a child again, and at a certain point he just gave up. He told me: 'Vera, I'm passing my sword and shield over to you, I can't do it anymore.' He worked for three years as a bureaucrat in one of the PA organizations. He had a salary. But that didn't improve his mood, and he died. He was recognized as a martyr. His coffin was wrapped in a Palestinian flag. From the time he was arrested until he died, it was a long 18 years for me in which I had to look after myself and the children."
Bagpipers and foreigners
One of the toughest problems facing Bethlehem is the major demographic shift that has taken place there over the past 70 years. Prior to the founding of the state, Bethlehem was a city of eight families: seven Christian and one Muslim. Today, according to official data, Christians make up about 40 percent of the population of greater Bethlehem (including Beit Jala and Beit Sahour). Unofficial statistics put the percentage of Christians even lower. One reason for the change is family size: The Christian families have two to four children on average, compared to six to seven children for Muslim families.
Another problem is emigration. Over the years, many of Bethlehem's wealthier and better educated Christian residents have emigrated to South America, Chile in particular. Chile currently has a thriving Palestinian community of 500,000 (out of a total population of 17 million), which plays an important role in the country's economy, politics and society. The last wave of emigration from Bethlehem occurred in 2000. Upon the outbreak of the second intifada, many Christians left and moved to Scandinavian countries.
"In my Christmas speech I appealed to them and asked them to support us," says Baboun.
So Christians are now a minority in Bethlehem?
"I object to the use of the term 'Christian minority' because 'minority' is a charged term with an ethnic meaning, and we are all one Palestinian people."
And indeed, this holiday season it seems as if the entire Palestinian people is celebrating in Bethlehem - including Muslims and even Bedouin who have come up from the south. Families with children and women clad in black from head to toe, along with Palestinians from various Western countries who have arrived for the occasion, are all enjoying the festivities in this city that so dotes on tourists. Mothers paint their children's faces red and white while the kids play with Santa Claus or Winnie the Pooh helium balloons, depending on their religious persuasion. Kids are clearly the big winners here today, and pay no mind to the way the muezzin's call mixes gratingly with the sounds of a local band playing and singing Christmas songs to the accompaniment of darboukas.
Now the morning's main attraction appears: Dozens of bagpipers and hundreds of other young musicians march along the same route that will be used a few hours hence by the Christian patriarch on his way to bless the city and the world. Two French women who came from a Tel Aviv hotel to partake in the festivities watch the endless parade of young musicians along the Bethlehem streets and are impressed with the number of Scots the Palestinians have recruited for the event. The "Scots" are actually Palestinian teens assembled for the parade from nearly every Christian elementary school and high school in the PA and Israel. For the French tourists, who perhaps expected to hear Oriental music and see a parade of camels, the spectacle of hundreds of Arab bagpipe players is wonderful, but a bit disconcerting.
But not every day is Christmas. Baboun knows that this grace period won't last long. In a few days she'll have to roll up her sleeves and really get to work.
"We have unique problems here," she says, referring to the fact that the city's unemployment rate (21 percent) is higher than the average in the PA. "Because there aren't enough work places in and around the city, the ones who are hurt the most are young women. They can't travel to work in places that are far away, like Ramallah, for instance, because that means they'd have to stay over there at night and that's not acceptable in a traditional society like ours."
How will you change this?
"We have a plan to develop tourism. In 2011, 13 new hotels were built and there's also a project for a new industrial area that's supported by the French government and should provide 5,000 new jobs."
All the hotels in Bethlehem are unable to entice the many Christian pilgrims who come to stay in town. While approximately 1,700,000 pilgrims visit there annually, the vast majority return to Jerusalem or Tel Aviv for the night. Even at the best of times, Bethlehem hotels operate at only 50 percent capacity. In addition to the recent UN recognition of the PA, in June UNESCO declared the Church of the Nativity a World Heritage Site, which might also help the situation a bit. One of the goals Baboun has set for herself is to get Bethlehem residents to feel more involved in what is happening in their city.
How will you do this exactly?
"I'll invest in the young people. They are the future. And I'll try to create a bridge between city hall and the community. Up to now the community has not had a close relationship with the mayors here. When they had problems they didn't bring them to city hall and they didn't see themselves as partners in its actions. There is no language of integration here."
Do you think there is a chance that a third intifada will erupt?
"No. Now, after the UN recognition, the political situation has changed. Now we're under an umbrella of all the nations of the world, and so the attitude toward us will be different and we won't need to turn to violence to win recognition. If we had wanted to choose violence, we would have done so a long time ago, but when [PA President] Mahmoud Abbas decided to take the path of negotiation and went to the UN, it meant that he doesn't want violence, and that's how it will stay until the final victory [of peace]."
The election in Israel didn't interest her all that much, but Baboun says she's pleased to see that three parties are headed by women.
"I hope that the women who head your parties will bring the discourse between us to another level. We're at a critical moment in our relations and a woman can work wonders. The language of a woman is different than that of a man. Blessed with female intelligence and a brave heart, a woman can really bring about change."
[Jailed Palestinian leader] Marwan Barghouti was interviewed and all the polls in the PA show that he would win the presidential election there if he were to run.
"Possibly. I think he is quite popular. But I believe in the president and I don't know what will be in the future. What I do know is that our president is working hard and doing the best he can ... I totally respect him. He represents our goal: He defined it correctly in the global context and very clearly insists on our right to exist. He is very decent and authentic."
Benjamin Netanyahu doesn't trust him. He claims that his words and actions are duplicitous.
"He always speaks in the same language and the same spirit."
Are there Muslims who aren't keen on the idea of having a woman mayor?
"I imagine there are some but the fact is that I was elected. And it wasn't only women and Christians who voted for me: Muslim men also voted for me."
As a woman, do you plan to give priority to the issue of domestic violence?
"I am aware of this problem. It is very serious. In Bethlehem there is a shelter for battered women."
It's not enough to protect women. The problem won't be solved until there's a change in the education system and violent men are punished.
"That's true. There must be a combination of the two. To empower women so they learn how to protect themselves, and also to increase the punishment of offenders. Until recently the law and the courts were very tolerant of murders committed in the name of 'family honor' and the punishments were not effective. Until there was that incident in Yata nine months ago where a fellow killed his niece.
"That evening, when it came to light, Mahmoud Abbas was sitting at home with his wife watching TV, and when he saw that he was appalled and called for the laws in Palestine to be adjusted and for punishments for family-honor killings to be toughened. He said a crime is a crime and it doesn't matter what the background is. I really hope that it will change the situation."
Where do you see yourself 10 years from now?
"Once I was at a job interview in Jerusalem and the man who interviewed me asked: 'Where do you see yourself 10 years from now?' I told him that I don't see myself anywhere, that I'm a woman who works hard for the sake of her present and that I can't say anything about the future. He didn't hire me because he said I was a woman without ambition or vision.
"After the election I saw that man in Manger Square in Bethlehem and I said to him: 'You made a big mistake. That woman without vision is now the mayor of Bethlehem. I wouldn't have gotten to where I am now if I hadn't worked so honestly and so hard.'"
It's been some time now since Baboun sat with Mahmoud Abbas at the main Christmas Eve mass. Manger Square isn't crowded as it was then, but there are still tourists from around the world - and also plenty of Palestinians.
For her part, Baboun passes through the square, which is adjacent to City Hall, many times a day. The square is important to her. It's her home, it's the face of Bethlehem.
The next four years won't be easy in Bethlehem. But Baboun goes about her job with a great deal of hope. When it comes to educating people, she knows, patience is the ticket. And persistence.
ICYMI
Ken Burns' Brilliant 'The U.S. and the Holocaust' Has Only One Problem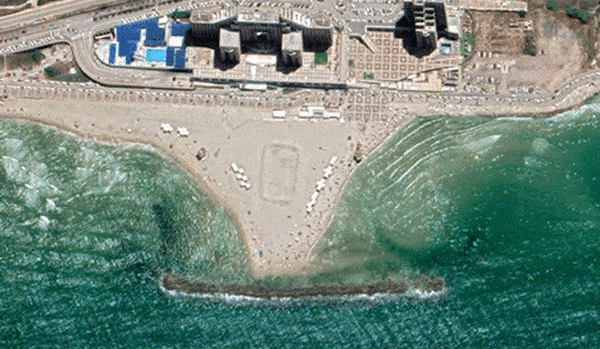 Facing Rapid Rise in Sea Levels, Israel Could Lose Large Parts of Its Coastline by 2050
Lapid to Haaretz: 'I Have Learned to Respect the Left'
The Mossad's Fateful 48 Hours Before the Yom Kippur War
As Israel Reins in Its Cyberarms Industry, an Ex-intel Officer Is Building a New Empire
How the Queen's Death Changes British Jewry's Most Distinctive Prayer