Israeli Soul Sister Chooses to Sing in English
Ester Rada's music is influenced by Ethiopian singers, Bnei Akiva classics and Lauren Hill.
"I was trembling with fear before that show," recalls Ester Rada. "It was the first time I performed my own songs, and I wasn't sure I could do it, and especially in front of such a big audience - 3,000 people! I couldn't have imagined a number like that in my wildest dreams. I didn't know if they would like the songs. I was afraid I wouldn't manage to hold the stage."
There is no arguing with feelings of insecurity, but in this case they were completely unfounded. Not only did Rada hold the stage at the InDnegev 2012 festival, she nearly set it on fire. The festival, which took place at Mitzpeh Gvulot in the Negev last October, was packed with attractions. Berry Sakharof popped in for an impromptu performance and The Biluim returned after a five-year hiatus. But the truly golden moment, in my opinion at least, was when Rada opened her mouth and began singing.
Her voice sliced through the air freely, strong and precise. Her movement onstage radiated sweetness and power in equal measures, not to mention a criminal dose of charm. Her band played with verve and joy. The songs were delightful. If there were any drawbacks to that performance, they were well hidden.
"Could it be that this is not the first time we met?" Rada sang, in the sole ballad in her performance (she sings in English ). "Could it be?" She was referring to the intimacy between a man and a woman, but it could have been exchanged for the intimacy between a singer and her audience. Yes, this was the first time we were meeting Rada, yet nevertheless there was a warm sensation in the air - rare, albeit familiar - of an initial and pleasurable encounter with a superb soul singer. How many times does something like that happen? Once a year, at best. So 2012 was the year of Ester Rada, who is also, incidentally, a budding actress.
One of the beautiful things about that moment at InDnegev - as you can see in the YouTube clip documenting that live performance of "Could it Be" - was the blend that Rada exuded between self-confidence and fragility, between a strong and stable foundation and a softer and fluttering one. The movement between these extremes made her character complete, believable, intriguing.
"Before the show I asked myself to be present," she says in an interview two weeks ago at a Tel Aviv cafe.
What does "present" mean?
"To accept what happens. Sometimes when you're onstage, little things happen that can throw you for a loop. Let's say, one of the people in the audience leaves, and you think, 'Whoa, he probably hated the show.' This time I decided I wasn't getting into that stuff. That I am truly present in what is going on, accepting all the way and giving all the way. And it worked. I think that because of it they [the audience] saw all my sides - my confidence and my insecurity."
Rada's voice stood out against the backdrop of faded voices of most of the indie singers at the festival. In addition, her carefully assembled appearance was also unusual amid the bedraggled look typical of the local indie world.
"A lot of people made fun of me," Rada says. "I forced the musicians to dress properly, too. They hated it. But I thought I have to respect the audience and dress the way you dress for an occasion that matters to you. I love clothes and I feel a lot better about myself when I'm in a pretty blouse. So it came out 'not indie.' What do I care? There was a time when I too was disheveled. I still have days like that. I'm constantly changing. I like to stay fresh."
The audience at InDnegev noticed and liked Rada's freshness and quality. At the end of her performance, people swarmed the CD stand and snapped up her new EP, "Life Happens," which is officially being released now. Rada says all 300 copies on hand were sold during the festival - an astonishing number in a reality where countless independent artists compete for the attention of a not-very-large potential audience.
I imagine you were surprised that the response to your first performance was so sympathetic. Did it change anything in the way you contemplated your future path?
"A greater fear arose. Now all of a sudden, something is expected of me. I keep reminding myself that that performance was an event that cannot be replicated. Any attempt to replicate it won't work. When I recall that show, I feel this sort of happy sorrow," she says with a smile.
The official launch concert for the new EP - her debut effort - will be on January 30 at Tel Aviv's Barby Club. Rada will host Sabbo and Kuti (Ronen Sabbo and Ophir Kutiel ), who produced the EP, and Gili Yalo (soloist of Zvuloon Dub System, and Rada's husband ), the rapper Peled, and the Haim sisters trio. Rada's EP is a lovely and short mini-album. Too short, frankly. All of four songs.
Why so few?
"First of all, for economic reasons," Rada says. "Besides, I am constantly evolving, and when I think about an entire album, I would like it to reflect that and to include lots of different elements. So I am putting out four songs now, and later on there will be another four, and maybe another two with a different producer. At some point it will come together as an album. I felt like recording and putting it out there. Not to stew too much. I stewed for enough years. As it is nobody buys CDs, and everything revolves around singles today. This seems a better method, and also very current."
"There's not a lot of groove in Israel, [but] Sabbo and Kuti are the height of groove," she says. Before working with them, Rada tried recording with various producers, but was unhappy with the results. About the duo - who also produced Karolina's breakout album, among others - Rada says: "I always wanted to work with them, but thought they were out of my league. The first concert I saw in Tel Aviv, at age 18 or 19, was theirs. I couldn't believe such things existed. I was walking on air afterward. I thought you couldn't approach them, but they are the most approachable people in the world."
Rada sent Sabbo and Kuti 16 songs, all of which she wrote, recorded only with acoustic guitar; after the producers said they liked her lyrics and voice, she asked them to select four. "I did not interfere with the selection. I relied on them absolutely," she says.
The next stage was deciding in which direction to take the songs. Or more precisely, in which direction not to take them. "I make black music, but there are loads of black soul and R & B singers who sing amazingly. Their productions are always terribly alike, and we knew we don't want to go there because we can't compete with American soul singers."
Mulatu Astatke's concert two years ago, which Rada said moved her profoundly, showed one direction in which the production of her EP could go. Back in the 1960s, Astatke crafted the sound of Ethiopian jazz and Ethiopian funk, and Rada's EP opens with a fanfare of brass instruments in an Ethiopian key that is borrowed straight from that world.
"But they didn't overdo it with the Ethiopian color," Rada says of her producers. "A phrase from the horn section here, a small role for masinko [an Ethiopian stringed instrument] there. No more. But enough for it not to sound like yet another American soul production."
You say it was very important that the songs not sound like American soul, yet you chose to sing in English. You could have sung in Hebrew, and then there wouldn't have been any problem.
"I am more comfortable singing in English. Don't know why ... It's true that I didn't want it to sound American, but I didn't want it to sound pathetic either."
Black music in Hebrew doesn't have to sound pathetic. Look at Karolina [a reference to the singer/songwriter who leads the Habanot Nechama trio].
"Karolina is not an example of anything. She's perfect. I'm not saying that anyone who does soul and R & B in Hebrew sounds pathetic. There are people who manage to pull it off - also with rap and reggae. If I feel someday that I want to sing in Hebrew, I'll do it. In the meantime it sounds cooler to me in English. There is distance of some kind when I hear myself sing in Hebrew. Maybe it's something in my head, which is groundless."
'What radio?'
Ester Rada was born in Kiryat Arba in 1985. Her parents and older brother immigrated to Israel the previous year from Ethiopia, and arrived there "courtesy of the State of Israel," Rada says cynically. Her parents divorced when she was 3 and she has hardly seen her father since. Her mother worked most hours of the day, her brother (five years her elder ) was at a boarding school, and she spent most of her childhood alone. For a good part of it, she sang. At home she heard Ethiopian singers such as Mahmoud Ahmed and Aster Aweke but opted to flee her roots, only recently returning to them and trying to sing in Amharic.
What did you sing as a child?
"A lot of music of the outside."
What does that mean - songs from the radio?
"What radio? We were in Kiryat Arba. We didn't listen to radio. I sang songs that we learned in Bnei Akiva [a religious youth movement]. Religious songs. Don't ask me to sing them now, but I remember they had a lot of soul. I love religious singing of every kind - singing that is not just for the sake of singing. It's hard me for to explain. Soul singing is always for the sake of the greater thing. There is nothing that moves me more than singing or playing that come from that place."
Along with religious songs, songs of another sort began seeping into Rada's consciousness.
"Somehow, an Uri Fineman cassette found its way to me," she says. "Do you remember him?"
Who could forget.
"I wonder how I wound up with it. Maybe from the immigrant absorption center. I sang all his songs, and nobody was allowed to know about it."
Because it was secular pop music?
"Yes. Even though it didn't have the immorality of Michael Jackson's songs, which my brother introduced me to. In general, all the music that influenced me I encountered through my brother. He also bought me my first guitar."
When Rada was 10, she moved with her mother and brother to Netanya. "We had to leave Kiryat Arba some time, and it's fortunate that we did. The State of Israel, which as you know is far from racist, gave my mother three options: Netanya, Kiryat Gat or Rehovot. My mother asked my brother and I which we'd prefer and we said Netanya.
"For me Netanya meant MTV, first and foremost," she continues, adding that if in Kiryat Arba she and her brother had to listen to Michael Jackson in secret, in Netanya they could plug into black American music at full volume. Rada recalls sitting in front of MTV and waiting for clips of her favorite singers, Erykah Badu and Lauryn Hill. Her brother would come home from boarding school with the heaviest hip-hop.
"Later on he suddenly switched to Shalom Hanoch and Eviatar Banai, and I, as always, learned from him," she says. "Eviatar Banai's first CD - I couldn't stop listening to it. It had that thing I was talking about earlier: a connection to something greater. And that was before he got religion."
Rada debated whether to enlist in the army, and in the end auditioned for a military entertainment troupe. She sang the only two songs she knew how to play on guitar: Korin Alal's "Ein Li Eretz Aheret" and Ofra Haza's "Tefila." The panel of judges, among them Idan Raichel and Rami Kleinstein, gave their approval and she was assigned to the Israel Defense Forces Ground Forces Command troupe.
Thoughts on racism
Rada loved the little troupe in which she served, but hated the culture that prevailed in the wider circles of military entertainment troupes. "I didn't get along with the competitiveness among the singers," she recalls. "I am very competitive, but this wasn't a competition over ability, but rather something else - competition over where you came from. It was like social classes: There were the ones who came from Thelma Yellin [a performing arts high school in Givatayim], and the ones who were on 'Kochav Nolad' [the local version of "A Star is Born"]. I came from the street, and on the street there are no victories. So I didn't compete and I was pretty much an outsider."
When she was in the military troupe, Habima put on a production of the musical "Halahaka" ("The Troupe" ), about an IDF entertainment troupe in the 1970s. "Everyone went to the auditions except me," she says.
Why didn't you go?
"I didn't think there was anyone I could play. It's a remake of [the 1978 film] 'Halahaka.' What do I have to do with it? I don't recall there being some Ethiopian girl there. If they do a remake of 'The Cosby Show' - do you think Bar Refaeli will go to an audition?"
Not long afterward, however, Rada bumped into Idan Raichel, who told her Habima was seeking an Ethiopian for "Halahaka."
"Someone I know told them that they ought to take an Ethiopian for the role Gali Atari played in the film, and they were convinced," Rada says. "I auditioned, got in and went on from there. Suddenly I had become an actress."
Did you think you would be an actress? Had you dreamed about it the way you had dreamed of singing?
"No. But if they give you - you take. If people think that I do something well, why not? I preferred it to being a salesgirl in a shoe store."
Rada did not attend drama school, and is only now beginning to shake off her feelings of inferiority as a result. "You feel at first that you have nothing to lean on," she explains. "Only now I call myself an actress. I have been doing it for seven years ... It's not that the insecurity is gone. It will remain there forever."
Do you feel it in music too - insecurity because you didn't study professionally?
"A bit. Especially in relation to musicians, people who studied theory and talk about such and such a key. But I found a way to deal with it. I have my voice, and I can make use of it. I realized this only lately. In general, a lot of things have been changing and becoming clear to me recently. Only now am I managing to enjoy acting. For years it was suffering, just work. It was like psychotherapy for which I wasn't ready. Today I am."
But Rada's ripening is not necessarily in sync with the straitlaced casting policy of some local theaters. "There are many roles I cannot play," she says. "I cannot be, for example, the little rich girl. I do not fit the stereotype. It shouldn't be this way, in my opinion. The moment you put things in squares, then where's the art? Art should be every color, always."
Are there directors who go against the stereotypes?
"There are a few righteous souls. In the film 'Kirot' (aka 'The Assassin Next Door' ) [by writer/director Danny Lerner], I played a small part as some crook's girlfriend ... Also on 'Meyuhedet' [a TV police series] they didn't follow the typecasting."
Rada can currently be seen in the Haifa Theater's production of David Mamet's "Race," directed by Moshe Naor from a translation by Yosef El-Dror: "It talks about racial tension in America, and I play a black intern at a law firm owned by a black attorney and white attorney. They handle a rape case of a black girl, and it shakes the firm. We had many conversations while working, and I learned a lot. This subject of race - there isn't enough [discussion of] it. It won't end ... This play makes you think. I like it when things get me thinking."
What thoughts did you have?
"[The play] illuminated several things for me. Racism is a terribly big word, but when you delve down to its root - it's just fear. Fear of a person who is different from you. Working on 'Race' clarified this for me. I won't say this realization made racism less awful, but it changed the way I treat it. It was always a monster, and now it looks to me more like a weakness. Somehow it managed to assuage my anger a little."
ICYMI
Ken Burns' Brilliant 'The U.S. and the Holocaust' Has Only One Problem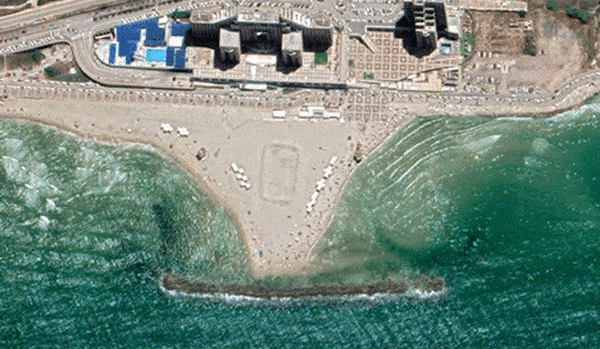 Facing Rapid Rise in Sea Levels, Israel Could Lose Large Parts of Its Coastline by 2050
As Israel Reins in Its Cyberarms Industry, an Ex-intel Officer Is Building a New Empire
How the Queen's Death Changes British Jewry's Most Distinctive Prayer
Chile Community Leaders 'Horrified' by Treatment of Israeli Envoy
Over 120 Countries, but Never Israel: Queen Elizabeth II's Unofficial Boycott