Livni Talks to Haaretz About Politics, Economics, and the 'Greatest Tragedy Facing Israel'
She befriends tycoons and isn't ashamed of it, would reward Haredim for cooperating, and says peace matters more than prices.
Tzipi Lizni has come a long way from her Betar roots, the Zionist youth movement embraced by her family and home. This is a woman whose mother was the subject of one of the most famous songs of the Etzel pre-state underground militia; the same young politician who started her career under the wings of the neo-liberal Finance Minister Benjamin Netanyahu.
These days, Livni is waving the peace process flag. Peace, says the former leader of Kadima, trumps issues of socioeconomics, which might explain why, just days before the election, the economic stance of her new party Hatnuah remains ambiguous.
Q: How do we deal with the NIS 39 billion budget deficit?
A: We have to change the national list of priorities, and the way you do this is reaching a political settlement. Doing so would save the more than NIS 1 billion per year that is currently being invested in isolated settlements. It would also allow for NIS 5 billion to be cut from the defense budget. We also should reduce all the payments that go only to the ultra-Orthodox, like child allowances that were increased in both 2009 and 2011.
We will also need to raise corporate taxes, which Netanyahu actually reduced. The current rate of corporate tax is 25 percent, and in my opinion an additional rise of one to two percent is possible. I'm against increasing taxes for the middle classes, as well as blanket cuts."
Q: What about estate tax?
A: I'm against estate tax. I oppose it on moral grounds, unless it is imposed on very high amounts, but then its collection won't help the budget. I also think that there are people who save a fortune in their lifetimes in order to pass it down to their children, not to spend it, and we need to respect that."
Q: What about higher taxes for the rich?
A: We need to raise taxes on the rich, but we have to make sure that the cuts don't seep through to the middle class. I haven't done the exact calculations of how much they should be raised.
Q: You were at the center of the government's privatization program. In retrospect, was this a mistaken policy?
A: I worked as CEO of the Government Companies Authority under Netanyahu, and he really did want to privatize everything that moved. I argued with him over some things. For example, Netanyahu wanted to privatize the National Water Carrier. I rebelled, not at a legal level, but a theoretical level. I was forced to call upon the then Attorney General Elyakim Rubinstein. After he presented all the legal arguments and Netanyahu refused to listen to him, he told him: 'Mr. Prime Minister, you don't sell your mother.' Which is how we didn't sell the National Water Carrier, or the Israel Electric Corporation.
Draft everyone
Q: What is your position on Haredim sharing the burden of national service?
A: I think that every citizen should be enlisted into military, civil or national service at the age of 18.
Q: So you would have abolished the Tal Law, which exempted ultra-Orthodox from military service?
A: I would abolish the Tal Law. I remember the moment I took my kids to the induction base, when suddenly the sign changed and I saw my child's name on the wall, and I knew I was part of a group that serves, and others weren't. I know there are those that argue that from an economic standpoint it makes more sense to release them from the army and send them to work. I'm unable to do this. It's not just, it's not right, and it's not proper."
Q: Would you pay a high price to the Haredim in exchange for their support in the peace process?
A: Yes, I would. I'm not going to haggle over what I'm willing to pay to reach peace, but I have a willingness to move forward with them, provided that I'm able to continue negotiations. I think we need to do two things. First, we need to reach a peace agreement. If we need to wait when it comes to socio-economic changes in order to bring about peace, then I'm willing to wait. In retrospect, it turns out Netanyahu bought them first, and paid double. The second thing is social reform – sharing the equality burden, the constitution, the definition of the state of Israel as a Jewish, democratic state. My first disagreement with Shas was over the appointment of judges to the rabbinical court. I asked to appoint judges from the national-religious Zionism stream.
It was possible to do both of these things if a Zionist political group had formed. The problem is that the deal we have here isn't kosher: the extreme-right is allowing the Haredim to shirk the burden in return for their help in stymieing the peace process. This is the greatest tragedy facing Israel."
It's all connected
Q: Maybe the problem is that you're dealing with the security issue again, at the expense of socio-economic issues?
A: I think that everything is connected. The idea that the whole world will hold its breath until we finish fixing our socio-economic issues is wrong. We are going to get to a point where a process is going to be forced upon us, from outside, or else the settlers are going to take us to the point of no return. And while we are fixing society, they will continue transferring money to settlements. We live in a country without borders, where money goes to bad places, and because of this deal, which isn't kosher, we don't even have a core curriculum for our schools. What do you think the economy will look like in Israel with the isolation, and international boycotts on Israeli products? We can't disassociate these things.
Stop scapegoating the rich guys
Q: What are your thoughts on the economic concentration in Israel?
A: I think it's completely out of control. I really don't like what happened after the social justice protest, which suddenly took a 'let's hate the tycoons' turn. I think that tycoons are part of the system. We need to fix the system, not hate the tycoons. And the system really has been repaired with the Economic Concentration Committee, which should advance it.
Q: Do you have social ties to tycoons?
A: Not at the close friendship level, but I met them at some events.
Q: You were leader of the opposition with the tremendous power of 28 seats. But there wasn't much action. Do you think that you can do more with eight seats?
A: I'm not coming from above with 28 seats. I'm starting from scratch in some ways. And I've come to the conclusion, first and foremost at a personal level, that I couldn't live with myself if I didn't return and try to move negotiations toward a peace process forward. I couldn't live with myself if I sat on the sidelines, thinking about my own affairs, and just pretended everything – except what happened to the country – would be okay. So I came back.
The problem with Kadima in the opposition was that a very large group in the party didn't like the fact that I went to the opposition, and in some cases I didn't force my position upon them."
Q: This time too your eight seats are also a very heterogeneous group.
A: I also learned some lessons. This time I chose the people myself. With each and every one of them, I had a discussion in order to make sure that even if we didn't agree on everything, we were at least on the same page, or on the same chapter.
Q: And what about Amir Peretz, whom you invited, and who is known for bucking authority?
A: I'm not afraid of strong people standing beside me, as long as we have a practical discussion between us.
Q: Does the split between the center parties not guarantee that Netanyahu will be re-elected as prime minister, and stay there for many years?
A: I'd like to say no, but sadly, at the moment, I haven't managed to create a blocking bloc.
Q: Maybe you didn't succeed because you weren't prepared to be number two, three, or four?
A: There was no debate over who would be what number.
Q: Would you agree to be number three?
A: I'm not answering that question for a simple reason I could deliver a speech about why when a candidate for prime minister is presented, it is appropriate and desirable for them to have had some experience in decision making."
In other words, you didn't agree to be number three.
A: The answer is that you're mistaken. And after what I said about the importance of experience, I will tell you that I didn't ask to be number one. We didn't reach this discussion, because the partners that negotiated [referring to Livni's recent meeting with Yair Lapid and Shelly Yacimovich to discuss possible unification of their individual parties] didn't have any interest in cooperating.
I suggested notifying the public that we're establishing a government that will advance the peace process, the equality burden, and economic and social issues. That we will ask the public to vote for one of us, and then we'll agree on a candidate, using whatever method they want. That none of us will serve as fig leafs for a Netanyahu government if he's elected. And, most importantly in my opinion, that the day after elections we would reach a joint decision – that either we all go into the opposition, and then have a terrible government here, but it will fall quickly, or we all impose a national unity government. Unfortunately, the other two don't see themselves as part of the bloc. And then they used the meeting as a platform for their political spin at my expense."
Q: Will this failure, whoever is to blame for it, increase Netanyahu's chances of re-election?
A: The answer, unfortunately, is yes. Unification could have created an alternative government, or at least a unity government. They refused to do this, and unfortunately this is the result.
Click the alert icon to follow topics:
ICYMI
Ken Burns' Brilliant 'The U.S. and the Holocaust' Has Only One Problem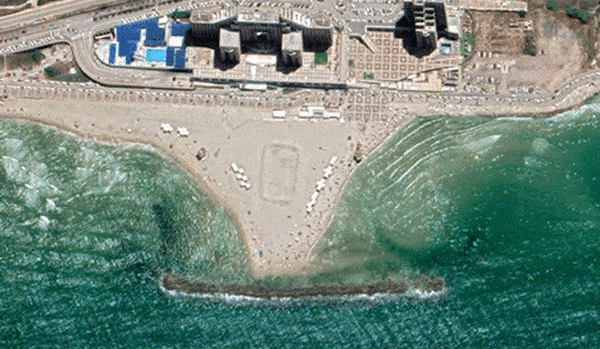 Facing Rapid Rise in Sea Levels, Israel Could Lose Large Parts of Its Coastline by 2050
As Israel Reins in Its Cyberarms Industry, an Ex-intel Officer Is Building a New Empire
How the Queen's Death Changes British Jewry's Most Distinctive Prayer
Chile Community Leaders 'Horrified' by Treatment of Israeli Envoy
Over 120 Countries, but Never Israel: Queen Elizabeth II's Unofficial Boycott