The Long-lost Daughter of the Father of Israeli Art
A new exhibition sheds light on Boris Schatz's unknown daughter and threatens to revive a feud between the Jerusalem and Tel Aviv schools of art.
A Pandora's Box usually opens without warning, when no one is ready. In most cases it happens through outside intervention that rips off the cover of a family's tranquil existence. The Pandora's box of the Schatz family is no different. It all started two and a half years ago, when Dan Pe'er, a media man and relative of Angelica Schatz, received a peculiar email message. The writer was a woman called Michaela Sidenberg, a curator at the Jewish Museum in Prague.
A painting attached to the email depicted a colorful Yemenite boy, done in a style often used by European artists to capture children of the East. Sidenberg wanted to know if Pe'er knew the painting and whether he had information about the artist, Angelica Meerson Schatz.
Pe'er was taken aback. He did not know the curator and had no idea how she had reached him. However, he knew Angelica Schatz well: she was the daughter of Boris Schatz, the legendary founder of the Bezalel – Academy of Arts and Design, Jerusalem, and his father's step-grandmother.
"The curator found the painting in Prague," Pe'er recalls. "She didn't know who the artist was. The picture was faded and muddied, including the signature, but she liked it and had it restored. The restoration revealed the artist's name: Angelica Meerson Schatz. (Meerson was her first husband's name.)
"It later turned out that the painting had been looted during the period of the Nazi occupation from a man named Weiss, who was sent to Theresienstadt," he adds.
In 2006, the Israel Museum in Jerusalem held a retrospective exhibition to mark the centenary of the founding of Bezalel, titled "Boris Schatz, the Father of Israeli Art." The curator, Yigal Zalmona, had done research on the period for the exhibition.
Pe'er: "I found it very strange that there was an exhibition of all the works of the Schatz family, but without so much as a hint about Angelica. I called Zalmona and told him that my family has paintings by her. He said that it was very interesting and he would come to see them when he had the chance, but he disappeared and I went on with my life."
Four years later, Sidenberg came to Jerusalem to trace the footsteps of Angelica, the artist who painted the Yemenite boy. She returned to Prague none the wiser.
Most of the people she met didn't know that Boris Schatz had a daughter from his first marriage. But all of them knew about his other two children, Bezalel and Zahara, from his second marriage. Zalmona was one of the few who knew about Angelica.
"I have known about her works and about her correspondence with her father for 30 years," Zalmona says. But that knowledge wasn't enough to induce him to go to Pe'er's grandfather's house to see Angelica's paintings and add them to the retrospective at the museum.
"When the curator from Prague met with him, he remembered there was a bothersome fellow named Pe'er who once spoke to him about Angelica, and luckily he kept my email," Pe'er says. "After she returned to Prague, she wrote to me and raised the whole subject anew."
Sidenberg informed Pe'er that she could not find any information about Angelica, and asked for his assistance. Pe'er was happy to oblige. Googling the name sent him to the Angelica Restaurant on Schatz Street in Jerusalem. A site showing the Schatz family genealogy wasn't very helpful, either. "It indicates that he had a daughter who disappeared in the wake of her parents' divorce, and that's all," he says. "Schatz's other children have a page with all the paintings they did they were both artists but Angelica does not exist, either as a person or an artist. I found it very odd. I decided to make a thorough investigation of the subject – I am very sensitive to injustice. I bought a camera, because I thought there was something here that was worth uncovering."
The only meaningful link Pe'er found on Google led him to Dr. Doron Lurie, a curator and the chief restorer and laboratories director at the Tel Aviv Museum of Art. "Three years ago I was the curator of an exhibition for an artist named Albert Rubin, at the Museum of Art, Ein Harod," Lurie says. "Rubin was a student in the first graduating class of Bezalel. I learned about Angelica while doing the research and mentioned her in a couple of sentences in the catalog. That's why my named leapt up in Google, as though I were the greatest expert on Angelica and the Schatz family, which is utter nonsense."
When Lurie heard Pe'er's story, he almost fell off his chair. Or, in this case, ladder and not only metaphorically. He was perched atop a high ladder in the Helena Rubinstein Pavilion at Tel Aviv Museum of Art, doing an inventory count of the museum's collection of porcelain and glass, when the mobile phone in his pocket rang. He wobbled a little and lost his balance. "I was on the brink of going into free fall," he says, "but I answered the phone, which was the wrong thing to do. What I heard stunned me. 'Hello,' a man's voice said. 'Are you Dr. Lurie? I am the great-grandson of Angelica Schatz.' I asked him to hold on, made my way cautiously down the ladder and said, 'There is no such thing.'
"Because if there was one thing I knew about Angelica, it was that she had no children who lived and established a family, so there was no way she had a great-grandson. He told me Angelica was his grandmother's stepmother, and that there were a few of her paintings in his grandfather's apartment. I told him, 'I will be at your grandfather's place this afternoon.'"
The catastrophe
An exhibition of Angelica Schatz's paintings opened last week at the Tel Aviv Museum of Art, but her life saga began at the end of the 19th century. She was born in Sofia, Bulgaria, in 1897, to Boris and Zhenia (née Zhermovsky) Schatz. Boris was born in 1867, in Lithuania, and studied painting and sculpture in Vilna (now Vilnius) and Warsaw. After their marriage, he and Zhenia pursued their passion for art in Paris, where Boris studied sculpture under Mark Antokolski and painting in the Académie Cormon, three years after Vincent van Gogh and Henri de Toulouse-Lautrec were students there. Angelica's parents had been married for eight years when their daughter was born. Prince Ferdinand of Bulgaria had invited them to Sofia after being impressed by Schatz's sculpture of Mattathias the Hasmonean, which he saw in Paris in 1895.
As part of Ferdinand's efforts to rehabilitate Bulgaria after centuries of Ottoman rule, he invited artists from various countries to his country. Schatz was appointed official court sculptor, with the mission of reviving Bulgarian art. He established Bulgaria's Royal Academy of Art and headed it for 11 years. It was a kind of dress rehearsal for what he would do in Jerusalem after his Bulgarian adventure.
Zhenia and Boris taught at the newly founded academy and were deeply involved in Sofia's art world. When Angelica was born, Schatz wrote in his diary: "Now my sun has risen, my soul is revived. My heart is capacious. Thirstily I drank in the warm, delightful air around me. I awoke to an atmosphere of love, and I worked, studied and created."
Yet it was also around this time that his marriage began to unravel. Discovering a gifted 18-year-old wood-carver named Andrey Nikolov in a mountain village, he brought the youngster to his home and the academy in Sofia. Nikolov would go on to become the national sculptor of Bulgaria, but long before that he and Zhenia had a torrid love affair, though not without Boris Schatz's knowledge. "But I tried to deceive myself, so I would not lose the only joy of my life," Schatz wrote. "Life was already poisoned, a polluted temple, and had it not been for the two little hands that united us, the catastrophe would have come long before," he added.
Schatz's decision to ignore the affair did not avert the catastrophe. In 1903, at Schatz's recommendation, Nikolov received a scholarship from the cole des Beaux-Arts in Paris and moved to the French capital with Zhenia and 6-year-old Angelica. Schatz was devastated. Zhenia had been the love of his life, and her departure unhinged him.
"I ripped Angelica from my heart," he wrote years later, in his last will. "That no-good for whom your mother stole you from your father, and who, after exploiting her, cast her off. Bad luck separated us from one another while you were still a small child. With grief I decided to tear you from my heart and start to live anew." Everyone who knows the story is certain that this is where it ended: that the relations between father and daughter were shattered for all time.
In 1906, Schatz immigrated to Palestine. Within two months of his arrival in Jerusalem, he opened, on Ethiopia Street, the Bezalel School of Arts and Crafts named for the chief architect of the Tabernacle (Exodus 31:1-6) and afterward an institution that became the core of the Israel Museum. Initially, Schatz's eclectic collection consisted of various objects, sculptures, pictures, weapons, corals and conches, ancient coins and medallions, skeletons and stuffed rare animals.
In 1911, aged 44, Schatz married Dr. Olga Pavzner, an art critic and teacher of art history. They had two children, Bezalel (1912-1978) and Zahara (1916-1999). There was no great love between Schatz and his second wife; at most, friendship and partnership. Schatz gradually broke with Olga and toward the end of his life developed a powerful hatred toward her. "You caused me much grief and torment during the time we lived together," he wrote in his last will. "I lost a great deal as a person and as an artist, and my nation – to which I devoted my powers – also lost much. And who knows, perhaps humanity lost, too, because I did not have the peace of mind to engage in art."
Nevertheless, Schatz did not dare mention Angelica's name at home. She and her mother were expunged from the family history as though they had never existed. Angelica thus also faded from the public's consciousness, and only Schatz's two children with Olga appear in his official biography.
Temple in the desert
In 1919, aged 22, Angelica married Robert Meerson, the scion of a wealthy Jewish family from Russia. She had previously decided to become a painter and had studied art at a German academy, probably either in Munich or Hamburg. The Meersons lived in Hamburg and afterward Paris, where Angelica pursued her studies.
In 1923 they moved to Berlin, where their only son, Vladimir-Ze'ev, was born. Pe'er discovered all this from letters he found in the national archive in Israel. There, too, he also came across extensive correspondence that went on for years between Schatz and his daughter, whose existence no one was aware of.
For example, after giving birth to her son, Angelica wrote to her father: "The birth was extremely difficult. I suffered for 56 hours. Another bit and they would have had to use forceps. The baby was born with the umbilical cord twice wrapped around his neck. It's good he started to cry by himself. He was given a few slaps and came completely to life."
Zalmona and art historian Gideon Ofrat were among the very few who knew about the letters. "I learned about them in the 1980s from Gideon Ofrat, when I started to research Schatz and write about him," Zalmona says. "I was close to Zahara, but she never talked about Angelica, and I didn't know she had existed. Afterward I understood that Schatz dictated his letters in Yiddish to his secretary, Hemda Ben Yehuda, the wife of Eliezer Ben Yehuda [the reviver of Hebrew]. She translated them into French, so the daughter would understand."
Ofrat took an interest in Angelica because of the Mattathias statue, which was displayed in the 1900 World's Fair in Paris and subsequently lost. "I tracked it around the world and by a circuitous route got to her, but only after her death," Ofrat says. "In 1980, I started to work on the history of the Bezalel Academy, for an exhibition to be mounted at the Israel Museum at the end of 1982. I spent months in the Zionist Archives, where I found the heartrending letters from Boris Schatz to Angelica. I know now that the whole story of Bezalel and Jerusalem and the Land of Israel and Zionist art all derives from the infidelity. If Zhenia hadn't left him, he would never have immigrated to Palestine."
In 1904, Bulgaria was for the first time invited to take part in the World's Fair, held that year in St. Louis. Schatz led the Bulgarian delegation; among the works of his own he exhibited was the Mattathias sculpture.
"I went to St. Louis," Ofrat says, "in the hope of finding a lead to the Mattathias, but found nothing. In that period Schatz became a Zionist. Until then he had been a Jew with a love for Zion, and no more. But he formed a connection with the chief rabbi of Bulgarian Jewry, who sent him as a delegate to the Sixth Zionist Congress, held in Basel in 1903. There he met Herzl and told him of his dream of founding a school of art in Jerusalem. Herzl does not mention the meeting in his diaries, but Schatz relates that Herzl closed his eyes and intoned, 'A temple in the desert.'
"That was the year his wife left him," Ofrat continues. "He dreamed of the Land of Israel when he was already borne on the waves of the terrible affront and scorched earth. He learned of Herzl's death when he was in St. Louis. Instead of going back to Sofia, he went to Berlin to meet with David Wolffsohn, Herzl's successor as president of the Zionist Congress, in order to sculpt him and his wife and cajole him to agree to what Herzl had ostensibly promised him. He went to Jerusalem in 1906."
Zalmona, too, considers Zhenia's infidelity the key to Schatz's activity and the reason that Jerusalem now has a renowned art academy and acclaimed museum. "Before Schatz came to Palestine, he was part of the Bulgarian art scene and had no connection with Judaism," he says. "He dealt with Bulgarian and Christian themes. The irony was that after Boris died, his son, Bezalel, who was in need of money, took his works to Sofia and arranged a large exhibition there, whose opening even King Boris attended. Bezalel wrote to his mother, Olga, of his admiration for the fellow who had helped him organize the exhibition. The fellow was none other than Zhenia's lover, Andrey Nikolov."
Lost and found
Did Schatz meet Angelica after he moved to Palestine? The letters suggest the possibility that the two met in Europe in 1911, probably in St. Petersburg, where he was visiting with an exhibition of works by Bezalel artists to raise money and recruit new students. This, at all events, is the suggestion of Doron Lurie in his book "The Lost Daughter" (in Hebrew), published in conjunction with the Tel Aviv Museum of Art exhibition as an expanded catalog and illustrated with reproductions of Angelica's paintings.
The book sums up the study conducted by Lurie and Pe'er in an effort to piece together the lost daughter's life. A second meeting between her and her father probably took place in 1925, in Palestine, when Angelica spent a few months in the country. It was most likely that, during her stay in Jerusalem, she painted the Yemenite boy the work that turned up in Prague decades later as well as a portrait of her father, Boris Schatz. She did not meet her half-brother, Bezalel, or her half-sister, Zahara, but she may have met Olga, as attested by a letter she sent from Germany after her visit to Palestine.
In the same year, 1925, the Meersons moved to Prague due to Robert's business affairs, and spent the next 10 years there. In 1928, Angelica was in Paris for a time, painting and possibly also attending the Sorbonne. In 1932, Boris Schatz died in Denver, Colorado, where he had gone with his son, Bezalel, taking items from the academy in order to raise funds to enable the reopening of the institution, which had shut down three years earlier due to financial difficulties. (The academy reopened in 1935.)
The year her father died, Angelica took part in an exhibition in Paris, within the framework of the Autumn Salon. In 1937, she won a gold medal at the Grand Prix, another Paris show. She also had exhibitions in Bulgaria and Czechoslovakia. She returned to Bulgaria on several occasions, was active in the country's cultural and artistic life, and gained recognition and esteem.
Just before Prague was occupied by the Nazis, the Meersons returned to Sofia. Angelica joined a group of female artists, published articles in the local press and became an art critic. In this period she and Robert were divorced, probably in 1940. In 1941, after the German army entered Bulgaria – which joined the Axis powers – Angelica's son, Vladimir, was sent to a labor camp. He was 18, a gifted pianist who was sensitive, odd and introverted.
He experienced a serious trauma in the camp. Local hoodlums set fire to the Jews' quarters. He was transferred out of the camp thanks to his father's influence with the authorities, but for a year shut himself up in the home of relatives and refused to go into the street. Angelica, too, was detained in a labor camp. In January 1948, according to the records of the Interior Ministry, Angelica and Vladimir immigrated to Israel. She was registered on her new-immigrant certificate as Mrs. Schwartzman. Mr. Schwartzman, who lived in Tel Aviv – at 34 Hemelech Shlomo Street – waited for her in Haifa.
No one knows whether there was a Mr. Schwartzman or not, or whether it was a fictitious marriage so she could enter the country, which was still under British occupation. In 1951, Angelica married Dan Schneider, whose second wife had perished in Theresienstadt. The couple lived with Vladimir on Basel Street in Tel Aviv, in the building that now houses the Egyptian embassy. They later moved to Raines Street, in the city center.
This is where Dan Pe'er enters the picture. Schneider, who was born in Poland, had grown-up twin daughters. One of them, Katie, who married Morris Potash, was his grandmother. Pe'er, who is 37, was born in Tel Aviv and grew up in Yavneh. His father, Shaike Potash-Pe'er, an Israeli Air Force retiree, is Angelica's step-grandson.
"She was the only grandmother I knew," Potash-Pe'er says. "My real grandmother was murdered in Theresienstadt, and Angelica raised me. She used to come to visit us. When my mother went abroad she cooked for us and bathed us. When I was married, she planned our living room and the ceramic tiles and painted all kinds of pictures, [like those] that were in her house in Europe, as a wedding present. We knew she was Boris Schatz's daughter and were certain everyone knew. It's only now it turns out the offspring of her family had no idea she was living in Israel."
Treaures in the crawl-space
Pe'er lives in south Tel Aviv with his partner, Eldar Zahourai. He studied communications and has worked on various television programs, among them the reality show "Survivor," as a content editor. Angelica's story prompted him to leave his job and devote himself to the search for her. He traveled to Bulgaria and the Czech Republic, spoke to art historians and perused archives. He is now processing his discoveries into a documentary film, his first.
Angelica lived a solitary life in Israel, almost in something of an internal ghetto. Her efforts to mingle were unsuccessful. She joined the Association of Painters and Sculptors in Tel Aviv and went on painting, but was unable to break into local art circles. The Schatz family snubbed her. She did not learn Hebrew and did not become part of the fabric of Israeli life.
"They ostracized her," Potash-Pe'er says of Schatz's children. "They took no interest. In my opinion, their mother did not want them to be in touch with her and Angelica was a lot more talented than they were."
Vladimir, Angelica's son, died or committed suicide in 1953, at the age of 30. "No one could tell me much about him," Pe'er says. "It's known he was mentally ill, classified as schizophrenic. He was a loner and behaved oddly. He walked along the railing on the roof of their home on Basel and might suddenly disrobe while walking in the street.
"When I interviewed my grandfather for the film," he continues, "I discovered he had taken Vladimir to Abarbanel [psychiatric hospital in Bat Yam]. He had a car and Angelica asked him to take her son to the 'pension,' as she called it. My grandfather didn't know and Vladimir didn't know, but when he got out of the car, male nurses appeared with a straitjacket. He tried to run but was caught and hospitalized. He died a month later. The official cause of death was tuberculosis. My aunts said it was suicide.
"He was very smart and very different," Pe'er adds. "He was brilliant at chess, astronomy, mathematics and physics. The director of Abarbanel played chess with him and always lost. But socially he barely communicated. Today he might be diagnosed as autistic."
Angelica died in May 1975, aged 78. "She didn't feel well," Potash-Pe'er recalls. "My father and I took her to the emergency room at Beilinson [Hospital in Petah Tikva]. She had tests. We were told that everything was all right and that we should wait for the discharge letter. She died in the hospital corridor. They tried to revive her but couldn't."
She was buried in Kiryat Shaul cemetery in Tel Aviv, in a family plot she had planned in advance, placed with her face to the sun. Her husband, Dan Schneider, and her son, Vladimir, are buried next to her.
"I remember seeing them at the funeral – Bezalel and his wife, Louise," Potash-Pe'er says. "They stood to the side and did not approach us. At the last minute, as they were about to leave, I grabbed them. He tried to explain himself by saying he had no money to help pay for the funeral. I told him it was all right, that our family had paid everything."
In the course of his research, Pe'er interviewed family relations, but didn't know that the important part still lay ahead. "I went to see my parents in Yavneh," he recalls.
"My father couldn't understand why I had left 'Survivor' to pursue this project," Pe'er says. "He's a military man who doesn't take much of an interest in art, and the whole thing was unclear to him. As the interview progressed he said, 'Listen, we have something of her father's in the storeroom and something of Angelica's in the boydem' [apartment crawl space]. He didn't tell me this on his own, I had to drag it out of him.
"In the storeroom we found two plaster reliefs: one for 'The Matchmaker' and another for 'Kabbalat Shabbat.' I said I was going up into the crawl space, but he wouldn't let me, for fear I would dirty the place. He agreed only after I promised to be careful. I found a box with a great many rolled-up oil paintings that had crumbled with age.
"My father said, 'Don't make a mess here, take the whole box and open it at your place.' I went home and called Doron [Lurie], who came over. We unrolled one painting after another. The past leaped to life. There were 10 large oils and all kinds of drawings. Doron jumped with joy and said, 'We have an exhibition.'
"The most moving part," Pe'er continues, "is that we found a portrait of Boris Schatz. Until then everyone thought there had been no connection between Schatz and Angelica. All the books quoted his words: 'I tore her from my heart and turned a new page.' When we saw the portrait, we realized that she might have painted him in person.
"Afterward, I went to the Zionist Archives and found dozens of letters Angelica had sent to Schatz in French and Russian. So I understood that there was a connection between them that went on for years. I had the letters translated and discovered that they'd had a tempestuous relationship. She wrote about her dream of being an artist in the Holy Land and always ended the letters with hugs and kisses to her brother and sister."
Lurie told Mordechai Omer, the late director of the Tel Aviv Museum of Art, about the newly discovered paintings. Omer immediately gave the go-ahead for an exhibition. "He said it would be Tel Aviv's revenge," Lurie says, "a proud Tel Aviv rejoinder to the Jerusalemites who appropriated Schatz for themselves."
It is difficult to estimate how many paintings Angelica left. Pe'er thinks there are about 200. There are 20 in Israel and others in Bulgaria and Germany. There are apparently more paintings making the rounds at auction rooms across Europe.
The paintings from the crawl space underwent massive restoration. Maya Dresner, a restorer of oil paintings at the Tel Aviv Museum of Art, worked on them for the exhibition.
"They were in a terrible state," she says. "Without restoration, it would have been impossible to exhibit them. The color peeled and fell off at the touch. Some of the paintings had holes in the canvas; some were missing certain sections. It was a rescue mission. Another few years in the boydem and it would have been impossible to save them."
Critics are divided about Angelica's artistic qualities. Now, long after her death, she is posthumously taking part in the wars of the Jerusalem and Tel Aviv schools of art. Zalmona, representing Jerusalem, says she was not a great artist. Zahara – who received the Israel Prize in 1955 – and her brother, Bezalel, are more important than Angelica, Zalmona says.
Lurie and the Tel Aviv school are appalled by this judgment. "She knew how to paint and how to convey light, shade and three dimensions. And she had clear, orderly brushstrokes," Lurie says. "She is the only one who did not betray her father artistically. Her father loathed modern art. He said, 'What is cubist art? One fraud hides another person in cubes and a thousand dunces jump with joy and shout, "We found the person!"'
"Lilik [Bezalel Schatz's nickname] was not a great artist," Lurie continues. "He designed decorative walls, Hanukkah menorahs and ashtrays. His tragedy was that he was a child prodigy, and that ended very fast: both the child and the prodigy. Zahara turned into a kind of graphic artist, a curiosity: tables with Perspex and autumn leaves underneath. She did not pave a road to anywhere."
She was awarded the Israel Prize.
"She never deserved it. In 1955, the young nation felt it was time to redeem Schatz's honor and the honor of the Jerusalem school, because in the 1950s the Tel Aviv school claimed that what the Bezalel academy stood for was pencil cases, photo albums with copper reliefs of Rachel's Tomb, and olive-wood camels. That was Schatz's reputation. Angelica went on painting in the classical mode until the day she died. The rejected daughter was the only one who did not betray the family legacy."
That still doesn't make her a great artist.
"She wasn't a great artist, but her brother and sister were even less great. One of the discoveries of this project, I believe, is that Schatz did not reject her and did not tear her from his heart, but sent her money, wrote her letters and received her in Jerusalem."
No offspring remain from the Boris Schatz family. Bezalel and Zahara did not have children, and Vladimir died without a family of his own. The person in charge of the family legacy and the Schatz home in Jerusalem – which is now an archive and family museum (in which Angelica is not even mentioned) – is Jimmy Levinson, 48, an environmental activist and the great-grandson of Boris Schatz's sister.
"I only found out about Angelica's story when Dan Pe'er called me," Levinson says. "My brothers and I [theater director Micha Levinson; musician Prof. Gideon Levinson; and Army Radio presenter Oded Levinson] had no connection with her.
"My parents knew her," he continues. "My mother met her a few times. I remember that when I was a boy, [my father] insisted that Lilik attend her funeral. My brothers and I were in touch with Zahara and Lilik, but the subject of Angelica never came up. We knew vaguely that there was a sister from Schatz's first marriage. It was news to me, too, that she lived and painted in Tel Aviv. My mother confirmed it. When I asked her why she never said anything, she replied, 'Because you never asked.'"
Angelica is enjoying a resurrection. Dan Pe'er says it's historic justice. Lurie sees it as a sign from above, or as a wild coincidence. "There are two women in my life," he says. "I devoted a few years to each of them and both are named Angela. The first is Angela Contarini, a Venetian woman from the 17th century, about whom I wrote my doctoral dissertation, and the second is Angelica Schatz."
ICYMI
Ken Burns' Brilliant 'The U.S. and the Holocaust' Has Only One Problem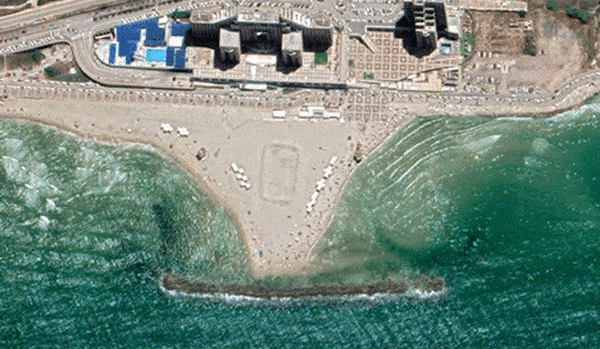 Facing Rapid Rise in Sea Levels, Israel Could Lose Large Parts of Its Coastline by 2050
As Israel Reins in Its Cyberarms Industry, an Ex-intel Officer Is Building a New Empire
How the Queen's Death Changes British Jewry's Most Distinctive Prayer
Chile Community Leaders 'Horrified' by Treatment of Israeli Envoy
Over 120 Countries, but Never Israel: Queen Elizabeth II's Unofficial Boycott