Analysis |
When Not Applauding Netanyahu, Likud Members Wonder What Happened to Arthur Finkelstein's Rosy Predictions
Despite the strategist's predictions, party members see the continuing slide in the polls and admit the attack on Naftali Bennet backfired; still, at the Likud-Beiteinu campaign launch, they all gave the PM a standing ovation.
Prime Minister Benjamin Netanyahu stood on the stage of the Jerusalem Convention Center at the end of the Likud-Yisrael Beiteinu campaign launch on Tuesday. By his side was the singer Sarit Hadad. She sang to him, "You are awesome / No one can top you / You're the greatest of them all." Netanyahu placed his right hand on his heart; his left grasped Hadad's elbow. On his face was an expression of someone thinking to himself: "What have I done to deserve all this?" Hint: His party paid the singer an estimated NIS 80,000.
Netanyahu directed his gaze at the audience. In the front row, the Likud and Yisrael Beiteinu ministers were giving him a rhythmic standing ovation as Hadad led them in song: "You are awesome / No one can top you / You're the greatest of them all." There are ministers who like the song. There are undoubtedly ministers who like Sarit Hadad. Certainly there are ministers who like Netanyahu. It's not known whether there are some who think he's the greatest of them all. But they sang anyway.
Likudniks see the continuing slide in the polls. They admit that the aggressive treatment given to Habayit Hayehudi's Naftali Bennett by the greatest of them all boomeranged. They are bursting with criticism. But at the convention center, they sang. In their hearts, other lyrics played. "It was a North Korean evening," one of them summed up.
There are only 25 days left until the polling booths open. Most of the polls give the Likud-Beiteinu ticket about 35 seats. What happened to the 45 seats that election strategist Arthur Finkelstein promised Netanyahu and Avigdor Lieberman when they forged their political alliance? Maybe they're in the White House dream of Mitt Romney - Finkelstein forecast a clear win for him, too, in last month's U.S. election.
In fact, if current polls turn out to be an accurate gauge of the January 22 election, Netanyahu will be subjected to blackmail in the coalition negotiations. He would love to leave Bennett in the opposition. That is not likely to happen. Netanyahu would also very much like to see Shas rendered powerless. In the meantime, that party is gaining strength.
Senior figures in Likud say Finkelstein has lost his magic touch. They blame him for Netanyahu's decision to appear on prime time last Saturday evening on Israel's three channels and personally lead the assault on Bennett. The results of that assault were visible in all the polls published this week: Habayit Hayehudi made gains.
Three people take part in the meetings where decisions are made: Netanyahu, Lieberman and Finkelstein, when he's in Israel. (When he's not, he is consulted via conference call. ) That's where the instructions come from. There is no right of appeal.
It's no secret that Benjamin and Sara Netanyahu loathe Bennett - who was Netanyahu's chief of staff during Likud's period in the opposition - and Ayelet Shaked (No. 5 on Habayit Hayehudi's list of Knesset candidates ), who was Netanyahu's bureau chief. The story of what happened between them and Sara, and between them and Sara's husband, has yet to be told. It would not be off-the-wall to think the idea to personally bash Bennett originated in the prime minister's home in Jerusalem.
Bibi and Sara see red when they hear Bennett - who overnight became a bitter and dangerous political rival - describe, in dulcet tones, his relations with Netanyahu. "I love him," he says in interviews. "We worked together and there was no problem between us. We will work together in the future, too."
If - and this is a big "if" - Bennett loves Netanyahu, it's unrequited love in the true sense of the word.
Wait and see
In the 2003 election campaign, Ariel Sharon - who was then prime minister and leader of Likud - decided to leave the Interior Ministry in the hands of Likud in his next government. In the outgoing government, also led by Sharon, the portfolio was held by Shas' Eli Yishai. The news was made known to all Likud activists and mayors, and gladdened their hearts. The most important and relevant portfolio to them was about to return home.
Likud won big, with 38 seats (which rose to 40 after the merger with Natan Sharansky's Yisrael Ba'aliyah party ). In the coalition negotiations, Tommy Lapid, leader of the anticlerical Shinui party, demanded the Interior Ministry for Avraham Poraz. Uri Shani, who conducted the talks on behalf of Sharon, assented. Sharon was angry, but Shani said there was no choice. Fine, Sharon said, forgetting his promise in an instant.
The present campaign is a different kettle of fish, and the coalition talks are looming like a white whale. Netanyahu will probably not be able to renege on his public declaration to give Yisrael Beiteinu the Housing Ministry and the Israel Lands Administration. But what about the Interior Ministry? We'll have to wait and see.
Netanyahu devoted most of his convention center speech to civic affairs: the cost of housing; a law for equal national service; the integration of the ultra-Orthodox in the labor market. He sounded as though he were opening the gates of his government to Yair Lapid.
Haaretz reported Thursday that Netanyahu told some Likud ministers that Tzipi Livni will not be involved in peace talks in his next government. Not as foreign minister - a portfolio he is reserving for Lieberman - and not as the minister in charge of negotiations with the Palestinians. "She conducted diplomatic negotiations that were terrible and flawed," Netanyahu told his interlocutors. In this situation, there is no place for Livni in the next government. But let's wait and see. Possibly the attack on her is part of the battle he is waging against Bennett, and after the elections it will all fade away.
Premature and exaggerated
Avigdor Lieberman concluded the glittering evening in the convention hall - held in trappings of deep blue - at some discreet place, certainly less joyful and definitely gloomier, as he was interrogated for the umpteenth time in the police-judicial farce around the ambassadorial appointment of Ze'ev Ben Aryeh to Latvia.
Lieberman received a thunderous ovation at the gala launch this week. The activists loved him. They would love anyone who positioned himself alongside Netanyahu. That's why they were bused to the event. But for Likud voters, the situation of the No. 2 candidate on the Likud-Beiteinu ticket is far from brilliant.
A Dialog poll conducted earlier this week for Haaretz presented interviewees with a number of questions about their attitude toward seven leading politicians: Netanyahu, Shelly Yacimovich (Labor ), Livni (Hatnuah ), Bennett, Aryeh Deri (Shas ), Lapid and Lieberman: Which of them cares about you? Whom do you trust on issues of security, peace talks and the economy? Whom do you believe more? And so forth.
Lieberman scored low among the general public - below Bennett - on all the questions. His real problem, though, was revealed in the analysis of the replies carried out by Prof. Camil Fuchs from the Department of Statistics at Tel Aviv University.
In answer to the question "Whom do you believe most?" 50 percent of Likud voters said Netanyahu and 9 percent said Lieberman. Asked who they trusted most on security, the economy and peace talks, the results were, respectively: Netanyahu 77 percent, Lieberman 11 percent; Netanyahu 64 percent, Lieberman 6 percent; and Netanyahu 67 percent, Lieberman 6 percent.
Asked whom they would buy a used car from, 21 percent said Netanyahu and 1 percent said Lieberman. The assumption to be drawn here is that only former voters for Yisrael Beiteinu opted for Lieberman. One possible explanation for the fact that Likud-Beiteinu is getting 35-36 seats in the polls - six or seven less than the combined representation of the two parties in the outgoing Knesset - is that traditionalist Likud voters who cannot abide Lieberman are switching to niche parties, such as Shas or Habayit Hayehudi; or to the other camp - Yesh Atid (Lapid ) and Livni's Hatnuah.
It follows that predictions that Lieberman will take over a post-Netanyahu Likud and become the acknowledged leader of the right-wing are apparently premature and exaggerated. That is certainly his goal, but he will have to go through a lengthy period of immersion in Likud. And even then he will meet a whole gallery of wannabes at the outset: Gideon Sa'ar, Silvan Shalom, Moshe Ya'alon and maybe also others who have no intention of stepping aside politely and letting him turn Likud into his home.
At the beginning of the week, simulated elections were held in Amit, a religious school for boys in Ra'anana. As expected, Habayit Hayehudi-National Union won big, with 50 percent of the votes. Yacimovich's Labor came in second (22 percent ), followed by the Likud- Beiteinu ticket (21 percent ).
It turns out that Yacimovich's relentless flight from everything smacking of the left-wing is bearing fruit. Her nod at the settlers and the absence of the word "peace" from the party's platform left a positive impression among religious kids in Ra'anana. Shelly is definitely "good" for them, as Labor's slogan asserts.
Is this surprising? Not necessarily. A diligent reader sent me clippings from two press interviews - one with Yacimovich, published in Haaretz Magazine in August 2011, the other with Bennett from TheMarker in July 2012, juxtaposed here:
Bennett: "The story that the settlements are supposedly taking the state's money is nonsense."
Yacimovich: "I am familiar with that well-known equation: that if there were no settlements there would be a welfare state within Israel's borders ... It's a worldview with no connection to reality."
Bennett: "There is good education in the religious- Zionist movement. That's because parents pay about NIS 1,000 a month for a religious high school, a yeshiva high school and supplementary studies."
Yacimovich: "A school that is located in a settlement and has X number of students would be located inside the Green Line and have the same number of children at the same cost."
Bennett: "Let it be clear that I support settlement in Judea and Samaria unequivocally."
Yacimovich: "I certainly do not see the settlement project as a sin and a crime. In its time, it was a completely consensual move."
Bennett: "We have made ourselves hostages of the Israeli-Palestinian conflict, and from dealing so much with the conflict, which I regard as irresolvable, we have forgotten that it is possible to repair the State of Israel."
Yacimovich: "I believe with every fiber of my being that the social-democratic agenda will bring about a political breakthrough and peace ... Tzipi Livni intones 'two states for two nations' three times a day - not that she is spearheading any political breakthrough. And to say 'Down with the occupation' is something Meretz does very well and faithfully. I have a different purpose."
Click the alert icon to follow topics:
ICYMI
Ken Burns' Brilliant 'The U.S. and the Holocaust' Has Only One Problem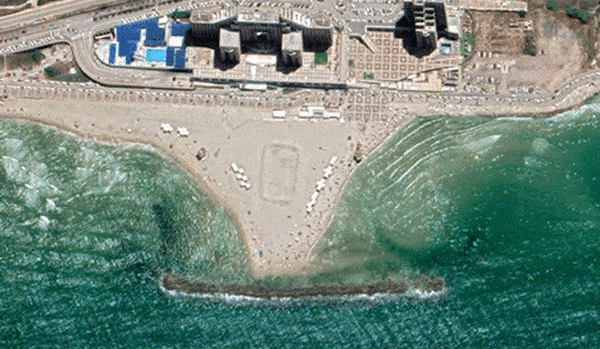 Facing Rapid Rise in Sea Levels, Israel Could Lose Large Parts of Its Coastline by 2050
Lapid to Haaretz: 'I Have Learned to Respect the Left'
The Mossad's Fateful 48 Hours Before the Yom Kippur War
As Israel Reins in Its Cyberarms Industry, an Ex-intel Officer Is Building a New Empire
How the Queen's Death Changes British Jewry's Most Distinctive Prayer