Hanin Zuabi: Annoying and Likes It That Way
The Balad party MK has made a name for herself antagonizing the majority of Israelis. She doesn't have many other tools at her disposal.
Hanin Zuabi is annoying. This isn't slander, quite the contrary. Zuabi knows she's annoying. She revels in her annoyance.
Zuabi uses being annoying as a political tool. It is the only substantial political tool she has as an Arab member of Knesset.
A member of the Balad party, Zuabi clearly takes great pleasure in annoying the majority of Israeli voters and politicians, shoving constant reminders of the occupation, discrimination against Israeli Arabs and the lack of real democracy created by both these situations down their throats with the ferocity, will and doggedness of, well – ahem – a terrorist.
And not unlike Ana, the delicate heroine of the erotic literary sensation "Fifty Shades of Grey," Israelis can't get enough of her, vilifying her but increasing her celebrity in the process, as if deriving some form of masochistic pleasure from having their Zionist nipples clamped.
Yet come Sunday, she almost had to bid farewell to the Knesset. Last week, Zuabi, the arch-nemesis of all right-wing Israelis, was disqualified by the Central Elections Committee from standing in the January elections. She was accused of undermining and acting against the State of Israel due to her participation in the Marmara flotilla, which in May 2010 tried to breach Israel's naval blockade of the Gaza Strip. Her case has been turned over to the Supreme Court, which made its decision on Sunday - today - allowing her to run. (Even if she'd been disqualified, it probably would have been overturned).
But the near-riot that transpired outside the Supreme Court last week during her appeal was a testament to the level of controversy Zuabi has been able to conjure over her tumultuous political career. As a panel of nine judges headed by Supreme Court President Asher Grunis discussed her case, a tussle erupted between right-wing and Arab activists outside the court. The right wingers – among them MK and professional provocateur Michael Ben Ari (Otzma Leyisrael) – shouted "You terrorist, go to Syria!" while the Arabs shouted "Racists!" in response. Zuabi had to be smuggled out of the court by security men after right-wing activists approached her making threatening gestures.
Zuabi owes most of her infamy to the Marmara incident, where Israeli soldiers boarded the ship as it approached Gaza and redirected it to Ashdod, killing nine Turkish activists in a violent struggle that broke out between them and the activists on board. But well before participating in what, according to the Israel Defense Forces, was an outright terrorist act, Zuabi made her own path in life. She is the first Arab woman to represent an Arab party in the Knesset, having overcome the deep conservatism of the Arab public and political parties. And this is not the only time she has earned the appellation "first Arab woman to"
Stands out like a sore thumb in her community too
Aged 43 and still living with her parents in Nazareth, Zuabi is a singular phenomenon in the Arab community too. She is a staunch feminist and firmly supports equal rights for LGBT couples, both unusual stances for an Arab member of Knesset.
She was born in Nazareth in 1969. Her mother is a math teacher and her father is a lawyer. She is also related to prominent former Israeli Arab politicians. One is Seif el-Din el-Zoubi, a longtime Arab-Israeli politician, MK and mayor of Nazareth, who volunteered for the Haganah when Israel was struggling for independence and even received a Fighter of the State commendation for his valor. During his many years in the Knesset, El-Zoubi was a member of an Arab satellite party of Mapai, representing dovish Israeli Arabs.
Another relative of Zuabi is Abd el-Aziz el-Zoubi, former mayor of Nazareth and deputy health minister, the first Arab citizen to have been a member of government in Israel.
Coming from a dovish political family, Zuabi tended to be a little more extreme. In an interview for Haaretz in 2009, she said "When I was in the sixth grade, I won a composition contest and we went to meet the president. There was an Israeli flag in the back, but I didn't know the flag and figured if that flag was important to my life I would have known it. I asked my teacher about what the flag meant, and she said 'That's the flag of Israel.' She didn't say 'your flag.' So I started looking for what represents me, and got interested in the Palestinian flag and the Palestinian people and questions of identity. The answer to my search – that I am Palestinian – I got from home." To this day, Zuabi identifies as a Palestinian, obviously irking millions of Jews in the process.
She made her official entrance into politics in 1997, under the tutelage of former Balad MK Azmi Bishara, who resigned from the Knesset in 2007 and fled Israel after being accused of passing information to Hezbollah during the Second Lebanon War. Before that, she completed a bachelor's degree in philosophy and psychology at the University of Haifa and a master's degree in media and journalism at the Hebrew University of Jerusalem. She was the only Arab student in her class.
After graduation, she taught communication in Arab schools and worked as an inspector for the Ministry of Education. In 2000, she co-founded I'lam: Media Center for Arab Palestinians in Israel, a nongovernmental organization that focuses on strengthening the voice of Arabs in the Israeli news media, together with other Arab journalists and academics.
Under the tutelage of Bishara – whom she still defends, claiming the charges against him are the result of political persecution – she refined her political worldview, strengthening her identification as a Palestinian woman and her opposition to Zionism and Israel's definition as a Jewish state. Balad, which was founded by Bishara and holds three seats in the Knesset, is similarly opposed to Zionism and a Jewish state, calling instead for a "state of all its citizens," code for rejecting the two-state solution in favor of a single state in which Jews and Palestinians have equal rights.
Crossing the line, i.e., the blockade
Zuabi first entered the Knesset in 2009, immediately making a name for herself as the first female Arab MK. She was young, charismatic and eloquent; strong minded and belligerent; an abundant and unfailing source of controversy and provocation: all the makings of an instant media star. In March 2010, after riots broke out in East Jerusalem, she called for a third Intifada – "like the first one, not the second one" – a call she would repeat in 2011.
In May 2010, she managed to royally piss off the entire Jewish population of Israel by participating in the Marmara flotilla. She stood by as Israeli soldiers attacked activists and mercenaries aboard the ship and activists and mercenaries attacked the soldiers, severely beating some.
The events that took place on the Marmara led to an international media uproar, a diplomatic crisis between Israel and Turkey and, last but not least, the cancellation of a Pixies concert in Tel Aviv.
After the flotilla incident, the Knesset held one of the most intense, loudest debates in its history. Zuabi was attacked from all fronts, by almost every member of the Knesset. MK Yariv Levin of the Likud party accused her of betrayal and called for her to be prosecuted. MK Miri Regev, also of Likud, yelled that she should leave Israel for Gaza, calling her a "Trojan horse" and saying, in Arabic, "Go to Gaza, you traitor." MK Anastassia Michaeli of the Yisrael Beiteinu party was even less courteous, chasing Zuabi to the speakers' podium and then trying to remove her from it as she tried to respond to her critics.
Nachman Shai of the Labor party was more diplomatic, saying, "I respect your views, but this is not freedom of speech. You can't, as a member of the Knesset, be on that ship, participating in this kind of action that is both illegal and against this country, which is ours, mine and yours."
Because of her involvement with the flotilla, she was stripped of some of her privileges as a member of Knesset, including her diplomatic passport. The legal case regarding her participation was closed in 2011 due to a lack of substantial evidence.
But Zuabi stuck to her guns, continuing to antagonize the majority of Israelis with a smile on her face. When Israel wanted a moment of silence during the London Olympics to commemorate the 11 Israeli athletes who were killed in a terrorist attack during the 1972 Munich Olympics, she said, "That would have made sense if Israel itself hadn't tried to hide more recent victims." This summer, after six people were killed during a terrorist attack against Israeli tourists in Burgas, Bulgaria, she said, "Israel is not a victim, it is the perpetrator. If there wasn't an occupation, this attack would not happen."
Zuabi risked not being allowed to run again for the Knesset, after a large, right-wing campaign had her (temporarily) disqualified. She was allowed to run after the Supreme Court intervened, but her initial disqualification sent a very clear message. Hanin Zuabi is currently public enemy No. 1 in the eyes of many Israelis. Her disqualification was them fighting back. But she won the round; now it remains to be seen how many seats Balad - where among much else Zuabi also fights for women's rights in the Arab community - will get in the upcoming elections.
Click the alert icon to follow topics:
ICYMI
Ken Burns' Brilliant 'The U.S. and the Holocaust' Has Only One Problem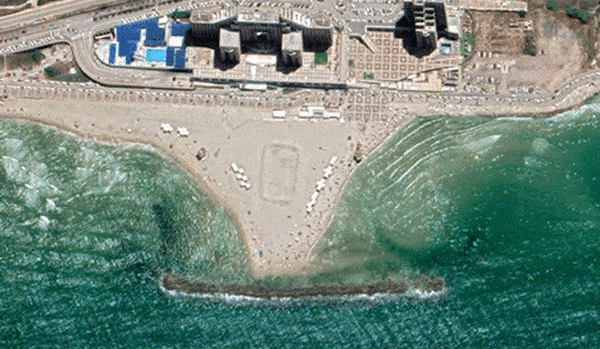 Facing Rapid Rise in Sea Levels, Israel Could Lose Large Parts of Its Coastline by 2050
As Israel Reins in Its Cyberarms Industry, an Ex-intel Officer Is Building a New Empire
How the Queen's Death Changes British Jewry's Most Distinctive Prayer
Chile Community Leaders 'Horrified' by Treatment of Israeli Envoy
Over 120 Countries, but Never Israel: Queen Elizabeth II's Unofficial Boycott