Mayim Bialik's Big Bang
She's a PhD in neuroscience who homeschools her kids, an avid blogger and an Emmy-nominated actress. What makes recently-divorced Mayim Bialik run?
Last August, before shooting began on the sixth season of the successful CBS sitcom "The Big Bang Theory," actress Mayim Bialik had a car accident. A car of Chilean tourists crashed into her car at a Hollywood intersection, and her right hand was injured. Despite suffering what she terms a "significant injury," she was back on the set the next day. On her blog a couple of weeks ago, Bialik described how she took her two sons with her to thank the fire-fighters who rescued her after the accident.
Speaking by phone with the actress, at her home in Los Angeles, we ask how her hand is. "It's better than it was," she says, "and I'm hoping that tomorrow will be even better than today. It's been three months, and I am probably still several months away from having my full strength back."
You can't see that in the series at all.
"For the first five weeks we hid it - meaning, I'm behind things, I'm holding things that block it. Episode six was the first one where I wasn't wearing a glove, where we actually showed it ... It's not terribly functional yet."
Bialik, who turns 37 next month, has been playing the piano since she was 4, and because of that, "I have strength in both of my hands."
Bialik has been doing a stellar job of portraying Amy Farrah Fowler, the neurologist -girlfriend of one of the main characters, Sheldon (Jim Parsons ), in the series, which airs on the YES Comedy channel.
"The Big Bang Theory" started out as a very cute show about four geeky male scientists and one attractive young female scientist who clearly knows better than they how to cope with everyday life. Recent seasons, however, have featured two new, nerdy women who have changed the spirit of the show and tilted it in a female direction: The apartment where the character of Penny (Kaley Cuoco ) lives, across the hall from Sheldon and Leonard (Johnny Galecki ), has become a focal point of action in the series, ever since Amy and Bernadette (Melissa Rauch ) began hanging out there - and it's no less interesting than the guys' place. Plus, the dynamic between Amy and Sheldon is terrific. Amy, a focused scientist who is terribly serious but socially inept, has a big heart and a desire for intimacy. She is a wonderful character, and Bialik was nominated recently for an Emmy Award for best supporting actress in a comedy for the role.
Mayim Hoya Bialik's family immigrated to Israel from the United States after the Yom Kippur War and lived in the Ramot neighborhood of Jerusalem; she was born in California . "I have family in Jerusalem, in [the West Bank settlement of] Etz Efraim, on Kibbutz Gezer - secular relatives. Three of my cousins live in Mitzpeh Yeriho and each have many, many children, so I have a large extended family in Israel. I've been there about a dozen times, I guess."
The great Hebrew poet Haim Nahman Bialik was her great-grandfather's first cousin: "It's one of the earliest things I remember - that I was related to Bialik. There's a couple of signed items [from him] in our family. I get in free to the Bialik Museum," she says, and laughs. "During my bat mitzvah, one of his poems was included in the program. My whole life we had framed photos of Bialik Street signs [in Tel Aviv] in our house. So, it was definitely a very big deal. Obviously in Israel our name is very recognizable."
Was your first name ever a problem for you growing up in the United States?
"It's still a problem. Having a Hebrew name is different, especially if it includes letters or vowels or emphases that are not familiar to the English tongue. But I don't have a het or resh in my name, so it could be worse, I guess. My middle name is Haya, but my parents made it Hoya, for simplicity. In Israel mayim [water] is also not a name."
Where does it come from?
"My great-grandmother's name was Miriam, and the grandkids had a hard time pronouncing the resh in the middle, so they just called her Mayam and she was known as Bobbe Mayam. And then my parents thought it was cool in 1975 to name me Mayim."
Bialik speaks Hebrew and Yiddish (as well as Spanish ), and says she spoke and sang to her boys in Yiddish when they were babies. "All of their body parts they learned first in Yiddish, just like I did when I was a kid," says the actress, who was raised in a Reform household, but has leaned toward Orthodoxy since she was at university and started participating in Jewish activities. Today she defines herself as "observant-ish": "I basically look like a lot of modern Orthodox people you know, but I work on a TV show where I sometimes have to kiss Jim Parsons. That's why I don't take on the title of modern Orthodox, but in terms of ideology and theology I pretty much sound like a liberal modern Orthodox person."
Do you think that Chuck Lorre (the show's co-creator ) might want to incorporate your knowledge of Yiddish and Judaism into the show sometime?
"No. They kind of leave my Jewishness out of it. I'm Jewish, so every character [I portray] has to be because I'm so recognizable as Jewish. Also the Wolowitz character [in the sitcom, played by Simon Helberg] is sort of a definitive Jew."
On "Seinfeld," too, they made a point of not making them all Jewish characters ...
"Right, even though we knew they all were."
Kashrut and veganism
Last week, after nine years of marriage, it was reported that Bialik was getting divorced from husband Michael Stone, a convert to Judaism who was born into a Mormon family (his mother also converted to Judaism ). The couple's two sons, Miles Roosevelt Bialik Stone, 7, and Frederick Heschel Bialik Stone, 4, are being raised as Jews, but their upbringing, according to their mother, also involves attachment parenting, observance of veganism in addition to kashrut, and homeschooling - although actually Bialik's approach is closer to unschooling (whereby the child learns through natural life experiences ). This year Bialik also published a book about her approach to parenting, called "Beyond the Sling: A Real-Life Guide to Raising Confident, Loving Children the Attachment Parenting Way." On her blog at the Kveller Jewish parenting site, she writes about Judaism, raising kids, science and the interrelationship between these subjects.
Bialik demonstrates her Hebrew skills early in our conversation, and explains that she learned to read and write the language at the age of 5 or 6 at her synagogue's Hebrew school. She adds, however, that Yiddish is really her mamaloshen (mother tongue).
For her part, Bialik has been an actress since childhood. In the 1980s, she was a guest star on such series as "The Facts of Life," "Beauty and the Beast" and three episodes of "MacGyver." In the 1988 film "Beaches," with Bette Midler and Barbara Hershey, Bialik played Midler's character as a young girl. Between 1990 and 1995 she starred in the sitcom "Blossom," but once she graduated high school and the series ended, Bialik left the acting world in favor of studies at the University of California in Los Angeles. She later earned a PhD in neuroscience. She eventually returned to acting, first doing guest appearances, before landing a steady role in "The Big Bang Theory."
Although Bialik joined the show at the end of the third season and has been a regular cast member only since the fourth, the actress is actually mentioned in episode 13 of the first season, where the character Raj (Kunal Nayyar ) says to Leonard: "You know who's apparently very smart? It's the girl who played TV's Blossom. She got a PhD in neuroscience or something," to which Leonard replies: "Raj, we're not getting TV's Blossom to join our Physics Bowl team."
Were you approached earlier to be in the series?
"No. I heard that I was mentioned, but had never seen the show and I thought it was like a game show. I auditioned with a bunch of other very talented actresses - it wasn't like they called me specifically."
To borrow (the character ) Sheldon's words, you really are the only one on the show who understands the entropic principle.
"Well, yeah. Jim Parsons says I'm the only one who understands everybody's lines. My character is a neurobiologist, so we've had a lot of scenes where I'm in the lab, a lot of dissection scenes ... I memorize things as concepts; if you're not a scientist and you have to memorize science things, you memorize them as words. For me it's so much easier to understand the concepts."
What do you like about your character?
"I like the fact that she's a female scientist who also has a social life - or wants to have a social life. She's got a lot of different dimensions, she is very confident about her scientific expertise, she's also not afraid to learn new things, she has a very interesting relationship with Sheldon ... Anything can come out of her mouth, and that's really fun as an actress."
The show continues to do really well. Do you think it has something to do with the shift, the fact that it began as a series with three guys and the one attractive girl, and now there is more of a balance?
"I think there's a lot of reasons. This is a show that really has longevity. I don't know if it's the male/female thing, per se, although I think that is interesting. I think it's also just that they [the writers] were able to keep the characters that people already loved and add more ... People don't want something new from these characters, because they love them. By adding Bernadette and Amy, you get to see different dimensions of characters you already love."
You said you like that your character is a female scientist with a social life. Is that so uncommon?
"I think a lot of times on TV we see caricatures - that's what's funny. And especially in terms of female roles we're often used to seeing kind of one-dimensional females, where a character is pigeonholed as 'the nerd.' And I think with Amy we've shown that she's totally, you know, socially challenged, but really wants to participate in all aspects of life. I think that's something that Chuck Lorre really does with these characters: He tries to give them depth, even though it's a sitcom."
'Walking the red carpet'
Despite the ambition to experience new social and sexual aspects of life, the character of Amy Farrah Fowler is such a square that she even looks angular. Her head - framed by a hairdo with a weird bit on the side - sits atop a body that looks mummified in a button-down blouse, cardigan and skirt. And she wears thick-framed glasses. At the Emmy Awards ceremony in September, however, Bialik sparkled in a reddish-orange dress, and was one of the actors who seemed happy to speak with the foreign correspondents - especially one of the Israeli ones - standing near the red carpet and trying to catch celebrities for brief conversations. On that occasion a reporter from the Philippines asked Bialik what advice she had for a girl who aspires to be an actress. "Strive to achieve something else," she replied.
Recalling that today, we asked Bialik what she meant. "I meant something in addition [to being an actress, not instead]. There's a tremendous amount to be gained from being a performer, and being an artist, and being an actor," she explains. "But I think the question was more geared toward - especially - all the influx of teenage girls that we see entering the industry, walking the red carpet and all these things. I think it's important to develop other parts of your brain, and other ... interests so that at some point, if you find yourself unemployed, you still have other things you can turn to or to be interested in."
When did you decide to move from science to the entertainment industry?
"I was in a series when I was 14 to 19, and when 'Blossom' ended, I went to college. I was away for 12 years from the industry. I had my first son in graduate school and my second son just after I got my doctorate, so I actually knew that I wanted a career that was more flexible than being a research professor, and I figured I'd go back to auditioning and see what happens. I did not anticipate that I would be a regular on a TV show, but that is what happened."
You also advise parents not to allow children to watch too much TV. Aren't you sawing off the branch you're sitting on?
"I don't tell other people what I think they should do. We don't have a TV household where our kids watch episodical television. They will at some point. Some people do that from the time their kids are 6 months old; they put them in front of the TV ... That's not what we do."
Do you have a television in your home?
"Yeah, we also have wine in our home and that's not for our kids either. We watch sports, we've seen things like the Macy's Thanksgiving Day Parade; they've watched the Olympics. They have seen episodes of 'Sesame Street.' ... They have never been to the movies. We tried to go to one of those 3D IMAX movies and that lasted about 10 seconds, before both of them started crying. I have sensitive boys."
Bialik's new book discusses attachment parenting, popularly known in Israel as the "continuum concept," an approach that stresses extreme parental sensitivity and development of close physical and psychological ties with young children.
There's no "attachment parenting police," she says, and a parent can take what he or she wants from the approach: "It's not an all-or-nothing system. The notion - especially coming from a neuroscience perspective - [is] that the hormones of our body are there for a reason. When our baby is close to us it facilitates the [activity of the] hormones that promote breast-feeding and promote bonding. Those are things that our bodies are primed to do. You don't have to be an at-home parent to be an attachment parent. There's nothing about not working that's part of this lifestyle. If anything, if you do work, these are things that can bond you to your child when you're back with them."
And now you homeschool them?
"Yeah, well, my husband is the courageous at-home dad when I'm working, but my schedule is actually pretty flexible, and I also teach in our [homeschooling] community as well. Sitting by yourself with your children - that is something most of us don't do. We have a large community, we have a scouting troop, there's a full day every week where there are classes all day held at a park; there's sports. If you can't teach it, someone else will. Our son takes a photography class, he takes French class, he takes an outdoorsy nature class. And then there's a Jewish homeschoolers' organization that I've taught neuroscience for every year since I got my degree - [at] middle school and high school.
"So it's a big thriving community, as structured as you want it to be, and it definitely doesn't look like what many people think homeschooling is. And I should add that it's fun. We have a very flexible schedule.
"Our kids can travel with us when we need to. We don't have to wake them up at 6 in the morning and get them dressed and out the door. It's a really fun way to raise them, especially in their early years. I teach our son piano and Hebrew. We don't do it every day; if you're not into it one week [you] just kind of follow his lead."
Click the alert icon to follow topics:
ICYMI
Ken Burns' Brilliant 'The U.S. and the Holocaust' Has Only One Problem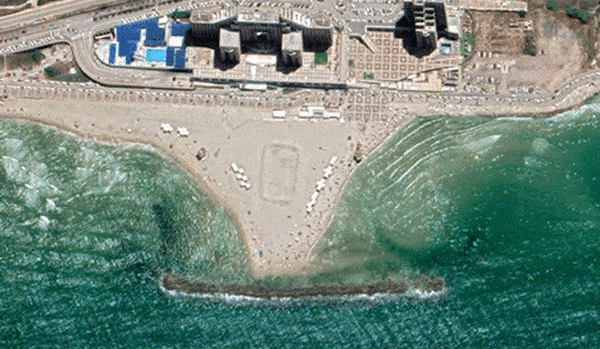 Facing Rapid Rise in Sea Levels, Israel Could Lose Large Parts of Its Coastline by 2050
As Israel Reins in Its Cyberarms Industry, an Ex-intel Officer Is Building a New Empire
How the Queen's Death Changes British Jewry's Most Distinctive Prayer
Chile Community Leaders 'Horrified' by Treatment of Israeli Envoy
Over 120 Countries, but Never Israel: Queen Elizabeth II's Unofficial Boycott