An Open Letter to Akiva Eldar: Looking Beyond the Two-state Solution
Carlo Strenger responds to his friend and colleague's retirement, and asks what can be done to ensure that Jews and Palestinians can live alongside each other in peace and dignity.
Dear Akiva.
I felt a pang of pain when I read your farewell column yesterday. You ended it saying "Having reached the age of 67, the age of retirement, I watch with trepidation as the 1967 lines fade away, taking with them the outline of a peace that is within arm's reach, the border of a democratic, Jewish and moral state - a country in which it would be pleasant to live the rest of my life. I watch with trepidation, yes - but not with despair."
I have always greatly valued your journalistic integrity and your phenomenal knowledge. And I joined you in the relentless attempt to make the two-state solution happen, because, as you wrote, you have devoted most of your professional life to an effort to keep the 1967 borders alive in the public mind.But, as you know, at the end of 2011 I came to the conclusion that the the two-state solution was dead, and I have repeatedly written about this. We argued about this many times, and you wrote a column entitled 'The Defeatism of Israel's Left' as a reaction to my op-ed entitled "We've Lost: It's Time to Think about One State" - even though you didn't address me by name because we are friends, and you couldn't reach me before publication.
In your column you wrote that the one-state solution was nothing but a mirage, and that it would never work. You warned that when Palestinians would be a majority in the greater State of Israel, they might do onto us what we had done to them, and that the country could become well nigh unlivable for Jews. And you pointed out that this state would be unmanageable, because it would not be able to agree on anything – from its name to the national hymn.
I agree with every word. As opposed to those on the radical left who believe that a bi-national state is good and just, I think that it is a recipe for dozens of years of strife, and for a demographic battle between Jews and Arabs for gaining a tiny majority in the new parliament.
Nevertheless I believe that it is my duty to differentiate between what I want to happen and what I actually think to be a likely scenario. As you wrote in a recent column entitled "American Jews are Giving up on Israel", Israel's center-left bloc is simply incapable of chipping away at the strong majority of the right-religious bloc, and that all efforts from Haaretz commentators could never counteract the power of the free daily newspaper financed by Sheldon Adelson.
In fact it is at this point misleading to talk about a center-left bloc: except for Meretz no Jewish party even wants to be called left. Shelly Yacimovich has built her platform uniquely on social issues, skillfully riding the wave initiated by last year's social protest movement. She is carefully avoiding the Palestinian issue, and in an interview to the ultra-right Radio station Arutz Sheva said that the Labor Party she leads historically isn't a left-wing party, but belongs to the center.
In other words: any politician who makes the Palestinian issue central to his or her platform is unlikely to get more than the three mandates that Meretz already has in the current Knesset.
Netanyahu can certainly take some credit for this situation: he has succeeded in convincing Israelis that there is no hurry in dealing with the Palestinian issue, because, after all, there has been very little terror during his tenure.
He can share this credit with Hamas. Israel's right-wing politicians have an almost fool-proof argument against engaging with the Palestinians: Hamas has made clear, time and again, that it wouldn't honor an agreement reached by Fatah, so why bother working towards one?
Hamas also makes sure to remind Israelis what could happen if it was to to be in charge in the West Bank, by firing rockets from the Gaza Strip - as in the last few days - strengthening the case of Israel's right. Add to this that the Arab Spring has turned into an Islamist awakening. Even commentators who are generally more upbeat about potential developments in the Arab world are now turning glum.
Proponents of the two-state solution, like us, are at this point in history bereft of a political strategy. It has become impossible to convince Israelis to take risks for peace when the Middle East is so unstable, and the potential for further Islamist takeovers is so high.
Under these circumstances, it is unrealistic to expect Barack Obama to try coaxing Netanyahu into peace negotiations again. Tom Friedman has written in a column tellingly entitled "My President is Busy", that Obama's hands are full with weighty issues, and that he is unlikely to devote much energy to work towards Middle East peace with Netanyahu as prime minister for another term. Similarly Peter Beinart, a vocal supporter of the two-state solution, has claimed that Obama does not think that it is his job to stop Israel from driving itself over a cliff.
This is why I think that the two-state solution is dead. To this day I tremble when I write this: my heart cannot yet accept the facts that my brain analyses. But ever more former proponents of the two-state solution, like columnist Nahum Barnea, are coming around to the same conclusion.
Here then, is my question to you, Akiva: if it is indeed unrealistic to think that the two-state solution will come into being, are we not intellectually and morally obliged to look at the alternative with clear eyes?
Could it be that the time has come when we have to change our thinking radically, and when we must stop trying unsuccessfully to push Israel's majority into a direction they do not want to take?
Could it be that we should begin a dialogue with figures on Israel's right like Speaker of the Knesset Reuven Rivlin, and among the settlers who genuinely believe in a peaceful and just coexistence with Palestinians?
Maybe it will work in our favor: if we present Israel's citizens with the details of a one-state solution, they might conceivably wake up. They might realize that they keep electing parties that lead them into catastrophe.
But judging from history, there is a good chance that this will not happen. For many years we have alerted to the consequences of not separating from the Palestinians. Time and again, we repeated our mantra that this would either lead to apartheid or a bi-national state, and we didn't succeed in convincing Israel's electorate.
Maybe we must start discussing ideas like Lev Grinberg's thoughtful model for an Israel-Palestine Union between two democratic nation-states divided into seven regional states. Because even if the two-state solution fails, we need to find ways to allow Jews and Palestinians to live alongside each other in peace and dignity.
I don't expect you to agree, but I look forward to continuing our dialogue and friendship.
Yours,
Carlo
Click the alert icon to follow topics:
ICYMI
Ken Burns' Brilliant 'The U.S. and the Holocaust' Has Only One Problem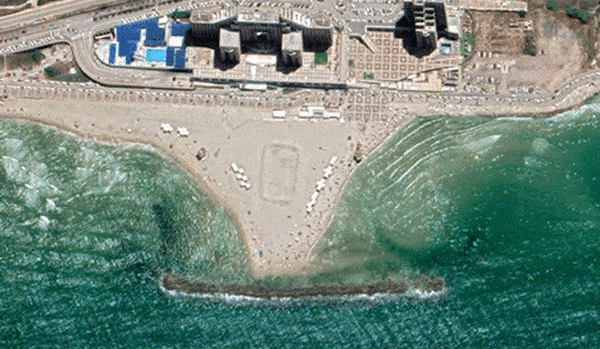 Facing Rapid Rise in Sea Levels, Israel Could Lose Large Parts of Its Coastline by 2050
Lapid to Haaretz: 'I Have Learned to Respect the Left'
The Mossad's Fateful 48 Hours Before the Yom Kippur War
As Israel Reins in Its Cyberarms Industry, an Ex-intel Officer Is Building a New Empire
How the Queen's Death Changes British Jewry's Most Distinctive Prayer