Long Island Is the New Sderot
The victims of superstorm Sandy seem to have been forgotten amongst the excitement of elections. In Israel, we have our own version of this - the southern communities living under constant threat of rockets.
Watching the dramatic events unfold in the United States through the mainstream and social media over the past week has sometimes felt like watching two completely different countries.
In one land, there was a terrible hurricane that put the presidential campaign and everything else on hold for a few days. Once it passed, everything returned to business as usual, with the campaigns running double-time to make up for the missed days.
Sure, lip service was paid to those still suffering from the storm's aftermath, plenty of expressions of sympathy, some fund-raising efforts, but overall, the sense was that everyone, particularly the national media, had quickly moved on to their regularly scheduled election coverage.
In the other land, the one called New Jersey, Long Island, and large swathes of New York City, people were - and are - still struggling for basic survival a week after Hurricane Sandy. Every day, they are promised electricity. They freeze in their non-heated homes as temperatures drop, or camp out with friends and family. They deal with hours in line to fill their cars with gas; going to work is a challenge without gas, and children were stuck at home with schools closed.
There were elderly people trapped for days on the upper floors of apartment buildings with no working elevators. And that's if they are lucky. The unlucky ones have had to deal with the emotional and financial devastation of homes and cars that have been utterly destroyed. And if things weren't bad enough, they face a second storm even as they struggle to recover from the first.
Reading the Facebook and Twitter posts of my friends and family in these areas, it seems as if many residents of that second country feel forgotten and left behind, and not a little angry and resentful.
It all feels really familiar. Their expressions of frustration echo that of residents of southern Israel - Sderot, Ashkelon, Beersheva - our 'other country.'
Week after week, month after month, we pampered citizens of the Republic of Tel Aviv busily commute to our hi-tech jobs and drive our kids to afterschool activities. We relax in front of "Master Chef", and sleep calmly. We take it for granted.
Those in the south go to bed every night without the luxury of knowing if they will get a full nights sleep, that they may be woken by a siren and a 'boom' signaling a new round of missile attacks from Gaza. Then they have to decide if sending their kids to school and heading to work is worth the risk - often they have no choice, as school will be canceled anyway, and they have to decide which parent will stay home with them. They may have electricity, and gas in their cars, but their life isn't normal. They can't drive on the highway to work without feeling jumpy, knowing that a siren means, they'll have to pull over and lie down on the ground at a moment's notice.
They are lucky if their troubles get coverage on the news - if nobody is severely injured or killed, it will likely get only a minor mention.
Instead, as our television anchors obsess about the Bibi-Lieberman union and Yair Lapid's Knesset list, these citizens feel forgotten and left behind, as well. They are desperate to be heard, and yet, even a hunger strike by the mayor of Sderot barely registers a blip.
Of course, we all know that hurricanes and Qassam missile attacks are very different problems with very different causes and potential solutions, and I'm not trying to equate them. What I see in common between the Israelis in the south and the Americans in New York and New Jersey is the feeling of being left behind, of asking: "What about us?"
This week, that feeling reached such proportions in southern Israel that university students launched a social media campaign asking for everyone in Israel to wear red clothing today (Thursday) to show their solidarity with the south.
The Facebook plea goes like this:
"Imagine this - we wake up in the morning and wonder what to wear. In the south, people wake up started by the cry "The Color Red!" and the "boom!" of falling missiles.
Choose to wear red. Go outside, and everyone will be wearing red. For 24 hours, all of us will wear red. Everyone will talk about the situation in the south, and everyone will force the leaders of our country to do something to resolve the 11 years of the "Kassam routine."
Everyone wear red on Thursday. It's easy to do and will get a important topic into the headlines - the lives of residents of the South."
I saw the message reposted on my Facebook wall several times I began wondering whether my sartorial support would really mean anything to someone who has to deal with Qassam and Grad missiles on a regular basis. It seemed so simplistic and meaningless. Does anyone believe that it is going to convince our prime minister or defense minister to do something they haven't done before?
As I went outside this morning, my Tel Aviv suburb was not awash with people clad in red. Those who launched the campaign had terrible timing. They clearly didn't have the budget to launch a large-scale mainstream media campaign, so they have tried to do it through Facebook and Twitter and hoped that it would gather steam. The attempt would have been more successful in a regular week: the social media campaign might have been picked up by newspapers and televisions to bring it to a level of awareness where people would be walking the streets in red to start conversations about it.
But in a week like this, it has no chance. The Israeli media has hopped a plane to watch the U.S. elections play out. It was impossible to catch even a local weather report on television on the evening news for the past two days, with the airwaves fully booked by happy Israeli correspondents in Boston and Chicago reporting on the Obama victory. Whatever time is left is taken up by the local political tap-dance as the parties position themselves for the January elections.
After years of being stoic, it seems the residents of the south have had enough of being of their physical and mental well-being taken for granted as collateral damage in Israel's game of chicken with Hamas in Gaza - they want to be seen and heard, just like the residents of New York and New Jersey do right now. The "wear red" day is supposed to culminate in a demonstration at a place where people notice what happens - the Azrieli Towers in downtown Tel Aviv.
I wish I could do more to help my fellow citizens in the south, just as I wish I could do more to help my friends and family in New York and New Jersey. Red isn't exactly my color, and the gesture seems as symbolic as hitting "Like" on Facebook. But since it sends the message that at least I'm paying attention and listening, I'm wearing it today.
ICYMI
Ken Burns' Brilliant 'The U.S. and the Holocaust' Has Only One Problem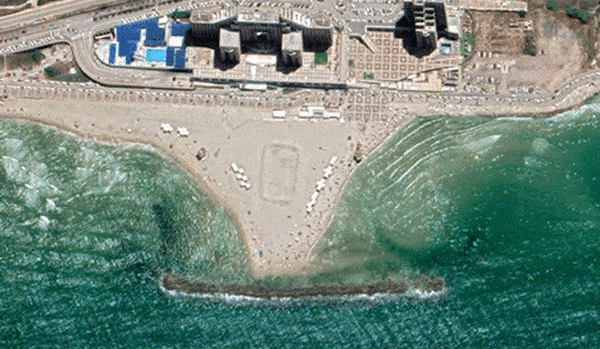 Facing Rapid Rise in Sea Levels, Israel Could Lose Large Parts of Its Coastline by 2050
As Israel Reins in Its Cyberarms Industry, an Ex-intel Officer Is Building a New Empire
How the Queen's Death Changes British Jewry's Most Distinctive Prayer
Chile Community Leaders 'Horrified' by Treatment of Israeli Envoy
Over 120 Countries, but Never Israel: Queen Elizabeth II's Unofficial Boycott