How the Irish View the Israel-Palestinian Conflict
In his debut documentary, Ithamar Handelman Smith captures the vociferous albeit not surprising views of Northern Ireland's Protestants and Catholics with respect to the situation of Palestinians in Israel.
In the first part of the documentary "Shalom Belfast?" the filmmaker Ithamar Handelman Smith comes to visit what he calls two of the shadier pubs in Belfast. Alongside the flags of the United Kingdom and of Northern Ireland, a number of Israeli flags are on display. They seem to generate great enthusiasm from the patrons.
"I was shot three times and blew up twice. They blew up my car and I lost a child at 5 years of age," relates one of the people at the bar, Steve Mailin. "They blew my car up, killed my child and it turned me nasty. Then I went to ..."
"To avenge [his death]?" asks the interviewer, and Mailin nods.
When Mailin is asked about the understanding the loyalist Protestants like himself in Northern Ireland evince for Israel, he explains: "The vast majority of that community could sympathize with Israel. Israel is an example for the rest of the world, and I think all Israelis are brilliant people ... I will die for Israel, if needed, not a problem. The only place that I can put close to my heart would be Israel, because it is oppressed, nobody likes them, and nobody likes us."
When Handelman Smith directs his camera at the other side - at extremist Catholics - their support is for the Palestinians. Extremists on both sides of the violent and long-standing conflict in Northern Ireland who choose to take sides in the Israeli-Palestinian conflict repeatedly mention the similarities between the two hate-filled clashes.
"Shalom Belfast?" was screened last week at the Tel Aviv Cinematheque and will be broadcast tomorrow (Saturday evening ) on Channel 8. Israeli-born Handelman Smith, a journalist and writer, began working on the film, his first, three years ago when he moved to the capital of Northern Ireland. His wife got a job with the British Council there and he joined her.
"Ever since I was a child, I loved certain Irish bands, like the Pogues, and I romanticized Ireland," he related, in a recent interview in Tel Aviv. "I was interested in the idea of a Western European country that's still stuck in a civil war and a conflict that is somewhat reminiscent of our own conflict. I was interested in the idea that the Irish Catholics are like the 'Palestinians of Europe,' at least in their own mind: an occupied people, robbed of its land and rights, with very strong anti-British sentiments. But I also was anxious because I had never been there and it was clear to me that this place wouldn't be like it is in books and the records of my youth."
In July 2009, he left a broiling-hot Israeli summer and landed straight into a particularly chilly Irish day.
"We landed on July 11 and took a taxi through some especially tough neighborhoods. We saw all the graffiti and the flags and suddenly I was struck by the connection between this place and the Israeli-Palestinian conflict. I immediately realized there was something I needed to research."
Belfast was covered in flags that day, among them Israeli ones. Handelman Smith had arrived in the city on the day before the most important holiday for the Protestants in Ireland, Orangemen's Day: the day they celebrate King William of Orange's victory over his Catholic cousin King James II in 1690. The Protestants commemorate the occasion date by lighting bonfires and throwing into the flames effigies of the pope, flags of Catholic Ireland (the Republic of Ireland ) - and just to spice things up, some Palestinian flags.
Journalist and writer Handelman Smith, who was born in 1976, wrote and edited for the Israeli press from the time he was 17 years old, mostly focusing on cultural issues; he also published personal columns in Time Out and Akhbar Ha'ir. Over the years he also published four books: a novel, two collections of short stories and one book of poetry (under the name Itamar Ben Canaan ). When he decided to leave Israel and move to Ireland, his friend Aviv Giladi suggested making a film about the move.
"I have always been interested in making films," he said. "I studied cinema in high school and also a bit at the university. I wanted to make a film but I didn't know about what. The moment I landed in Belfast and saw Israeli flags flying in the street I contacted my [Israeli] producers and Channel 8 and told them I thought I had a film."
According to Handelman Smith, 70 percent of the funding for the film comes from British sources; the BBC supported the endeavor along with Channel 8. He relates that the British-American documentary filmmaker Louis Theroux was a main source of inspiration for him as he went out to meet with Irish extremists from both sides - people who range on a scale from hallucinatory to scary, he says. Situations that sometimes were reminiscent of Theroux's experiences among various marginal American sub-cultures arose.
Central figure
Handelman Smith says his intention was to make a straightforward, journalistic documentary and to avoid personal soul-searching. Nevertheless, he does figure prominently in the movie: He leads the documentary journey, converses with the interviewees, argues with them, eggs them on, laughs with them, spends time with them, drinks with them.
"True, I am at the center of the film," he admitted. "After all, I am not just a journalist ... I felt I was part of the story. I encounter [the people in] this story and the film is about how I see them. This is also the angle that interested the Britons who invested in the film. The foundations I applied to in Israel for support expected me to expose my own life, but I wasn't interested in that. Today I am doing everything I can to get away from the image I once had, of a person who is always probing himself. I am tired of it; it doesn't seem interesting to me any more."
He decided that the film would be a personal account of an Israeli filmmaker who comes to Belfast and encounters the strange phenomenon of how the Israeli-Palestinian conflict is reflected in the local conflict. "I pondered a lot about how to build a story around this and in the end it was my wife, Julia Carolyn Ann [Handelman Smith], who gave me the idea: my own journey, in which I go back and forth between the extremes - and try to get everyone to like me."
He and his wife wrote the script together and devoted their whole first year in Belfast to research: "We traveled to every hole in Northern Ireland, we went around to scary pubs and looked for activists, figures whose lives we could follow."
Among the interviewees who appear are, among others, an Irish Protestant who says he feels like an Israeli, decides to convert to Judaism and dreams of moving to a West Bank settlement; a key activist in the Free Gaza movement in Northern Ireland; a Catholic who stands in the city squares wearing a keffiyeh and explaining the plight of the Palestinians; and the head of the "Protestant Messianic Peace Congregation," a church in a chilly coastal town where congregants sing songs in Hebrew, pray for the welfare of the State of Israel, its soldiers and police, and dream of moving one day to live in the Holy Land.
Handelman Smith admits that the encounters with extremists on both sides were sometimes unpleasant.
For example, the conversation with the Protestant paramilitary man Crazy Joe (the nickname for the Steve Mailin mentioned above ) was, he said, "a scary experience. Oddly enough in the Protestants' pubs - where there are supporters of Israel and people are sometimes wrapped in Israeli flags - that's where I felt more on edge. They are soccer hooligans and belong to the British National Front [the extreme right-wing party]: They hate blacks and Muslims and admire Israel because they see in it anti-Muslim might. At all those pubs, they asked me whether I had been in the army and had killed Arabs, and I admit I sometimes had to lie."
Another nerve-racking encounter was with Danny Boyle, a pro-Palestinian terrorist and former member of the Irish Republican Army, who spent 20 years in prison. "I knew he was an extremist, but I didn't know just how extreme. He was terribly violent in his speech. He said Israel had to be burned down and all the Zionists thrown out of there. I'm not a typical Israel who's not scared of anything, but Itai Lev [Handelman Smith's collaborator in the direction of the film] said to him, 'Don't talk that way. Either you talk like a human being or you leave us alone.' So Boyle asked, 'What do you want, to come to my home and drink tea?' And Itai said yes. I got nervous and I asked him in Hebrew, 'Are you crazy? They'll abduct us - this guy works with Hamas.'
"But Itai insisted and we did go to his home, in the scariest neighborhood in Londonderry, which is spookier than Belfast. In the end, only a very small bit of that conversation with him made it into the film. And a month and a half after we met with him, the guy went to prison because he was caught in a car carrying half-a-ton of explosives."
After his extensive investigative journey in Northern Ireland, we wondered, how does Handelman Smith explain the Catholics' extreme support for the Palestinians and the Protestants' backing for Israel?
"Glenn Peterson, an Irish writer I interview in the film, told me something nice," Handelman Smith replied. "When you live in a place like this [Northern Ireland], people look for a context for themselves. They want to think they are not the only ones stuck in a city that's split up according to religion and ethnic origin. They've found a parallel for themselves in Israel and Palestine, and thus feel some sort of identification with that issue.
"After the occupation in 1967, the Catholics became pro-Palestinian and there were close ties between the IRA and the Palestine Liberation Organization. So it's very clear - they really were partners to the Palestinian struggle. On the other side, the Protestants, many of whom are evangelical Christians, are by definition supporters of Israel for religious reasons. Peterson explains that ... in the Orange Lodges [an Irish Protestant fraternal organization], people believe they are descendants of one of the tribes of Israel, the lost 13th tribe. This feeling is embedded deep in their culture.
"Ultimately, Northern Ireland is a very small place, with a lot of madness, and in this sense it is also very similar to Israel," continued Handelman Smith. "In Israel we say there is hardly a single family that doesn't have someone who was wounded in a war or a terror attack. Well, it's that way there too - only there everything is on a smaller scale."
Did Handelman Smith know in advance what awaited him in Northern Ireland? "I knew but I also didn't know. I knew Northern Island is a place with a problematic past, but I also knew there is peace there - there's calm and normal life there ... [But] I was surprised to find that entire communities there are still engaged with their conflict, that there is lively activity surrounding it still. So that too, in fact, is exactly like here."
ICYMI
Ken Burns' Brilliant 'The U.S. and the Holocaust' Has Only One Problem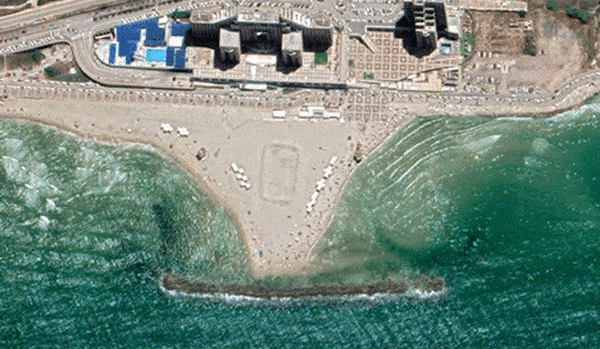 Facing Rapid Rise in Sea Levels, Israel Could Lose Large Parts of Its Coastline by 2050
As Israel Reins in Its Cyberarms Industry, an Ex-intel Officer Is Building a New Empire
How the Queen's Death Changes British Jewry's Most Distinctive Prayer
Chile Community Leaders 'Horrified' by Treatment of Israeli Envoy
Over 120 Countries, but Never Israel: Queen Elizabeth II's Unofficial Boycott