A Gentlemen's Cricket Match in Israel
Members of the British Parliament come to Ashdod for a little cricket and culture.
The honorable member of parliament from Lincoln, stripped down to his whites, is strapping on his thigh guards as he gets ready to head out to the pitch.
"Alright old boys," the honorable MP from Gloucester says.
"Up and at 'em lads!" pipes in the honorable MP for Reigate, vice president of the Lords and Commons Cricket Club, gamely cheering on his ruddy team mates, some of whom look to be fading in the mid-afternoon sun.
The British ambassador to Israel, Matthew Gould, toting a canvas bag reading "I love Rachel," and pushing a stroller with his baby daughter – the Rachel in question – around the partly grassy oval, is checking out the bowling talent. No, he doesn't play himself, but he does know the laws and what to call out in between overs. He is, after all, British.
"Well run!" he says. "Shot!"
Who is winning? How does one win? What is going on?
"I have no idea," replies an ultra-Orthodox local, as he cuts through the field on his way home from synagogue, clutching his black hat and paying scant attention to the middle-aged men in white and blue uniforms crowded around a set of stumps, known as wickets, at either end of a 22-yard stretch of baked earth.
England's beloved national game, the rules of which sometimes can seem, to the uninitiated, impossible to understand, was invented in early-16th-century Tudor times, and codified about two centuries later. Soon, it spread to all the lands where Grand Britannia once ruled. The Indians became cricket crazy. The Pakistanis turned passionate. South Africans, Australians and New Zealanders fell in love. And the West Indians went wild.
What about Israel? The Brits running the mandate in Palestine set up pitches in Jerusalem, Haifa and the Tel – Hashomer army camp, but were generally more concerned with figuring out the partition plan and protecting their white paper than explaining the difference between a sweep shot and a swing bowl to the locals. After they went home in 1948, the game's fortunes faltered – until the 1960s, when cricket playing Jews from Britain, South Africa, India and elsewhere started making aliyah with their kit in hand, reviving the scene.
The Israel Cricket Association was founded in 1968, and the Maccabi Games featured the first international cricket tournament a few years later - just as Israel was being accepted as an Associate Member of the International Cricket Conference. In 1990, Israel notched its first ICC win, defeating Argentina by one wicket in Holland. And in 1994, it did one better, beating Singapore by two wickets in Kenya.
It would be a bit of an exaggeration to say cricket has caught on in any big way in this land of milk and honey, soccer and basketball. But there is, nonetheless, a whole cricket subculture here, complete with an 18-team league – of which Young Ashdod is the celebrated champion this year.
And so it was naturally here in Ashdod that the Lords and Commons Cricket Club –made up primarily of members of the British Parliament – found itself on the third day of an Israel cricket and fact-finding tour. It's their first time here, but not the first time the team has taken its show on the road. In fact, they are fresh off their latest tour to India, where some 1,000 spectators came out to cheer as they played members of the Indian parliament, with more than 50,000 people watching the friendly match live on TV.
In Ashdod, the whole thing is a slightly more modest affair. A motley crew of local supporters – about seven in total – all Indian immigrants to Israel and about half wearing kippas and tzizit, sit in the shade and reservedly cheer.
"One Short!" they say. "Stumped" they call. And "Kol hakavod," they add, in gentle Indian accents.
"I am originally from Georgia, where we know nothing about cricket," says Moshe Botezdshvili, Ashdod's city council member in charge of sports. "But we have some 10,000 Indians in Ashdod– the biggest community in the country after Dimona, and many of them are enthusiasts." Besides, continues the proud council member, Ashdod is, as everyone knows, Israel's official "City of Sport." which means they play everything and anything here. They even have a kayak polo team.
With Botezdshvili's arrival, the cricketers stop between innings and line up along the pitch to shake hands and pose for photographs. The councilman, standing in for the mayor, who keeps the Sabbath and so just sent his regrets, hands out plastic bags to the visiting players. It's a small gift from the municipality: a visitors' map of Ashdod and a brochure on the town.
"Brilliant," says the honorable MP for Halesowen and Rowley Regis.
Kazakhstan born Alex Ozer, the only player on Young Ashdod with no connection to the Indian subcontinent, and at 24, the only truly "young" person on the team, first heard of cricket from an Indian neighbor who encouraged him to come to nets. Soon, he was giving up soccer practice to work on his drives, hooks and pulls.
"It's an elegant game," he says. "And I like the very hard ball. It could break your rib, or your fingers or your teeth. So there is a lot of adrenaline."
Although not, to be fair, in this particularly slow moving match.
John Emburey, a former captain of the England team, who finished his test career in 1995 and was asked to join the visiting group of MPs on the weekend jaunt over to Israel, presumably to strengthen the amateur team, raises an eyebrow as yet another honorable MP is dismissed.
"Good one, chaps!" he calls, with a smile.
The Lords and CommonS club are not the only team here to bring in a top player or two from outside the fold. Young Ashdod's secret weapons include two Sri Lankan foreign workers from Tel Aviv, who work as caretakers for the elderly by day, and moonlight as batsmen and bowlers extraordinaire on their days off.
"Two-Two-Two-Two" the men call out from the sidelines, apparently in reference to the number of runs they are rooting for, and then lapse back into Sinhala.
"But really, it's not about winning here or losing," emphasizes a spokeswoman for the Conservative Friends of Israel, the body which, together with the Israel Cricket Association, brought over the 17 players from Britain. 'It's about good will, and meeting people and learning about Israel"
David Folb, the founder and owner of the Lashing World XI cricket club, who got Emburey to join in and is accompanying the tour himself, is all about the goodwill. Next, he says, he is going to bring some other big name cricketers – think Pakistani Saqlain Mustaq – over to Israel to play.
"Cricket is a great way to build bridges," he says.
"Brilliant," says the honorable MP for Halesowen and Rowley Regis.
By now it's between innings, and Nigel Adams, the honorable MP from Selby and Ainsty and captain of the club, who was the brains behind this whole tour, is giving a toast.
"I don't know about you chaps, but all I can say it, this is one of the most spectacular cricket lunches I have had. A magnificent spread," he says.
"Hear, hear," respond the MPs, banging on the wooden table set up near the pitch, laden with kosher Chicken Masala and chapattis from the local Namaste restaurant, along with some hummus and schnitzel for good measure.
"I would like my team to be upstanding," he continues, as the MPs scramble to their feet.
"To Young Ashdod," they cry. "Hear, Hear."
"See, I'm telling you, this is much more fun than soccer," says Ozeri.
ICYMI
Ken Burns' Brilliant 'The U.S. and the Holocaust' Has Only One Problem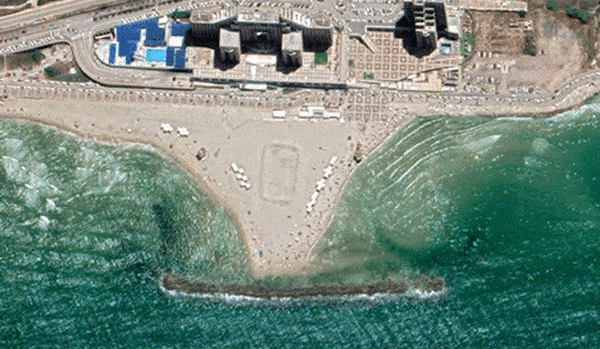 Facing Rapid Rise in Sea Levels, Israel Could Lose Large Parts of Its Coastline by 2050
As Israel Reins in Its Cyberarms Industry, an Ex-intel Officer Is Building a New Empire
How the Queen's Death Changes British Jewry's Most Distinctive Prayer
Chile Community Leaders 'Horrified' by Treatment of Israeli Envoy
Over 120 Countries, but Never Israel: Queen Elizabeth II's Unofficial Boycott