At 90, Master Violinist Wants to Bestow His Knowledge Onto a New Generation
Ivry Gitlis, one of the last of the 'golden generation' of masters, has played with everyone from Jascha Heifetz to John Lennon.
It is 1975 and the film "The Story of Adele H.," directed by Francois Truffaut, appears on cinema screens. In it, Isabelle Adjani attends the performance of a hypnotist in the hope that he might hypnotize the man she loves into coming back to her. The hypnotist, a man with a broad forehead and long, flowing hair, juggles between English and French. Afterward, he almost manages to lead Adjani astray with his smooth talk, the roguish smile that permanently lurks at the corners of his mouth, and the humorous sparkle that never leaves his eyes.
A tour through a video archive leads to a taped performance that took place seven years earlier: the historic one-time-only show of the band The Dirty Mac. The same man - with the wide forehead and ambiguous smile, this time holding a violin in his hands - plays with that supergroup, composed of John Lennon, Yoko Ono, Keith Richards of the Rolling Stones, Eric Clapton and Mitch Mitchell of the Jimi Hendrix Experience.
A few years later, this time in the living room of a spacious Los Angeles apartment, the same man, again with violin in hand, raises the bow and gives the signal to the pianist who is accompanying him to wade in. And the pianist is none other than the god of classical music, the greatest of his generation: Jascha Heifetz.
Summer 2012, Kibbutz Eilon in the western Galilee, and Ivry Gitlis is sitting on the sofa in a simple guest room sipping from the mug of coffee in his hand. The same mischievous sparkle in the eyes, the smile that doesn't leave the edges of his mouth, the broad forehead and the hair that falls to his shoulders. As if decades have not passed.
Every August, Eilon holds a violin master class called Keshet Eilon, and Gitlis is one of the instructors now as well. "It's not teaching, but learning together with them: I detest the word 'to teach.' It's so pretentious," he stresses, during one of the sessions. "When you love someone, you hug him, right?" he says to one of the young violinists, demonstrating how to properly grip the instrument.
Without warning, he stops the viola player who has come up onstage after him to play. "You got nervous here, right? Do you know why? Because you lost yourself, forgot yourself. And do you know how I know that you were nervous? Because I was nervous, too."
To another student he says, "Hold on a minute, concentrate. Do you know what Marian Anderson told me? That the most important moment is the split-second before the music starts, that pause, like the animals that are waiting and not yet devouring their prey."
Marian Anderson? The legendary African-American contralto, the one and only - is it possible that Gitlis has also worked with her? Actually, it would be difficult to enumerate the musicians and artists with whom Ivry Gitlis has worked in the course of his career as a violinist - a violinist from the era of the "golden generation" during the first half of the 20th century; a violinist who, the moment he draws the bow across the strings of his instrument, makes it seem as if the likes of Austrian composer-violinist Fritz Kreisler or Polish violinist Josef Hassid has been resurrected before us. He is the stuff of these legendary players, who saw music and sound and technique in a completely different way than musicians do today.
Before speaking about the past, during this conversation with Haaretz, he prefers to dwell on the moment: "Did you hear how she played?" he asks. "The viola player in the lesson - I took away her sheet music, and her face totally changed. She got lost, and that's how it is: A person can only find himself if he gets lost. The question is how to arrive at this condition in a concert, how to get lost. The problem starts when you start to teach people. It's like seeing a sick man walking in the middle of the night along the edge of the roof: If you leave him alone, he will make it to the other side in one piece, but if you yell at him, 'Be careful!' - he falls. When I would be told after a concert, 'You must have worked hard on that,' I knew I had played terribly."
Recommended by Huberman
Ivry Gitlis' parents, Asher and Hedva, immigrated to Palestine from Russia in 1921, and he was born in Haifa the following year, in August 1922. "How did I start playing? I simply wanted a violin, at age 4, even though I was so small that I couldn't even play it. But I decided. I chose violin, and at age 6 I began," he relates. "My teachers were Elisheva Velikovsky, a pupil of Adolph Busch, and Mira Ben-Ami, a pupil of Joseph Szigeti."
When one hears these names, one begins to understand just where this guy honed his craft: He is the product of a dynasty of the greatest violinists of the 19th century. The people around him understood that in Palestine of the 1920s a suitable teacher could not be found for him, and they sought an opportunity to send him abroad. It came when he played before the violinist Bronislaw Huberman, the founder of the Israel Philharmonic Orchestra, who was then visiting Palestine.
"I was brought to Huberman, he was on vacation at the Dead Sea. You can imagine what that means, traveling to the Dead Sea in sometime around 1930!" chuckles Gitlis. "I saw two people standing and one sitting with his legs in the water ... it was Huberman; and two days later I played for him at the King David Hotel."
Huberman was astonished at the talent and wrote recommendations for Gitlis - "and when I was 12, my mother and I began taking trips abroad [to further my career]. There were no foundations or grants then. My father held a campaign and all sorts of actors from Habima and Ha'ohel [theater companies] and other benefactors contributed money. They asked me to make the decision, if I was going to go or not - and I decided to go.
"We sailed from the port of Jaffa on a ship called the Sphinx. An Arab who owned a boat rowed us out to the ship along with two Englishmen, while my father waved a farewell to us from the shore," recalls Gitlis. "We were received with great honor by sailors in white, but when they saw our tickets, which were for fourth class, they no longer treated us so well ... Indeed, we were given a tiny cabin that had 12 berths and a minuscule window - and the smell. I cannot forget the awful smell. It helped me to imagine I was seeing my father through the window, continuing to wave. I was very much alone. I was the littlest one there. That was my experience."
Gitlis and his mother sailed to Paris to try to be admitted to the acclaimed Conservatoire de Paris. "We arrived there with 30 francs in our pockets," he says, adding that the institution was holding a competition. Afterward, the names of the winners were announced out loud. "It took me some time to understand that when they called out 'Zhitli! Zhitli!' - they meant me," laughs Gitlis.
It would be hard to exaggerate the level of general musical as well as instrumental instruction the boy and later young man received at the Parisian conservatory. Gitlis' three main teachers were among the pillars of Western music and its violin tradition: the German violinist Carl Flesch (1873-1944 ), the Hungarian Josef Szigeti (1892-1973 ), and the great Romanian composer and violinist George Enescu (1881-1955 ). Their culture and aesthetic, their discipline and the sound that reverberated in their minds were an extension of the German classical-Romantic music of the early 19th century - starting with Beethoven and then Schumann, through Brahms and his friend, violinist Josef Joachim, up to the Second Viennese School and Bartok.
The war that broke out, and France's occupation by the Nazis, forced the young Gitlis and his mother to flee. "On June 21, 1940, we sailed through the English Channel to London on the Queen Emma," he says. "It was the last ship to leave occupied France, and fortunately it was not sunk by the Germans, as were the ships that set sail before it and after it. It was a tugboat capable of carrying 500 people, on which were 4,500 Poles, Jews and clergymen; who wasn't there?
"We had a British-Palestinian passport," Gitlis continues, "and I just held onto that violin case. I'd had it with me for years, and I felt very much alone. And in London I notated on my music sheets the number of bombs that fell. On one occasion, at Wigmore Hall, I heard Bartok's sonata for pianos and percussion, and there was a knocking sound, and then a bomb, a knocking sound and another bomb - that was the year the attack on London began. All of these catastrophes, in the end, they shape who we are ..."
In London, the 18-year-old Gitlis volunteered for the Royal Air Force and worked in a factory. And the violin? "I had to continue learning on my own. It was difficult, but I think there were also advantages to it: the need to search, to understand things on your own ... and to find solutions and ideas by yourself."
'Why are we playing?'
During the war years, Ivry Gitlis' mother took ill and about a week before she passed away, in early May, she sailed back to Palestine: "Each day she sent me an airmail letter, until one day I didn't receive any more letters. I had a friend at the time who was in contact with the family and knew that my mother had died, but she did not have the courage to tell me what happened. When my worry increased, she comforted me and said that it was most probably nothing and that everything would be fine.
"And then, one day we were waiting together for the bus to Swiss Cottage, and just as I started to walk up the steps to get on the bus, she said: Your mother isn't writing because she died. It wasn't until 15 years later that I saw her grave," Gitlis recalls.
"My whole life I lived with a sense of fear," he continues. "My mother died when she was 41 or a bit more, and in the end I had to decide everything by myself: how I play, or don't play. It's like the way I live - because I have no other choice ... You play or you don't play, you live or you don't live. When I play, I don't 'play it' - I am 'it.' And I'm asked, and also ask myself, 'Why are we playing music?' What is the motivation - money? I think that Heifetz, Huberman - they didn't think about money at all, that's not what drove them. It is possible to make money if you steal more valuable items than Beethoven. So then why [do I play]? Maybe because that it is how I converse with myself. In order to escape loneliness."
Gitlis' last concert in Israel was in the winter of 2009, as part of the Tel Aviv Museum's chamber music series. Ilan Rechtman, the musical director and pianist, played Beethoven's Spring Sonata for violin and piano with Gitlis; later on they were joined by cellist Hillel Zori. And the "golden generation" of the first half of the 20th century was resurrected in the performance of the then-87-year-old Gitlis, all freedom and cheerfulness, no strings attached, without fear.
Many people were horrified at what they saw as a desecration of Beethoven's creation in the hands of this violinist.
"Sheet music is a bunch of black marks; they have no significance," says Gitlis today. "I play violin, but in order to play well you have to be much more than a violin player. There is an entire world that lives together with it, like the currents in the ocean; and in any event, often I don't use sheet music at all, but improvise.
"I've always improvised encores, and I would invent stories about them for the audience, stories that would bring me to tears. Sometimes I would inform an audience that called me up for an encore that I'd recently discovered an English composer and that I would play for them a composition of his, called 'Thinking Out Loud.' Once I got myself into a serious jam because someone in the hall, who had supposedly already heard this same composer's work at another concert, asked me to play the same piece again," he says.
And how did you get out of it?
"I announced that I would play a different composition of his."
Did you have any other composers that you invented?
"Yes, of course. In Italy, I announced that I would play the composition of another composer that I'd discovered, and to tell the truth what came into my head was a slightly unusual name: Leon Jabotinsky. Name of the composition: 'Elegy for Mortadella.'"
Gitlis rolls the Italian accent around in his mouth with spot-on accuracy that is so funny it brings the listener to tears. "Mortadella!" he laughs. "The Italian meat! But you could also interpret it to mean a lamentation for someone who died."
And what did you play?
"When I begin to improvise, I have no idea what will happen from one note to the next. I play the first note, and the door opens to the unknown."
Perhaps it has something to do with getting lost? With losing yourself?
"Maybe. And along with that you have to remember that in music, losing yourself does not mean losing control, but finding the right way."
'Romeo and Juliet'
In 1956, many years after he sailed from Jaffa to an unknown future on the Sphinx, Ivry Gitlis returned to Israel for the first time.
"It was one of the most beautiful periods in my life," he recalls. "I lived here for six months, rented a little apartment with a big porch facing the sea, and actors and friends, including Shaike Ophir, would come over and I was so happy.
"But I had to go to Rome to play in a concert, and just then the Suez war began. Nevertheless, I managed to leave the country, I traveled, arrived in Rome and played solo with the Academy of Santa Cecilia. Eugene Goossens conducted me in a concerto by Paganini. It was cold, and my heart was back in Israel, back in the war."
He refers to this same concert at the master class on Kibbutz Eilon, and also mentions the name of renowned Italian actress Silvana Mangano, who was also there.
That was the concert at which you met Mangano?
"With all of the chaos of the backstage, and the worries that were gnawing at me, I got up on the stage. I noticed that the hall was completely full, but directly across from me, in the first rows, was a large area of empty seats, and in the center, completely alone, sat a woman. I picked up the bow, she looked at me, and I looked at her - and I felt like I was playing that concert only for her. All of the audience in the hall faded away and it was only the two of us that remained. And yes, it was Silvana Mangano. The connection between us was strong and immediate; after taking my bows, I quickly returned to the stage for an encore."
And ...
"She was no longer there. She simply vanished. A few years later I was in southern France at the Menton Festival, near the Cote d'Azur. Later on in the city of Vence, a few people were sitting around, and it turned out that one of them was Mangano's daughter - and that her mother was here, in the city! She invited us over to celebrate after the concert. I made sure to bring my violin, and we arrived at her place - it was already 3 in the morning. Her entire house, a large villa, was built of marble, and I took out the violin and began to play. The acoustics were like that of a church.
"I noticed a staircase inside and I ascended the steps while playing the violin, and the house was ringing and reverberating like a cathedral. It was still dark, and suddenly I saw before me a ghost, a woman who emerged and stood before me. Silvana Mangano. I continued to play - for her. Afterward, without saying a word, we embraced, we cried - and I left. The next day, her daughter disclosed to me that her mother, who'd sat in front of me alone at Santa Cecilia, and for whom I'd played without knowing why, had recalled that incident. It was a Romeo and Juliet meeting; I've had stories like that all my life."
But of all the people he met, it was Jascha Heifetz with whom Gitlis shared a very special friendship. "I first heard recordings of Heifetz when I was 6," he relates.
This is the same Heifetz who said that Gitlis was the finest violinist of his era. But Gitlis was unaware of that when he was invited one day to a party at Roman Polanski's. "I was told that Jascha Heifetz would be there too, and I thought to myself, here's my big opportunity: Someday I'll be able to tell my grandchildren that once, in the sixth decade of the 20th century, I breathed the same air as Heifetz breathed.
Lack of role models
"We sat down to dinner. Lillian Gish was on my left and across from me, directly across from me on the other side of the table, was none other than Jascha Heifetz himself. He started to talk and I couldn't make out a single word. I just stared at him - and suddenly I realized he was talking to me. I did not yet know that he'd been following my career and that he knew everything about me.
"And what did he ask? 'What's your latest?' I didn't understand. I asked, 'What do you mean, my latest joke?' No, he answered, the latest composition that you've learned by heart? It was sort of funny, and at that moment, like with a magic wand, everything disappeared and just two people were left in the room: a violinist named Heifetz and a violinist named Gitlis. I told him my views about the immense damage he'd done to the art of playing music, because generations of violinists were now attempting to imitate him. Over the next two hours we didn't stop talking, and we arranged to meet again.
"The next morning, the telephone in my hotel room rang. I was sleeping and I ... was sure it was a friend of mine, another violinist. But then I hear a voice saying to me, 'It's Jascha, what are you doing this afternoon?' 'You tell me,' I replied. 'Come over to [cellist Gregor] Piatigorsky's house,' he said. There was a gathering there, with Mildred Dilling, who was Harpo Marx's harp teacher, and [violist William ] Primrose.
"With Heifetz it was like a love story. He was the Everest. But he was fragile and couldn't sustain this friendship for very long. And that's how I understood what material great people like him are made of. In Los Angeles we played together, and he accompanied me on piano. Heifetz accompanied me! It made me think of when I learned violin with Enescu. I was 14, and he always accompanied me, as teachers accompany their pupils. Enescu, who left the greatest impression on me; Heifetz; Kreisler; and Josef Hassid, who was a very close friend of mine when we were young, and about whom Kreisler said, 'A Heifetz is born once in 100 years, a Hassid, once every 200' - it was a privilege to have met people like this. But today's students? Who can they look to? There are no such models around today."
Students - that's the most important thing in Gitlis' life now. He travels the world relentlessly: from Eilon to Budapest, to hold master classes, and just keeps on going. His home base is a picturesque apartment in Paris, in the Latin Quarter. He says he traveled to Japan a few months ago to mark the one-year anniversary of the tsunami catastrophe: "Tragedies have occurred before in the world, but there it was a double tragedy. The tsunami, caused by nature, and also the meltdown of the atomic reactor, built by man. I couldn't not go there. I've been to Japan at least 30 times. I like the country very much, but I'm also very annoyed with it. I was photographed next to a tree, a single tree that was the only one of 80,000 trees to survive. I stood next to it and I played, because I always take my violin with me. The picture won a Photo of the Year award."
What is so important to you about working with pupils?
"I am not willing to leave this world when it is in such a dreadful state. I didn't spend a lot of time at school, but I did learn enough - and it's important to me to 'pay it forward' - with the violin and especially here in Israel. I want to do things here, I want to tend, to cultivate. And is there anything more important than children? You can count the geniuses on one hand, but children? Every child is born a genius. The problem begins when you start to teach them. I remember what Picasso said, that when he was a child he painted in the style of Rembrandt, and when he grew up, all he wanted was to paint like a child."
Can you define your connection to the violin? Is it part of you, is it an extension of your hand, is it your enemy?
"Good question. Almost impossible to answer. Actually, it's completely impossible to answer," he adds, and smiles a sly smile.
Nevertheless?
"It's a love-hate relationship. Let's just say that there's a mutual misunderstanding between it and me."
ICYMI
Ken Burns' Brilliant 'The U.S. and the Holocaust' Has Only One Problem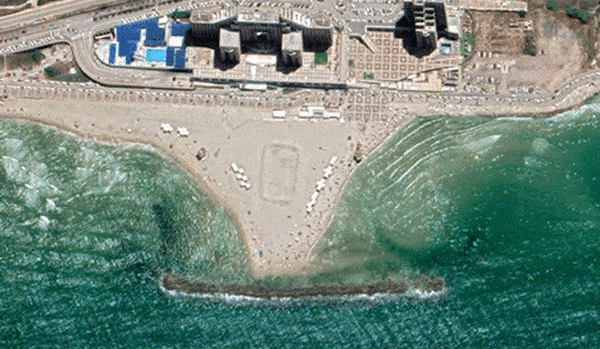 Facing Rapid Rise in Sea Levels, Israel Could Lose Large Parts of Its Coastline by 2050
As Israel Reins in Its Cyberarms Industry, an Ex-intel Officer Is Building a New Empire
How the Queen's Death Changes British Jewry's Most Distinctive Prayer
Chile Community Leaders 'Horrified' by Treatment of Israeli Envoy
Over 120 Countries, but Never Israel: Queen Elizabeth II's Unofficial Boycott