The Two Sides of the Holy Land
The Mejdi Tours company take pains to present both sides of the reality in these parts – not without paying a price.
With a Palestinian Muslim guide and an Israeli Jewish guide, it wasn't a typical Jerusalem tour.
Aziz Abu Sarah, 32, grew up in East Jerusalem throwing rocks at Israeli soldiers, the only Jews he had ever met. Student Shira Nesher, 24, had toured East Jerusalem as a military tour guide during her national service, teaching soldiers about the Arab enemy.
On this summer afternoon in Jerusalem, they stood together in front of 28 tourists - Israelis, foreigners and two Palestinians - to describe what they had learned in the years since.
Abu Sarah motions toward Mount Scopus' western slope and the Jewish and Arab neighborhoods, explaining that Holy Land history told by Israeli guides usually starts with King David around 3,000 years ago and is silent on the Muslim periods. Palestinian guides, he said, might mention King David but generally focus on Muslim history beginning 1,400 years ago, while remaining silent on Jewish history.
Now, he quipped, "two tour guides are going to try to contradict each other."
Abu Sarah founded Mejdi Tours in 2009 with two Jewish American partners: Scott Cooper, a former banker who designs businesses that are socially and environmentally responsible, and Dr. Marc Gopin, a rabbi who heads George Mason University's Center for World Religions, Diplomacy and Conflict Resolution (CRDC) in Virginia. As CRDC co-executive director, Abu Sarah travels frequently between Jerusalem and Virginia.
Mejdi - named for the Arabic verb "to honor" - was founded on the belief that tourism in conflict zones that addresses local experiences and beliefs can be a tool for intercultural understanding.
For developing this dual-narrative tour model in Israel and the West Bank, Abu Sarah was honored by the National Geographic company last year. Mejdi has since attracted a wide range of participants on its tours, ranging from clergy in training, evangelical Christians, and Conservative, Reform and Reconstructionist synagogue groups, to AIPAC lobbyists and members of the hip-hop band Black Eyed Peas. The success inspired Mejdi to also organize multi-narrative tours in other countries suffering sectoral division, such as Turkey and Egypt.
"The Bible talks negatively about zeal without knowledge," says Abu Sarah. "If people learn both sides, outsider involvement in this conflict can be positive. This model is also influencing [local people] who, observing these tours, realize that there are different narratives."
Today, most tourists in the Holy Land experience very different aspects of the landscape, history and culture, depending on whether their guide is Jewish, Christian or Muslim. Of around 10,000 certified tour guides in Israel, most are Jewish. Only a few hundred are Arabs, many of those from East Jerusalem, according to the Tourism Ministry.
Israeli law, since 1967, holds that only Israeli residents and citizens can be certified as tour guides to work in Israel and Israel-controlled West Bank territory (area C). With special permits, Israeli certified guides can also work in Palestinian-ruled Jericho and Bethlehem. The only exception to guides having to be Israeli residents was made with the 1994 Paris Agreement on economic cooperation, an annex of the Oslo Accords, which allows 44 Palestinian guides from Bethlehem to continue working in Israeli territory.
A 2010 bill proposing that all tour guides must be Israeli citizens, not just residents, was eventually shelved, after Palestinians and rights groups argued it was biased and would cause East Jerusalem Arab guides to lose their livelihoods.
Today, Abu Sarah and Nesher say that most Israeli and Palestinian tour guides are "one-sided."
Tailored for each customer
In addition to typical Holy Land tours, several Israeli nonprofit groups, including Breaking the Silence, Ir Amim and Rabbis for Human Rights, offer alternative tours looking at the effect of Israeli practices and policy in Jerusalem or the West Bank. Mejdi occasionally hires these NGOs to do half-day tours.
"[Most] tours are religiously or politically oriented," says Abu Sarah. "[But we don't] separate the political narratives from culture, religion and even leisure."
Customers can request how much political background they want on their itineraries. Mejdi tours, typically 10 days, introduce travelers to religious, political and cultural narratives through meetings with local families, rabbis, imams, Christian clergy, Jewish settlers, Palestinian refugees and Israeli and Palestinian academics and politicians. Guides tell their own personal stories and also introduce travellers to local poetry, music, coffee shops and lifestyles, including the various communities' farming methods.
Tours, tailored to the customers' interests and budgets, range from $1,300 for students staying in hostels to more than $5,000 for luxury travelers, not including airfare. The typical 10-day expedition runs at about $2,000. Though 99 percent of customers until now are groups, Mejdi is also considering one-day tours for individuals.
Asked for a comment about Mejdi, the Tourism Ministry said that it "encourages initiatives that promote Israel's image around the world and discuss its complexity - as long as it is done according to the law and in a balanced way."
In the three years since the company was founded, the multi-narrative model remains very rare. The only other commercial tour that regularly meets with settlers and Palestinians that Haaretz could locate is offered by the Abraham Hostel in Jerusalem. Its weekly one-day tours to Hebron are organized by Eliyahu McLean, director of the Israeli nonprofit group Jerusalem Peacemakers. An Orthodox Jew, occasional Mejdi guide and longtime interfaith activist, McLean partners with the company Visit Hebron-Palestine, whose head, Tareq Tamimi, has also been involved in interfaith initiatives for many years.
The idea of integrating multiple perspectives and personal stories came to Abu Sarah after taking various tourism courses and noticing that Jews and Arabs had different narratives about local landmarks and news events. Maps, history books and tours on both sides reflect the division, he said.
But recruiting and keeping at least 10 tour guides who believe in teaching more than one narrative can be challenging. Palestinians involved in boycotting Israel have criticized Abu Sarah for promoting the "normalization" of relations with Israelis. Israelis have called Shira Nesher "traitor" and "Arab lover."
Potential Palestinian guides are especially hesitant to sign on, fearful of losing their Israeli work permits if they talk about politics. They are also concerned about backlash from Palestinians who support Israel boycotts, Abu Sarah said.
The U.S.-based company also said it struggles with a lower income margin than typical tour companies because of financing a second tour guide and fair business practises.
To date, nearly 1,500 tourists have participated in Mejdi tours, but now that the company has broad international contacts since being contracted by National Geographic's tourism arm, it seeks to attract tens of thousands of tourists for dual-narrative tours, Abu Sarah says.
A day in Jerusalem
Last week, hoping to extend its influence in Israel, Mejdi offered a free one-day Jerusalem tour in English.
Participant Yuval Ben-Ari, 31, from Ramat Gan, already studies at the University of Haifa's tourism school but joined the tour because "typically universities teach the Tourism Ministry's official approach, [and] I want to broaden my perspective," he said. Several tour guides and tourism students who also signed up gave similar responses.
During the day, Nesher read the Hebrew poem "The Paratroopers Cry, by Haim Hefer, to explain the ancient and modern Jewish connection to Jerusalem's Old City and spoke about how her Holocaust survivor grandparents helped shape her. Abu Sarah read an Arabic poem by Mahmoud Darwish about the pain Palestinians felt leaving in 1948 and discussed Muslims' misunderstood connection to Jerusalem. He also spoke about his family's suffering when his brother died in 1991 in a Mount of Olives hospital, after a beating by Israel's Shin Bet security service in jail, where he was held for throwing rocks, he said. (The state later admitted the use of torture by the Shin Bet on Palestinian prisoners, though no personal case was ever filed or investigated.)
"There are several different ways to talk about the conflict," said American Jewish tourist Daniel Jacobs, 27, a video-game designer. "Personal stories seem the most honest and sincere way to do it."
Avigail, a 26-year-old student from Tel Aviv, said listening to the guides' different terminology raised her consciousness about language's power and nuances - for example, the word "protest" as Palestinians use it and the word "riot" that Jews often use to describe the same incident.
But for Ehud Troim, 29, a tour guide for youth, who acknowledges that most Israeli tours don't discuss the Palestinian side - or at least don't present it positively - it was still difficult hearing about Abu Sarah's early rage and throwing rocks, especially without hearing the soldiers' side of the story. "I never met soldiers like the ones he describes," Troim said.
Both guides responded that leading a one-day Jerusalem tour was a learning experience for them as well, figuring out how to successfully squeeze in the narratives of so many wars, neighborhoods and events. In contrast, on a recent tour to Hebron, the group had ample time to spend with an Orthodox Jewish leader and a Palestinian family.
Forty-year-old Palestinian resident of East Jerusalem, Jalal Awad, who is studying in the school of tourism located at Hebrew University, said that he tagged along to learn how such tours can help local residents.
"I come from Issawiya, known as a rebellious [Arab] village," Awad said. "If Jews living in [adjacent] French Hill get exposed to the Issawiya narrative, maybe they will stop being so afraid. People in Issawiya are also afraid when they see Israelis. If each is exposed to the other's narratives, they can stop seeing the other as a threat."
Leading the tour out of the Jewish Quarter, Abu Sarah was pulled aside by an Orthodox Jew who proceeded to dress him in a skullcap and tefillin, the phylacteries containing Torah verses that Jewish men are commanded to wear, one on the arm and one on the head, while saying a blessing for each.
Abu Sarah laughed it off as a perfect example for a dual-narrative tour. If the same man had seen him in East Jerusalem, he might presume he was a terrorist, but in the Jewish Quarter, the man assumed he was a nice Jewish boy, he said.
The subject matter of the tours can be difficult, but one needs a sense of humor, Abu Sarah added. "Two Jews, three opinions; two Palestinians, three opinions, but one Jew and one Palestinian [guiding together], oy - you can't count how many opinions."
ICYMI
Ken Burns' Brilliant 'The U.S. and the Holocaust' Has Only One Problem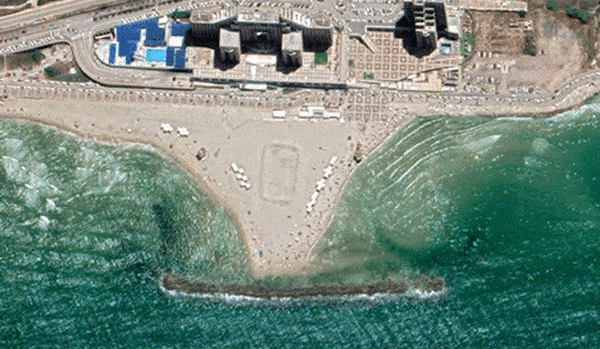 Facing Rapid Rise in Sea Levels, Israel Could Lose Large Parts of Its Coastline by 2050
As Israel Reins in Its Cyberarms Industry, an Ex-intel Officer Is Building a New Empire
How the Queen's Death Changes British Jewry's Most Distinctive Prayer
Chile Community Leaders 'Horrified' by Treatment of Israeli Envoy
Over 120 Countries, but Never Israel: Queen Elizabeth II's Unofficial Boycott