Someone Else's Simcha Daniel and Senait's Traditional Eritrean Wedding
A pair of African asylum seekers get hitched in the big city, joined by family, friends, a painful past and an unsure future.
Location: Eritrean church, south side of Tel Aviv
Time: 6 A.M.
In the neighborhood: A rundown, industrial street, in the near-absolute darkness of the pre-dawn hours. Two construction cranes hover ominously over the shaded concrete skeletons of what will be a new, environmentally-friendly office building. On both sides of the grayish street, dozens of Eritrean men, women and children, aglow in traditional white wedding clothes, greet each other as they prepare for the day's festivities. As the sun rises over the discolored two-storey buildings, a small army of photographers begins taking shots of smiling couples posing near shuttered stores, under a sign advertising the Israeli national lottery.
Venue: Countless white sandals, traditionally worn on festive occasions, are strewn along the short staircase leading up to the makeshift church, located on the second floor of an aging industrial building. Inside, the barefoot worshippers assemble around two main focal points: a ceremonial area occupied by a chorus and priest, and a small enclosed area reserved for the, give or take, dozen weddings planned for the day. Yellow walls, plastered with colorful posters depicting Jesus and other Christian figures, are made even more colorful by an endless line of flickering Christmas lights. Large whirring fan mitigate the day's intensifying heat, with a long row of steel-framed windows throwing spots of light onto the red wall-to-wall carpeting.
Simcha: Daniel Teweldebrhan and Senait Habtegabr's wedding
Number of guests: 10
Coming to Israel: Daniel, 31, and Senait, 26, both originate from the Eritrean city of Teseney, which they fled in order to avoid the country's lengthy military service and strict regime. They were smuggled across Israel's southern border with Egypt by Sinai Bedouin. Daniel, who taught high-school English in Eritrea, arrived four and a half years ago, with Senait coming about two years later.
Why Israel? Daniel: "At the time, it was easier to come here than it was to Europe." However, now, they say, crossing has become harder. Has the border control become stricter? "No. It's the Bedouin. They kidnap people and ask for $30,000 ransom from their families."
So why come when it's tougher to cross? "Things are difficult in Eritrea right now, and people want out. Sometimes people try to go to Sudan, and then they get kidnapped by Bedouin there and brought to Sinai. Then they say, 'Pay $30,000 or we'll kill you." And those who don't have it? "Then, they can take their kidneys and sell them."
Family history: Daniel is the youngest of nine children, with one brother and his sister in Israel, five brothers and sisters back in Eritrea, and one brother in the United States. Senait has four other brothers and sisters, three of whom are in Eritrea with another currently in Sudan. All their brothers in Eritrea are currently in their mandatory military service, except for one of Daniel's brothers, who was ruled unfit for medical reasons. All of their siblings have already been married, with the exception of one brother on each side.
A brief history of time: Despite the fact that both Daniel and Senait hail from the same town, and that their families know each other, the two never actually met until sharing a maintenance gig at north Tel Aviv's posh "Yoo Tel Aviv" residential towers. Daniel: "I saw her there, and then she and my sister got to know each other and go to each other's house. We were more like brother and sister. But then I got tired of being single, so I asked her to marry me, and she said 'alright.'" The would-be groom then had to go through the familial chain of command, asking the permission of his older brother, Senait's older brother, and, finally, gain the remote approval of both joyous families in Eritrea.
Home: The couple, who have been living together since their engagement was approved of six months ago, lead a Christian household (Daniel: "Not very religious") in south Tel Aviv, in a mixed neighborhood populated by both African migrants and Israelis. Daniel, who has a B.A. in English literature and political science, works eight-12 shifts a week as a maintenance worker for a chain of Israeli gas-station convenience stores. In his spare time, he volunteers as a translator for Hagar and Miriam, a non-governmental organization aiding migrant women during pregnancy and after birth; Senait, who speaks but a spot of Hebrew, cleans a nearby branch of a cell-phone operator.
While Daniel used to work night shifts, he has elected to keep to working in the daytime, after a few close calls made it hard for him to leave Senait alone at night. Daniel: "A fire bomb was thrown, once over there [pointing to the room across the wall] and another attempt over there [the house next to them]. And they've been some [anti-migrant] protests."
Rites: The couple, dressed in white, covered in black robes with elaborate gold embellishments, and wearing matching black and gold caps, is escorted into the church by family and friends also dressed all in white. After a short stop to bow to an image of Jesus on the wall, the wedding train arrives at the couples' side of the room, where they are joined by the dozen or so similar entourages, sitting in a semi-circle. One by one, couples rise from their chairs and approach the first table, where a priest dressed in white and gold conducts the wedding ceremony, and then to another, in which they receive their certificate.
After a short wait, Daniel and Senait approach the "wedding table," where a priest washes their hands with a plastic pitcher, advertising a brand of orange juice, proceeding to present them with an iron cross as well as with a laminated page with their vows. The two then join hands and place them on the cross, reciting their vows to each other, with Daniel going first. Once both have pledged fidelity and respect, they exchange gold rings. Moving on to curtain no. 2, the couple, along with male witnesses, receive their wedding certificate (in English and Tigrinya), with their ever-shifting photographer and cameraman never missing a beat.
Daniel and Senait then return to their seats, along with the other couples, where they will remain, chatting with their friends, for the best part of the four-hour prayer service. Sitting in the back, Solomon, 39, and Johnny, 27, who have come to attend a baptism and a wedding, respectively, discuss the finer points of an asylum seeker's life in Israel. Solomon, who drove a Soviet T-55 tank for the Eritrean army from the age of 15 until his escape at 37, including in the war against Ethiopia, says in near-perfect Hebrew: "I have a friend who escaped the same time as me, and he's in Norway. Now he came here to visit after he got married, he's doing much better."
Johnny: "You can't keep thinking that it'll be better somewhere else. People think 'America,' then get to America and then want to be somewhere else."
The exchange is finally broken off as Solomon heads off to teach his first Hebrew class to friends and family ("Some work in restaurants and can't read the food orders"), and just before the couples finally rise from their hours-long wait and arrive at the prayer area. Singing and dancing begins, as guests form a circle around the priests and the newlyweds. Two large keberos, or Eritrean drums, are introduced, and the young couples, including a misty-eyed Daniel, slowly shuffle to the beat around the circle, in what would prove to be the ceremony's joyous conclusion.
Food, drink and music: Couples aren't allowed to eat or drink before and during church services. Later, following an intensive day of photo ops with the family, mainly in Ramat Gan's National Park, Daniel and Senait head to a 250-guest shindig in south Tel Aviv. There they enjoy Eritrean cuisine (flat bread, or injera, eaten with meat and vegetable stews such as wat and hilbet), music (Daniel: "Eritrean, except for some Arabic for my Sudanese friends") and dancing.
Word in the ear: Daniel: "Not knowing what'll become of us adds a lot of stress. Sometimes we think we'll be sent back, sometimes we don't. The least [the state can do] is allow us to live. They say we don't need to be [in Israel]. But there's trouble, and we do."
In my spiritual doggy bag: That a wellspring of tradition, joy, and pain hides behind every human face, even if that face is invisible to us during the course of everyday life.
Random quote: Solomon: "It's true, Israelis are smart in everything. Except when it comes to people and their rights."
Want to take part in Someone Else's Simcha? Want to invite Haaretz to your family celebration? Send word to: ron.bent@haaretz.co.il
ICYMI
Ken Burns' Brilliant 'The U.S. and the Holocaust' Has Only One Problem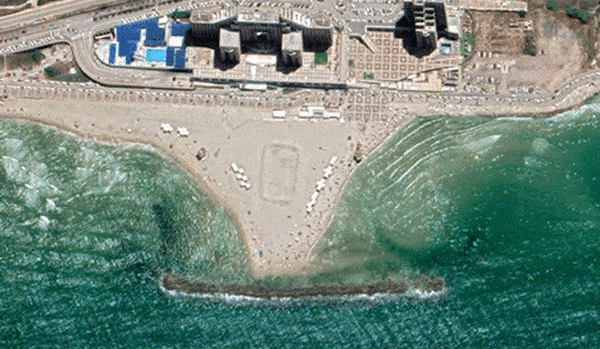 Facing Rapid Rise in Sea Levels, Israel Could Lose Large Parts of Its Coastline by 2050
Lapid to Haaretz: 'I Have Learned to Respect the Left'
The Mossad's Fateful 48 Hours Before the Yom Kippur War
As Israel Reins in Its Cyberarms Industry, an Ex-intel Officer Is Building a New Empire
How the Queen's Death Changes British Jewry's Most Distinctive Prayer