Facebook's Labor of Likes
The social network's famous 'like' button has become a measure of success available to the highest bidder. But do these fake friends really translate to concrete results in real life?
In a world where Facebook is a marketplace, the "like" button has become a currency to be traded. Brand managers are spending entire workdays calculating and tracking the numbers of "likes," which provide a virtual yardstick of their fan base across the Internet's most prominent social network.
As in any case of supply and demand, the "like" has become a commodity for sale. This concept is shared by commercial companies, public organizations and even politicians, all of whom buy up "likes" in order to pad their fan base. You've got to spend money to make money, right?
A few months ago, Amichai Saragovi, the head of Labor Party leader Shelly Yacimovich's online volunteers group, wrote a post saying that out of the 200,000 fans of Prime Minister Benjamin Netanyahu on Facebook, 4,900 were from Indonesia. Furthermore, he said, only 17 percent were even Israeli.
Netanyahu's fan base has since grown to 300,000. The question as to whether or not Netanyahu's social media management team has purchased 'likes' remains unanswered.
Sure, every brand manager would love to have a page that attracts an audience via word of mouth – through their Facebook friends or because they identify with the brand – but there are very few pages that still operate this way. Word of mouth has become the beta. Most organizations and companies are zoning in and targeting their fans in new ways, some more legitimate than others.
When it comes to managing social media, paying folks to click "like" has become totally accepted. Prices range from NIS 3 for your average mouse click to NIS 10 for a "quality like," which come from customers who understand the page and actually has a chance of being active on it. The more relevant a person is to the brand and can identify with it – potentially attracting more fans – the higher the price.
In order to reach the appropriate fans, money and resources must be spent. The page needs attractive content and a well-honed advertising campaign. But marketing managers want a big fan base, and they want it fast. So they take the shortcut: buying "likes." This essentially means persuading real or fake Facebook friends to become fans of the brand's page, and doing so by any means necessary.
The industry of trading in "likes" is flourishing, and has been particularly wild in the past year. For a Facebook user looking to make a few easy bucks, many online stores offer them for 40 cents a pop.
Rotem Guez manages the Likestore site, a virtual store that sells "likes" and other online products. On the store's virtual site, an online shopper can find products including "YouTube Likes and Views," "Israeli Traffic," "Web Robots" and more.
Although Guez's activity is legal, some of it is pretty far from being kosher, let alone meeting the Facebook and YouTube terms of service. Last year Facebook threatened him with a lawsuit and demanded he shut down his personal profile.
The method Guez used is called scripting: Facebook friends receive a request inviting them to watch attractive content – for example photos of Bar Refaeli or a video clip from the TV show "Big Brother." To get to the material they want to see, users have to click between four to 40 virtual buttons. Little do they know that each of these buttons is a "like." In this way, users can become fans of dozens of Web pages within seconds without even being aware of it.
"Facebook wasn't successful in suing me because users understood what they were doing with our content sharing," says Guez. "I used Facebook's own buttons, and never offered up content to view when it wasn't available. The name of the page wasn't written next to the button, but surfers know you have to give something in order to get content."
After being threatened with a Facebook lawsuit, Guez went to the Interior Ministry and changed his name to "Mark Zuckerberg" – effectively fashioning himself into an online doppelganger of social media's golden boy, the Facebook founder Mark Zuckerberg – in a protest that was designed to prevent Facebook from "suing Mark Zuckerberg." In the end, the claim was not filed.
Hiding the 'like' button
According to Guez, the scripts are the second stage in the evolution of purchasing "likes." The first stage was "stealing likes." This method hides "like" buttons in a hidden software code on a Web page. When a visitor clicks on content on the site, he is actually clicking on a "like," totally oblivious that his actions are in any way connected to Facebook.
This method is also customary in types of computer crime, like spamming, as well as phishing scams that steal account details. Guez says that he used this method to transfer supporters of radical Islam to a Facebook page supporting Gilad Shalit, the IDF soldier held captive by Hamas in Gaza for five years.
The users had browsed YouTube and watched a video showing religious martyrs, but when they pressed the "view" button, they ended up adding a "like" to Shalit's page without their knowledge. In less extreme, but perhaps less cheeky, cases, news sites led users to click "like" on a brand's page instead of on an article.
According to Guez, marketing managers hungry for "likes" are also prone to set up downloadable toolbars offering services such as free online streaming of TV shows and movies. While users are enjoying their unhindered access to "The Bachelorette," however, Guez and colleagues like him are stealing Facebook usernames and passwords, then slipping online under stolen identities to "like" brand pages.
"With identity theft it is possible to reach 30,000 'likes' a day per page, but we don't come close to that amount," he says.
Puppet users, pulling profile strings
A much more widespread method utilizes fake profiles: Facebook admitted earlier this month that a full 8.7 percent of its profiles are fake, and 1.5 percent were created exclusively for spam. These profiles are slapped together by promoters. They are shadow users – a fake name and face dreamed up by some hungry marketing professional and puppeteered from an office, offering targeted comments, posts and faux promotions for products and services.
They're not impossible to spot. These profiles typically contain very few photos of the account holder, very little personal information, infrequent status updates, and far too much information and enthusiasm for a few select brands.
"There are some that put up a few pictures, but there are also professionals who steal photo albums full of photos of real people. These professionals also obtain new photos from users," says Guez. "Under these fake profiles they click 'like' on lots of sites, and they share posts. The majority is managed manually, but you can also fully control an endless amount of profiles. Such a monster can change public opinion," he adds.
According to Guez, this method is more common abroad than in Israel, because Israel has a small user base and Facebook can easily locate a user operating multiple profiles from a single IP (Internet protocol) address. Nevertheless, he says that here too, quite a few students earn a living by operating fictitious profiles recommending brands.
And it's not just students. Politicians, too, have gotten in on the Facebook puppet game.
"It's clear to me that many members of Knesset use avatars (fake profiles)," says Saragovi, th Labor Party employee. "There are MKs who, in my opinion, have a surprising amount of 'likes.' These include the foreign minister, but it's hard to figure out which ones are fake, because there are a lot of authentic 'likes.' Fake profiles are common in the political arena; this is the virtual equivalent of fake balloting."
Another method that is considered to be particularly illegitimate uses "credits." Websites trading in "likes" and YouTube views enable visitors to watch videos or press "like" buttons in exchange for credit points. Using these points they can accumulate views or "likes" for content that they are willing to promote, or choose to get paid. The accepted rate is $29 for 1,250 credits, which can be used to collect around 600 "likes."
Plugging a virtual loophole
The trade in "likes" has created chaos for the social network, which is now fretting over image control.
Over the last two weeks Facebook has implemented changes in its terms of service, plugging the loopholes that the likes of Guez manage to slip their way through. These changes mean Facebook is imposing limits on the amount of "likes" a page can receive from outside the social network in order to prevent situations where surfers join a page without their knowledge.
The network's management uses its site analytics to examine the sources of the fans. If an abnormal amount has come from outside Facebook, the owner of the page is accused of buying "likes," and Facebook will offer him the option of purchasing advertising instead. The new conditions also threaten sites which contain the button "join us on Facebook."
"The new filters are a preventative tactic against the market trading in 'likes" over the world," says Guez. "They are preparing the ground so that only they can sell 'likes.' The scripting method is dead, and whoever uses it will fall. My business is at risk."
There are also creative and legitimate methods for gaining fans, such as distributing an application like a game, or setting a quiz or a competition that requires users to join the brand page before being able to participate. One such example is the E-dologic "like machine," which was built for the Coca-Cola Village amusement park in 2010. This invention enables users to click on "like" buttons through the use of a RFID-enabled wristband without having to go through the social network. More common examples are competitions for designer wedding dresses or promises of a voucher to be used for retail purchases.
"The problem with these applications is that they have to be connected to the brand, and therefore aren't always viral," says Guez. According to him, Facebook also imposes restrictions on competitions which involve photos, such as those which require some manipulation of the user's photo album.
The most common method is, of course, a campaign on Facebook – using banners, sponsored stories or premium ads that direct users to a brand's page. Even in such cases of focused activity aimed at increasing the number of fans, the cost of the campaign is calculated by the number of "likes."
"Pricing by 'likes' is a benchmark. We start with a small page and see how much it costs us to increase it to 10,000 people," explains Kobi Gamliel, the manager of the social reputation management company iSOCIA. According to him, "the second phase is propelling sales, which doesn't enter into the price calculation."
This distinction mentioned by Gamliel indicates the dominant outlook regarding advertizing on Facebook, according to which the number of fans on a page is an aim in itself. But few are actually asking themselves how involved the fans are with the page, to what extent they identify with the brand and how much the Facebook community contributes to increasing sales. According to a study by eMarketer released in June, most marketing managers (57 percent) indicated that they advertise on Facebook in order to increase the amount of fans on their brand's page. Only 17 percent indicated that they do this in order to strengthen the fans' connection to the brand.
"I get requests to buy 'likes,'" says Gamliel, whose company represents brands like the Kadima political party, Sano and Herbalife. "Buying 'likes' can be by way of a raffle to win an iPad, for example, which may not necessarily attract a quality target market. Today, marketing managers are a bit sick of this sort of media, but still view a campaign in terms of 'how many "likes" will it give me,' and there is a need to persuade them that a 'like' is not the central objective for the campaign."
According to Gamliel, buying "likes" that involve fictitious user profiles or an inappropriate campaign will do long-term damage to the brand, as the fans' involvement levels will be low and the brand's page will eventually disappear from the news feed on Facebook.
"Not everybody needs an endless target audience. When the core community is active and grows in an organic way, it will succeed in conveying the brand. There are brands that wish to show that they are bigger than the competition and those that want to encourage activity, which is more important than size. Even a page with 5,000 fans creates a presence if there is 10 percent interaction, which is considered to be a lot," he says.
According to Gamliel, a campaign that will attract a quality audience needs to focus on the second circle of fans – friends of friends – and to be divided according to the users' interests. He says that the phenomenon of buying cheap "likes" using questionable methods is a fringe phenomenon, which is pushed to the sidelines the more knowledge social media managers and marketing managers attain.
Additional changes Facebook are examining are likely to lead to the devaluation of the status of the "like," as well as the elimination of the industry trading them. According to Eden Amirav, the CEO of the results-oriented advertising agency Maple, which also runs campaigns on Facebook, the social network is currently conducting a restricted access beta version that customizes advertising according to the actions carried out by Facebook users, such as reading an article or listening to a song by a particular singer. This is in contrast to advertising that throws up suggested matches according to "likes" – the only type of customization possible today. "The significance of the act of 'liking' something has been reduced by Facebook," he says.
"When there are 'likes' from real, active and supportive people you can do a lot – you can get thousands of participants. We recruited half a million shekels for a primaries campaign through Facebook," says Saragovi. "What's important isn't stopping people from faking Facebook fans. At some point this will be understood. What's important is what you do with the number of fans."
ICYMI
Ken Burns' Brilliant 'The U.S. and the Holocaust' Has Only One Problem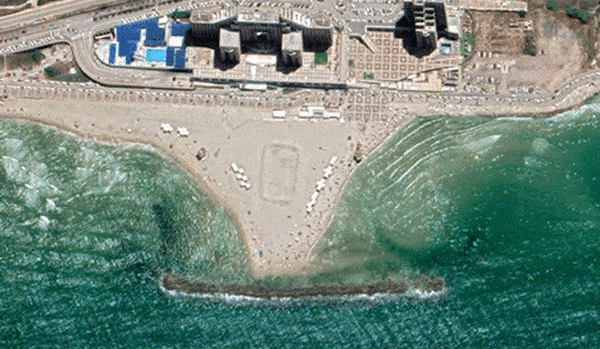 Facing Rapid Rise in Sea Levels, Israel Could Lose Large Parts of Its Coastline by 2050
As Israel Reins in Its Cyberarms Industry, an Ex-intel Officer Is Building a New Empire
How the Queen's Death Changes British Jewry's Most Distinctive Prayer
Chile Community Leaders 'Horrified' by Treatment of Israeli Envoy
Over 120 Countries, but Never Israel: Queen Elizabeth II's Unofficial Boycott