The Lessons of Toulouse
French lawyer Carole Masliah talks about Jewish identity, terrorism and the case that changed her life.
It's a hot, sticky summer day, almost 40 degrees Celsius in the shade, but Carole Masliah, a French-born lawyer, says that only here, in Tel Aviv, can she breathe fresh air and feel free. The air conditioner is working full blast in her apartment, at the corner of Ben-Yehuda and Gordon streets, an area favored by many French Tel Avivans, but the illusion that paradise is just outside the window blinds never leaves her.
"When I am in Israel I breathe clean air, I feel better than ever, happy and free. It is a unique place for me," says Masliah.
She arrived here from the 16th arrondissement of Paris, home to the city's affluent bourgeoisie, where she lives and where her law office is located. This is one of many visits during the year, but summer is a special time for her. It's the season of the annual vacance, sacred to the French. This time she has been joined by her mother, Miriam, her husband, Jean-Paul Ben Hamo, and their 9-year-old daughter, Noa. They are on the beach every day without fear of sun or jellyfish.
Masliah, 49, is a very opinionated woman. A criminal lawyer, she is currently representing the families of the four victims of the terrorist attack in Toulouse last March at Ozar Hatorah school, and the children who witnessed the atrocity and survived. The terrorist, Mohamed Merah, 23, was later shot to death by special forces. His brother, Abdelkader Merah, 29, is currently standing trial in a special court in Paris as an accomplice to the crime.
The drama hit the headlines again last month, when the French commercial television station TF1 broadcast excerpts from a conversation Mohamed Merah had with the police shortly before he was killed. The broadcast jolted the court, the public and the Jewish community in France, and raised questions relating to journalistic ethics and the boundaries of good taste. The French interior minister, Manuel Valls, ordered a police investigation into how the tapes reached the television station. He noted that there was only one copy of the recordings, which was kept under close guard at the Palais de Justice in Paris. In any event, what everyone heard in the broadcast cannot be erased from the memory.
"I'm very determined I didn't do all this just to end up getting caught," Merah declared. "You should know that you've got a man in front of you who's not afraid to die. I love death like you love life" (source: www.globalpost.com).
According to Dominique Thomas, an expert on Islamist movements from the Paris-based School for Advanced Studies in the Social Sciences, this sort of language is characteristic of the culture of jihadist suicide terrorists, for whom death is a mission and constitutes redemption. Thomas told French daily Le Figaro that it sounded as though Merah had taken his words from a prepared script for suicide attackers. The tape also contains important information about the methods of operation used by the police in its efforts to apprehend Merah. TF1 has so far refused to reveal its sources and continues to defend vehemently its decision to air the material.
Why was the broadcast such a big story in France? After all, evidence like this becomes public knowledge in all media outlets around the world.
Masliah: "It is a matter of great importance because secrets from the investigation were made public, and that is prohibited under the law in France. They had no right to broadcast the tapes. In France you can interview people who are involved in a case but they are not allowed to talk about what is going on in court or in a still-uncompleted investigation. I too have not been interviewed since then this is the first time but I feel comfortable because this is an Israeli newspaper, far from the French eye, and close to a population that I know will understand things as they are."
Merah's father, though, intends to sue the French police for murdering his son. Other family members allege that Merah was killed to spare the French intelligence services embarrassment, because if he had been brought to trial their incompetence would have been exposed for all to see. Indeed, the former French interior minister, Claude Gueant, confirmed after the terrorist attack that Merah had been under surveillance by France's domestic intelligence service for months after he returned from a stay in Pakistan. He was even invited for a "talk" by the intelligence service last November, and one of those who questioned him, an agent named "Hassan," also appears in the controversial recording.
On that occasion, Merah told his interrogators that he had gone to Pakistan on vacation and he showed them photographs to back up his story. At some point, apparently, the intelligence service was convinced and forgot about him.
To date, neither the police nor the prosecution nor the press council has reprimanded TF1 or voiced complaints that the station revealed state secrets and obstructed justice. The investigation currently under way is aimed solely at finding those who leaked the tapes.
Dedicated to law
For her part, Masliah was hired by the families of the children to represent them in the civil trial, as part of the criminal trial that has begun in Paris and will last at least two years.
"I was hired by Rabbi Yaacov Monsonego, the head of Ozar Hatorah school who lost his daughter Miriam-Hannah, and Eva Sandler, the widow of Rabbi Jonathan Sandler and the mother of Aryeh and Gabriel, all three of whom were also murdered in the attack. In addition," Masliah continues, "I am representing the children victims who are suffering from an extraordinary trauma. They still jump when they hear a motorcycle on the street and tremble at every suspicious movement and unusual noise."
What kind of school is Ozar Hatorah?
"It is a very unique school. Jewish children with different family problems go there, including children who lost their parents or come from broken homes and need meaningful support. They have problems in their studies, mental problems. The boarding-school children come mostly from outside Toulouse, but for the local residents it is a regular high school that begins at the age of 14 and concludes with the matriculation exams."
Masliah herself was born in Paris. Her parents immigrated from Tunisia and thrived in the French capital. Her father had a public relations firm, and her mother worked with him. But the family's deep emotional bonds lie in Israel. Her father, who died two years ago, is buried in Ashdod, where he and Masliah's mother bought adjacent plots. When Masliah was 17 she was sent to a French school in Jerusalem and did her matriculation exams there. She then spent a year in a preparatory course in advance of studying in the law faculty at the Hebrew University of Jerusalem, she says, "But then I returned to Paris, because it was very difficult for me here with the Hebrew. I completed my law studies at the Sorbonne."
Masliah's first marriage, to a fellow lawyer, produced two daughters: Ilanit, 25, who next month will take her bar exams and works for the police; and Leah, 23, who is in her fifth year of medical school and is currently interning at Ichilov Hospital in Tel Aviv as part of a student exchange program. Masliah married Jean-Paul Ben Hamo, a physician with a private clinic, 15 years ago, and Noa is their daughter.
Masliah truly fell in love with criminal law, in which she specializes, and in general with the legal profession in 1989, when she was hired by a firm. She is especially fond of the moment at which she puts on the robe and takes the floor in court.
"I always knew I would be a lawyer," she says. "I remember the first time I appeared in court, trembling with fear, and my boss said that everyone goes through that and encouraged me to give my all. This profession is in my soul. Every case fires me anew. When I put on the black robe I feel a sense of spiritual uplift, of sacred work. All my years in the profession have not dulled the force of that feeling."
In 1991, Masliah opened a law firm with a partner, also a female Jewish lawyer. Many of the lawyers in the firm are Jewish ("The French believe more in Jews, and value their minds. When they are in serious trouble they look for Jewish lawyers"). She defends mainly suspects accused of murder, rape and pedophilia ("That is what fascinates me most"). She gained fame in the mid-1990s when she represented hemophiliacs who sued the government because they had received blood transfusions a decade earlier that contained HIV.
'Shocking and exceptional'
Masliah's Sephardi origins sometimes accord her another advantage. "The Sephardim are more closely connected to Israel and are warmer, more sentimental and more religious. The Ashkenazim do not exhibit emotions so much."
But nothing in her experience, Masliah says, resembles her dealings with the Toulouse victims. Here she has a deep emotional identification. "For me, this case is shocking and exceptional," she declares. "I am proud to represent people like Rabbi Monsonego, an extraordinary person, and also Eva Sandler, an enlightened woman. Looking at her, I see how powerfully her strength radiates on all those around her."
Representation of the victims entails being present at all the court sessions and having the right to ask questions and intervene, address the judge, interrogate the witnesses, submit her own evidence and see all the relevant documents "to ask questions of the prosecutor, the investigating judge, and the lawyer of that person. I represent the civil side of this prosecution. In France, the civil side is of very great importance. Its presence in the court is enshrined in the law with the aim of allowing this voice to be heard with all its power, so that everyone in the courtroom will understand what happened and the victims will understand that their rights are being protected and will be certain that justice will be done for them."
Do you identify with accused rapists and murderers whom you represent?
"Yes. I believe that every person has the right to a defense in order to determine whether he is guilty or not. My role is to explain to the judge so that he will understand who the person in front of him is, his background, his origin, how he grew up because maybe that is where the roots of his behavior will be found. I find that very exciting."
Would you also have defended Mohamed Merah?
"No, because he perpetrated a barbaric crime against humanity. I never utter his name, because for me he does not belong to the human race and therefore his name should not be spoken. He killed three people only because they were soldiers and three children only because they were Jews. As far as I am concerned, he touched something holy. He did it at his initiative, with clear, cold thought, and with enthusiasm. It is a barbaric act. I think that in the whole world there is no place like Israel that can grasp the shock, the grief and the mourning for what he did. It is very grave.
"Before he was killed," Masliah continues, "the murderer told the police that Israel is guilty of the murder. That Israel was the motivation for all his actions, because of the suffering that brutal Israeli soldiers inflict on the poor Palestinian children. Why did he attack the Jewish community? Because that community empathizes with Israel. Since the attack in Toulouse there has been an increase of 46 percent in anti-Semitic incidents in France, because all kinds of particular people now feel free to voice anti-Semitic opinions and perpetrate anti-Semitic deeds.
"That person does not resemble some scary, bearded monster. He looks like us, he is nice in the photograph, smiling, a banal character whom no one would take for a terrorist, and that is why it is easier for people to identify with him and think he died a hero's death. I think he died like a barbarian. Some say he acted alone, but I say he did not act alone, that he had accomplices, including his brother.
"All the proof exists that he was an accomplice," Masliah says. "He said he was very proud of his brother and that the dead had blood on their hands. The goal now is to prove that he planned the attack together with his brother. It is not only us; the investigating judge is also looking for accomplices." Loyal to the French version of sub judice, she keeps to herself the facts she knows about the investigation and the possible accomplices to the murder plan.
In this period of summer and vacance, surely the only thing that interests the French is the weather and the congestion on the way to the beach, not the massacre in Toulouse.
"That is almost correct, but not completely. Official France speaks out sharply against manifestations of anti-Semitism at the heart of the consensus, but at the same time many French people are depressed for other reasons. This year it is not only the vacance that is preoccupying them. They have employment problems. The atmosphere in France is one of immersion in domestic problems, finding solutions to the economic ills, to immigration into the country and to societal problems. The French are less inclined to look at what is happening on the fringes. When [former president Nicolas] Sarkozy was quick to identify with the community and went to Toulouse, people said he was being so vigorous because he is Jewish."
Why is it so important for you to have the murder remain in the news?
"That is not what is happening now, which is a pity. When the subject comes up, most French people talk only about the murderer and move on. But the truth is the French are afraid of foreigners, and especially of those with a dark skin, in other words, Arabs from the Maghreb. There are sections in the suburbs that people do not enter. Some quarters in Paris are ghettos in every respect. Those who are afraid of Muslim extremism voted for Marine Le Pen. She has an attractive exterior, like her father. She does not look frightening or threatening but pleasant, always smiling, blonde; she looks like us. Even though that is deceptive, I can understand why people can identify with her."
Royal debacle
What is in fact occupying the French media of late is the gossip emanating from the Elysee Palace about the wife of President Francois Hollande, which is taking the place of the obsession that existed with Sarkozy's wife, Carla Bruni. Valerie Trierweiler (Hollande's 47-year-old companion) and Segolene Royal (his 58-year-old ex-wife) are both beautiful, talented, opinionated career women. Trierweiler, a journalist and the new First Lady, has been portrayed by the media, delicately, as a shrew. Royal is a politician, a leading member of the Socialist Party who was a candidate for the French presidency in 2007, when she also left her partner and father of her four children, Hollande. The newspaper Le Point headlined the latest episode between Hollande's women, the present and the former, as "women on the edge of a nervous breakdown." Love, jealousy and passions make it a particularly juicy story.
Trierweiler, 11 years younger than Hollande, has been his companion since 2000 but he hid her from the public eye until 2007 because of his marriage to Royal. In June of this year, Trierweiler tweeted her support for Royal's opponent in regional elections, thereby helping to destroy her political career. (Royal lost the election.) In response, the four children of Royal and Hollande, who are aged 20 to 26, announced that they do not want to see Trierweiler again, and that as far as they are concerned there is no place for a relationship between them and their father's vindictive companion.
"She is very beautiful, independent and career-minded," Masliah says of Trierweiler, "but apparently not the nicest person. One does not behave like that. I am very sad for Segolene: She lost everything. She now has almost nothing, politically."
Because Hollande did not make it a point to share his views on the burning issues that are upsetting French Jewry, among them anti-Semitism at home and Israel's security, most French Jews ignored their natural tendency to vote for left-wing parties and cast their ballot for Sarkozy in the May elections. They were unfazed by Sarkozy's comments that Prime Minister Benjamin Netanyahu is a liar and about Foreign Minister Avigdor Lieberman as being insufferable.
"The Jews put their values to one side and understood that Sarkozy is pro-Israel," says Masliah. "They decided to forsake their values in order to express their opinion on the subject that is closest to their heart. Indeed, on the day of Hollande's victory, people hoisted Palestinian flags in the Place de la Bastille."
The massacre in Toulouse, the economic situation and an increasing number of anti-Semitic events have led French Jews to give serious thought to the possibility of immigrating to Israel. That means more French will be heard on the streets of Netanya and Ashdod and on the beach in Tel Aviv.
"It looks like you will have to get used to our presence here," Masliah says. "This episode has drawn French Jews close to Israel, and they feel more than ever that they are at a crossroads. There is a true disease in France today, namely the worsening anti-Semitism, which is more aggressive and wild, more significant in terms of its intensity.
"This hatred is stronger than what we saw in Carpentras [the desecration of 35 Jewish graves in the southern town of Carpentras, in 1990] and in Copernic [referring to a bomb that exploded outside a synagogue on Rue Copernic in Paris in 1980, killing four Jews], so the only chance for the Jews is in Israel. It is not a case of being afraid to live in France, but of desire for a haven in times of trouble, a kind of insurance policy. This is the thinking of both the young people in the community and their parents, who are trying to figure out how to make the move and integrate socially and, above all, economically.
"A great many young people are now leaving France after high school and going abroad, to London or New York. One of the places preferred by the Jews is Israel. Here it is easiest for them to integrate and become acclimatized."
"In times of trouble," "insurance policy" does that not suggest fear?
"Not in the immediate sense. The fear is in the air but is not immediately threatening. That is how it looks, although there is no way to know for certain. An insurance policy is like saving for a pension, but when you are young you don't see it actually ever happening to you."
There are currently about 500,000 Jews in France and about 7 million Muslims. Most of the latter are in the country without official papers and without rights, living in ramshackle suburbs and ghettos. It is thought that they perceive Jews as being rich and running France and the world, whereas they themselves are mired in poverty and condemned to a wretched existence, from which neither they nor their children have any chance of escaping and advancing up the social and economic ladder. It is believed that many are drug addicts and are caught up in extreme Islam, with a sense that they have nothing to lose, as their prospect of becoming part of French society is all but nonexistent.
After the March terrorist attack, the leaders of the Jewish community decided to take their fate in their hands and try to engage in a dialogue with Muslim leaders above the heads of the politicians and the social-welfare services.
Masliah: "When our parents, the Jews from North Africa, came to France we were in the same situation. They started from scratch. They worked hard, struggled and built themselves up while showing respect for France.
"At the moment, the feeling in the community is that on the one hand we need to unite and declare war, to struggle systematically against the evil, against terrorism and anti-Semitism, but at the same time, the leaders of the community are trying to forge a dialogue with the Muslims. If that happens, maybe the Jews of France will understand that France is France and Israel is Israel, and that it is possible to love Israel and disagree with its political choices and that not everything is monolithic, neither in France nor in Israel."
Would it be correct to say that there are two types of anti-Semitism in France: the deeply rooted anti-Semitism of the radical right and perhaps also the radical left, which traditionally supported the Arabs and the Palestinians and that now a new form of anti-Semitism has arisen, that of the Muslims in France?
"That is correct, but they explain it by saying they are not anti-Semitic but anti-Zionist. France is today a completely different society than most French people would like it to be which is homogeneous and with no foreigners. It is seemingly multicultural religiously and socially, advocating equality, freedom and fraternity, but it does not truly uphold these values. The laws are like that: Everyone has the right to believe in whatever he wishes and to practice his religion at home, but outside the home and vis-a-vis the authorities you are first of all a French citizen. That is why I believe it is essential to bring the brother [of Mohamed Merah] into court, to look him in the eyes and show everyone that we are fighting for a very important message."
Despite her love for Israel, Masliah has no plans to move here in the foreseeable future. She and her husband have thriving careers and life in Paris is good.
"I admire Israel," she says, "it has something exceptional, but Paris is home, even though I sometimes get the feeling that I have to hide, that we are living in a closed enclave there."
'Exercise of deception'
The broadcast by French television station TF1 of a conversation with Toulouse murderer Mohamed Merah constitutes only an excerpt of the tapes in the possession of the French police. They were recorded during negotiations between the police and Merah during the 32 hours in which he barricaded himself in his home. The negotiator was an undercover agent from the French central intelligence agency, code-named "Hassan," who met with Merah several times after his return from a stay in Pakistan.
"I'm very determined I didn't do all this just to end up getting caught," Merah told Hassan. "You saw for yourselves, we are in a process of negotiations, but do not forget that I am armed. I know what is going on here, I know you are trying to enter, I know that you are taking a risk to subdue me and I am taking that into account. You should know that you've got a man in front of you who is not afraid to die. I love death like you love life."
Merah also described his first and earlier attempt, which failed, to assassinate three soldiers. "He [the soldier] did not wait, he went out immediately, and that is how I missed the target."
Afterward, Merah described the murder of the children in Toulouse: "I got back on the scooter and I drove past [the Jewish school] like that. It was not premeditated, well, I was going to do it, but when I woke up that morning it wasn't my objective ...
"I was sent by Al-Qaida, I was trained by the Pakistani Taliban, there's an entire organization behind this ... My aim with these attacks was to kill first of all soldiers, because these soldiers fought in Afghanistan ... It is all part of an exercise of deception, you see, war is deception." (Quotes from various websites)
ICYMI
Ken Burns' Brilliant 'The U.S. and the Holocaust' Has Only One Problem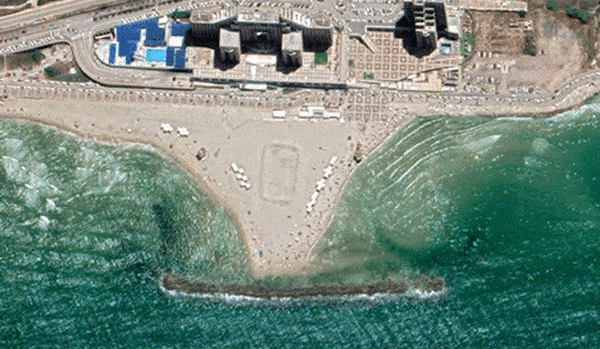 Facing Rapid Rise in Sea Levels, Israel Could Lose Large Parts of Its Coastline by 2050
As Israel Reins in Its Cyberarms Industry, an Ex-intel Officer Is Building a New Empire
How the Queen's Death Changes British Jewry's Most Distinctive Prayer
Chile Community Leaders 'Horrified' by Treatment of Israeli Envoy
Over 120 Countries, but Never Israel: Queen Elizabeth II's Unofficial Boycott